Thomas Jefferson's meeting with artist Maria Cosway in France proved fateful not only for the man himself, but for the university he went on to found.
Jefferson, a widower serving as America's ambassador to France, spent a day wandering Paris with Cosway in 1786, sparking a friendship and, some speculate, a love affair. More importantly for the University of Virginia, the day furnished Jefferson's inspiration for its signature Rotunda.
On that fateful day, Cosway showed Jefferson the Halle aux blés, an indoor marketplace capped by a wooden dome in the style of 16th-century French architect Philibert Delorme who used wooden ribs of various thicknesses to create beautiful and sturdy domes. Captivated by the style, Jefferson bought Delorme's handbook and set about bringing the Frenchman's technique home. He installed America's first Delorme dome at Monticello and repeated the technique when designing UVA's Rotunda.
This semester, Benjamin Hays, a senior engineer with the Office of the University Building Official and a lecturer in the School of Architecture, led students in recreating the Rotunda's original dome, which was destroyed by the 1895 fire. Guided by Hays and architect Douglas Harnsberger, students built a scale model of the Delorme dome with 472 individually cut wooden pieces, using Jefferson's original framing sketch and handwritten material specifications to determine many of the model's parameters.
They also built a second model of the Rotunda dome, as it was redesigned after the fire by Spanish-American architect Rafael Guastavino, who used a 14th-century vaulting technique in the reconstructed Rotunda. Hays studied Guastavino's other UVA building, Old Cabell Hall, as a master's student at UVA, investigating a 120-year-old vault collapse. In addition to his own expertise, Hays brought in Benjamin Ibarra Sevilla, as assistant professor of architecture at the University of Texas and an expert on Guastavino's technique, to lead students in modeling Guastavino's Rotunda dome. Hays believes it was the first time anyone attempted to reconstruct either version of the Rotunda's dome.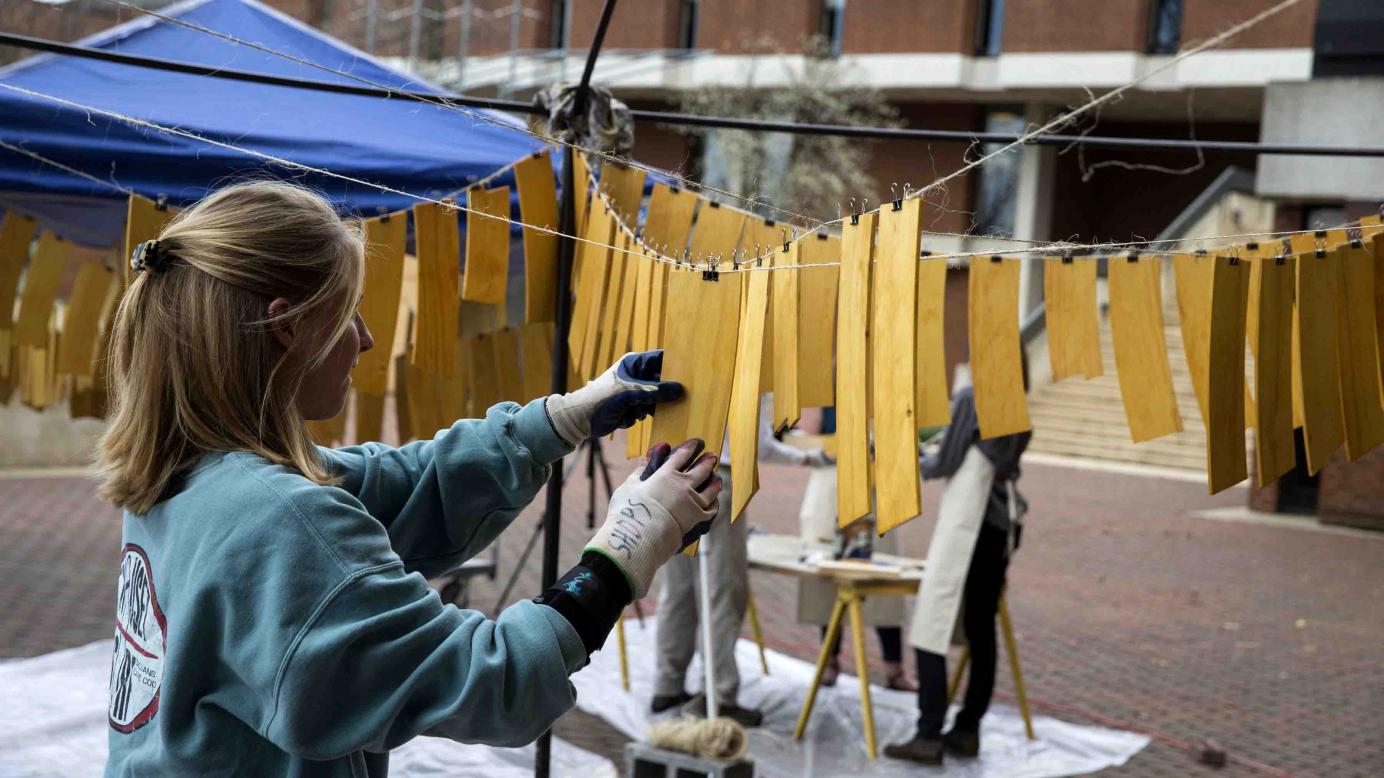 Third-year architectural history student Eliza Hodgson chooses among 472 laminated wood pieces required for the Delorme model. The project was part of Hays' course, "The History of American Building Technology," supported jointly by the Office of the Vice Provost for the Arts and UVA Facilities Management. The class built the tiled Guastavino dome on March 18-19 and the wooden Delorme dome on April 1-2. Sevilla and Harnsberger supervised construction and lectured on the history of the Guastavino and Delorme styles, respectively.(Photo by Dan Addison)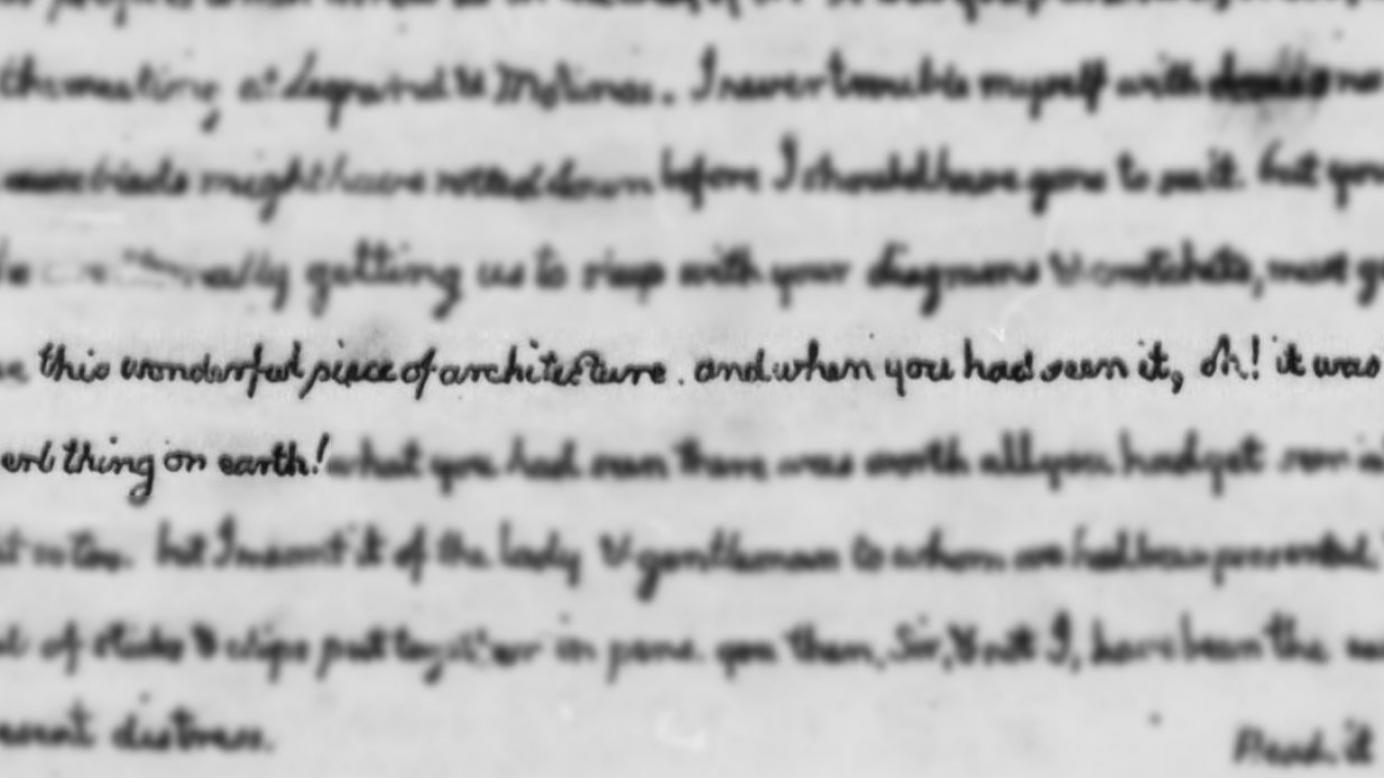 After that day in Paris, Jefferson was enthralled with Delorme's work. In this Oct. 12, 1786 letter to Cosway, he called the Halle aux blés dome a "wonderful piece of architecture," and "the most superb thing on earth!"
He was so enthused that he became something of an evangelist, bringing Delorme's work to a new continent.
"Jefferson's promotion of the Delorme dome beyond UVA and down the Eastern Seaboard really began neoclassicism in this country," Harnsberger told students.
(Image courtesy of the Library of Congress)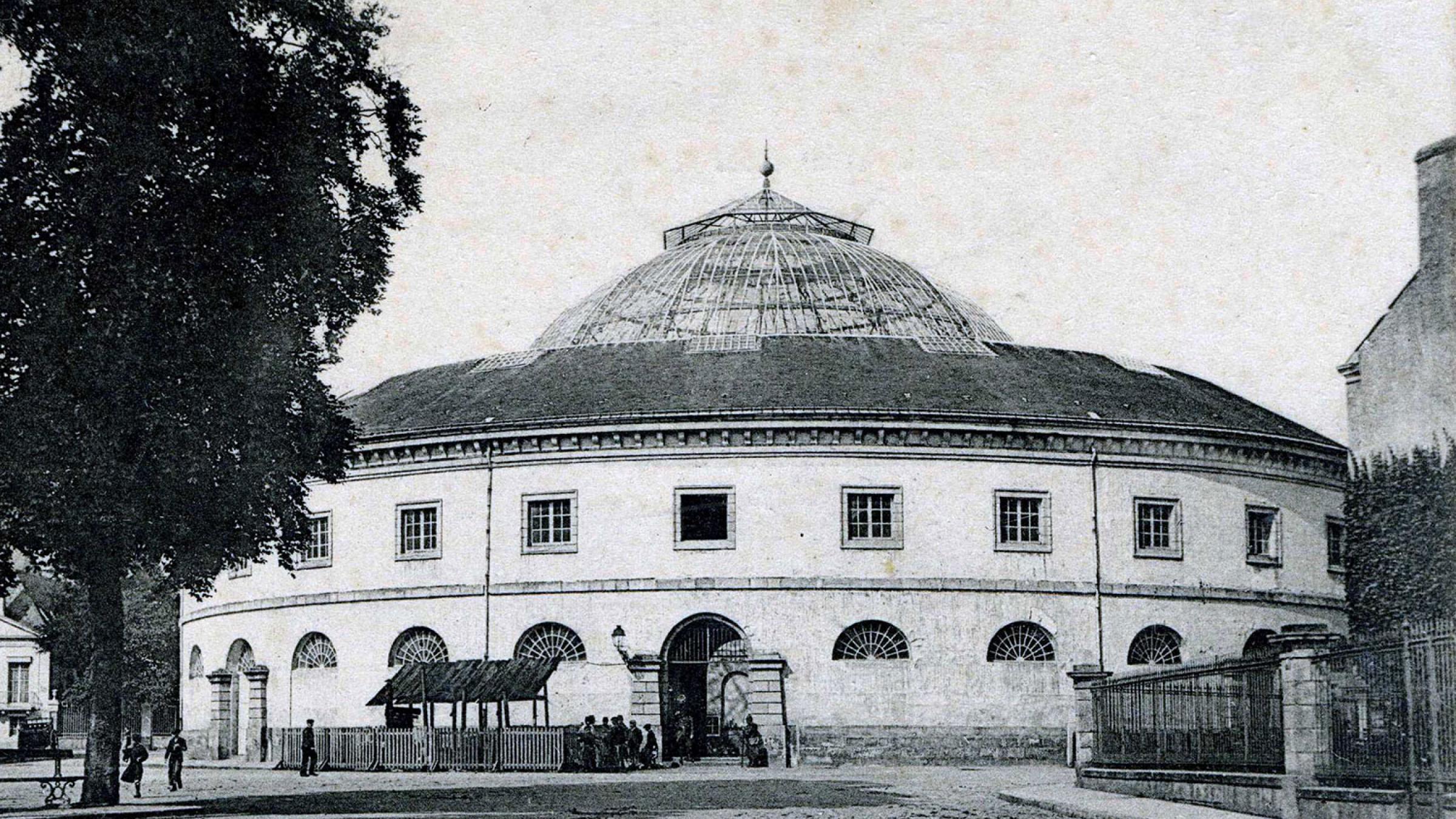 In designing Delorme domes for Monticello and the Rotunda, Jefferson, Harnsberger told students, "wanted to recreate not just the space and image of the Delorme dome, but the feeling that he had that day," visiting the Halle aux blés, pictured here.
Harnsberger has spent much of his career studying Delorme's work and even recreated the architect's style in his own kitchen, with a glass paneled wooden dome built using the same techniques students learned last weekend.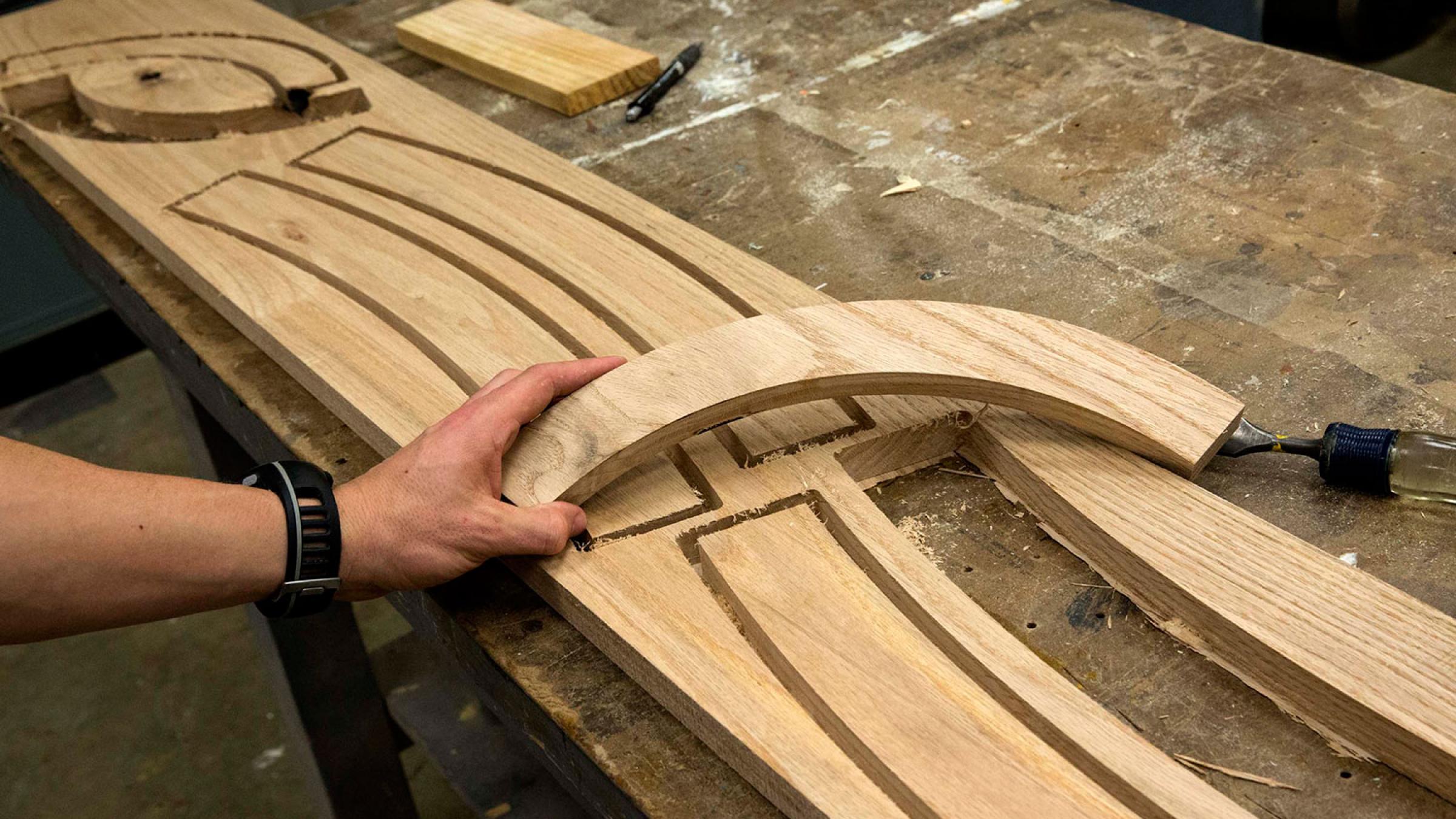 "A tremendous amount can be learned from building something yourself, beyond what can be learned by studying drawings or looking at a building," Hays said. "I am hoping that this leads to creative thinking about how building designers can use these techniques more broadly today."
(Photo by Dan Addison)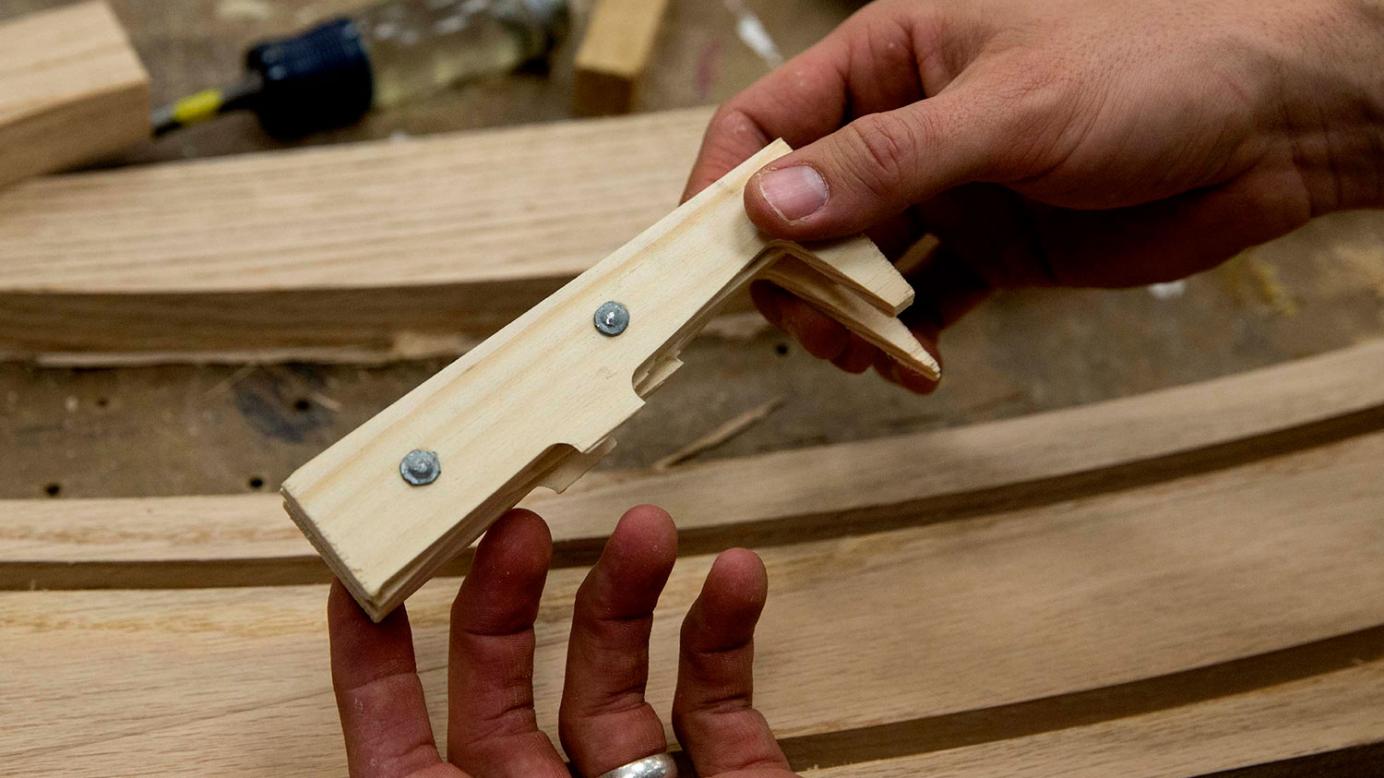 As Jefferson's carpenters did when constructing the original Rotunda, students used clinch nails, originally made in Monticello's nailery, to connect the wooden pieces, each labeled to mark its specific place in the dome's architecture.
"Piecing all of it together is analogous to constructing a three-dimensional jigsaw puzzle," Hays said. "Making all of those pieces come together in the right manner was instructive as to what would have been executed by Jefferson's carpenters."
(Photo by Dan Addison)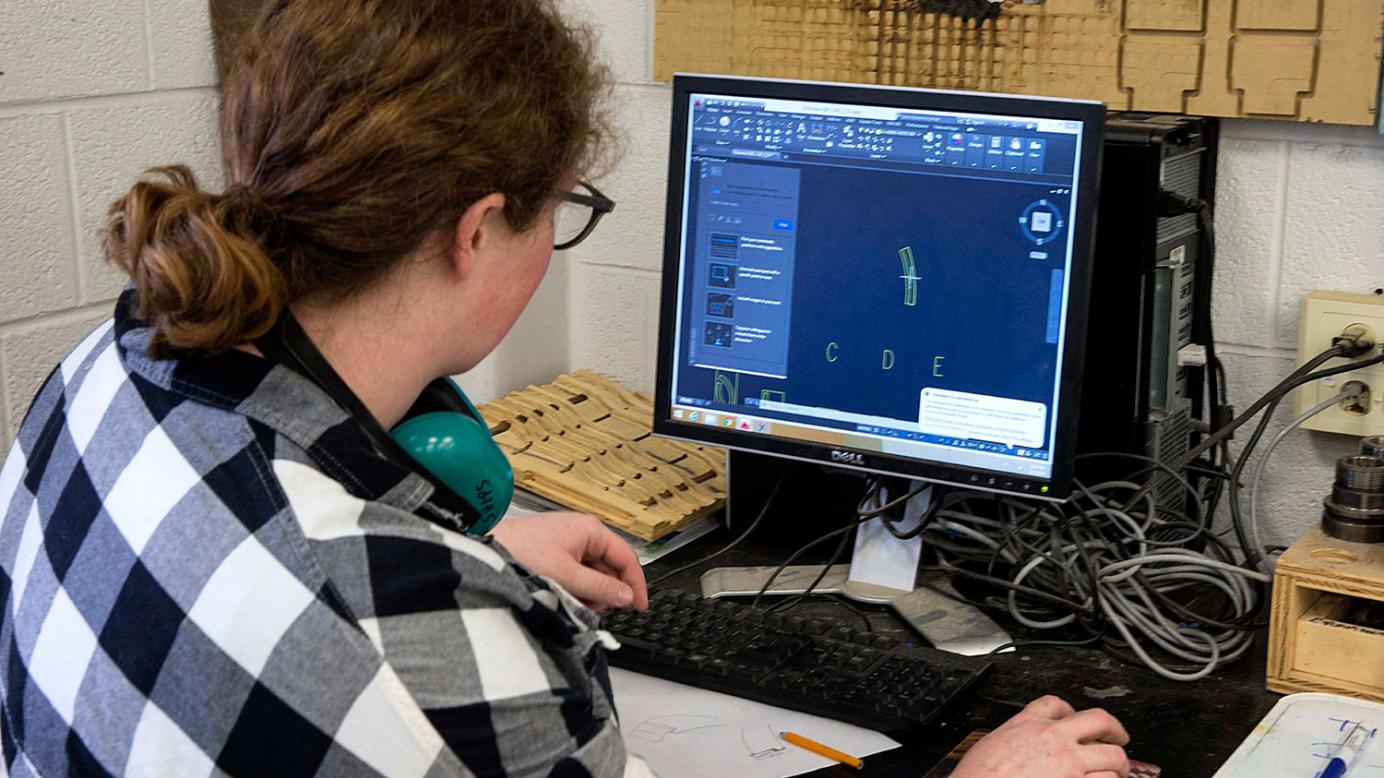 Students did have the benefit of technology that was well beyond Jefferson's reach. Here, graduate architecture student Nina Comiskey uses design software to program a computer-controlled woodcutter that cut most of the pieces needed to create the dome.
(Photo by Dan Addison)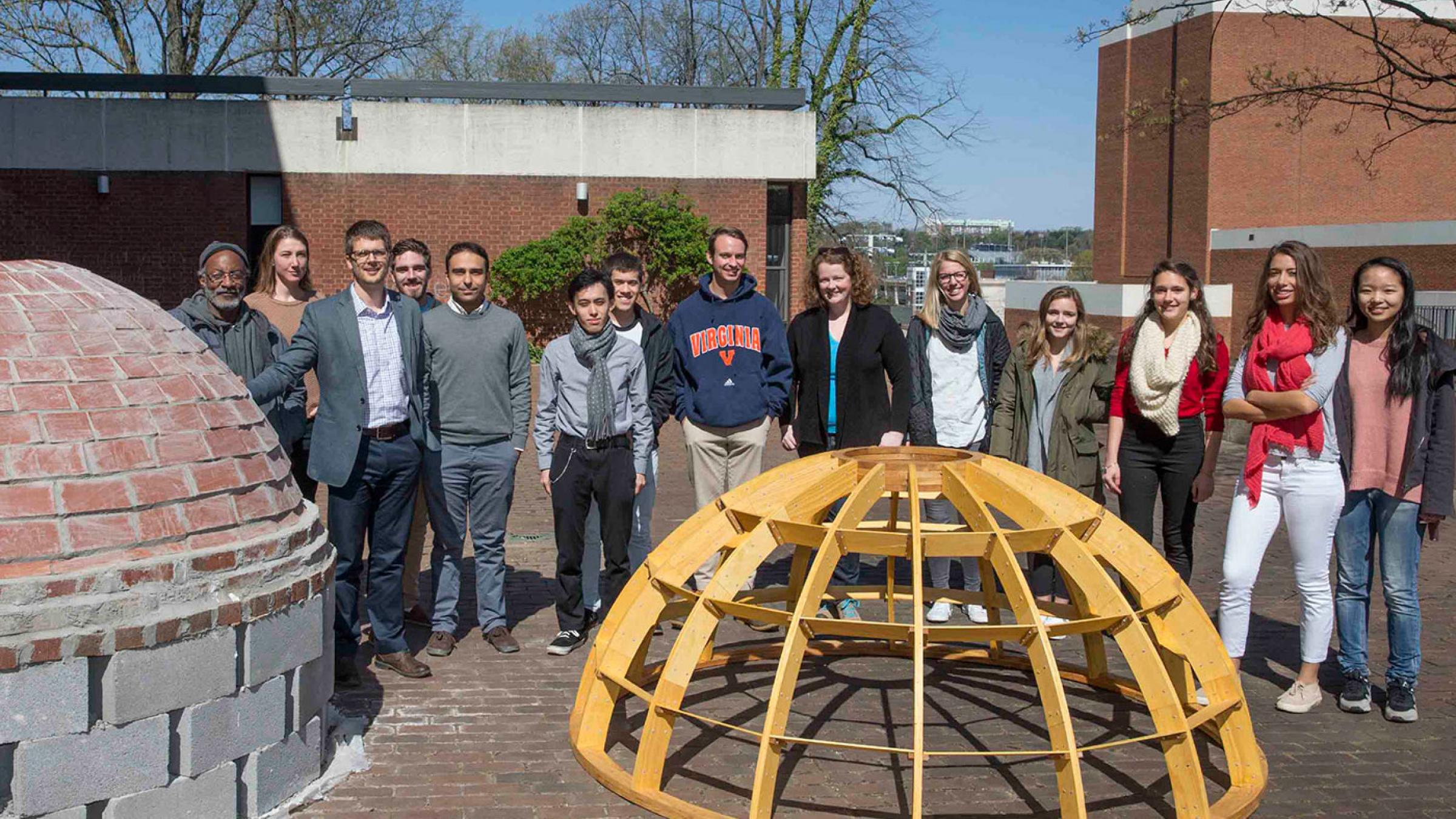 Hays and his students stand between the two completed models, the Delorme model on the left and the Guastavino model on the right.
The tiled Guastavino dome most closely resembles the structure of the Rotunda as it looks today. A Spanish architect and builder, Guastavino immigrated to the United States in 1881 and four years later patented his "Tile Arch System," marked by a series of self-supporting arches and vaults. The technique was later used in many landmark buildings around the U.S., ranging from the Rotunda to the tiled vaults of New York City subway stops.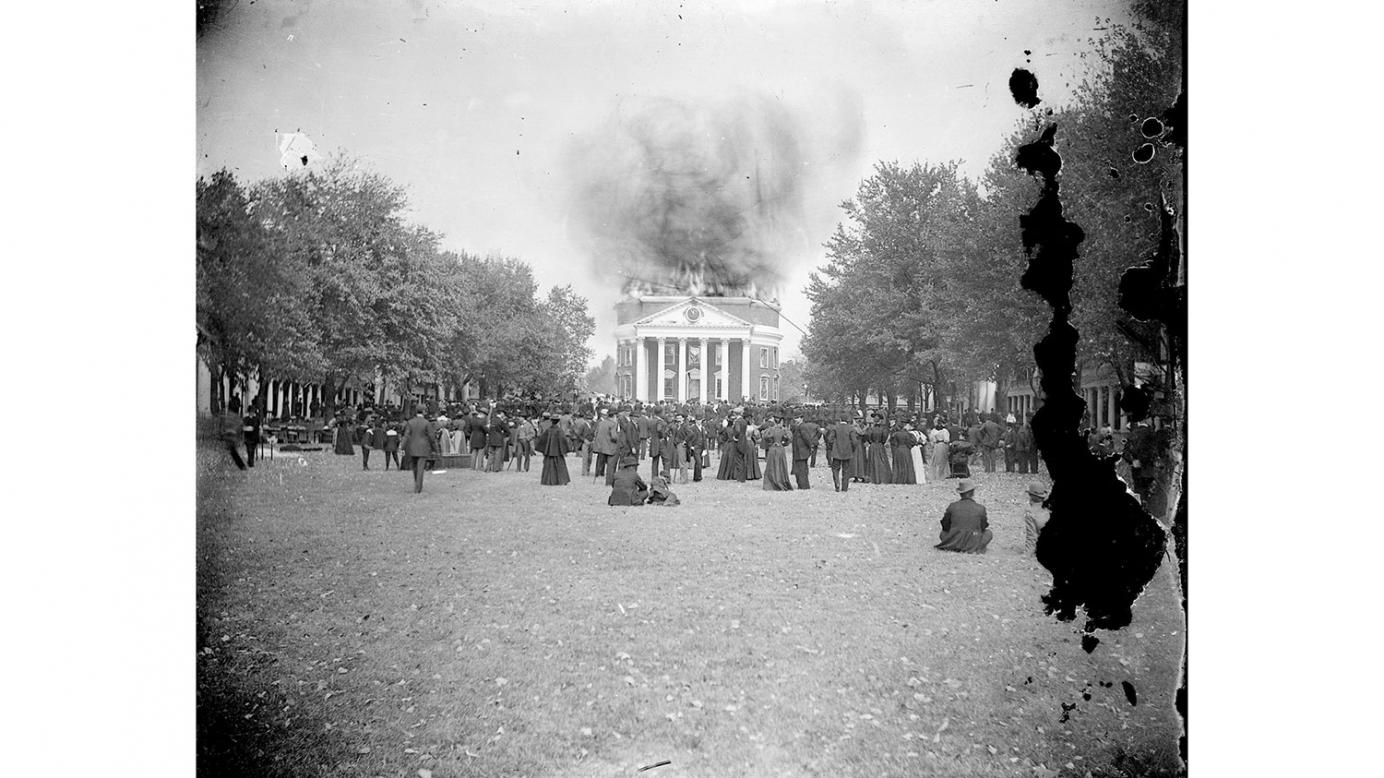 When the original wooden dome of the Rotunda burned down on Oct. 27, 1895, architect Stanford White was tasked with rebuilding the University's centerpiece. White commissioned Guastavino to create a vault of clay tiles for the interior structure of the Rotunda's signature dome, in part because the clay tiles would be more fire-resistant than concrete or steel.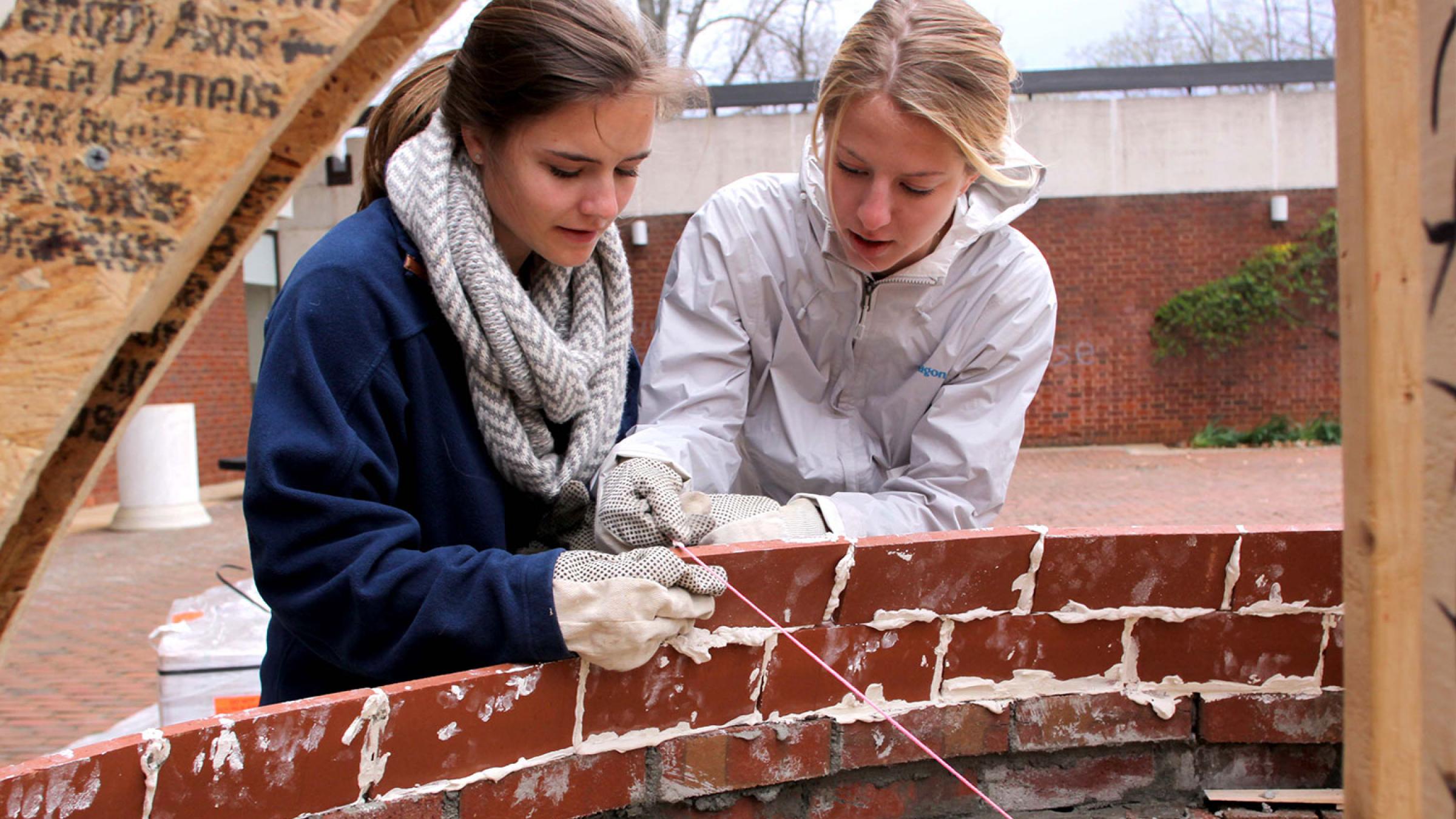 Students recreated Guastavino's technique using fast-setting plaster of Paris for the inner layer to create a self-supporting dome. Here, Hodgson and third-year architecture student Audrey Hughes use a string line to correctly place the tiles.
(Photo by Kenta Tokushige)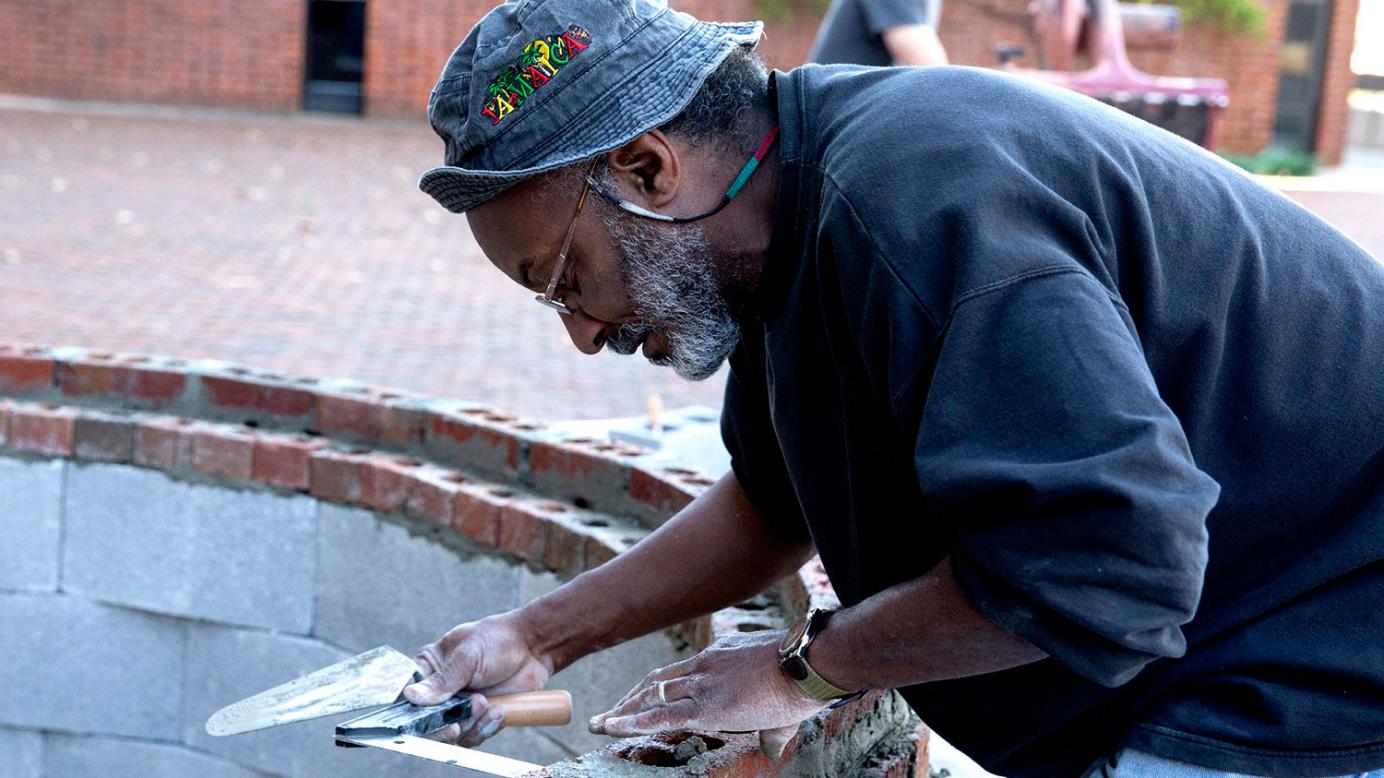 Peter Giscomb, who is pursing a master's degree in architectural history and historical preservation and conservation, lays the brick foundation for the Guastavino model. Giscomb has studied several buildings with similar architecture and was eager to experience the construction techniques firsthand.
"A lot of the structures I am looking at involve dome architecture, anything from medieval to present, and a lot of this technology does come into play," he said.
(Photo by Dan Addison)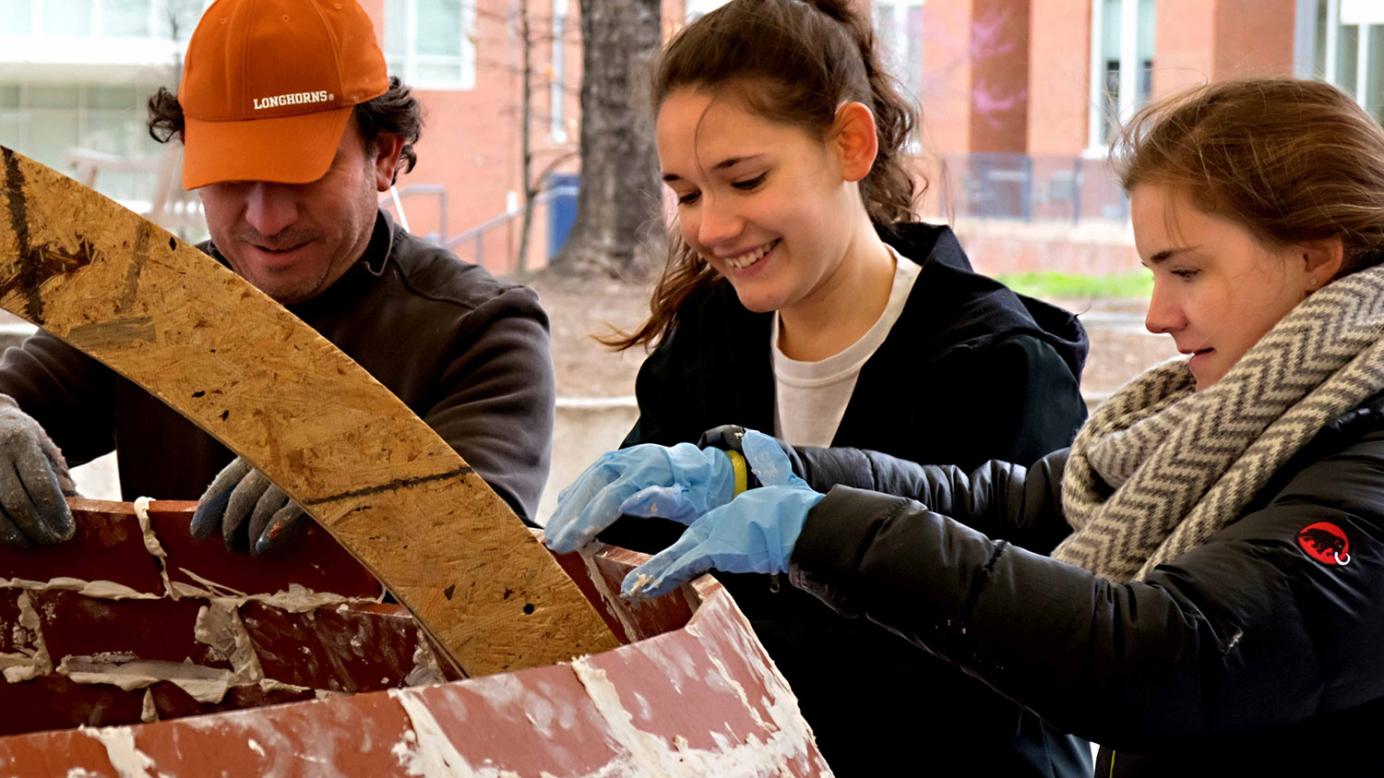 Sevilla, left, assists second-year architectural history student Hannah Glatt and Hughes in placing tiles. The temporary wooden frame helped students locate the string lines needed to lay the tiles and visualize the final geometry.  
Many students were interested not just in the historical aspect of Guastavino or Delorme's techniques, but in contemporary applications of techniques which Hays said require less energy than many currently used.
"I am hoping this leads to creative thinking about how they can use these techniques more broadly," Hays said.
(Photo by Kirk Martini)
Graduate architecture students Moh Ismail and Eric Der join Giscombe in laying brick for the Guastavino dome.
Even students more interested in modern architecture, like fourth-year architecture student Nicole Zaccack, recognized the value of reviving historical techniques.
"The historic side of architecture is so important, especially in our current day and age where it is not necessary to keep building new buildings. It is more about using historic buildings and adapting and reusing them," Zaccack said. "Knowing the history and knowing how to restore those important sites is key to moving forward in architecture in a sustainable way."
(Photo by Kirk Martini)
Article Information
April 07, 2016
https://news.virginia.edu/content/architecture-students-recreate-rotundas-construction-scale-models