Next to the bed in the off-Grounds apartment that he shares with several University of Virginia basketball teammates, Austin Katstra has a photo of his grandfather – in action.
In the picture, the 6-foot-10 Richard Katstra, who played at UVA in the 1960s, is shooting a jump hook in a game at Memorial Gymnasium.
Fast-forward to the 1980s and you would find Austin's father, Dirk, playing for the Cavaliers at University Hall.
Today, Austin Katstra is hooping it up for the Hoos at John Paul Jones Arena.
"My grandpa played at Mem Gym, my dad played at U-Hall and now I'm playing at JPJ," said Katstra, smiling. "It's just been like a surreal experience."
But Katstra's time at UVA has been about much more than basketball.
The foreign affairs major, a third-year student who is on schedule to graduate a year early in May – with the idea of then earning a master's degree from the Frank Batten School of Leadership and Public Policy – talks about his professors with the kind of awe that many fans talk about star players or coaches.
"I think great professors can really make or break your college experience," Katstra said, "and I've been lucky to have a lot of great ones."
For Katstra, one such professor has been James Todd, a lecturer in the Woodrow Wilson Department of Politics who previously retired from the University of Arizona after 22 years of teaching undergraduate courses in American government and constitutional law and history.
Katstra took Todd's "Introduction to American Politics" course as a first-year student and has stayed in touch with the professor since.
The two have connected so well that Todd could joke with Katstra about the Cavaliers' crushing defeat to the University of Maryland-Baltimore County in the 2018 NCAA Tournament.
"I was OK with it, though I don't know if I really had a choice," said Katstra, laughing. "But then when we won the national championship, he reached out and said, 'I think all those times I joked about you losing to UMBC finally paid off.'"
Before UVA played in the Final Four, Todd emailed Katstra a photo of himself wearing a T-shirt from the 1984 Final Four. "Just being able to continue that relationship that we had in class has been really special," Katstra said.
Off Grounds, Katstra has made giving back to the community a priority. The Albemarle High School alumnus has volunteered for food drives, high school basketball camps and church functions.
Dirk Katstra and his wife, Michelle, a double Hoo herself, couldn't be more proud of their son.
"We didn't try and give him much advice when he got here because we wanted him to figure out for himself what he liked and didn't like," said Katstra, who is the executive director of the Virginia Athletics Foundation. "But the one thing we really told him was to not live in the athletic silo – make sure that you get to know professors and get involved in everything the University has to offer.
"Sometimes I listen to what he's telling me he's doing, and I'm like, 'How in the world do you have time to do all that?' But that's what going to college is all about. You have to remember that there are all these different things to try and experience."
In August, with his family and members of the UVA basketball family by his side, Katstra was baptized at The Point, a church he had been introduced to by UVA football player Bryce Hall.
Katstra chose Cavalier head coach Tony Bennett and former UVA football player Connor Hughes to, as part of the proceedings, submerge him in the baptismal pool.
"I told [Bennett], and he was like, 'Are you sure you want me to do it?'" Katstra said. "I said, 'Yes, I've thought about it a lot. I definitely want you to do it.'
"It meant a lot to me. He has played a super-significant role in my faith journey. I think it just showed how much our program is invested in us as people and not just as players."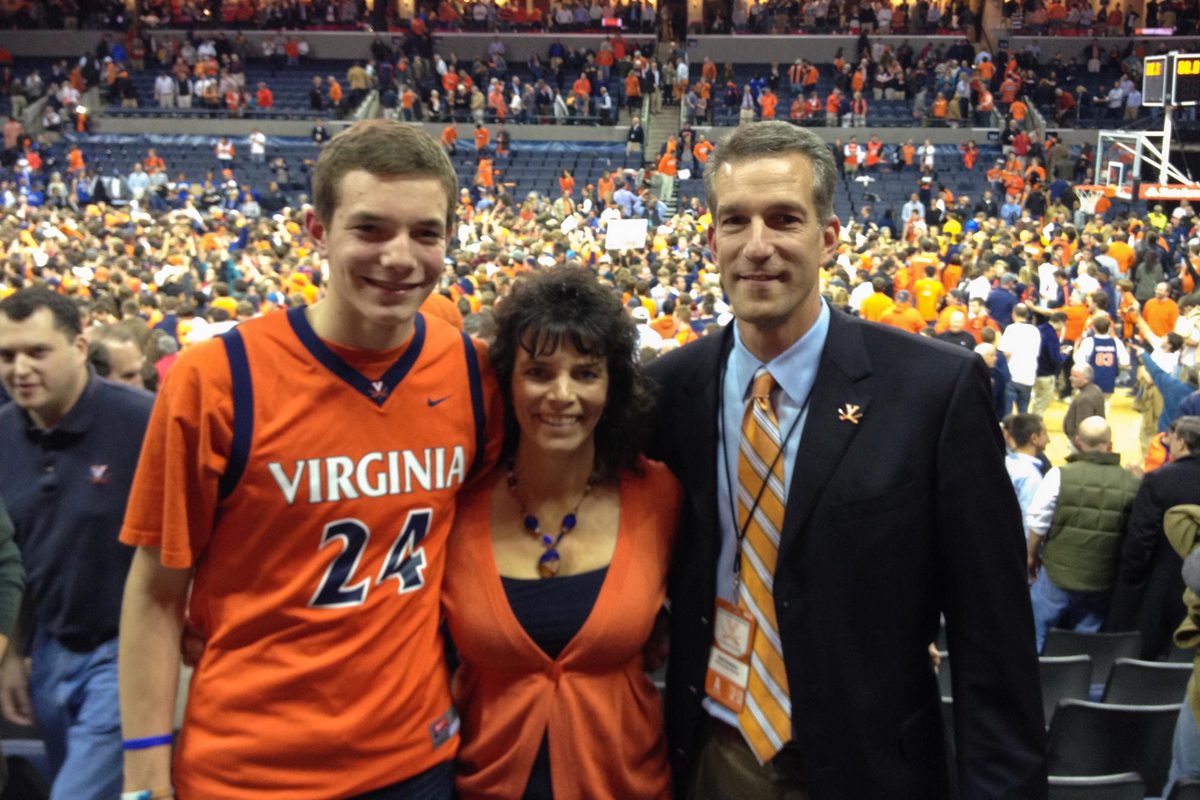 Austin Katstra at a game with his father, Dirk, and his mother, Michelle, before he became a student at UVA. (Contributed photo)
A Charlottesville native, Katstra attended his first UVA basketball game when he was 9 months old. Some of his most special memories involve watching UVA sporting events with his parents and siblings.
Katstra was at the last game at U-Hall, the first game at JPJ, the win over Syracuse in 2014 that clinched the Hoos their first outright ACC regular-season title since 1981 and several clashes with the University of Maryland and Duke University that he said he will never forget.
He does have one regret, though.
"My parents didn't let me go the game where Sean hit that fadeaway shot to beat Duke," he said, grinning, in reference to former star Sean Singletary's game-winning shot against the Blue Devils in 2007. "I was only like 10 years old and they said it started too late. I was disappointed not to see that – I always wish I had."
Suffice to say, being a member of the Cavaliers the last two years has made up for it.
Last season, Katstra – who came to UVA as a recruited walk-on and is perhaps best known for his highlight plays at the end of Cavalier victories with fellow Albemarle High alumnus Grant Kersey, a team player-manager – earned an athletic scholarship during a touching scene at a practice that was captured on video.
"That was a big-time free throw," Bennett told Katstra at the end of a foul-shooting drill. "You just got a scholarship."
Katstra, who was swarmed by jubilant teammates, had dreamed of earning a basketball scholarship since he was a young boy.
So proud @AustinKatstra pic.twitter.com/TiE4rB3rdL

— Ryleigh Katstra (@RyleighKatstra) January 14, 2019
"He's where he wanted to be, regardless of whether he's on scholarship, but that meant a lot to him," Dirk Katstra said. "It was one of his goals, and he worked hard to earn it. I was very happy for him."
Former UVA player Marco Anthony was one of many players who said the practice in which Bennett awarded Katstra the scholarship was the most special moment from the NCAA-championship winning season.
"It meant a lot to me that out of all the great things that we did last year, that's what stood out to [Anthony]," Katstra said. "I think that's a testament to our pillars and the types of players Coach Bennett recruits. You get the best of the best, and he doesn't accept anything less than that.
"That was a great experience for me, and to be able to share it with my teammates was really special."
This season, Katstra, who wore No. 45 in his first two seasons at UVA, has switched to No. 24, the same number Richard and Dirk Katstra wore. (The number became available when Anthony transferred to Utah State University.)
Dirk Katstra said his father, a former high school coach and teacher in Kansas City who died in 2002, would have loved the sentiment.
"He was a basketball nut," Dirk Katstra said. "He would have been at every game this past year. He loved all the X's and O's of basketball. He would have been thrilled with everything that happened."
Austin, who used to ride on his granddad's shoulders to UVA football games when he was a toddler, breaks into a huge smile when he talks about his time at UVA.
"The longer I've been here, the more appreciation I have for being able to continue a legacy," he said. "It's definitely been the best three years of my life. I wouldn't trade it for anything."
Article Information
October 25, 2019
/content/austins-powers-third-gen-hoo-leaving-his-own-mark-grounds-beyond