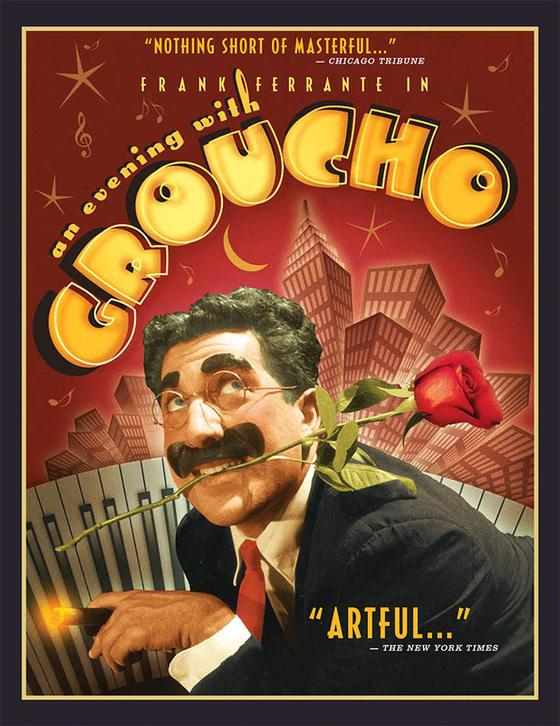 "I refuse to join any club that would have me as a member," Groucho Marx once famously said.
There's one club, though, in which Groucho will forever be a member – his fan club, which includes a legion of diehard Groucho lovers who memorize his lines and replay his performances.
Groucho was an American film and television star, known for his mastery of quick wit. His rapid-fire, often impromptu delivery of patter, sprinkled with innuendo, earned him countless admirers and imitators.
He made 13 feature films in the 1930s and '40s with his siblings, the Marx Brothers, and is familiar to many because of his solo career as the host of the radio and television game show, "You Bet Your Life."
In tribute to this comic genius, the Heritage Theatre Festival – the professional summer theater at the University of Virginia, celebrating its 40th anniversary – will present "An Evening with Groucho" at the Ruth Caplin Theatre on June 17-21 at 8 p.m., with an additional performance on June 21 at 2 p.m. Tickets for the show are $30 ($25 for seniors and U.Va. faculty, staff and alumni, and $15 for students).
Award-winning actor, director and playwright Frank Ferrante will recreate his portrayal of the legendary comedian in a fast-paced, 90-minute showcase. The two-act comedy consists of the best Groucho one-liners, anecdotes and songs, including "Hooray for Captain Spaulding" and "Lydia the Tattooed Lady." The audience becomes part of the show as Ferrante ad-libs his way throughout the performance on and off stage, in the grand style of Groucho.
Accompanied by an onstage pianist, Ferrante portrays the young Groucho of stage and film and reacquaints the audience with the Marx brothers – Harpo, Chico, Zeppo and Gummo – plus Charlie Chaplin, W.C. Fields, Greta Garbo and Marx foil Margaret Dumont.
The Seattle Times wrote, "Ferrante does for Groucho what Hal Holbrook does with his Mark Twain tribute – channel a great American humorist," and the New York Times has called Ferrante "the greatest living interpreter of Groucho Marx's material."
Ferrante developed "An Evening With Groucho" as his thesis while a University of Southern California drama student. He was "discovered" by Groucho's son, Arthur, who immediately tapped Ferrante to play Groucho in the off-Broadway play "Groucho: A Life in Revue," portraying the comedian from age 15 to 85.
"Nobody does Groucho better than Frank," Arthur Marx has said, and Groucho's daughter, Miriam Marx Allen has said, "Frank doesn't just do Groucho. … He is Groucho."
"I have had the pleasure of working with Frank to present this show many times, and am continually amazed at his ability to truly become Groucho in a way that goes far beyond impersonation," said Jody Kielbasa, U.Va. vice provost for the arts and director of the Virginia Film Festival. "I look forward to Charlottesville and U.Va. audiences having an opportunity to enjoy this extraordinary theater experience."
In conjunction with Ferrante's performance, the Virginia Film Festival will present a special screening of the 1932 Marx Brothers classic, "Horse Feathers," followed by a conversation with Ferrante, on June 16 at 7 p.m. at the Ruth Caplin Theatre. Tickets are $5.
Journalist and opinion columnist Harold Meyerson will moderate the event. Meyerson is editor-at-large of The American Prospect and has been a weekly columnist for The Washington Post since 2003. Both Meyerson and Ferrante were featured on a "CBS Sunday Morning News" feature on Groucho Marx.
"Horse Feathers" is a madcap look at the world of academia. Groucho plays Professor Wagstaff, president of Huxley College, who plots to boost enrollment and the school's reputation by staging a winning football game with a couple of football stand-ins played by Chico and Harpo.
Groucho died Aug. 19, 1977 at age 86. His final request? "Bury me next to Marilyn Monroe."
Tickets for both events are available online, by phone at 434-924-3376, or in person in the lobby of the drama building at 109 Culbreth Road, which is open daily (except Sundays) from 10 a.m. to 4 p.m.
The events are sponsored by the U.Va. Office of the Executive Vice President and Provost, Vice Provost for the Arts and The Lodge at Old Trail.