"Margaret Lowe was one of a kind – a quiet, deeply thoughtful individual dedicated to caring for those around her," said Daniel Judge, a graduating double major in philosophy and political philosophy, policy and law, and chair of the Algernon Sydney Sullivan Award Committee, as he announced on Friday that Lowe was the female student recipient of the 2016 Sullivan Award.
Lowe was a fourth-year Classics-Ancient Greek major who was looking ahead to medical school when she unexpectedly passed away last year while running – one of her favorite activities.
During her time at the University of Virginia Lowe co-chaired the student-led Alcohol and Drug Abuse Prevention Team, and led various educational efforts aimed at reducing the risks of alcohol use among her peers, volunteered with Madison House, and was a counselor with Camp Kasem, a summer camp for children who have a parent living with cancer. She also biked last summer from coast to coast with Bike and Build to promote and raise funds for affordable housing. She was a member of Pi Beta Phi and a leader within the Inter-Sorority Council.
Lowe was known for her willingness to help others, whether to simply lend a consoling ear to a friend with a problem, or perhaps just to provide a ride to the airport.
"Margaret recognized the power of community to bolster individuals at times when they needed support most," Judge said.
Since 1890, the Algernon Sydney Sullivan Foundation has presented annual awards to graduating students, faculty, alumni and community members of 70 universities and colleges in the American South who are determined to have demonstrated notable character, integrity and service. The awards are presented each year to two UVA fourth-year students – one male and one female – and a member of the University community, in memory of the awards' namesake, a New York lawyer, businessman and philanthropist.
The male student winner this year is commerce graduate Miles Jackson, whom the Sullivan Award selection committee noted for his "excellence of character, for his patience, and for his kindness to those around him" – while never seeking the spotlight.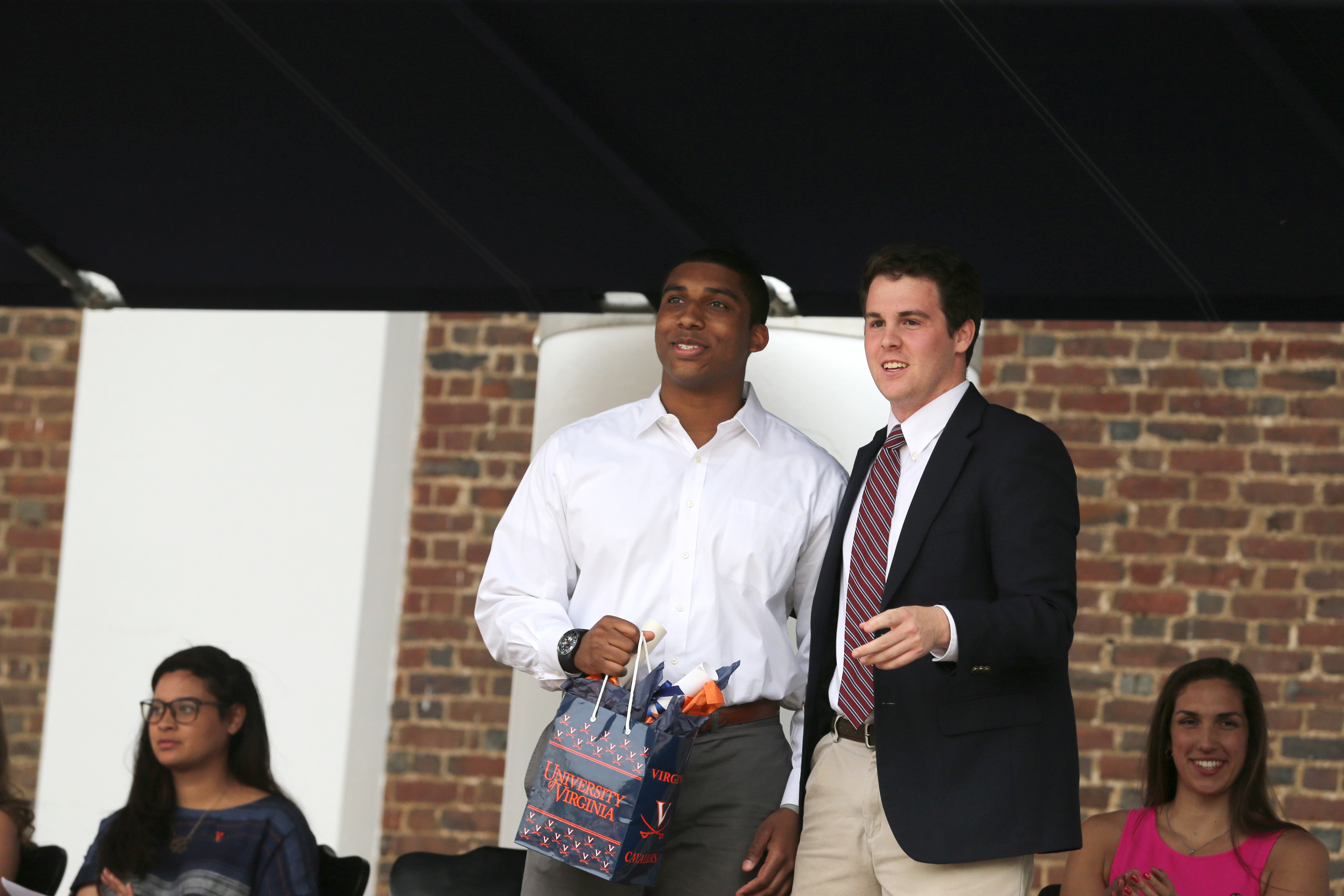 Miles Jackson, left, was the male winner of the 2016 Algernon Sydney Sullivan Award .
Jackson served on the University Judiciary Committee, the Black Commerce Student Network, and the Black Presidents Council.
"Miles brought his trademark thoughtfulness, diplomacy, and ability to lead from the front, middle, or behind depending on the situation," Judge said. "Miles has earned the respect of his peers through his personal decency and integrity, respect that has armed him to navigate differences and maintain strong relationships even in the face of challenging circumstances. He is trustworthy, loyal, supportive, and kind; his peers seek him out when they need help or guidance because they know he will provide the support they need."
The University community recipient is Ethan Saliba, associate athletic director for sports medicine and head athletic trainer. In these roles he tends to the medical needs of student athletes to ensure that they are in the best possible condition to represent the University on their respective teams.
Known as a dependable, helpful and humble colleague and friend, Saliba arrives at work at the crack of dawn and puts in long hours for those in his care.
"Whether working with a star player on a winning team or an athletics department colleague, serving as a professor in the Curry School of Education or spending the night in the emergency room with an injured student, Ethan brings dependable compassion, kindness and determination to everything he does," Judge said.
Two secret societies of the University, the Seven Society and the Society of Purple Shadows, also presented annual awards.
The Seven Society's Louis A. Onesty Memorial Scholar-Athlete Award went this year to swimmer Courtney Bartholomew, a Foreign Affairs and Media Studies double major, who is a multi-year NCAA All-American and 15-time Atlantic Coast Conference champion, and holds both the University and ACC records for the 100 and 200 meter backstroke events. She is the most decorated swimmer in Virginia history. And in December she competed in an international meet for the U.S. national team in which she set an American record in the 100-meter backstroke and was a member of a world record-setting 4x100 medley relay. Bartholomew has been a Student Ambassador, a member of the Third Year Class Council, and served as a Trustee for the Class of 2016. She also has been on the ACC Academic Honor Roll since her second year.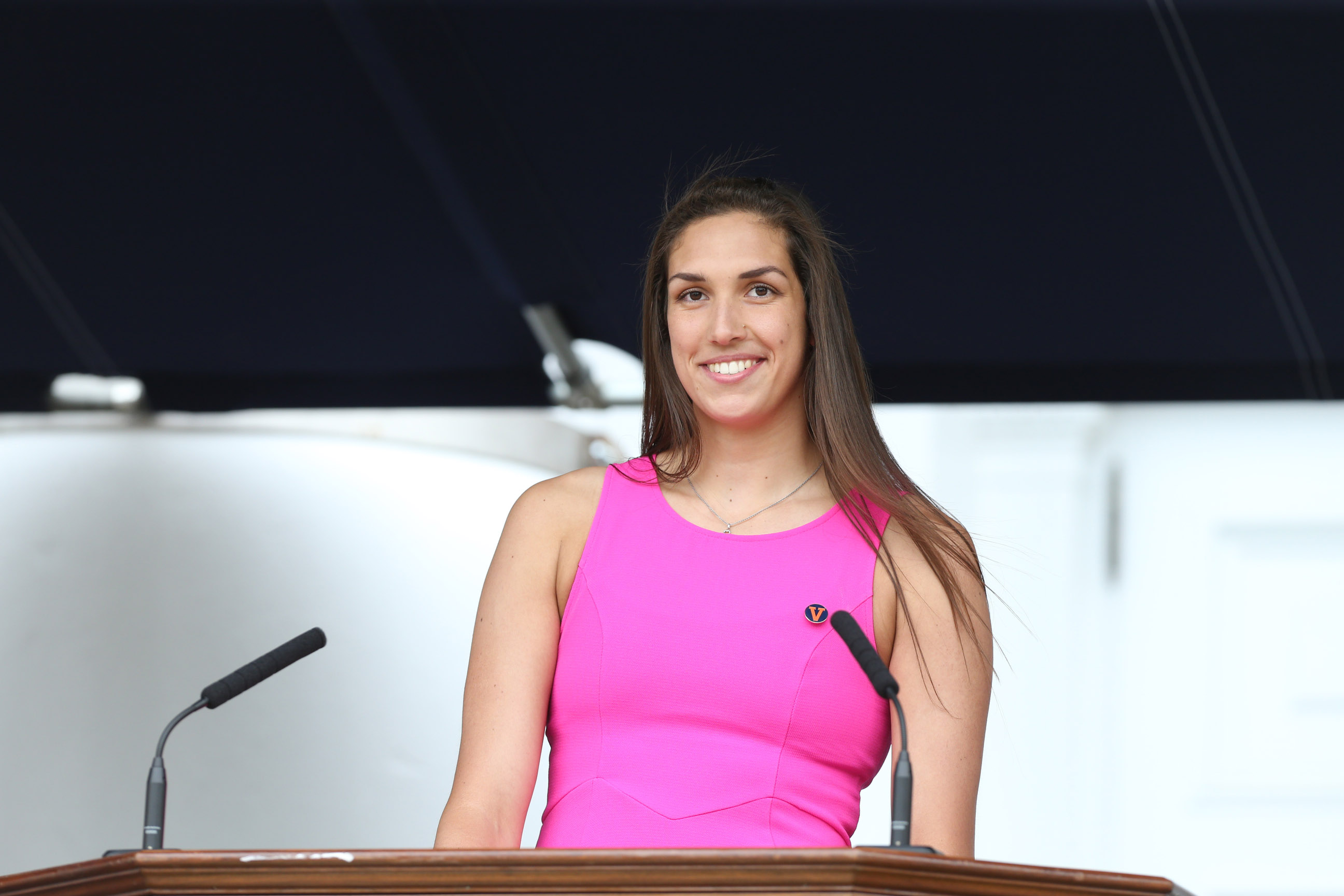 Courtney Bartholomew received the Seven Society's Louis A. Onesty Memorial Scholar-Athlete Award.
The Seven Society's James Earle Sargeant Award, which recognizes a student organization that has worked consistently to benefit the University community, went to Peer Health Educators, a group of 45 students who are professionally trained to educate others about health topics such as mental wellness, alcohol and drugs, nutrition and sexual health. Peer Health Educators organized various wellness events such as the Fourth Year 5K, Celebrate Every Body Week, Mental Wellness Screening Day, and Speed Friending. They also give outreach presentations on healthy behaviors and hold weekly patient education sessions where students can talk to Peer Health Educators one-on-one at Elson Student Health Center.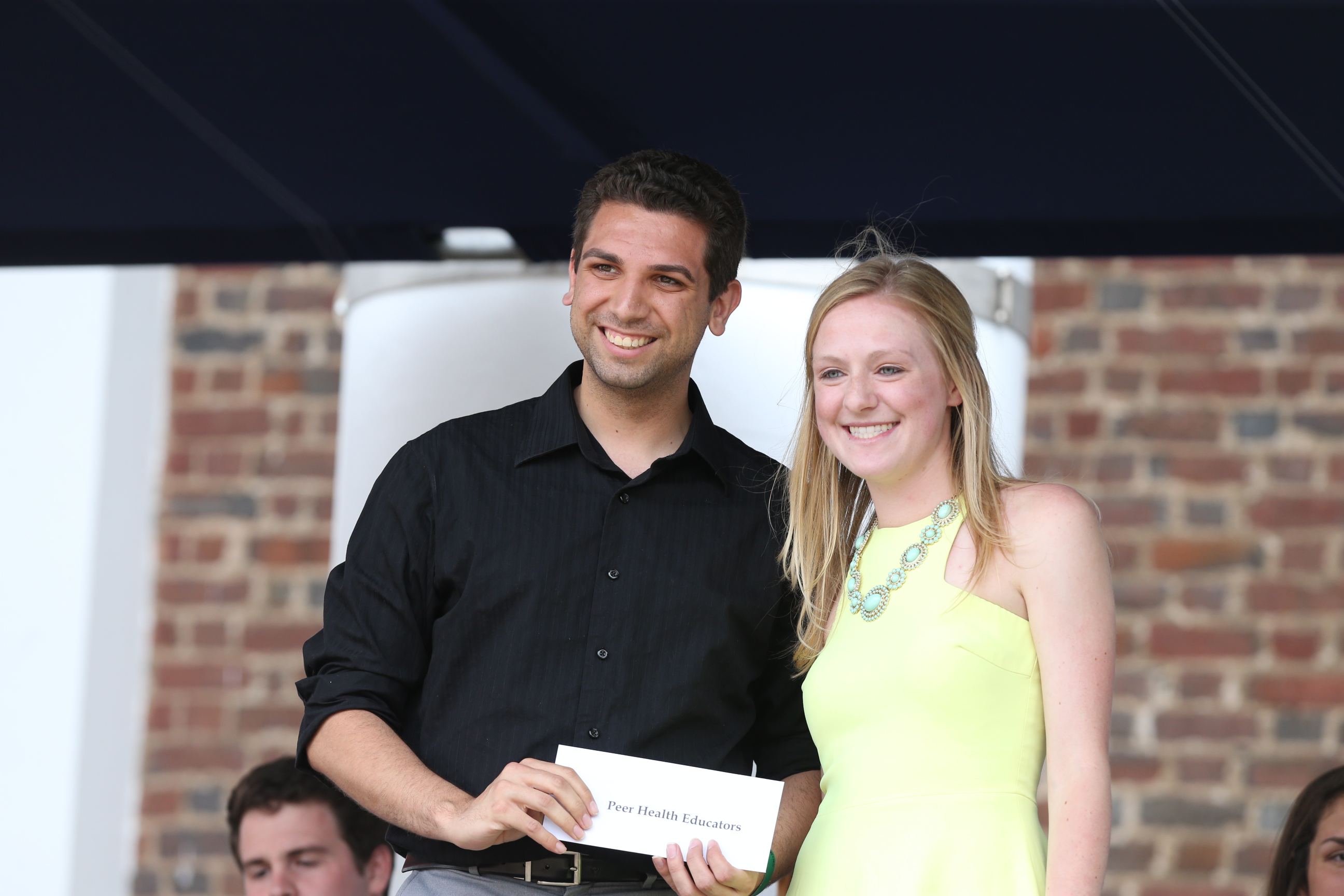 The Seven Society's James Earle Sargeant Award went to Peer Health Educators.
Class of 2016 trustee Megan Crenshaw presented the Seven Society Awards.
The Society of Purple Shadows awarded its Gordon F. Rainey Jr. Award for Vigilance to the Student Experience to George Martin, former rector of the University's Board of Visitors. The society recognized his leadership during trying times when the University expanded its efforts to combat and adjudicate sexual violence, initiated the ambassador program and strengthened the safe ride system among other vital enhancements to existing student safety programs.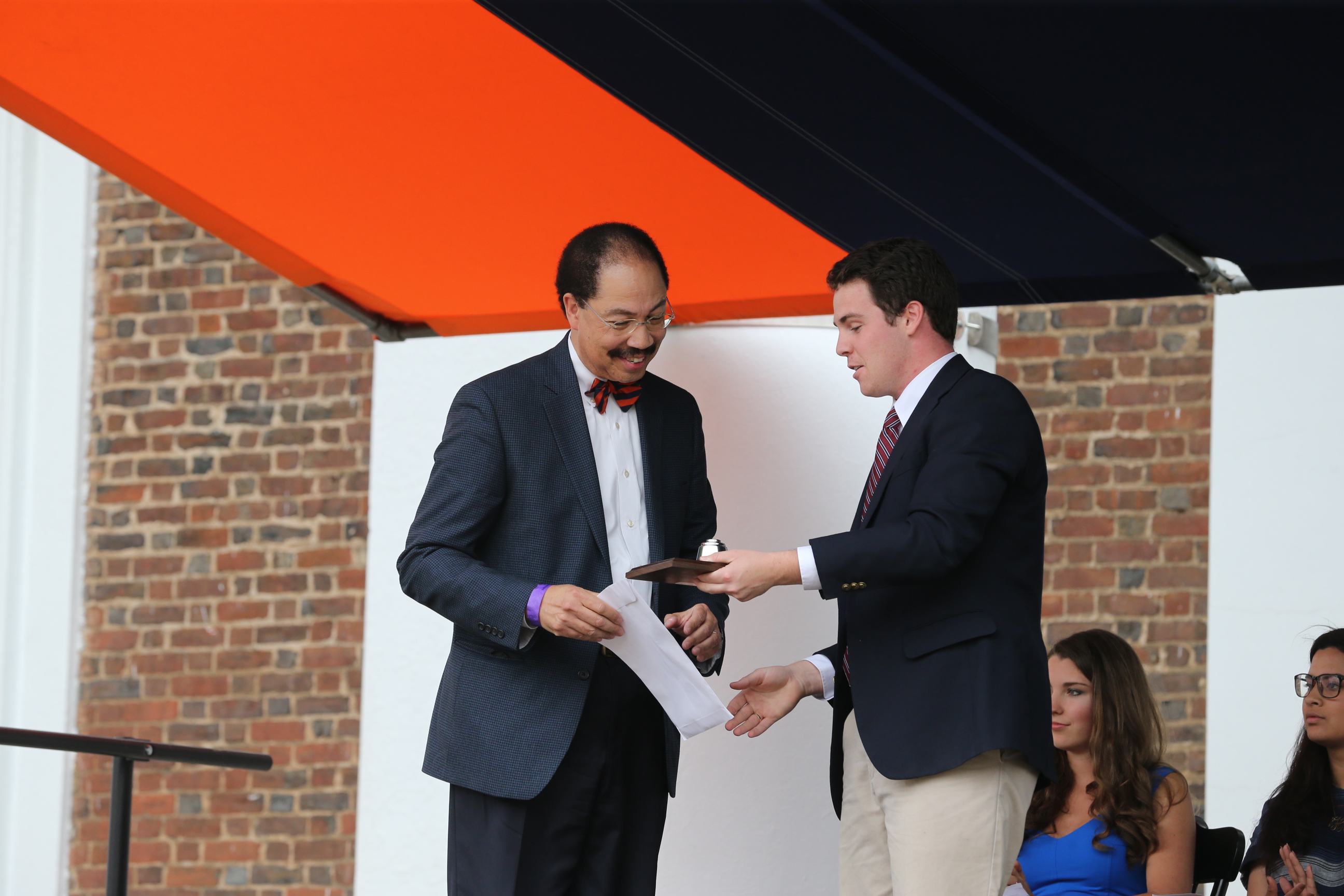 George Martin, left, was awarded the Gordon F. Rainey Jr. Award for Vigilance to the Student Experience.
Judge, the student member of the Board of Visitors, presented the award for the society, stating to Martin: "Your calm leadership partnered with your genuine devotion has and will continue to serve as an inspiring standard for future University leaders. As your persistent demonstration of compassion for students at the University proves, you are a rare individual with the capacity to understand and appreciate others and to provide for them. For this, and all that you continue to do in safeguarding the student experience, the University is proud to call you her own."
The graduating class of 2016, represented by trustee Elise Bottimore, a nursing graduate, also presented two annual awards, one for community service, the other for cultural fluency, as well as a "Ray of Light Award."
Sunny Sowards, an engineering science major, earned the Class Award for Community Service for making a commitment to bettering the lives of others and inspiring peers to do the same. A member of Alpha Phi Omega, UVA's service fraternity, Sowards took on leadership roles such as vice president of service and midweeks coordinator, requiring 25 hours per week of organization. In these roles she partnered with more than 40 community sites to coordinate thousands of hours of service, expand the breadth of the organization, and help establish and strengthen partnerships. She also biked 4,000 miles across the country with Bike and Build to raise funds and awareness to alleviate housing poverty, worked for Habitat for Humanity, and researched policies to promote sustainable and affordable housing. She has accepted a position in New York City where she will work for housing policy improvements.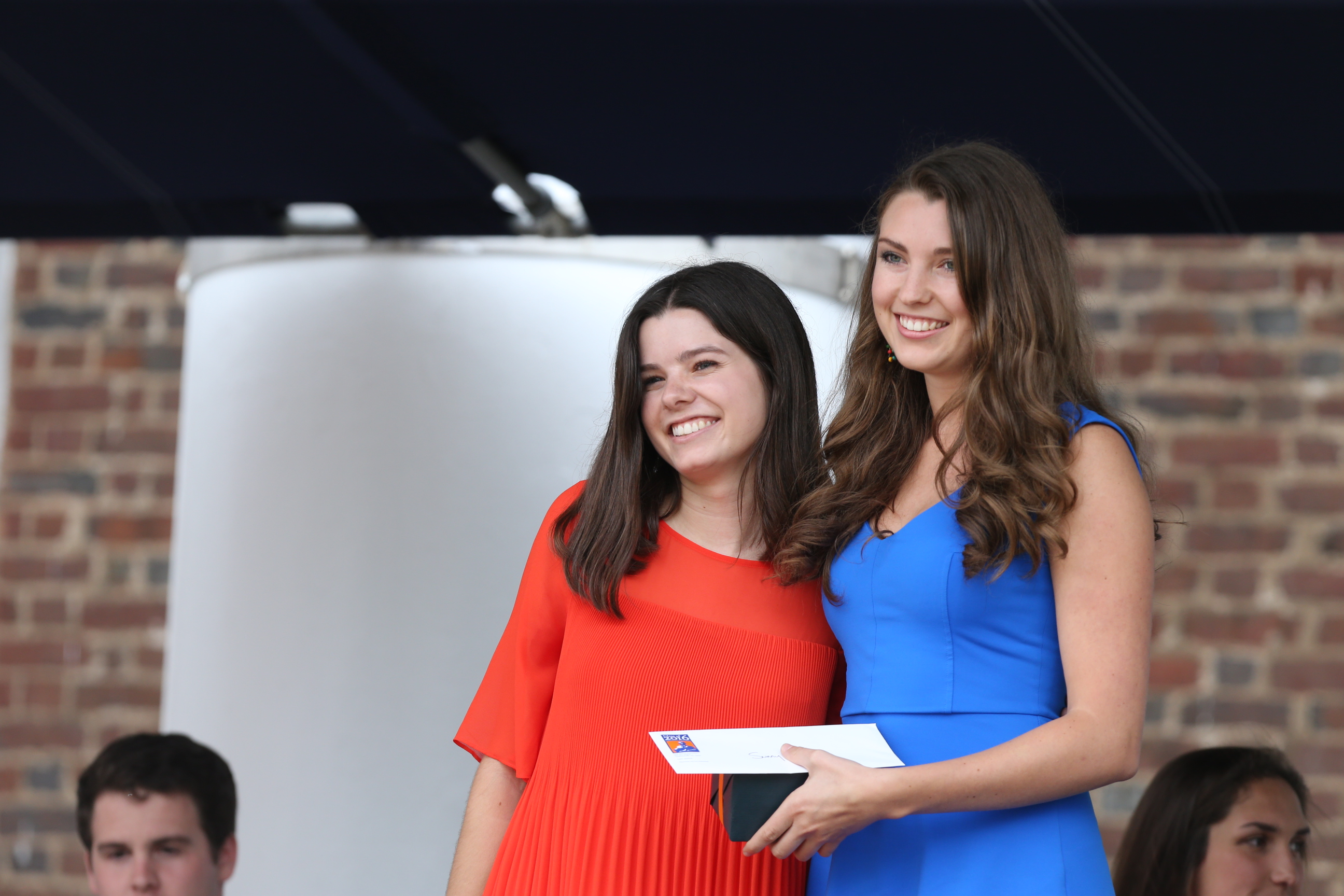 Sunny Sowards, left, earned the Class Award for Community Service.
Mayura Iyer, who has earned a master's degree in public policy, received the Class Award for Cultural Fluency for her leadership in organizations that support cultural understanding and diversity, including the Indian Student Association, Asian Leaders Council, Asian Student Union, and the Women's Center. She has done research around Nepalese refugee camps, tutored children in the Dominican Republic, and written on South Asian, minority and women's issues for a range of publications, including the Huffington Post. Next year she will work for Teach for America in Dallas.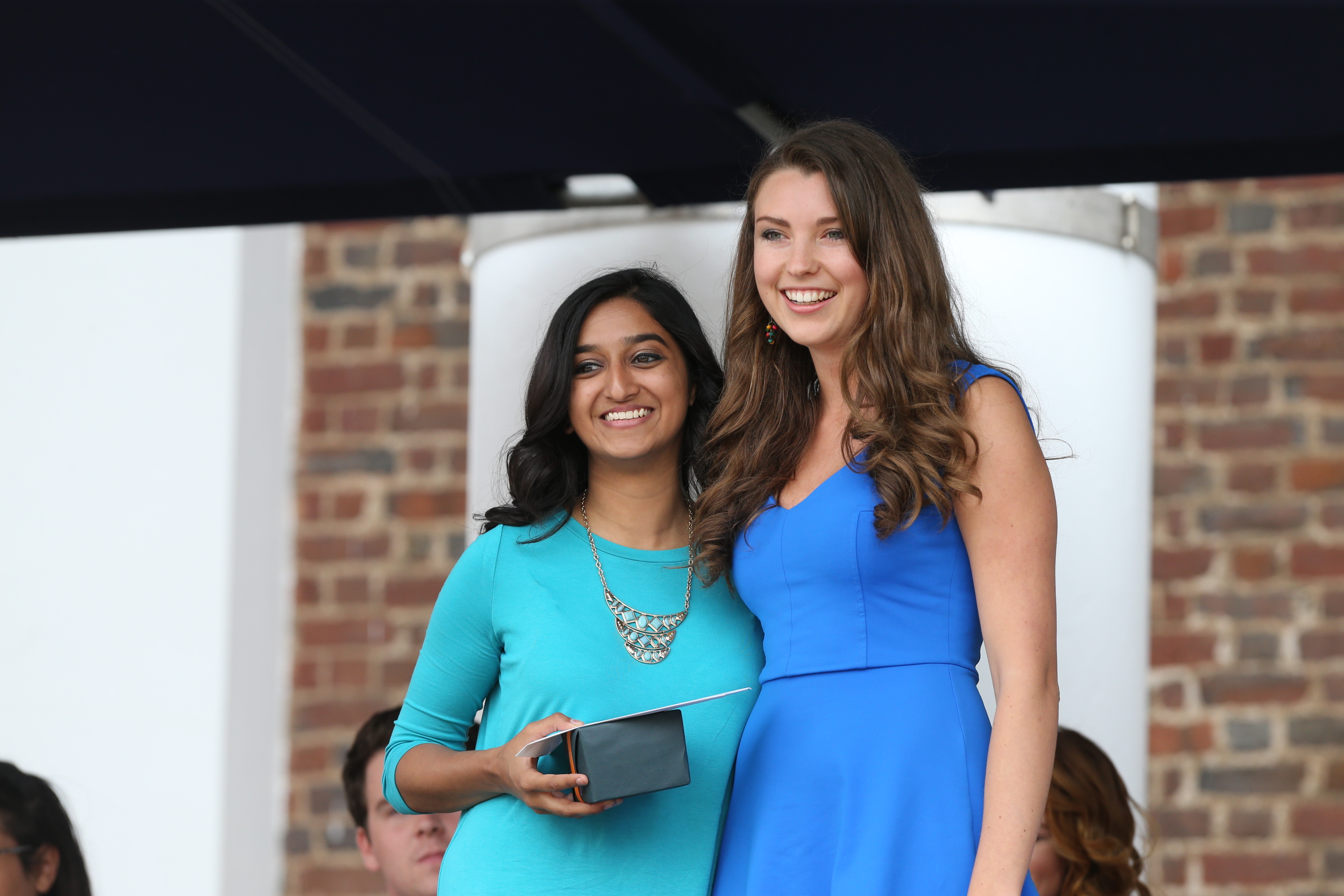 Mayura Iyer, left, received the Class Award for Cultural Fluency.
Annie Clark, a global development studies major, received the Ray of Light Award, which is given to a student who has left a mark on the University through consistent optimism, selflessness and humility. Clark has tutored prison inmates through Madison House's Beyond the Bars program, conducted advocacy workshops dedicated to the prevention of intimate partner violence through the One Love Foundation, and served as a leader in her sorority, Kappa Kappa Gamma. She is known by her peers for her integrity and compassion.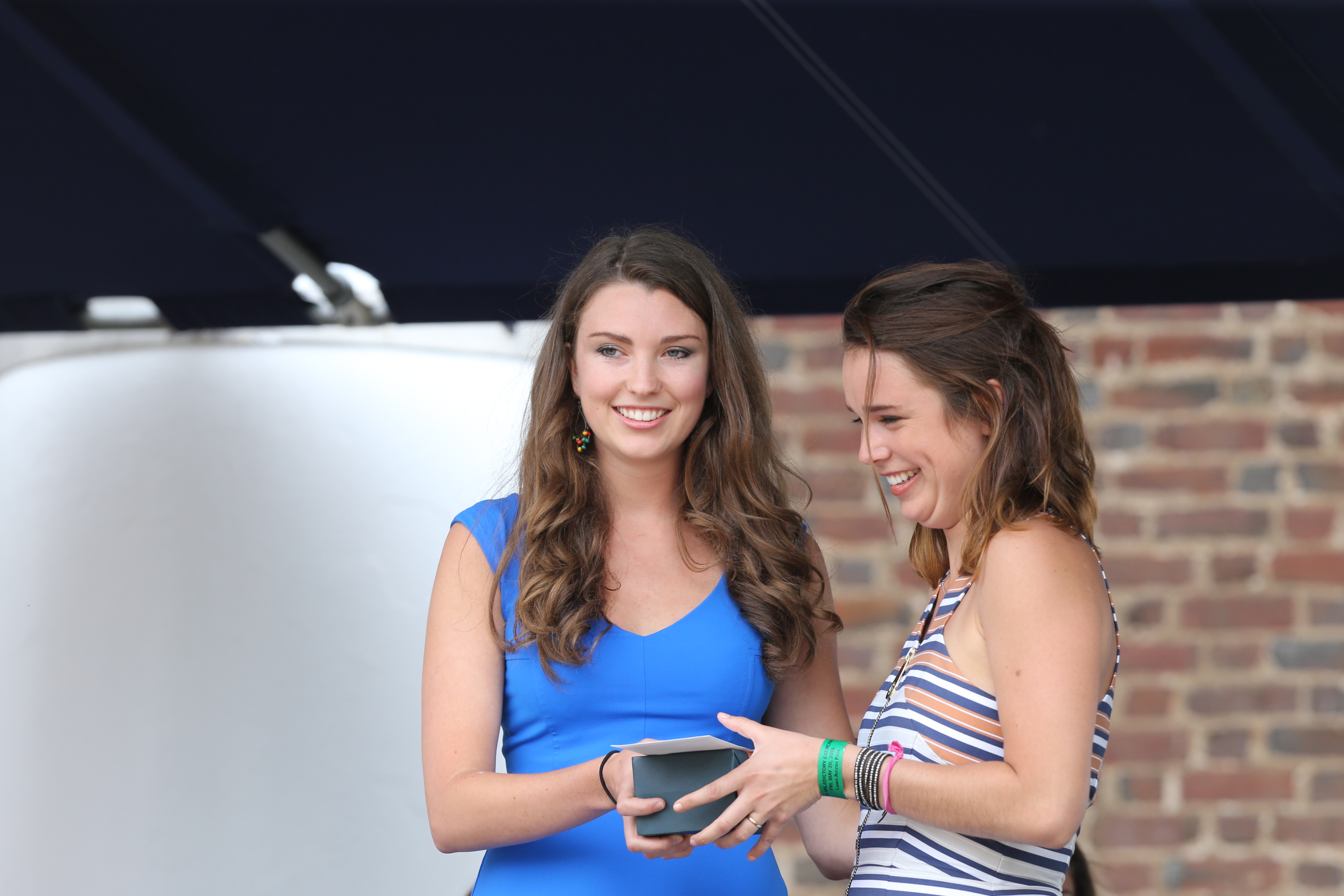 Article Information
May 20, 2016
/content/awards-service-honor-university-community-members-during-valedictory-exercises