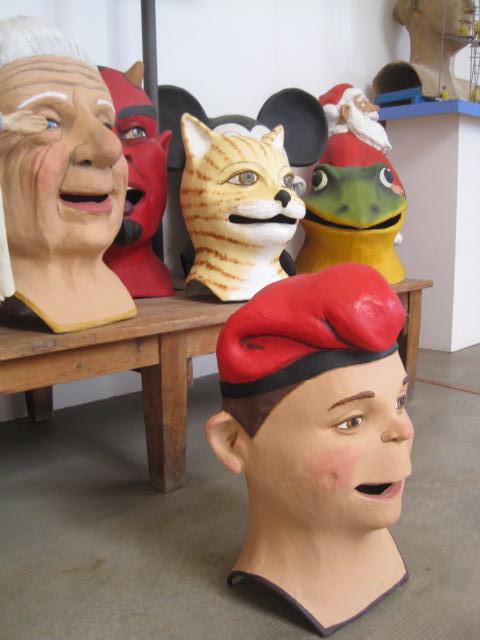 In partnership with the Visual Arts Center of Richmond, the University of Virginia McIntire Department of Art's Studio Art Program will host costume artists David Ventura and Neus Hosta from Navata, Spain March 18 through 22.  
The husband-and-wife team are renowned makers of "gegant" (giant) and "capgrosso" (big heads), creative costume art designed for Catalonian festivals and street parades.
Megan Marlatt, an art professor in U.Va.'s College of Arts & Sciences, traveled to Spain to observe Ventura and Hosta at work in their studio, and sought to bring the couple to U.Va. to share their art with her students.
Ventura and Hosta have been the subject of numerous articles and publications, including a chapter focusing on their work in Jo Farb Hernandez's "Forms of Tradition in Contemporary Spain."
Ventura and Hosta will lecture on their work on March 18 at 5:30 p.m. in Campbell Hall, room 158. The lecture is open to the public and will be given in Spanish with an interpreter.
From March 19 through 22, from 5:30 to 8 p.m. in the sculpture studios at Ruffin Hall, Ventura, Hosta and six select University art students will conduct workshops in making big heads. These workshops are not open to the public; they are for students only.
The capgrossos they create will be included in the public Creature Parade and Arts Festival on April 20. Attendees at this event, a part of the Stan Winston Arts Festival of the Moving Creature, will have an opportunity to get up close to the works and experience firsthand a collaborative project of the Department of Drama, Department of Art and the School of Architecture.