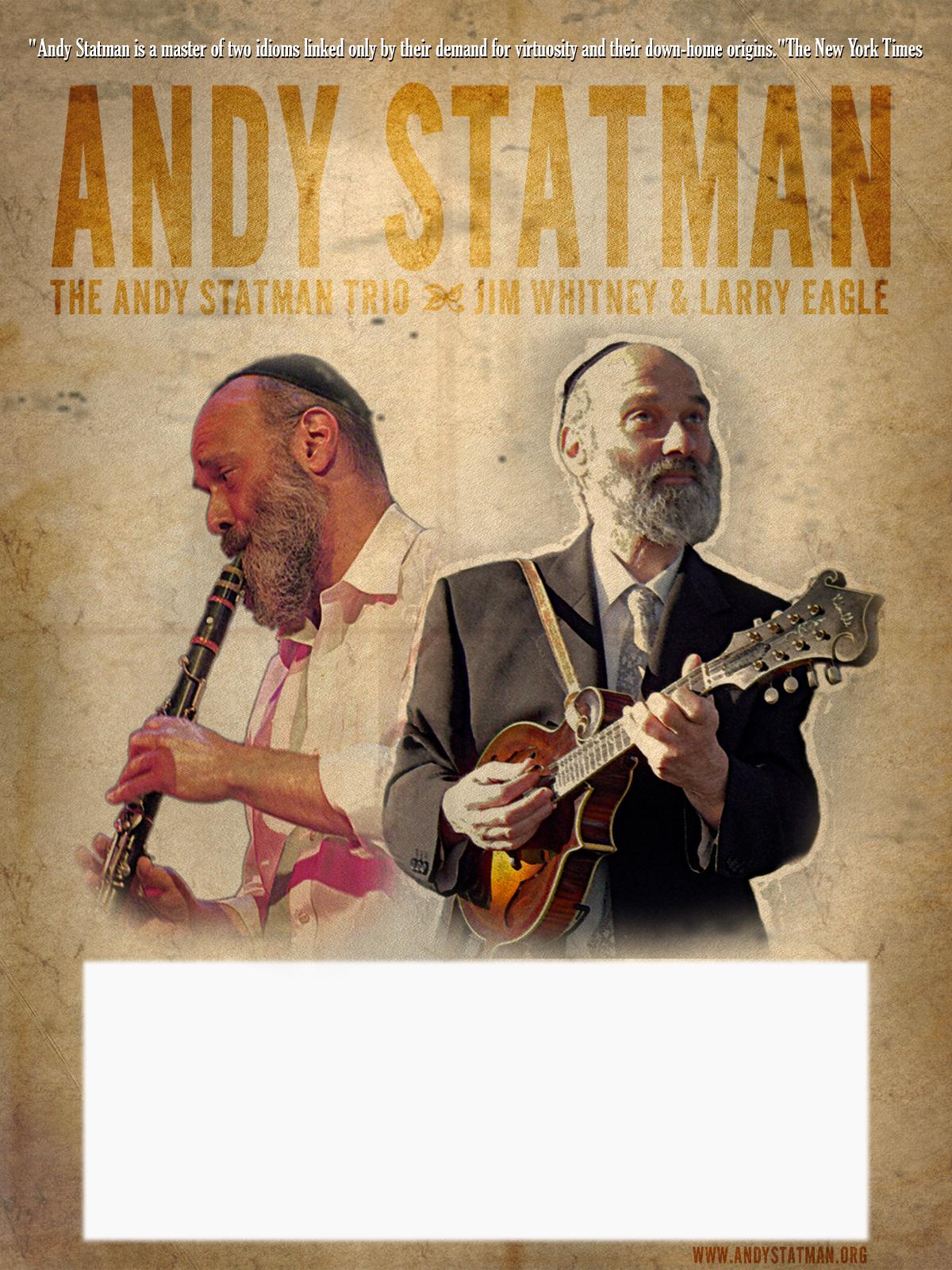 Mandolinist and clarinetist Andy Statman – a Grammy nominee famous for his innovative approach to bluegrass, klezmer and jazz – will be in residence at the University of Virginia's McIntire Department of Music from Nov. 4 to 6.
In 2012, Statman received the National Endowment for the Arts Heritage Fellowship Award for decades of innovation expanding the boundaries of traditional and improvisational forms.
The New Yorker called Statman "an American visionary"; the New York Times described his approach as "modern American music with ancient mysteries at the core"; and Rolling Stone described his music as "a beautiful sound full of heat, heart and a love of God."
Statman has appeared on more than 100 recordings, including 20 under his own name. He has recorded and toured with the Grateful Dead, Bob Dylan, Ricky Skaggs, Béla Fleck, David Grisman, Itzhak Perlman, Vassar Clements and Stéphane Grappelli.
A highlight of his residency will be a free concert, open to the public, with the Andy Statman Trio – featuring drummer Larry Eagle and bassist Jim Whitney – at Old Cabell Hall on Nov. 5 at 8 p.m.
Statman regularly gives master classes in colleges and music camps, and has authored several music books and instructional DVDs.
His residency will also include a lecture and demonstration with members of the trio on Nov. 6 from 10 a.m. to noon at Eunoia at 1500 Jefferson Park Ave., facilitated by music department faculty members Joel Rubin, Richard Will and Michelle Kisliuk. That same day from 5 to 6:30 p.m., there will be a Jewish Studies colloquium with Statman, moderated by Rubin and Kisliuk. These events are free and open to the public.
Born in 1950 into a long line of cantors, composers and classical and vaudeville musicians, Statman grew up in Queens, N.Y. His early musical influences included klezmer records played at family gatherings, Tin Pan Alley and Broadway show tunes, rock 'n' roll, big band and his rabbi in Hebrew school singing Hasidic songs.
When Statman's older brother started bringing home bluegrass records, Statman took up the guitar and banjo, eventually switching to mandolin under the tutelage of David Grisman, the famous bluegrass-newgrass mandolinist and composer.
Statman was soon performing with local bands at multiple venues and on Sunday afternoons in Washington Square Park. After hearing free jazz artist Albert Ayler, Statman began to study saxophone, which he played in jazz, funk, rock and blues bands while continuing to expand his mandolin playing in similar directions.
In 1970 he joined the experimental bluegrass group Country Cooking, followed by a stint with David Bromberg's band, and then another group, Breakfast Special.
Still broadening his musical horizons, Statman took up the clarinet and studied Greek, Albanian and Adzerbaijani music. In 1975, he sought out the legendary klezmer clarinetist and National Heritage Fellow Dave Tarras, and became his protégé. Tarras bequeathed four of his clarinets to the younger virtuoso.
In the late 1970s, Statman recorded his first albums: "Jewish Klezmer Music," a recording that became a touchstone for the 1970s klezmer revival, and "Flatbush Waltz," a mandolin-focused work of post-bebop jazz improvisations and ethnically inspired original compositions.
As a clarinetist, Statman began to zero in on the sublimely ecstatic, centuries-old Hasidic melodies that lie at the heart of klezmer music – melodies that were embedded in the religious path he had come to follow. This led to his galvanizing klezmer music with a spiritually-oriented jazz sound influenced by Ayler and John Coltrane.
Statman's residency is being sponsored with a grant from U.Va. Arts Council: Enriching the Arts on Grounds, with supplemental sponsorship from the U.Va. Jewish Studies Program, the Center for Russian, East European and Eurasian Studies, the American Studies Program, the Department of Religious Studies, the James Dunton Gift (Jazz Performance Program), the Brody Jewish Center and the Charlottesville Jazz Society.