The minimum wage for new hires at the University of Virginia has increased by 16.2 percent since 2011, the Board of Visitors heard Thursday as it reviewed ongoing efforts to ensure fair and competitive pay to UVA employees.
Currently, the minimum wage for newly hired, full-time staff at UVA is $12.38 per hour, higher than both the federal minimum wage ($7.25) and the estimated living wage for an adult in the City of Charlottesville ($11.86), measured by the Massachusetts Institute for Technology Living Wage Calculator. The minimum wage plus the blended fringe rate, which accounts for the value of employee benefits like insurance and paid time off, is $16.68 per hour.
In addition to their starting pay, employees who have been at UVA for more than a year are eligible for merit-based pay increases, which have been funded by the University annually since 2012. The average annual merit increase for UVA staff is 3 percent. In its preliminary planning, the University has budgeted to increase the minimum rate of pay from $12.38 to $12.75 in 2018-19.
The chart below shows increases in UVA's minimum pay rate since 2011, as well as increases in the blended fringe rate. The data includes full-time University staff in both the Academic Division and the Medical Center.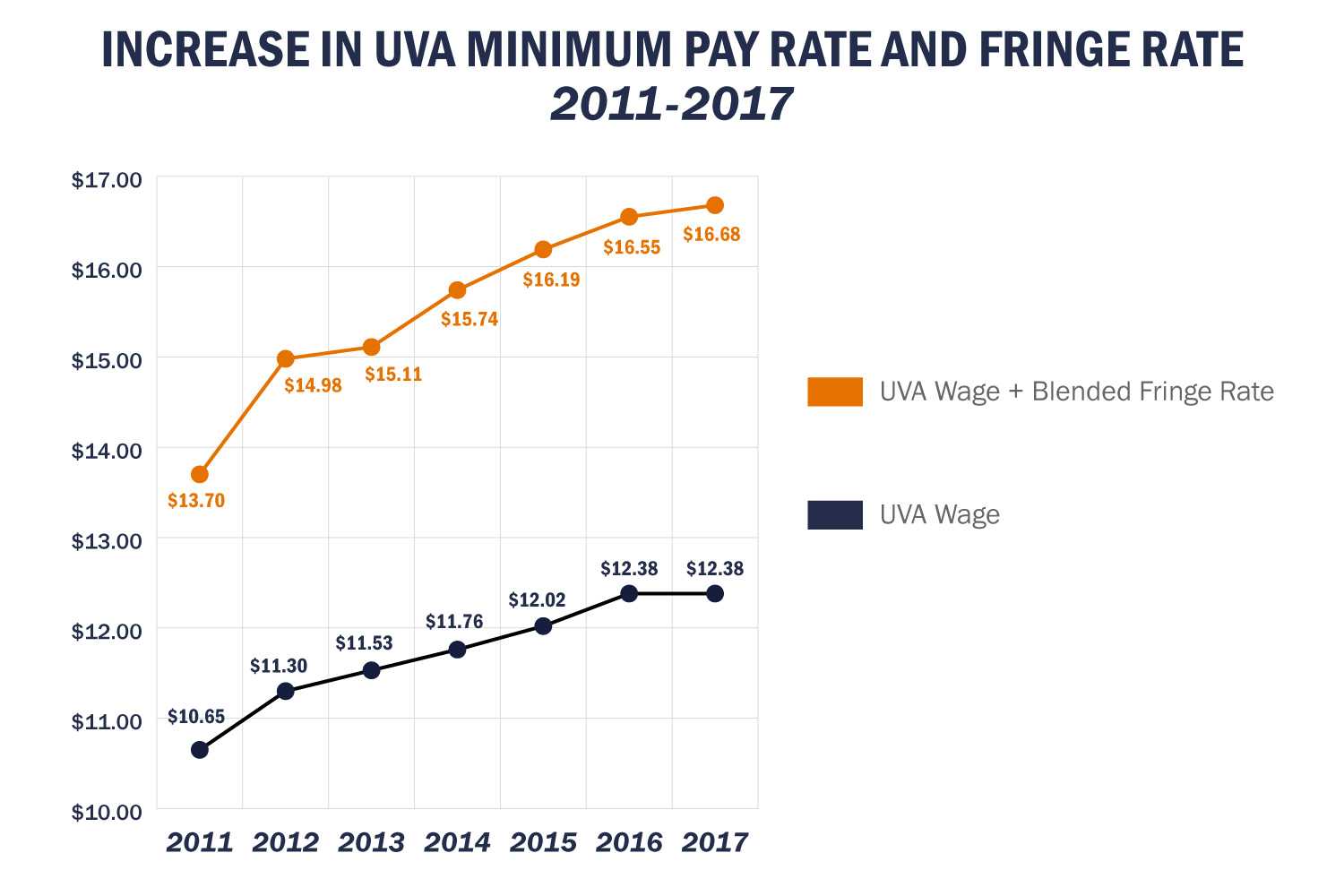 Board of Visitors Reviews UVA Minimum Wage, Well Above Federal Levels
UVA Vice President and Chief Human Resources Officer Kelley Stuck said that the University regularly reviews pay rates at every level and benchmarks those rates against peer institution data from the College and University Professional Association for Human Resources and other applicable market surveys.
"We continually work to ensure that our compensation packages are fair and competitive, and our base wage is currently far above the federal minimum wage, and also above what MIT states is the living wage for Charlottesville, which is one of the more expensive localities in this region," Stuck said. "Additionally, our benefits, including insurance, education and other benefits, exceed those of most employers in the area."
The University offers an array of health and retirement plan options for full-time employees, as well as paid time off and other benefits.
UVA President Teresa A. Sullivan and Executive Vice President and Chief Operating Officer Patrick D. Hogan presented these figures to the Board of Visitors on Thursday.
Sullivan has been working with the Board of Visitors to increase wages for the University's lowest-paid employees throughout her tenure at UVA.
"We care about the well-being of all of our employees – faculty, staff, and hourly wage workers alike," Sullivan said. "These efforts over the years to increase hourly wages and to improve employee compensation generally are the products of our sustained commitment to make UVA a great place to work for every one of our employees."
Article Information
December 7, 2017
/content/board-visitors-reviews-uva-minimum-wage-well-above-federal-levels