The name of the late Julian Bond, one of the most prominent leaders of the civil rights movement and a beloved University of Virginia history professor, will grace a new upper-class student residence building on Brandon Avenue.
The six-story apartment building, scheduled for occupancy in August, is being constructed at the end of Brandon Avenue, adjacent to the University's South Lawn, in a newly planned, sustainability-focused, student-centered neighborhood. 
The UVA Board of Visitors approved the residence hall's new name – Bond House – on Friday, in keeping with the University's tradition of naming residence halls in honor of longtime, well-regarded faculty members.
The board resolution points out that "Mr. Bond's office was located in Nau Hall on the South Lawn, very close to the new residence hall location."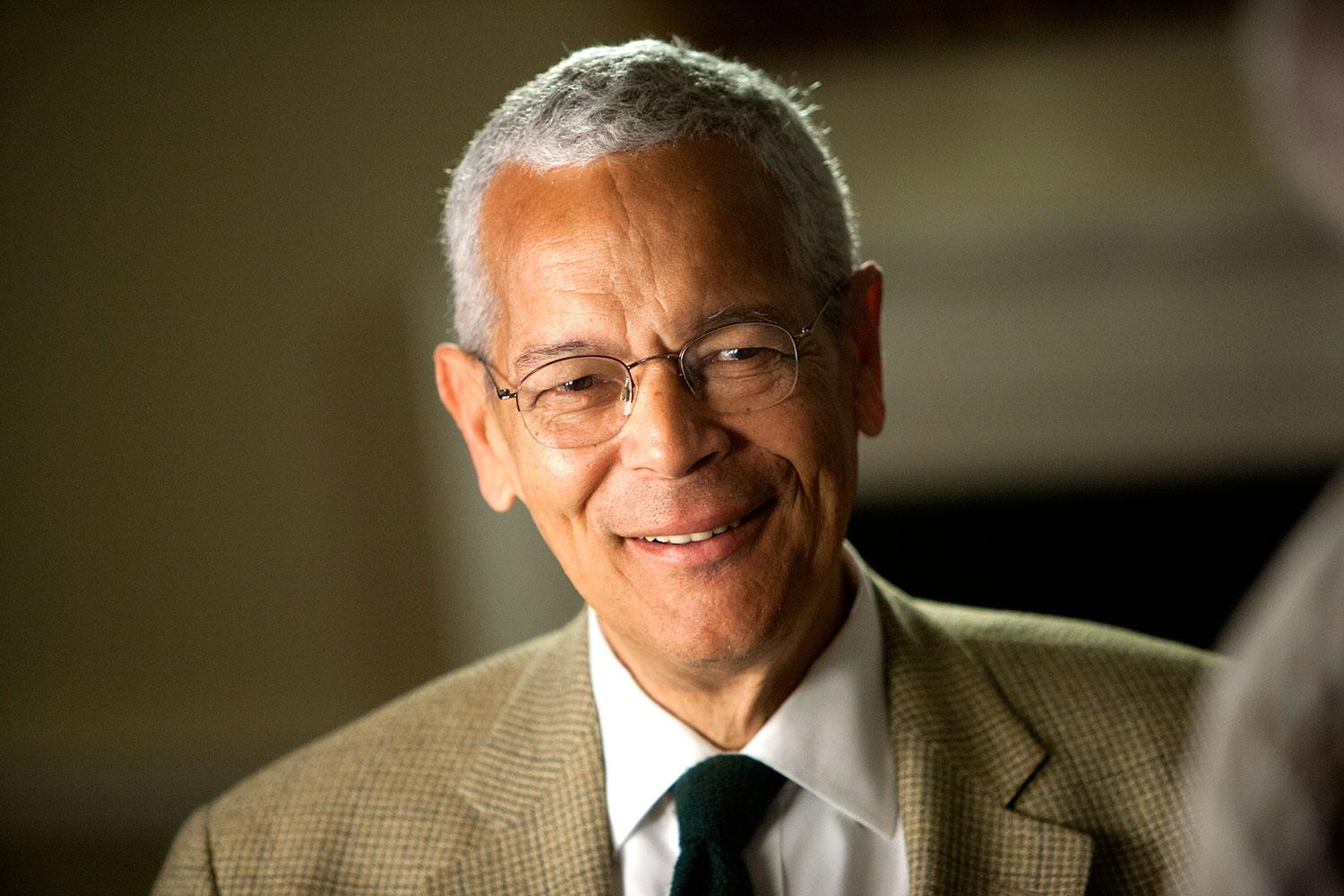 The late civil rights icon Julian Bond taught at UVA from 1992 to 2012, when more than 5,000 students took his popular "History of the Civil Rights Movement" seminar.
Bond House will serve as an anchor for the new Brandon Avenue project, creating a vibrant, collaborative community for students to live and engage in student-centered activities. It will contain 307 single rooms in four-bedroom apartments, plus six resident staff rooms, for a total of 313 student rooms.
The ground floor will house the Democracy Initiative, a global center for the study of democracy's successes and failures, opportunities and threats, specializing in "democracy labs" that eventually might influence policies to strengthen democracy at home and worldwide. The ground floor also will include student spaces.
The Brandon Avenue master plan also calls for a new student health and wellness center and a second residence hall to be built on the street. The locale will be developed as a "Green Street" – a one-way loop with a landscaped bioretention area and gathering spaces in the central plaza that will also be close to Bice House, an existing University apartment complex.
Goody Clancy, an architectural design firm is working on this residence hall, the first phase of the Brandon Avenue project.
Alice J. Raucher, architect for the University, said the Change-Agent Commemoration Advisory Committee, which she chairs, recommended naming the building for Bond. The University's Committee on Names, after receiving a lot of support for honoring him thus, approved the next step: to move the naming forward to the Board of Visitors.
The Change-Agent Commemoration Advisory Committee, an advisory group created last fall by UVA President Jim Ryan, aims "to consider the future of the historic landscape by identifying and implementing additions to Grounds that acknowledge change agents who have altered and enriched the life of the University," Raucher said. The committee also is charged with finding opportunities "to provide contextualization that interprets features of the UVA landscape that warrant further contemplation or historical grounding," she said.
Horace Julian Bond, a longtime social justice activist and one of the co-founders of the Student Nonviolent Coordinating Committee in the 1960s, taught in UVA's Corcoran Department of History for 20 years. After joining the faculty in 1992, Bond taught more than 5,000 students who took his popular "History of the Civil Rights Movement" seminar. 
During his time on Grounds, Bond also co-directed the University's "Explorations in Black Leadership" oral history project, bringing dozens of African-American leaders to Grounds for public lectures and private interviews with Bond.
He continued to contribute to University initiatives after his teaching tenure concluded. For many years, he led a Civil Rights South Seminar, a popular annual tour for alumni, parents and friends to visit Atlanta; Birmingham and Selma, Alabama; and other landmark sites from the civil rights movement.
Bond was elected to the Georgia House of Representatives and to the George State Senate, serving 20 years as an elected official. He was also the first president of the Southern Poverty Law Center from 1971 to 1979. From 1998 to 2010, overlapping with his years as a faculty member at UVA, he was chairman of the National Association for the Advancement of Colored People.
His papers relating to his years at SNCC, his legislative activities and his NAACP leadership have been donated to the University's Albert and Shirley Small Special Collections Library.
Recognizing Julian Bond's impact, UVA's College and Graduate School of Arts & Sciences established the Julian Bond Professorship of Civil Rights and Social Justice after Bond's death in 2015, with contributions from as many as 350 alumni, parents and friends. Historian Kevin Gaines is the inaugural holder of the Bond Professorship.
Article Information
March 1, 2019
/content/brandon-ave-housing-named-uva-professor-and-civil-rights-icon-julian-bond