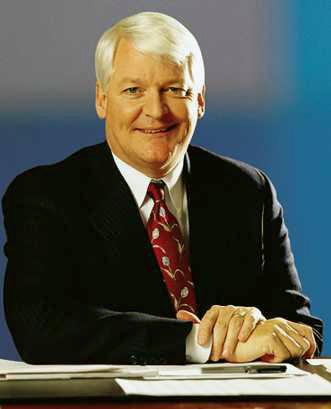 January 5, 2006 — C. Thomas Faulders III, a 1971 graduate of the University of Virginia, has been selected as president and chief executive officer of the U.Va. Alumni Association by the association's board of managers. Faulders will assume his position by early March. He will succeed current president Jack Syer, who will retire after a transition period.

After graduating from U.Va., Faulders served in the U.S. Navy for eight years, and then obtained his master's degree in business, with a specialization in finance and management information systems, from the University of Pennsylvania's Wharton School in 1981. Next, Faulders entered the telecom industry, beginning his career with Satellite Business Systems. Over a 26-year career that included senior-management positions in finance, strategic planning, sales and marketing, distribution and logistics, he worked for MCI, COMSAT, BDM International and most recently LCC International, where he engineered a financial turnaround as chairman and CEO.

"The search for a new leader for the Alumni Association attracted a large, diverse pool of highly qualified candidates," said Richard B. Payne Jr., chairman of the search committee and vice chairman of the board of managers.

"The board concluded that Tom's financial and executive-management skills will serve the alumni and the University well in years to come," Payne said, noting that the Alumni Association has grown more than three-fold over the past decade and, together with its affiliate, the Jefferson Scholars Foundation, now holds more than 0 million in assets in support of the University's mission.

"As the University enters into a particularly defining moment in its modern history, it will be relying largely on alumni and friends to replace historical state financial support," said Richard G. Tilghman, chairman of the board of managers. "The opportunity for U.Va. to remain among America's top universities will depend on the success of the University's billion capital campaign, which will kick off this fall. An increase in support from alumni and friends will likely bring heightened expectations by those stakeholders for prompt communications and access to University resources."

Faulders' experience in the publicly owned, for-profit sector translates well into his new role. "His extensive telecommunications and information-technology background gives him the knowledge base to operate in today's quickly changing electronic communications environment, especially as it relates to the University's rapidly expanding young-alumni segment," Tilghman said.

Faulders has remained active in University affairs as a donor and volunteer for his fraternity, the College of Arts & Sciences and the Jefferson Scholars Foundation. He sits on a number of governing boards, including that of Randolph Macon Women's College in Lynchburg, Va.

A member of Phi Delta Theta (now Phi Society) and a former student resident of the University's historic Lawn, Faulders will move to Charlottesville from his current home in McLean, Va. He and his wife, Dana, have two daughters — Laura, currently a fourth-year student at the University, and Kristen, whose husband David Neuman is a 1999 graduate of U.Va.
 
Contact: Jack Syer
(434) 243-9053