On Saturday and Sunday, thousands of soon-to-be University of Virginia graduates will don robes and mortarboards, joining a sea of classmates to process the Lawn to claim their hard-earned degrees.
Many of them have added their own special touch to those ubiquitous black caps, helping their wearers to stand out in the crowd and to remember everything that made UVA feel like home.
Some draw on lessons learned from favorite classes. Audrey Hibdon, who will earn a history degree on Saturday, used skills she picked up in a "Design Through Making" course to make her cap stand out.
The course, offered by the Curry School of Education and Human Development, required students to use laser cutters, 3-D printers and a Silhouette electronic cutting machine for various design projects. Hibdon later used the Silhouette to design and cut stickers and decorations for her V-sabre cap.
"It was really cool to use the skills I learned in class for something I needed outside of class," she said.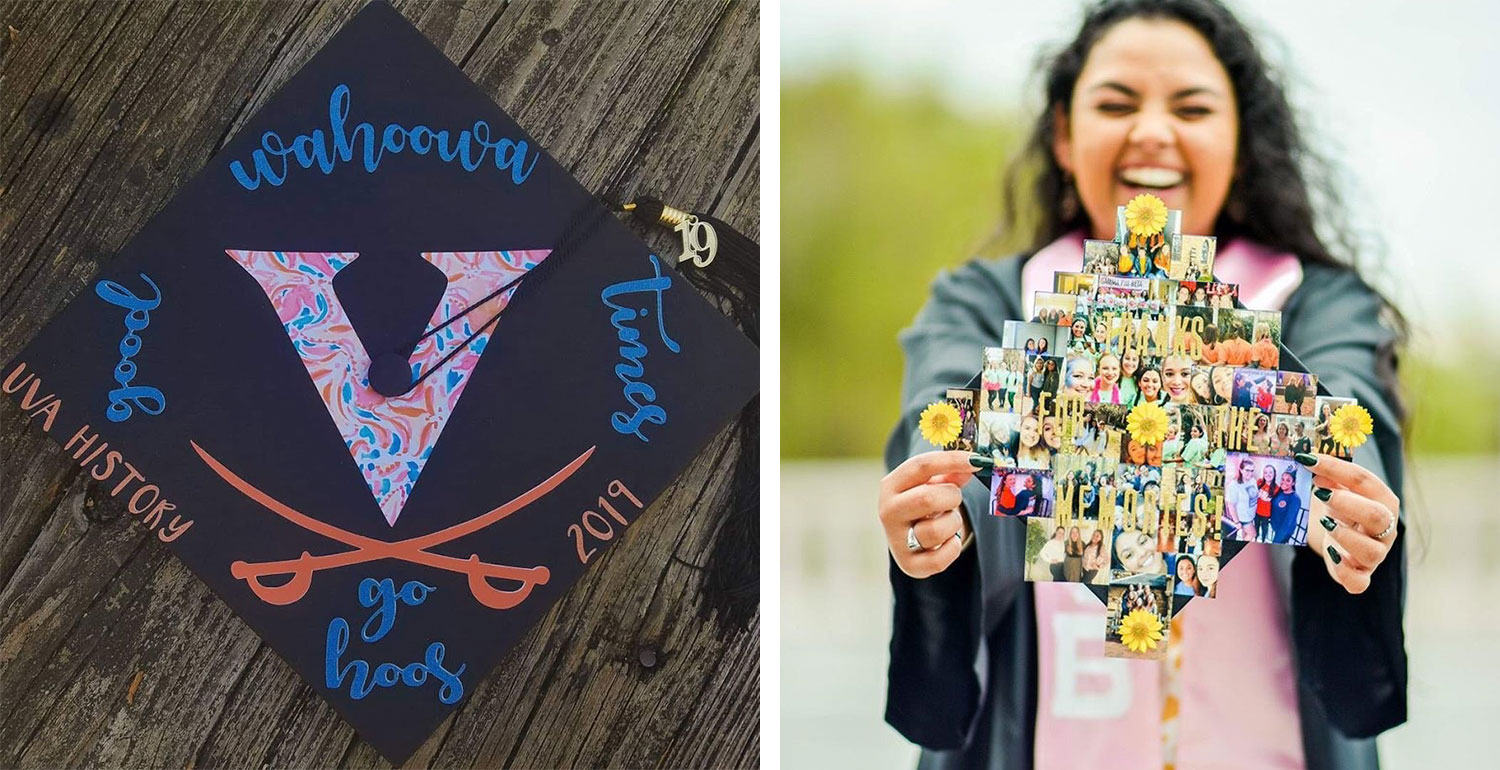 Audrey Hibdon used one of UVA's Maker Spaces to create her cap, left, while Harmanjit Tiwana filled hers with favorite photos. (Photos: Audrey Hibdon, Harmanjit Tiwana)
Others, like Harmanjit Tiwana, filled their caps with favorite UVA memories.
Tiwana, who majored in foreign affairs and minored in anthropology, transferred into UVA her third year and it "instantly became home for me," she said. She joined a sorority and got involved in many student organizations, including serving as a "Global Greeter" for the International Studies Office, welcoming international students to Grounds.
"It allowed me to represent UVA and welcome international students to a place I grew to call home," she said.
She decorated her cap with some of her favorite memories on Grounds, made with her closest friends at UVA.
"I added the sunflowers because they're my favorite flowers, and because they are 'happy' flowers – perfectly reflecting my amazing time at UVA," she said.
Colleen Callahan also was a transfer student. She and her friend, Sarah Piekarski, will both earn bachelor's degrees in mathematics this weekend; with Piekarksi double-majoring in computer science.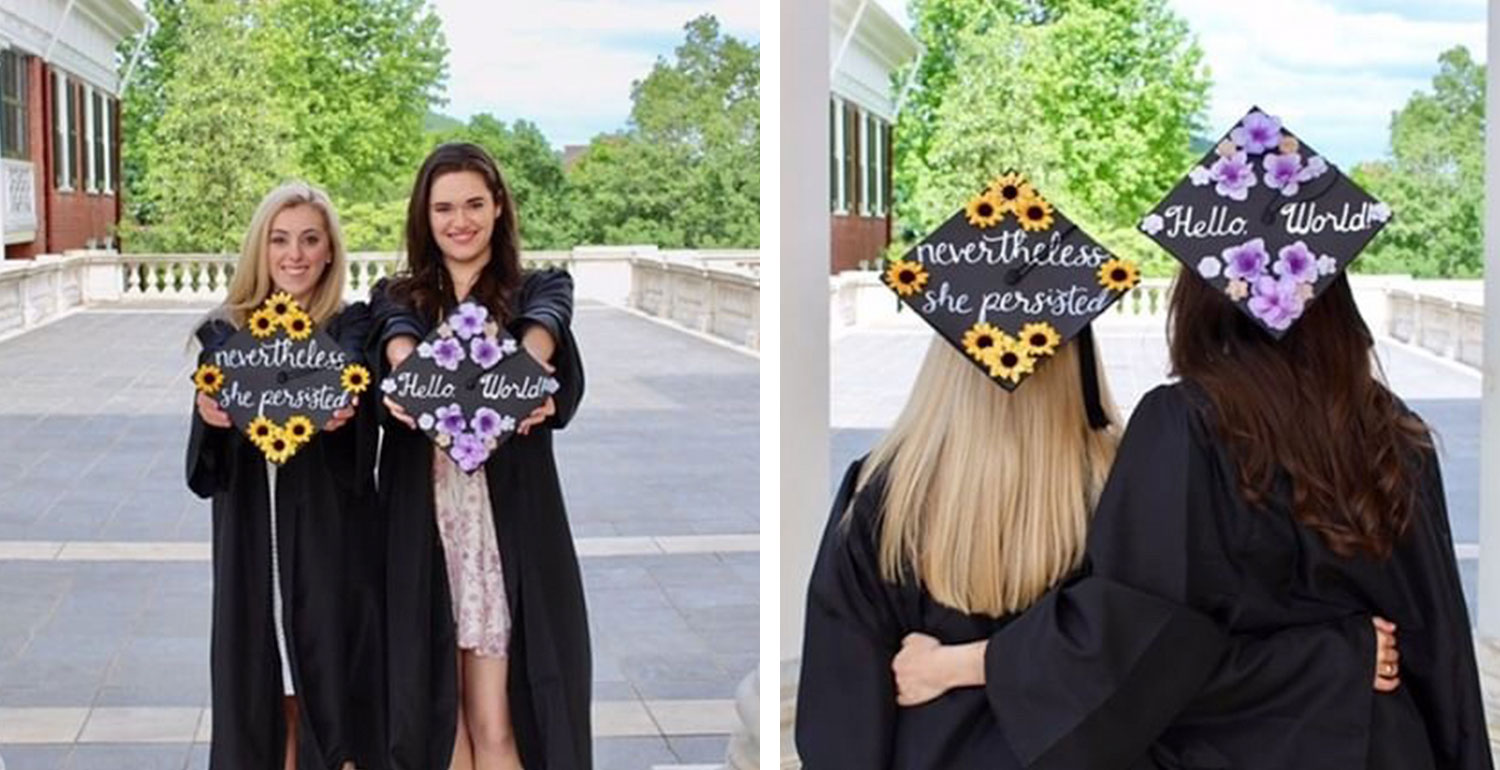 Math majors Colleen Callahan and Sarah Piekarski delivered powerful messages with a flowery punch. (Photos: Colleen Callahan)
Callahan chose to decorate her cap with the quote, "Nevertheless, she persisted," which was originally used critically by Senate Majority Leader Mitch McConnell to refer to Sen. Elizabeth Warren, and was later adopted as a general rallying cry for women fighting for change and progress.
It felt appropriate for Callahan, who has fought through chronic illness while at UVA.
"My college experience has been filled with ups and downs, but through it all I've managed to push through stronger somehow," she said. "I've basically made Student Health my second home due to chronic illness, yet I still kept getting up and tackling each day. So many times it felt like it would be in my best interest to quit, but I kept going."
Many graduates used their caps to hint at what they will be doing after graduation. Hannah Delaney is earning a degree in systems engineering. After she walks the Lawn, she will start a six-month internship as a data analyst at the Walt Disney Company.
She called it her "dream job."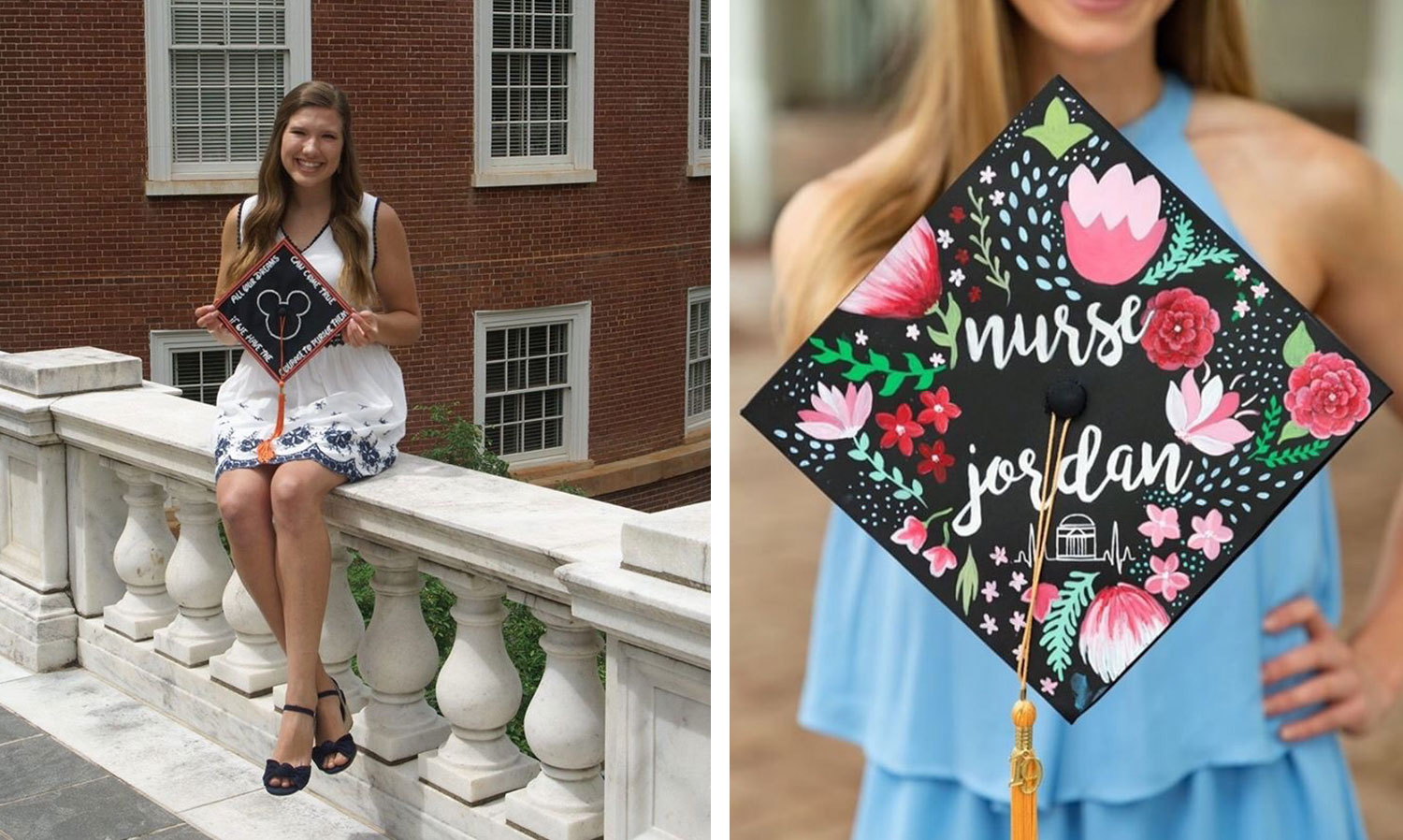 Hannah Delaney is headed to Walt Disney Company, while Jordan Chapman will start a nursing career. (Photos: Hannah Delaney, @hoowithaview)
Jordan Chapman, a nursing student and UVA cheerleader, celebrated her future title on her graduation cap. She will be a pediatric nurse at the Children's Hospital of the King's Daughters in Norfolk.
Other students used the space to reflect on their time at UVA or remind themselves of their motivation. Jaterra Brown went with two designs, one celebrating African American scholarship and one with a floral, tongue-in-cheek message.
"I wanted my grad caps to be a representation of myself," she said. "I consider myself to be a strong, black female who tends to be really girly at times, and chose to create two separate cap ideas to represent the different sides of my personhood and personality."
Brown, who earns a degree in women and gender studies on Saturday, will soon start work with the Washington AIDS Partnership Health Corps Program, part of an AmeriCorps service program in Washington, D.C.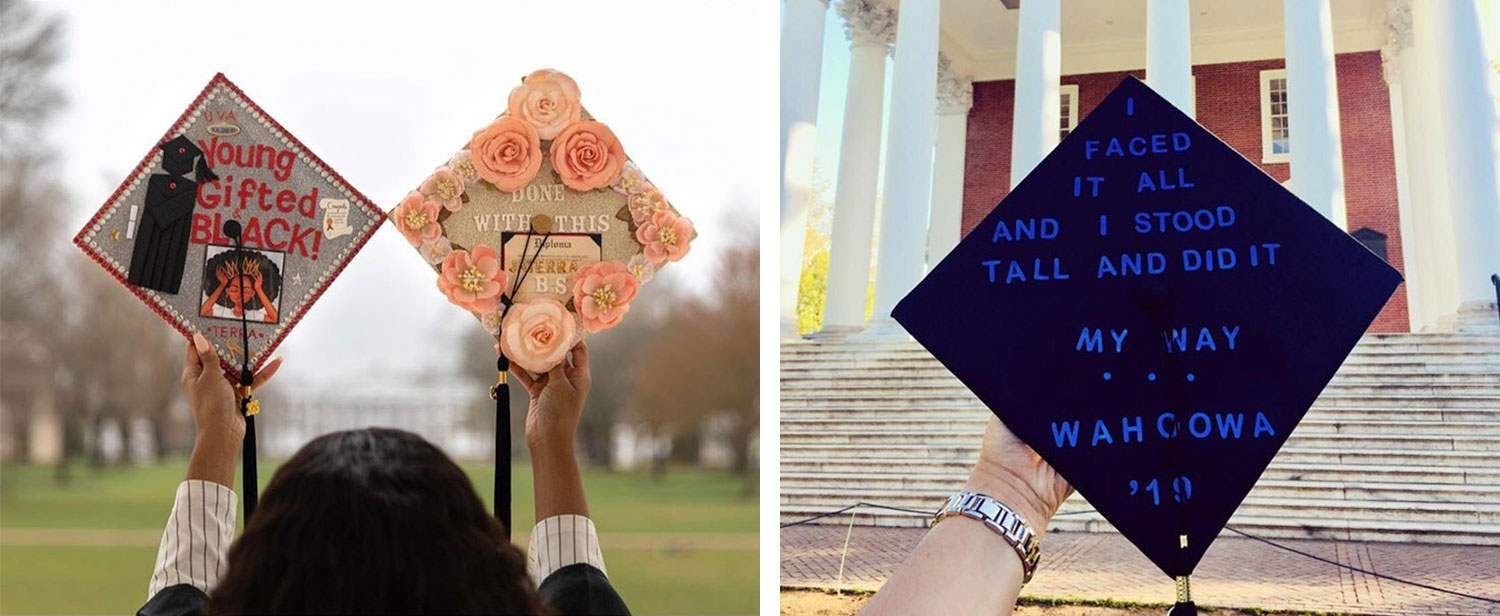 Local business Glamz Designz by Coco created Jaterra Brown's caps, left. Cynthia Alam used a Frank Sinatra quote for her cap, right. (Photos: Jaterra Bria'Na, Cynthia Alam)
Cynthia Alam, who will earn a bachelor's degree in English on Saturday, chose a favorite line from Frank Sinatra's song "My Way": "I faced it all and I stood tall and I did it my way."
"I chose that line because everytime I faced a roadblock, I took an unlikely path to get around it," said Alam, a "huge" Sinatra fan. "I never gave up, and I 'did it my way.'"
Nicole Baker, who studied speech communication disorders in the Curry School and will soon pursue a master's degree in speech language pathology at James Madison University, took inspiration from "The Good Ol' Song."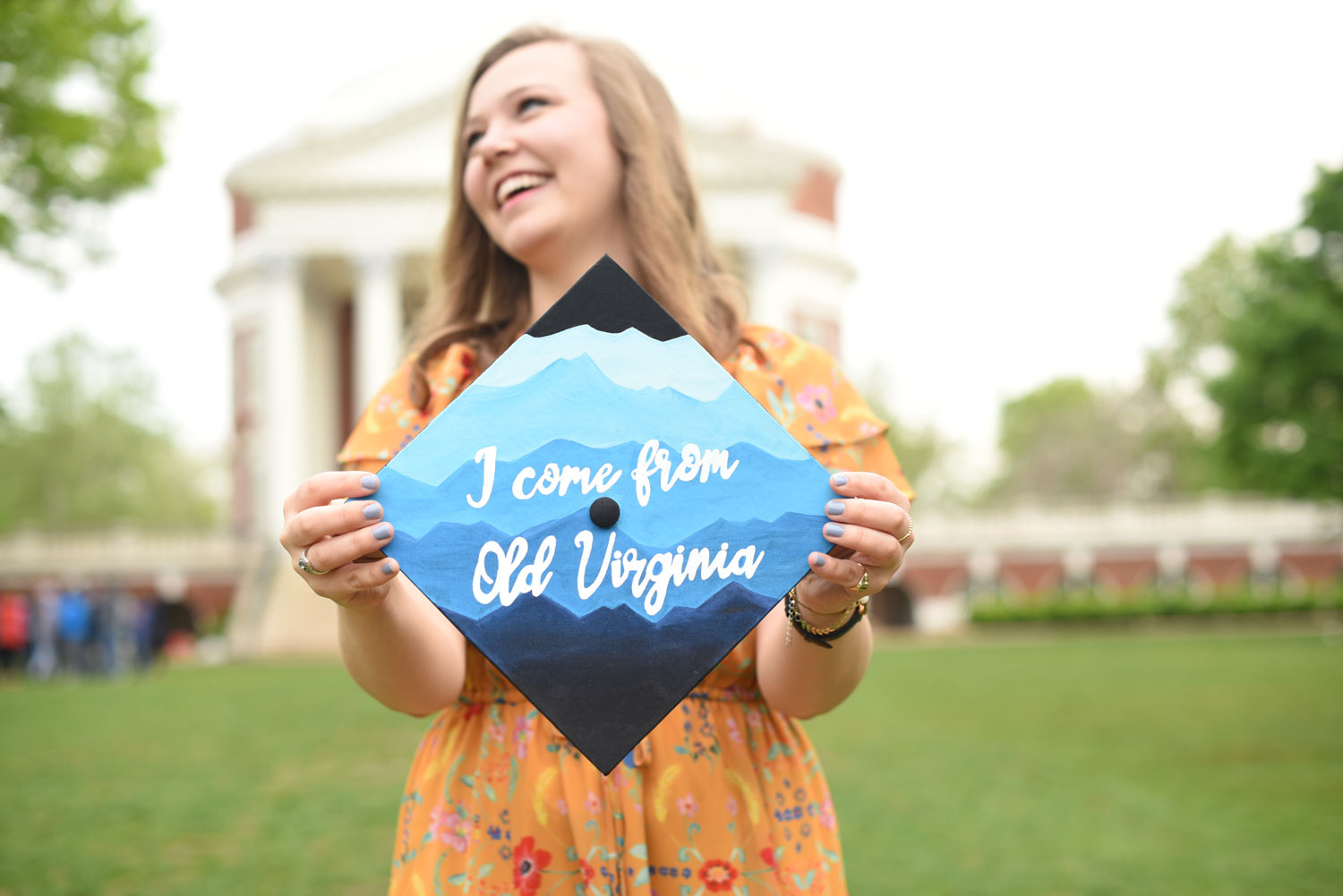 Nicole Baker featured a UVA classic – "The Good Ol' Song" – and the beautiful Blue Ridge Mountains. (Photo: Christina Anton)
Baker grew up in a small town in the Shenandoah Valley and wanted to capture the beautiful Blue Ridge Mountain views of her home.
"I have never felt a deeper sense of home than in the mountains," she said. "I found that sense of home remained when I had the privilege of attending my dream school, the University of Virginia, and still found comfort in the mountains surrounding Charlottesville.
"I will always be most proud of both my upbringing in the mountains of the Shenandoah Valley and my attendance at UVA."
Hannah Kohl, who will earn a bachelor's degree in chemical engineering this weekend, couldn't resist incorporating her favorite TV show, "The Office," and Steve Carell's iconic character, Michael Scott.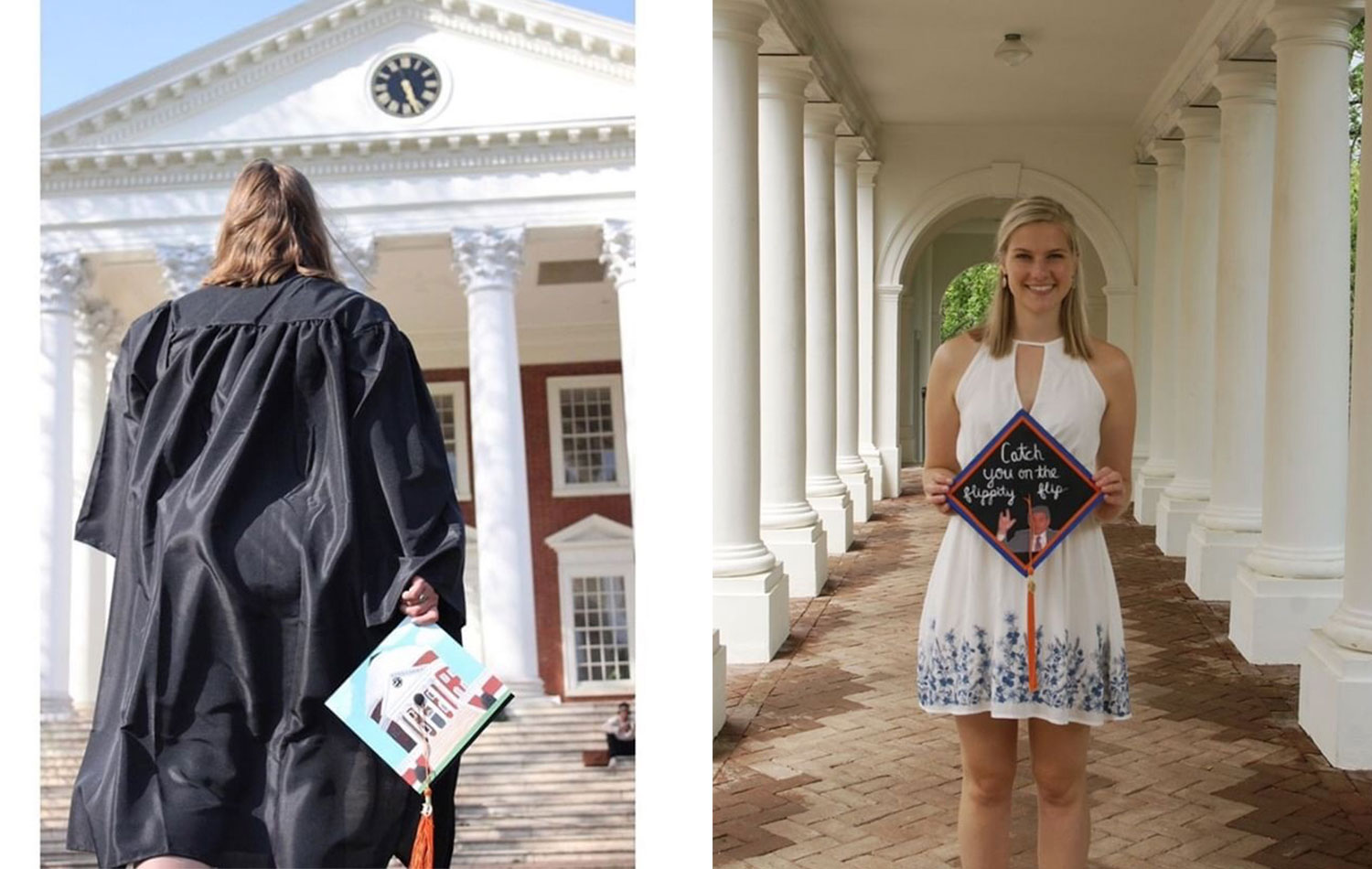 Alex Greif used her cap to show off her favorite place on Grounds, while Hannah Kohl paid tribute to her favorite TV show. (Photos: Alex Grief, Hannah Kohl)
Alex Greif chose another icon, closer to home. She served as a student ambassador at the Rotunda, welcoming visitors to UVA's recently restored centerpiece.
"Of course, my cap had to have my favorite place on Grounds," she said.
See more graduation caps and share your own on UVA's Instagram page, @uva.
Media Contact
Article Information
May 16, 2019
/content/capping-it-see-class-2019s-creative-mortarboard-designs