Students visiting the University of Virginia's student center on the Corner, known simply as 1515, can grab a latte from the in-house café, reserve rooms for group meetings, study in its many nooks and crannies or take a break in the game room.
Now, they can also figure out the next steps in their post-graduation careers.
The UVA Career Center has added a new location on the second floor of 1515. Career counselors and peer educators staff the space every weekday from noon to 5 p.m., allowing students to drop by for informal conversations as they are studying or heading to and from class.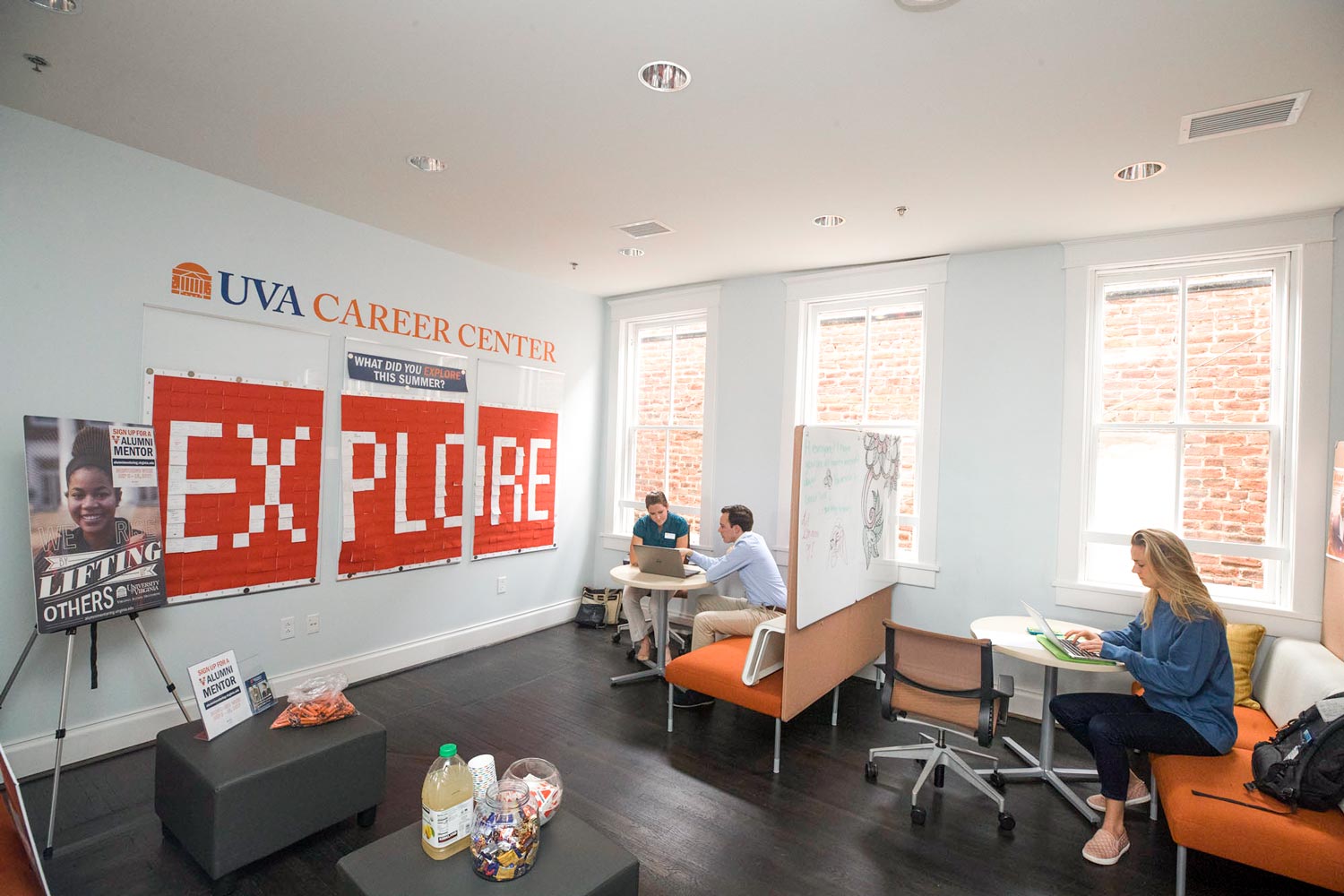 The second-floor space has plenty of room for students to talk with advisors, attend workshops, study and enjoy coffee and snacks. (Photo by Dan Addison, University Communications)
The 1515 space is part of the Career Center's larger effort to engage students early in the career exploration process, especially first- and second-year students who might not have chosen a major or a career path yet. The center opened an office in Newcomb Hall last year and will soon have space in Clemons Library, in addition to its main offices in Bryant Hall.
"We want to be able to meet students where they are and make it easy for them to get in front of our career advisers and peer educators and ask the questions they have," said Carrie Rudder, director of career counseling, advising and communities.
The 1515 space is particularly informal, in keeping with the relaxed, open vibe of the renovated building. Small partitions divide advising and study spaces, a display wall encourages students to think about different career topics, and coffee, tea and hot chocolate are always available.
"Carrie's vision for this space was to create a convenient place that all students would find welcoming and free from the intimidation often associated with traditional career centers," Associate Vice President for Career and Professional Development Everette Fortner said. "It's a great space to just start a discussion about different career paths, and we hope it will become even more useful to students as they come by, experience it and give us their feedback." 
So far, Rudder said, the space has proved very popular with students and has seen significant traffic on most weekdays, especially in the days leading up to big career fairs or other recruiting events.
"I feel really flattered to have a presence in 1515, because it is a student-run space and a student-driven space," she said.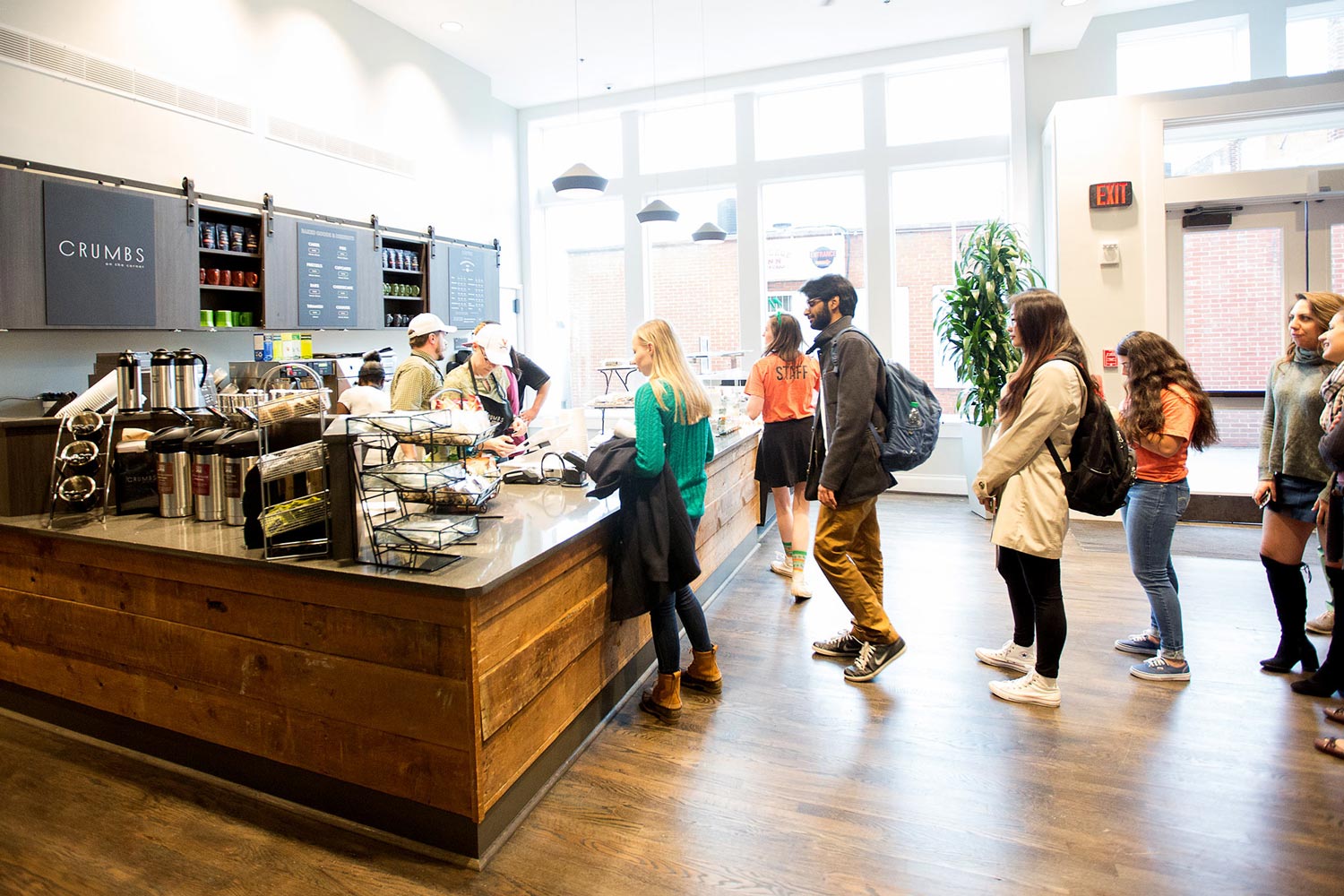 1515 is also home to a popular coffee shop, a game room, student meeting spaces and plenty of study areas. (Photo by Jack Looney)
Third-year McIntire School of Commerce and religious studies student Winnie Taso, who works with the Career Center as a career peer educator, said her classmates have enjoyed the flexibility of having a career advising center on the Corner.
"So many students pass by there multiple times every day," she said. "A lot of them are using it for quick check-ins, to have their résumé or cover letter reviewed, or to prepare for all of the career fairs going on right now."
During the first few weeks of the semester, career advisers hosted "career chats" at 1515, welcoming students with coffee and cookies and talking with them about the resources the Career Center offers. There have been workshops on how to make the most of career fairs and how to build a great LinkedIn profile, among other topics, and many more are planned.
Career advisers have also met with whole halls of first-year students, as resident advisers brought the newest Wahoos over to explore 1515 and learn more about career advising resources.
In further efforts to reach new students, advisers are making presentations in College Advising Seminars, one-credit classes specifically designed for first-year students, to encourage them to take advantage of Career Center resources as early as possible, even – or especially – if they have not decided on a major or career path.
"Sometimes students think that they have to have all of their plans together before they come to us," Rudder said. "But a lot of the conversations we have with students are just about where they can start or what they can do to learn more about the options out there."
Indeed, conversations in 1515 have ranged from the broad – what career paths might fit particular interests and passions – to the specific – preparing for an upcoming career fair or drafting a stellar résumé. Often, those conversations are just the beginning. Having gotten a taste of career advising, students come back over and over.
"I'm really excited to see how this space evolves," career peer educator and fourth-year Commerce student Evangeline Chiow said. "I have loved seeing more and more students using the Career Center, because they offer such great resources and advice."
Media Contact
Article Information
September 21, 2017
/content/career-advice-and-coffee-break-corner