The whir of leaf blowers, the buzz of electric saws and the grinding of a wood chipper disturbed the tranquility of Camp Holiday Trails on Wednesday as Facilities Management crews from the University of Virginia contributed their labor to the annual Laurence E. Richardson United Way Day of Caring.
About 1,100 UVA employees participated in the 25th annual event, coordinated by the United Way. They worked at 65 sites, providing untold hours of labor to non-profit organizations in the region.
Camp Holiday Trails in Albemarle County, which serves children with special needs, was awash with University volunteers, including representatives of Facilities Management, Student Affairs and the Office of the Executive Vice President and Provost. Facilities Management, which provided more than 100 volunteers, has been working with Camp Holiday Trails since 2004.
"This is a multiplication of the work of our own hands," said Tina LaRoche, the camp's executive director. "This is work that is beyond our budget, but is critical to our operation."
This year, the University volunteers hung new doors on the camp's dining hall, replaced fences, trimmed trees and trails, and did painting and landscaping. In a volunteer tag-team effort, Facilities Management crews installed footings for a set of stairs running downhill from the camp's office to the horse stables; the project will be completed later in the month by crews from Building Goodness, a local non-profit construction organization that partners with other non-profits for building projects.
Wayne Mays, assistant director of Facilities Management's project services, said the Day of Caring is a great cause.
"A lot of our people work in the trades and they can use their skills for the common good," Mays said. "It feels good to volunteer your time to assist someone else."
"I have done this every year I have worked for Facilities Management," said Glenn White , who was stripping shingles from a section of the dining hall roof with George Prokopic. They were working to repair a leak in the roof around an exhaust fan.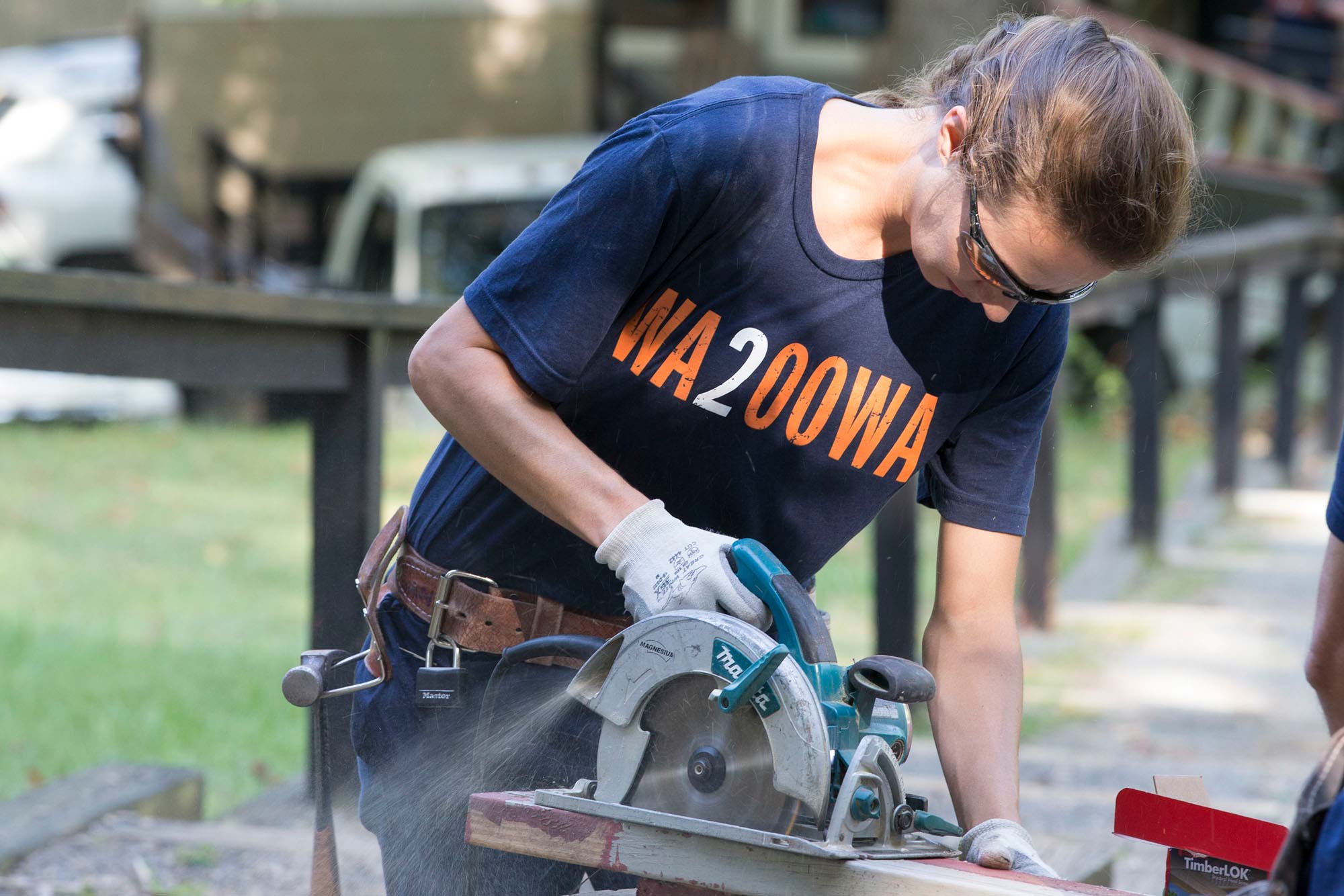 Anne Tufts, a carpenter apprentice at Facilities Management, cuts a frame for a doorway at Camp Holiday Trails.
Sarita Herman, a project manager for Facilities Management, worked with a crew that was weeding, mulching and cutting back perennials. She said she has been participating in the Day of Caring for about seven years.
"I love doing landscaping," she said. "It is so beautiful out here today. It is nice to get out into the sunshine, especially when your job is to work behind a desk."
Anne Tufts, an apprentice carpenter with Facilities Management, was working on framing a doorway to a crawlspace underneath a building at the camp. "I'm doing this because I like to build things," she said.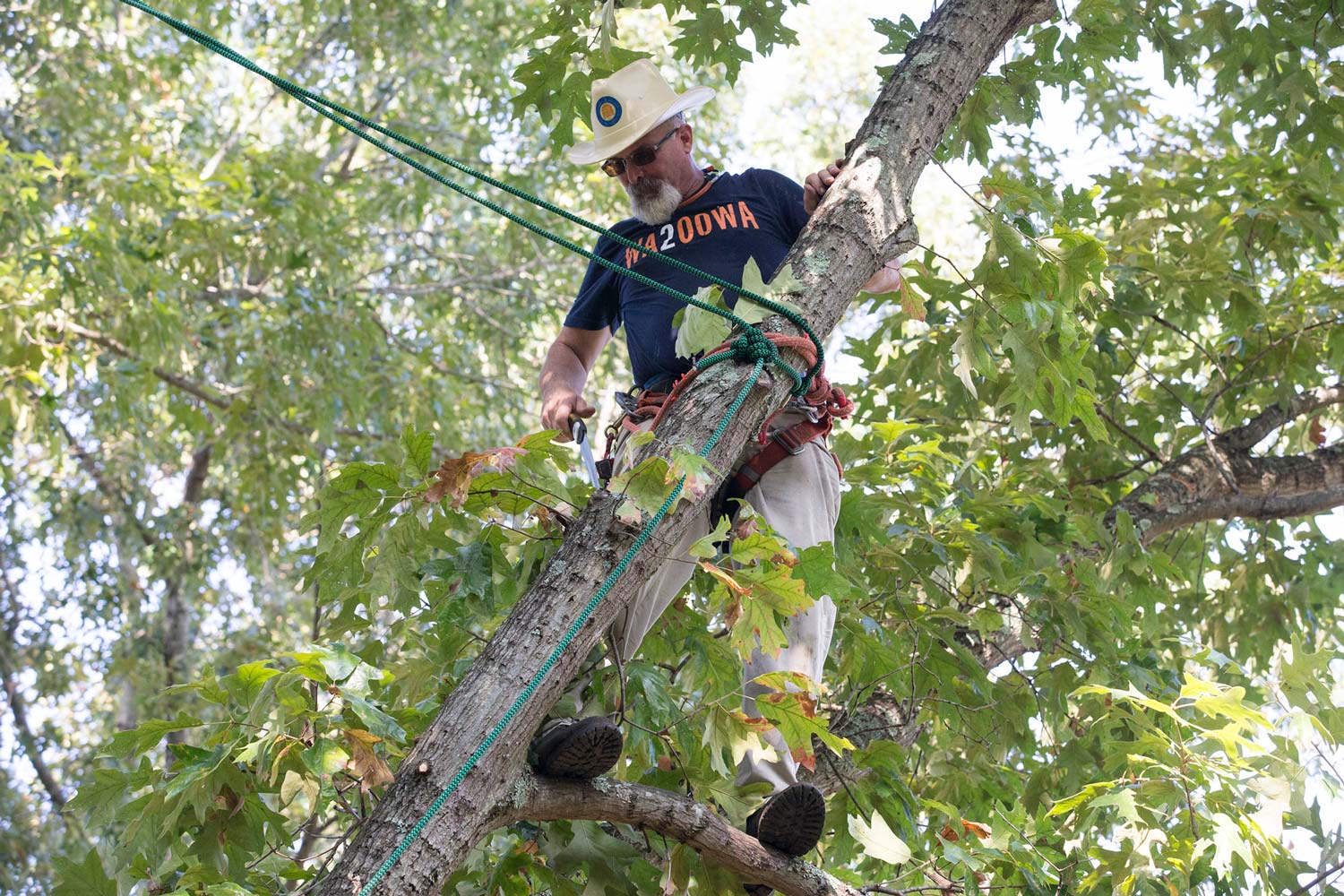 University Arborist Jerry Brown, wearing his trademark Stetson-style hardhat, trims a tree at Camp Holiday Trails as part of the annual Day of Caring.
Mays said it was also an opportunity for people who do not usually associate with each other to work together, and to form new bonds.
Meanwhile, across town in Belmont, a group of about 10 volunteers from the President's Office worked at The Bridgeline, a non-profit that offers day and residential services to people with acquired brain injuries. They painted a deck and planted shrubbery to serve as a privacy hedge.
"This is work that would have cost us several thousand dollars if we had to hire it out," said Amber Rexrode, the organization's associate director. "This saves us a lot by providing us with extra pairs of hands."
The Day of Caring has provided volunteers for The Bridgeline for at least seven years.
"It is a nice opportunity for people with inside desk jobs to get out into the community and do some work where you can see results and get a sense of fulfillment immediately," said Melissa Brads, director of finances and budget in the Office of the President. "We can accomplish a lot in four or five hours."
Brads said she has been doing this volunteer work for at least the last 15 years. "I seize every opportunity to help those who need help," she said. "They say 'thank you' and you can see the joy of what you can accomplish in a short amount of time."
Kimberley Turner, administrative supervisor at the McIntire Department of Music, dispatched about 25 volunteers from the College of Arts & Sciences to work on five projects in the community, including painting an outdoor basketball court at Burley Middle School on Rose Hill Drive.
"The University supports us to go out and do things that matter a lot," she said. "It may not seem like much to have some people paint a basketball court, but it is one less thing the teachers and the students need to think about."
Debbie Mincarelli, who works in the dean's office at the College of Arts & Sciences, was part of the crew painting the lines on the school's outdoor basketball court. She said the work gave her an opportunity to participate in the local community in ways she might not otherwise have.
"You meet people from other organizations and groups," she said. "I have been doing this for several years and I make a point of clearing my calendar so I can participate."
Carol Westin, who also works in the dean's office, added, "I volunteered with my kids when they were in school – marching band chaperone and that sort of thing. We've been in Charlottesville three years and this is a chance for me to do something for kids. It is hard to just stop doing this cold turkey."
Several groups worked at Burley Wednesday, said Assistant Principal Tireese Lewis, who said it gives students a chance to see community members – some of whom may be friends and relatives – caring for the school property.
"This is a big benefit for the school, a good connection between the community and the school," he said.
Stacey Rittenhouse, who works in the Office of the University Comptroller and volunteered at Carysbrook Elementary School in Fluvanna County, said she enjoys working outside.
"In the beginning, there were just a few of us in the finance office who were volunteering for the Day of Caring, but then everyone got involved.," she said. "And the United Way is great to work with because they have everything so organized."
Amanda Deaton, a gift planning coordinator with University Advancement, said this is her first Day of Caring on the giving side; she staffed a carnival at the Jefferson Area Board for Aging for about 30 senior citizens and 30 preschoolers. Deaton had worked for years with a non-profit child care operation in Staunton, where Day of Caring volunteers would paint, clean and do landscaping work.
"This is my first year on this side," Deaton said. "I think it's fantastic to be able to give back."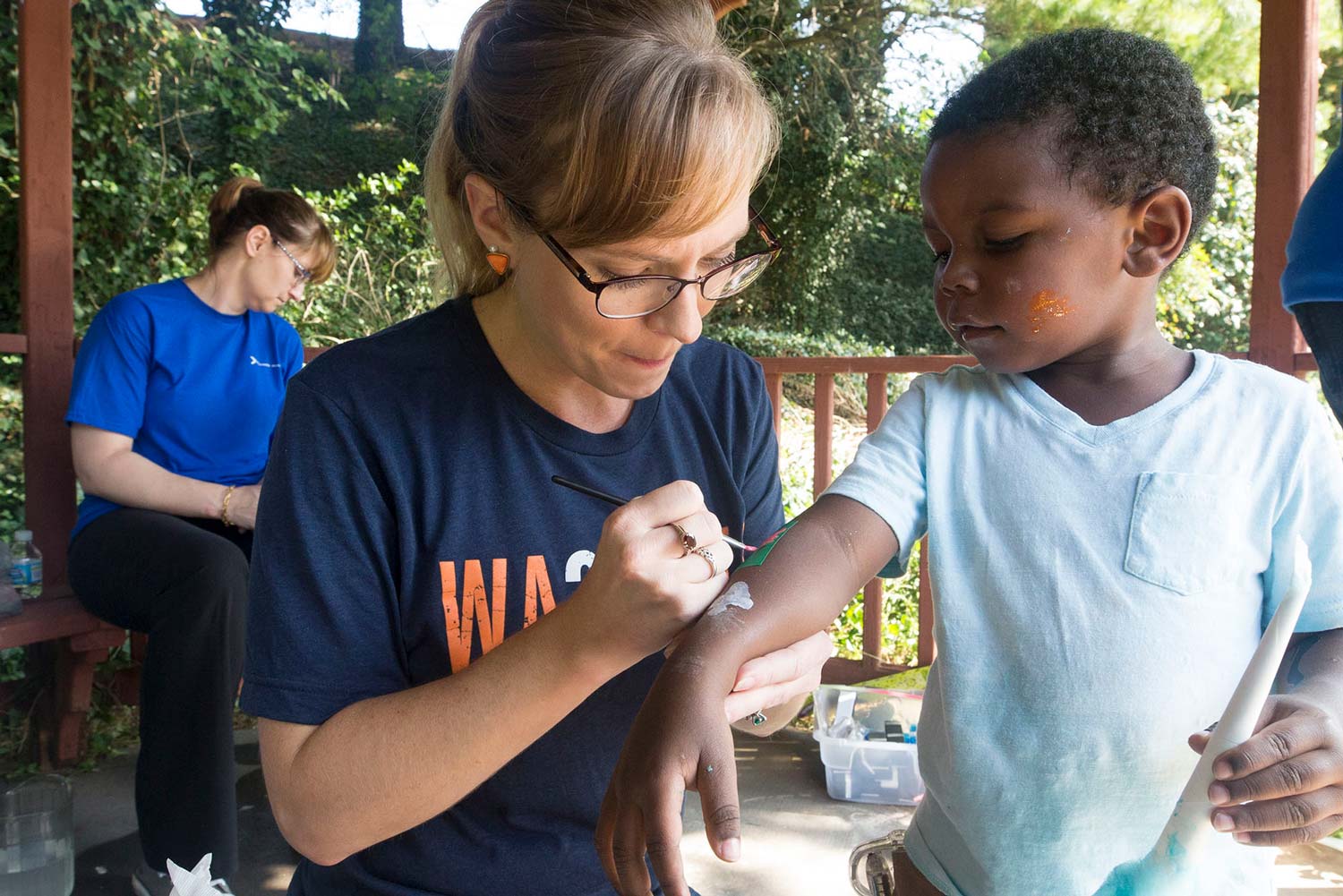 Amanda Deaton, a gift planning coordinator with University Advancement, applies art to a preschooler during the Jefferson Area Board for Aging's carnival for children and senior citizens.
Since Deaton has had experience working with children, the JABA carnival is a natural for her. "I love being able to bring joy to others, especially senior adults and children," she said. "The children really enjoy it when the adults have fun with them."
JABA offers services for both senior citizens and children. The carnival brought both groups together for activities including face painting, bean-bag toss games and eating popcorn and cotton candy.
Jean Bourbeau, manager of the JABA's Hillsdale Drive facility, said the carnival "takes an army to organize."
"This is a wonderful service," she said. "We have been doing this for several years and several different departments from the University have helped with it."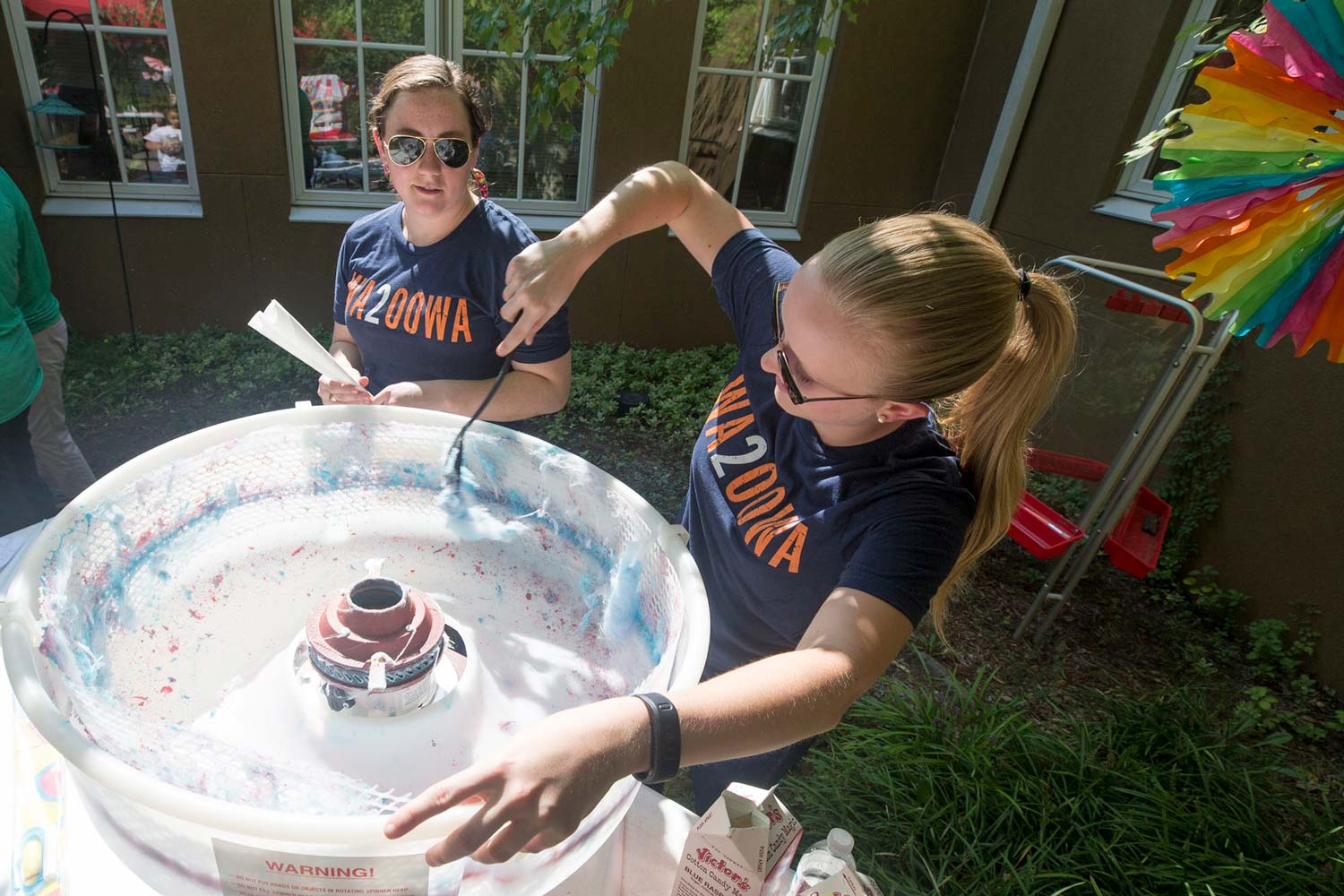 University Advancement staffers Meredith Gillet and Emily Tate spin cotton candy at the JABA carnival.
Having the volunteers helps the organization make people in the community aware of what JABA does.
"We have a child care center and an adult care center," Bourbeau said. "People get to know about what we can do and some volunteers come back, which is good because sometimes it is difficult to get people to help."
She said a group of volunteers from the Darden School of Business comes every December and helps trim the Christmas tree and sing carols.
Before going to their volunteer tasks, many University employees gathered at John Paul Jones Arena, where Aramark, which operates UVA Dining Services, provided a free breakfast for Day of Caring participants.  
Article Information
September 20, 2017
/content/caring-community-uva-employees-take-day-serve-their-neighbors