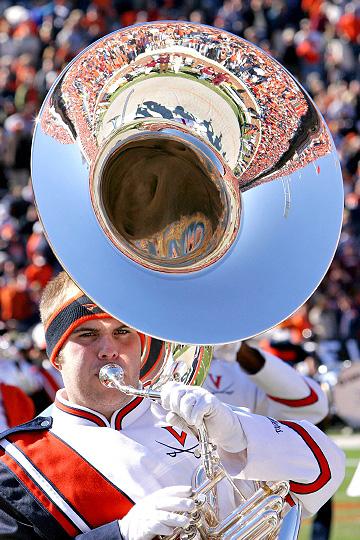 The Cavalier Marching Band will perform Saturday as part of a public pre-game tailgate on Carr's Hill Field at the University of Virginia, just before the home football game against Penn State.
The tailgate, which runs from 9 to 11 a.m. on the field, located at the corner of University Avenue and Emmet Street, will feature food, games and giveaways. The band will perform at 9 a.m., wrapping up with a special performance of "The Good Ol' Song" at 9:30 a.m.
The event is free and open to the public, though organizers request that those planning to attend RSVP online. It will be canceled in the event of inclement weather.
The band is entering its second year situated in the new Hunter Smith Band Building, a state-of-the-art facility that contains three levels of rehearsal halls, practice rooms, instrument and uniform storage and offices.
The facility, designed by William Rawn Associates, was made possible by a gift from Hunter Smith, who, with her late husband, Carl W. Smith, also gave $1.5 million in 2003 to help start the marching band program.
Public parking is available at various locations around Grounds.
Media Contact
Director of Media Management and Managing Editor, UVA Today Office of University Communications
rseal@virginia.edu 434-243-3492