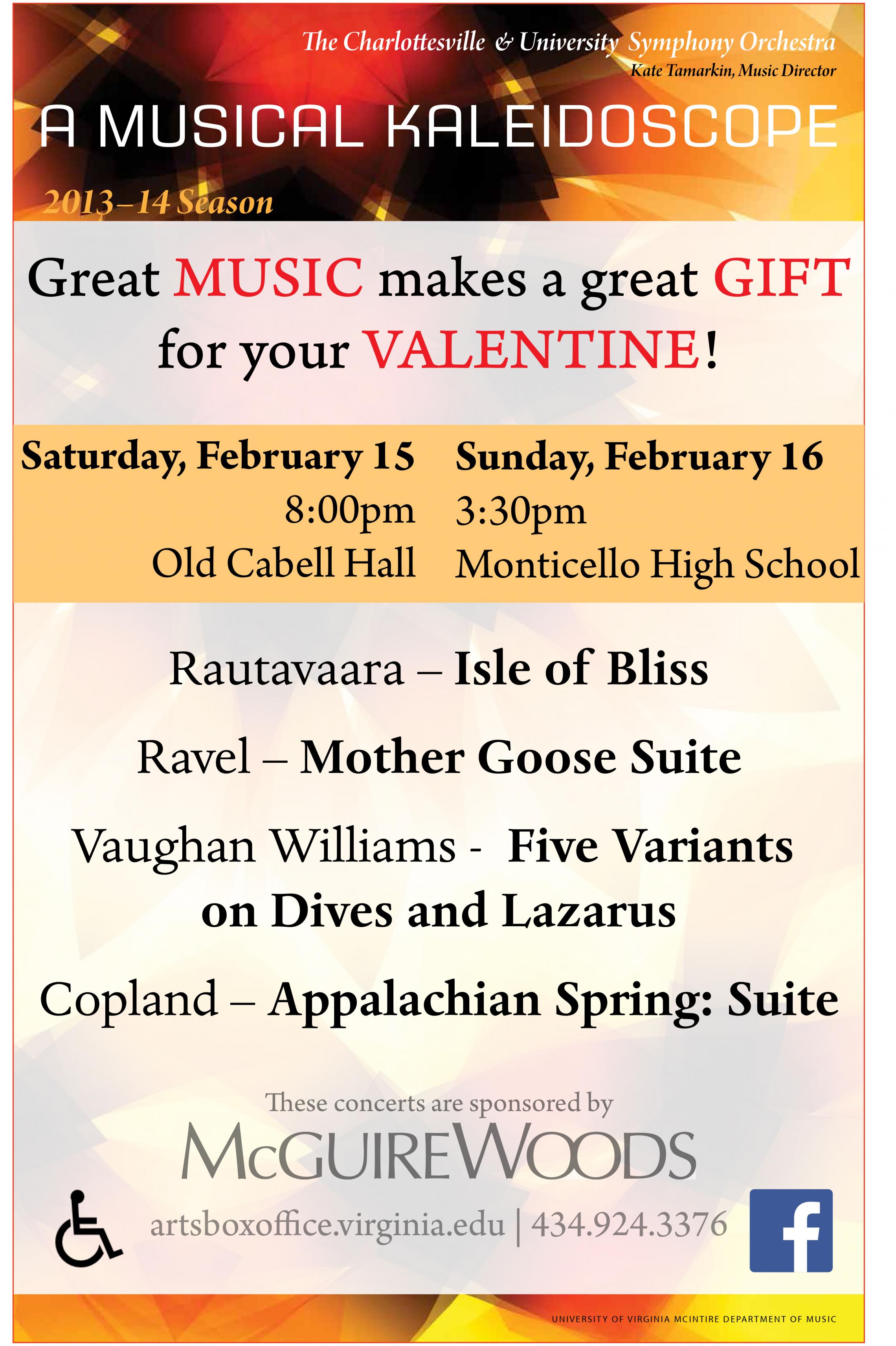 UPDATED at 11:23 a.m. on 2/14/14: Both concerts scheduled for this weekend have been cancelled due to inclement weather. Current ticketholders will receive information at a later date about a possible replacement concert.
To quote William Shakespeare's opening line from "Twelfth Night," "If music be the food of love, play on." 
During this Valentine's Day weekend, treat your loved one – or yourself – to a musical program featuring folk music, ancient stories and children's tales, performed by the Charlottesville & University Symphony Orchestra. Concerts will be held Feb. 15 at 8 p.m. at the University of Virginia's Old Cabell, and Feb. 16 at 3:30 p.m. at Monticello High School.
Conducted by music director Kate Tamarkin, the concerts will feature four 20th-century classics. 
Finnish composer Einojuhani Rautavara's "Isle of Bliss" transports listeners to an enchanted island in the Baltic Sea where time stands still. Maurice Ravel's "Mother Goose Suite" spins a tale of Tom Thumb, Sleeping Beauty, the Empress of the Pagodas, an ugly beast and the Fairy Garden.
Ralph Vaughan Williams' "Five Variants of 'Dives and Lazarus'" builds on an English folk tune of the same name. Aaron Copland's suite from his "Appalachian Spring" ballet depicts the youthful aspirations of two young newlyweds in the American heartland, including the well-known Shaker tune, "Simple Gifts."
"Know the Score" pre-concert lectures will be presented, free of charge, 45 minutes before each concert. These informative and entertaining lectures by Richard Will, chair and associate professor in U.Va.'s McIntire Department of Music, offer novice and experienced patrons a deeper appreciation of the performances. Friday's lecture will take place in Minor Hall, and Sunday's lecture will be held in the forum at Monticello High.           
Both performances are sponsored by the law firm of McGuireWoods.
Free parking is available in the U.Va Central Grounds Parking Garage, located on Emmet Street, on Saturday night and at the high school on Sunday afternoon. Both venues are wheelchair accessible.
Tickets are $10 to $40 for adults and $10 for students; U.Va students may request one complimentary ticket in advance. Tickets may be purchased at the University of Virginia Arts Box Office at 434-924-3376, weekdays from noon to 5 p.m.; in person, in the lobby of the Drama Building at 109 Culbreth Road, during the same hours; or online at www.artsboxoffice.virginia.edu.
U.Va. employees can receive a 20 percent discount on tickets to individual performances. This offer does not apply to subscriptions or previously purchased tickets.
Remaining dates in the Charlottesville & University Symphony Orchestra's "Musical Kaleidoscope" season are:
• March 22-23: Johannes Brahms, "Variations on a Theme of Joseph Haydn"; Launy Grondahl, "Trombone Concerto," featuring trombonist Nathan Dishman; Joseph Haydn, Symphony No. 104, "London"; World premiere of "London Town Fantasy," by Virginia composer Antonio Garcia. (Sponsored by Castle Hill Cider)
• April 26-27: Modest Petrovich Mussorgsky, Triumphal March from "Mlada"; Dmitri Shostakovich, "Symphony No. 5"; Wolfgang Amadeus Mozart, "Symphony No. 25 for Piano and Orchestra," featuring world-renowned pianist Anne-Marie McDermott(Sponsored by Katherine and Richard Douglas).