For television viewers, it seemed like University of Virginia Darden School of Business alumnus David Scharfman's dreams were coming true when three billionaires each offered to pump hundreds of thousands of dollars – and stardust – into his business.
But on ABC's popular reality TV-meets-venture capital program "Shark Tank," the Just the Cheese founder refused deals from Mark Cuban, Kevin O'Leary and Lori Greiner – all esteemed entrepreneurs.
Scharfman, who earned his MBA in 2016, came on the show seeking a $500,000 investment for 5% of the equity in the business, which produces bars that mimic the crunchy cheese from a grilled cheese sandwich that melts into the pan. But he rejected offers for much higher stakes and royalties – calling O'Leary's 15% equity bid "nuts" as he stood in a bright orange suit with a hat-and-tie combo that looked like cheese.
"It was hard to turn down the money from Cuban, especially," Scharfman said. "He has such a strong marketing presence. Was I throwing away a golden opportunity to get all this PR? But the offer was too low. I did not want to devaluate the work our team put in."
Just the Cheese is an offshoot of Scharfman's family-owned cheese business in Wisconsin, the heart of America's dairy industry. Scharfman sources mostly local milk to create his flagship bars.
His family bought a cheese company called Heim Cheese in 1991 and renamed it Specialty Cheese. It has grown by leaps and bounds from an initial five cheese plants in basements around Reesville, Wisconsin. Last year, the business generated $45 million in revenue – $5 million of which came from Scharfman's subsidiary.
He started out in the family business in childhood, handing out tasters in grocery stores. Through high school, he pulled shifts in the factories. On graduation, he worked in product development and sales before leaving to spend several years in management consulting in New York – and two years earning an MBA from Darden.
"You always think the grass is greener on the other side," he said, explaining the departure. "I wanted to try out a traditional corporate job." The consulting gig gave him professional polish and transferable skills – improved problem-solving and critical-thinking ability.
However, an exciting opportunity to lead a new family business convinced him to go back to his roots.
An MBA would prove essential to his future success. Not only did Scharfman gain an overview of every aspect of running a business, from finance to operations, he also learned a great deal from his star professors and peers through Darden's case study discussions.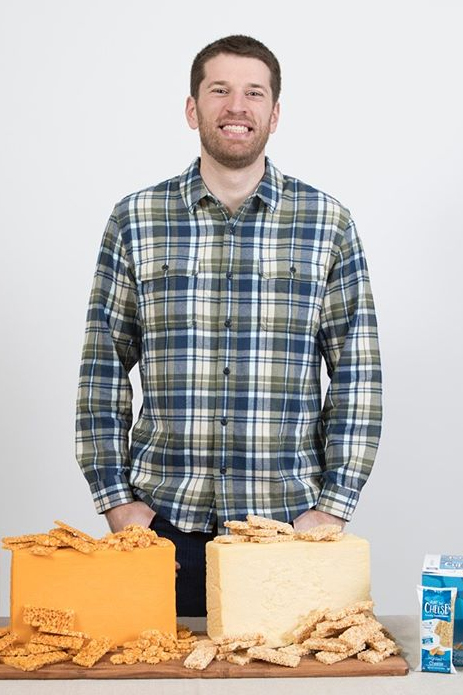 Scharfman said his Darden MBA has helped him grow his family's business and give Just the Cheese broader appeal. (Photo courtesy David Scharfman)
"This was why I chose Darden over other schools," he said. "Everyone had a unique perspective, owing to their diverse backgrounds from teaching to banking and from music to the military. That's priceless."
He put his newfound knowledge and skills to good use at Just the Cheese. One of his first big decisions was to pivot the brand away from being a health snack (each 75-calorie bar is sugar- and gluten-free) to one with a broader appeal.
"Me and Dad were at loggerheads over this," Scharfman said of his father, Paul. "He wanted to sell it in the pharmacy section. I saw a way bigger opportunity to make this a mainstream snack."
To take on other protein snacks such as beef jerky, Scharfman and his wife ramped up digital marketing to sell products online. "My dad did hardly any advertising. He rode the Atkins diet wave in the '90s and early 2000s. But when that fad faded, his entire market disappeared."
Amazon was the younger Scharfman's key sales channel early on, which worked spectacularly well in building credibility with distributors – a pathway to retailers. "When we launched in January 2018, I was still a consultant and we were selling 10 boxes a day. By the middle of February, we were selling 100 daily, which convinced me to quit consulting and rejoin full-time. In August 2018, we shipped 700 boxes every day."
This gave him a solid base from which to approach distributors at trade shows. He signed deals with leading distributors, and at the same show, landed regional grocery chain Wegmans as a customer. "It was the last day and we were packing up our booth when their sales rep happened to walk by and try our cheese. Four months later, we were on the shelf."
That deal led to more, and with big retailers like Target and 7-Eleven. "Most retailers don't care about your Amazon sales," Scharfman said. "They only care about how well you do in other grocery stores."
With this momentum, he got an email from the booker of "Shark Tank." "I thought it was fake at first. Then we got another email. Then another. Finally, I called her up and, sure enough, she was from ABC Studios in Los Angeles."
Despite him not striking a deal, "Shark Tank" led to a surge in sales of Just the Cheese bars when it aired in March during the coronavirus pandemic.
"From the first day Donald Trump announced the lockdown from the Rose Garden of the White House, our sales doubled," Scharfman said. "People were panic-buying and, as we had such strong ecommerce infrastructure on Amazon, we could capture almost all of the demand ourselves."
"Shark Tank" turbocharged already strong sales growth. "I thought we would do 4,500 boxes each day after the show aired, but we sold 14,000 boxes in the first 24 hours – $350,000 in revenue. We sold out of every single product we had on Amazon in one weekend. That is a champagne problem."
It costs 80 cents to make a pack of two bars that retail for $1.27 – a relatively slim margin. But Scharfman says the repeat purchase rate is high. And while the halo effect of "Shark Tank" is fading, he is leveraging the show to secure meetings with retailers including Walmart.
"We expect delayed gratification," he said.
Article Information
June 26, 2020
/content/cheese-please-shark-tank-investors-wanted-bite-darden-grads-cheese-biz