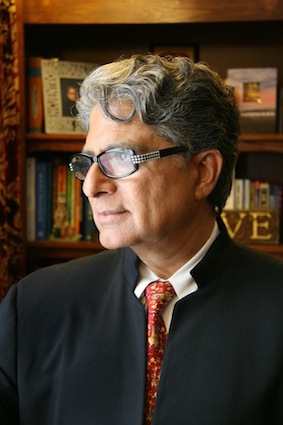 Deepak Chopra and Arianna Huffington are coming to the University of Virginia on Oct. 15 to lead a public meditation session on the Lawn
Students, faculty, staff and the community are invited to join the meditation, which will begin promptly at 2:30 p.m. Huffington and Chopra will offer brief remarks from the steps of the Rotunda before Chopra guides the half-hour meditation session, which coincides with one of U.Va.'s fall reading days, when students study for exams.
Attendees are invited to sit on the grass or bring a blanket or mat and will be asked to turn off their cell phone ringers to maintain a silent environment.
(In the event of rain, the meditation will be moved to the Aquatic & Fitness Center at the corner of Alderman and Whitehead roads. There is a 600-person capacity in the gym and access will be granted on a first-come, first-served basis. A rain call will be made by 9 a.m. on Oct. 15.)
Chopra and Huffington are guests of U.Va.'s Contemplative Sciences Center, which launched last spring and just today released its new website. David Germano, the center's director and a professor of religious studies in the College of Arts & Sciences, said a reading day was specifically chosen for the event so that students can benefit from the positive effects of meditation.
"It's meant to give students a sense of calm, well-being and focus during a time that can provoke considerable stress," he said.
The center was made possible by a generous gift from Sonia and Paul Tudor Jones of Greenwich, Conn. Paul Jones is a 1976 graduate of the College.
"I'm delighted to be a part of the conversation that Sonia and Paul have started about how we can prioritize compassion, giving and well-being, and shift our attention to the many ways we can bring about positive change in people's lives," Huffington wrote in an email. "This special day with the Contemplative Sciences Center provides a great opportunity to connect with the faculty, staff and students of a university that has placed well-being at the forefront of its priorities."
Chopra is a globally known doctor of alternative medicine and an accomplished practitioner of contemplative sciences, including meditation, yoga, deep listening, visualization and stress resiliency techniques. He is the author of more than 75 books, which have been translated into more than 35 languages; 21 of his works are New York Times best sellers. Chopra founded the Chopra Foundation in 2009 to improve health and well-being, cultivate spiritual knowledge, expand consciousness and promote world peace for all peoples. Earlier in his career as a medical doctor, he taught at the medical schools of Tufts University, Boston University and Harvard University.
Huffington is the chair, president and editor-in-chief of the Huffington Post Media Group, as well as a nationally syndicated columnist and the author of 13 books. In May 2005, she launched The Huffington Post, a news and blog website that quickly became one of the most widely read, linked to and frequently cited media brands on the Internet. In 2012, the site won a Pulitzer Prize for national reporting. In 2013, she was named to the Forbes Most Powerful Women list. Time Magazine named her to its list of the world's 100 most influential people in both 2006 and 2011.
Huffington promotes the power of contemplation to enhance leadership and decision-making. She created The Third Metric, a major editorial focus at The Huffington Post, to redefine success beyond money and power to include wellbeing, wisdom, wonder, compassion and giving.
Media Contact
University News Associate Office of University Communications
jak4g@virginia.edu (434) 243-9935
Article Information
October 09, 2013
https://news.virginia.edu/content/chopra-and-huffington-hold-public-meditation-lawn-oct-15