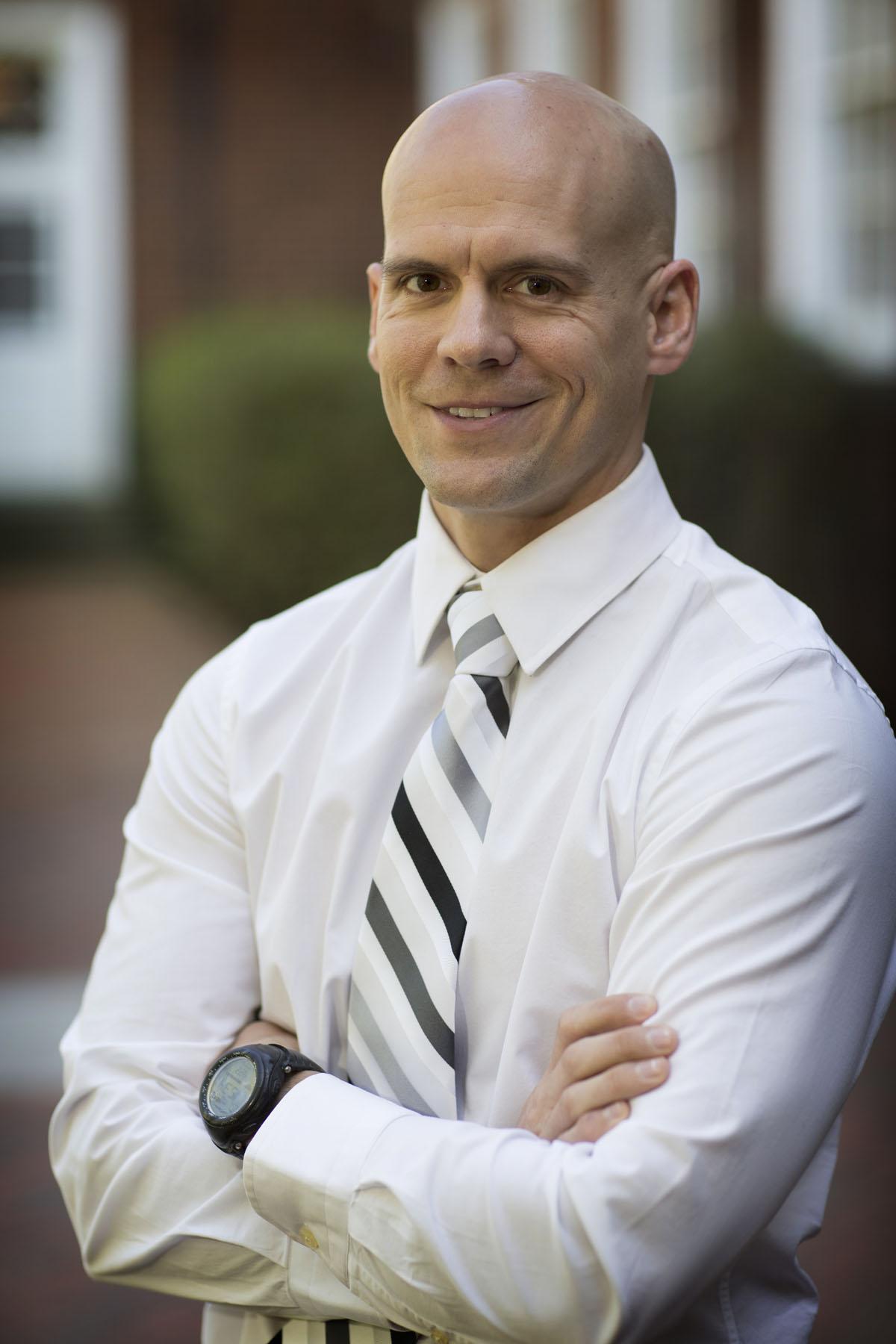 Jeff O'Dell's goal as an engineer is to make life better for soldiers, and he knows how to do that from the inside. O'Dell is a soldier.
He also is a 33-year-old mechanical engineering student who will graduate from the University of Virginia's School of Engineering and Applied Science this month. He has devoted his undergraduate research career to developing better armor – for the body and for vehicles – while serving in the 278th Armored Cavalry, a unit of the Tennessee National Guard.
His education has been disrupted several times by training exercises and assignments in Tennessee and, often, to Mississippi's Camp Shelby, and by a yearlong tour in Iraq as a forward observer operating in M1151 up-armored Humvees and Mine-Resistant Ambush Protected vehicles.
O'Dell's four-year degree has taken six years to accomplish, but he has no complaints. He is devoted to the military – a 10-year career, so far, that began as a four-year regular Army commitment beginning in 2003 that included a posting in Alaska and a tour in Iraq. During that first Iraq deployment, he and his unit experienced heavy combat, battling through Mosul and Baghdad during the height of the war.
"I know what soldiers go through, and I know how important good equipment is to a soldier's survivability," the Martinsville native said. "Unfortunately, there are deficiencies in some of the equipment, including armor."
O'Dell set out to correct some of those problems as he advanced in his stop-and-go undergraduate research career, which started after he left the regular Army in 2007.
"One good thing about starting and completing school as an older student is it helps you know what you want to do with your life," he said.
He wants to engineer better military hardware.
As a second-year student, O'Dell began work with a small team of fellow engineering students to develop a new type of body armor that could absorb impacts from multiple rounds of armor-piercing ammo. The material they developed drew interest from the Defense Department, and Ross Technologies, a defense contractor, eventually purchased the design for possible further development.
When O'Dell returned to U.Va. from his second deployment to Iraq, in 2011, he began work on a new hybrid type of vehicle armor system, backed by a Harrison Undergraduate Research Award from the Harrison Foundation and the University's Center for Undergraduate Excellence. The $3,000 grant has allowed him to test a new material he is developing that so far is particularly good at stopping incoming high-velocity rounds and likely would work well at providing protection from improvised explosive devices.
O'Dell also received $5,000 last fall from the national group Achievement Rewards for College Scientists through a donation from Clark Construction Group. The group's goal is to raise money to support students in science, engineering and medical research.
"The impulsive armor system, consisting of a recoil component, is designed to absorb and transmit the kinetic energy from projectiles to keep them from penetrating the armor," O'Dell said. "When hit, the longitudinal shockwave is transmitted through the armor and down into the recoil system, dissipating the kinetic energy."
He said the system is cheap and could easily be added to various armored vehicle systems to improve the ballistic limit for less than $20 per square foot. 
"I wanted to create an inexpensive alternative, especially in light of sequestration and its effects on the military," he said.
The configuration of armor plates from the material also would be versatile, he said, allowing soldiers to more heavily protect different parts of a vehicle, depending on the situation they face.
O'Dell has been conducting ballistics tests on the material at a firing range he set up on a large piece of property his family owns in rural Virginia. He hopes to eventually bring the design to market through an outside company or bring it with him for further development with a future employer.
He currently has two job offers from defense contractors and has not yet made a decision. He hopes eventually to work at the Army Research Lab in Aberdeen, Md.
Whatever he does, wherever he works, O'Dell plans to stay with his Tennessee guard unit, no matter where they may someday be deployed.
"They're my guys," he said. "I love working with them and training them. It'll definitely interfere with my civilian career, but I'll stay with them no matter where I go as a civilian."
And he intends to continue to develop military hardware that he hopes will make their lives better, and their deployments more survivable.