At first glance, dance and engineering would appear to be vastly different pursuits. But somehow, Aqura Russell found a way to be heavily involved with both at the University of Virginia.
The Newport News native began dancing at the age of 8 and is trained in both ballet and modern dance. Before she arrived on Grounds, Russell planned to major in chemistry.
"I wanted to be a forensics medical examiner," she said. "But I looked at the chemistry curriculum and I realized I really didn't like the reading and writing requirements. So I thought I should be an engineer because I really like math and science."
In her second year, Russell transferred from the College of Arts & Sciences into the School of Engineering and Applied Science and was accepted to the chemical engineering program.
Russell credits dance for helping her keep up with the rigorous curriculum.
"It was definitely challenging," she said. "But having dance as a passion, and just something I love to do, really allowed me to have that outlet that kept my sanity throughout being an engineer at UVA."
Kimberly Brooks Mata, artistic director of UVA's dance program, has worked with Russell as a student, choreographer and performer. "It has been a great pleasure to witness her further development and growth as a performer, artist and individual," she said. "She has performed in a number of my choreographic works, and as a sophisticated mover, she has always brought maturity and professionalism to that role."
UVA Today sat down with Russell to learn more about her unique experiences on Grounds.
Q. How has UVA helped you bridge the gap between chemical engineering and dance?
A. It was really important in my decision-making process in choosing a university that did offer dance as a minor. I was really excited about that, and then Kim [Brooks Mata] was also very helpful in making sure that I was able to take the courses that I needed to take, because a lot of times they do conflict with the engineering requirements. A lot of times that is the reason why engineers are not able to be dance minors, so she was a huge help in that.
There are also a lot of different opportunities that you're able to do throughout the dance department that don't conflict with engineering courses. There's a dance committee at UVA and they have different events throughout the semester.
Really, I think it's just important for me to be around dancers and around people that I love and people that I can vibe with on a certain level – which is something I'm not necessarily able to do with engineers, because dance is my home almost. Just having the dance community, that's been really helpful for me throughout my experience here.
Q. What is it that you enjoy about chemical engineering?
A. Our curriculum really allows for us to be diverse. Although we are chemical engineers, there are so many different things that we can do. The diversity of our curriculum and what we learn really allows us to dip and dab in a lot of different areas, so I really like that.
Q. How have you been able to combine your coursework in both departments?
A. In the fall of 2014, I took a class offered through both the dance and engineering departments entitled, "Electronic Identity and Embodied Technology Atelier." We prepared a dance for the Fall Experimental Dance Concert and I was mostly in the dancing role. We choreographed a dance that was based off of manipulating code. So we projected human-like figures and the engineers moved their limbs in the ways they saw us moving our limbs. We also put on equipment that tracked our motions through space. So they were able to use that code and manipulate it and also project that onto the screen behind which we were dancing. So seeing those two things happen simultaneously was really fun. Being in that environment and seeing how your projections look on screen and having you dance at the same time. It was really cool.
Q. So you were kind of like human robots?
A. Right, almost, yes.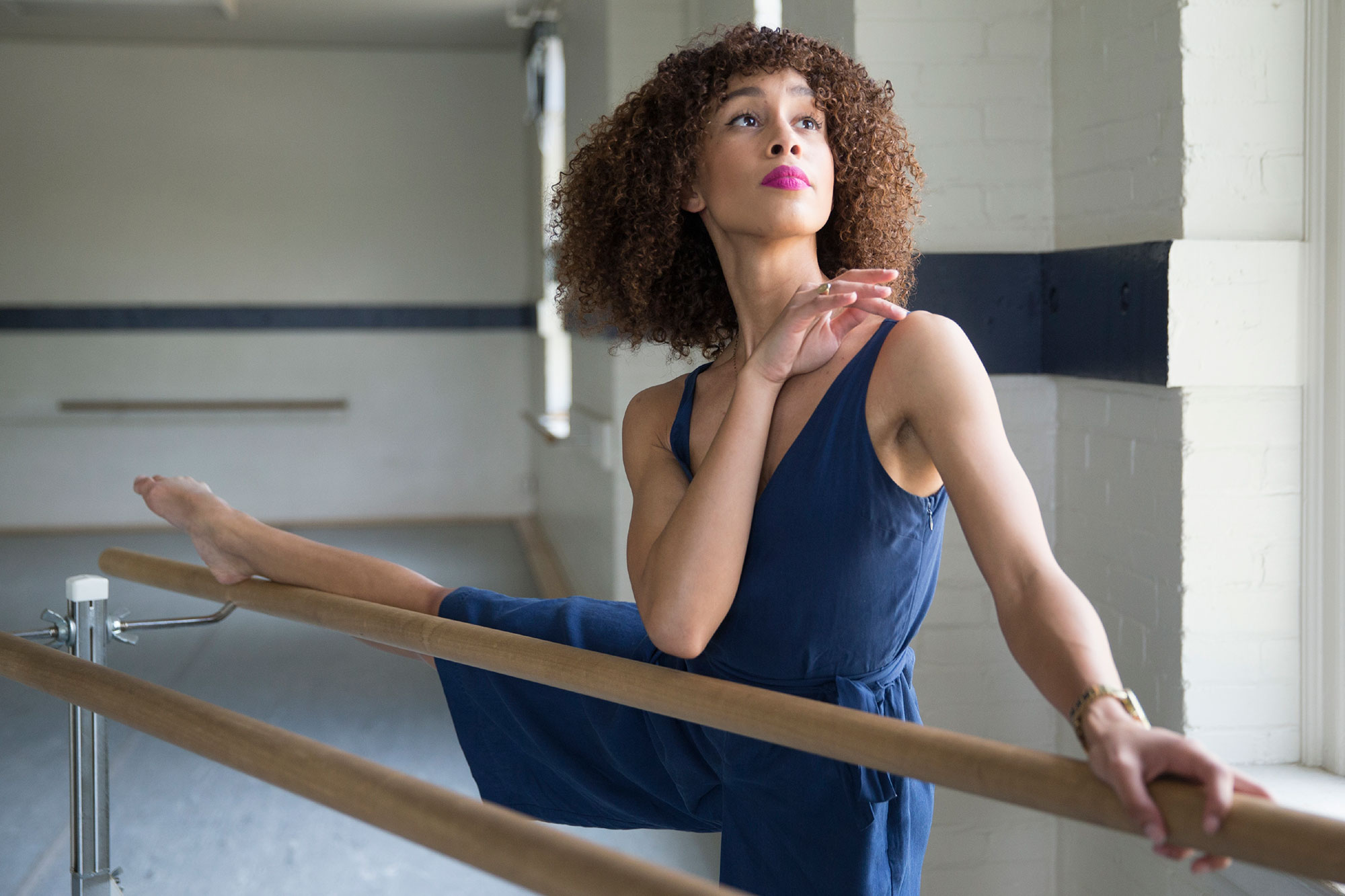 Russell, who began dancing at the age of 8, is trained in both ballet and modern dance.
Q. How has your dance background helped you succeed in engineering?
A. As a dancer, I'm really intrigued with different cultures. In one of my engineering courses this semester, "Engineering in Ethics," I'm really interested in the culture aspect of how you introduce different types of technologies to different environments, and how technology affects people in different areas, and how it's also important to understand their culture and how they will respond to technology that they may or may not want.
It's important to make sure you understand that when you go into a new culture and introduce these different technologies, you need to try to understand how they affect people in different areas of the world; it may not be how we respond to it.
In another class, "Dance & Culture," which is required for the minor, we learned about how different cultures value different things, especially because dance is so important to a lot of people's cultures. I think that that class really helped me in understanding my thought process going into my ethics class for engineering.
Q. So what's next?
A. I'm interviewing now with a few companies and I hope to either choose one of them, or if I decide not to, I really want to study abroad in different countries, learning about their culture. So I'm still trying to decide. But I don't plan on stopping dancing, ever.
Q. How do you plan to continue dancing in the future?
A. Ideally, I would want to open up a studio and be able to teach children and learn from them. I think that it's really important to share what I've learned, especially at UVA and growing as an artist, with children who may not be able to afford college. And just teach them what I was able to learn at UVA.
Q. What's your favorite memory from your time on Grounds?
A. There's a picture of me (see below), my friend Erika [Choe, a 2015 graduate] a dancer, and my friend Rebecca [Galt, a 2015 graduate]. We were about to perform that weekend, and it's just of us hugging each other, just enjoying being able to go into our concert and it was a nice spring day.
I saw the picture a few days ago and I said, "Wow. This is so amazing. That was such a good time."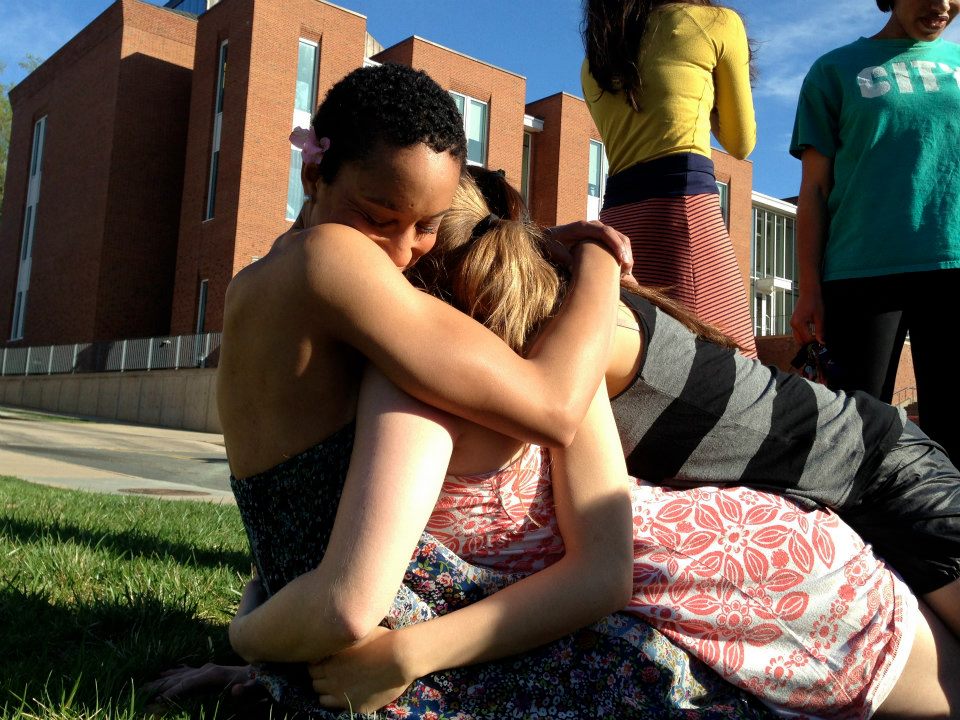 "There are so many great people here, so many different stories," Russell said. (Photo courtesy of Aqura Russell)
Q. What's the one thing you will miss most when you leave Grounds?
A. All of my friends, definitely. There are so many great people here, so many different stories, so many different backgrounds, the people that I've met as engineers and dancers. Definitely the people.
Article Information
April 29, 2016
/content/class-2016-russell-finds-balance-between-chemical-engineering-and-dance