Parisa Sadeghi believes her experience on her high school's debate team gave her the edge she needed to earn admission to the University of Virginia, complete with a Jefferson Scholarship – and it's hard to argue with that, especially considering her success in college.
"I felt prepared," said the Alexandria native, who will graduate from UVA on May 21. Participating in debate competitions increases confidence and improves the ability to communicate and to write, she said. "You learn to be part of a team, synthesize evidence and think on your feet."
Sadeghi, an Echols Scholar and double-major in the politics honors program and economics who lives on the Lawn, is so enthusiastic about debate that she founded the UVA student-led Charlottesville Debate League almost four years ago to spread the word of its benefits to local middle and high schools – well before many presidential candidates seem to have forgotten some of the basic tenets.
One rule that middle-school students bring up when asked to define "debate" is that it means one should "disagree respectfully," Sadeghi said. Behind that rule is teaching the difference between quarreling and debating. The teams discuss and set ground rules together. They learn the structured format and guidelines the National Speech and Debate Association first set down more than 80 years ago. In addition to learning the benefits of teamwork, each individual learns how to develop good public speaking skills.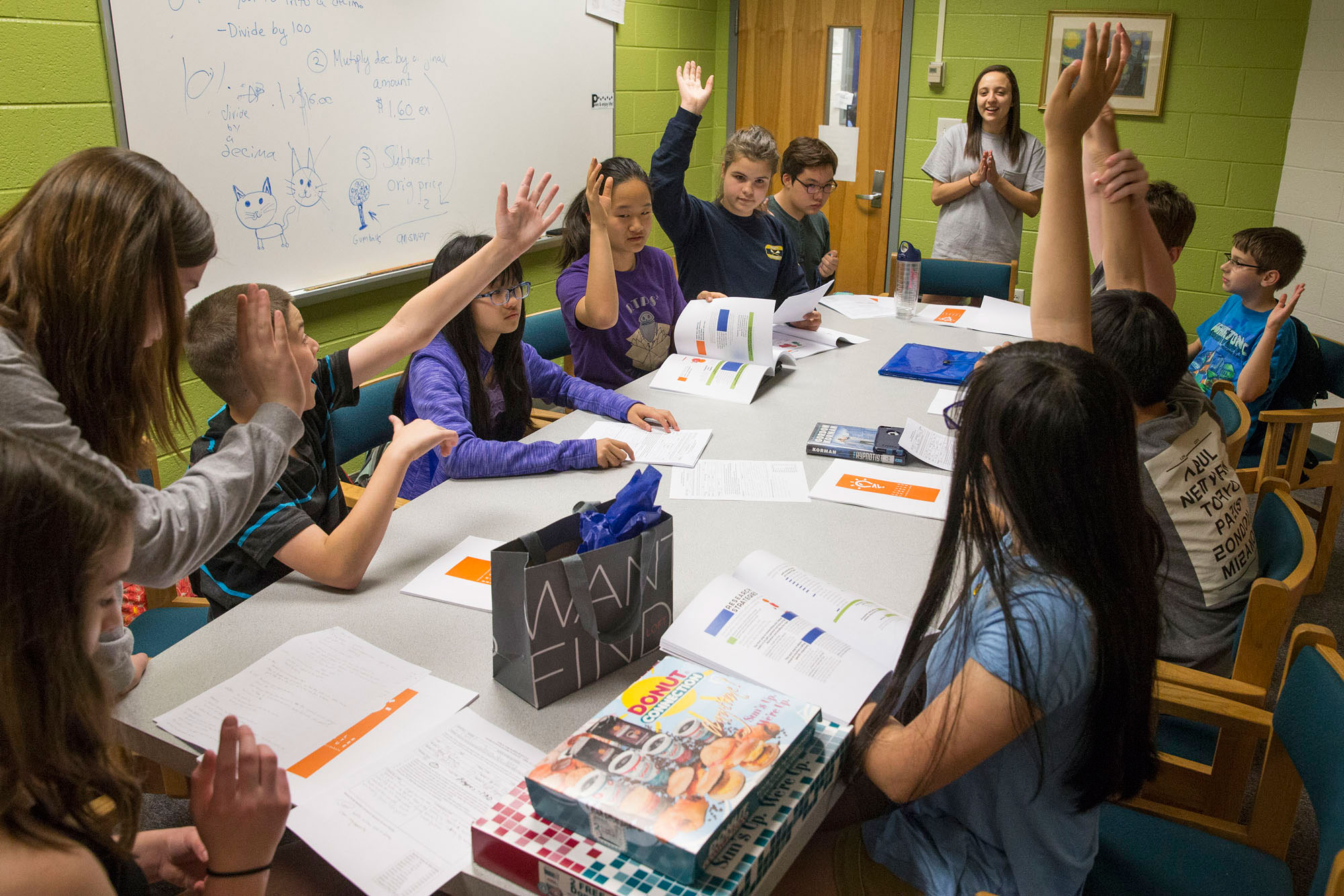 Second-year UVA student Victoria Farris (standing) coaches Sutherland Middle School students in the Charlottesville Debate League that Parisa Sadeghi started several years ago. (Photo by Dan Addison)
While active in several organizations on Grounds, including University Guides, the Minority Rights Coalition and (previously) her class trustees, Sadeghi has devoted most of her extracurricular time in the past few years to establishing the Charlottesville Debate League, which takes University students into middle and high schools to teach competitive debating skills.
The UVA group includes about 25 volunteer members, 15 of whom teach in weekly after-school sessions at one of eight participating schools. They brainstorm debate topics; a few covered this semester include social media's influence on teens, gay marriage, U.S. sanctions against Russia because of the latter's actions in Ukraine, and the benefits of cats vs. dogs.
When practicing, debaters must learn both sides of the topic and don't know which they'll have to argue at the competition until right before it starts. Along with learning how to research, read critically and be a responsible member of the team, each participant works as a partner to one other person. They have practice tournaments with UVA students who are former debaters acting as the judges.
Debate clubs can also become part of the national organization and learn about the broader value of networking, said Sadeghi, who competed in local and national competitions during her high school years.
Besides seeing the students enjoy themselves, she said she's seen some of the younger ones improve over the past few years, showing more confidence and maturity, moving from merely overcoming fidgeting to keenly strategizing with their teams during debates.
After becoming an officially recognized UVA student organization in 2014, the league expanded last year with support from a Jefferson Trust grant. Now it holds three competitions a year and will fund a few select students' trips to debating camps over the summer. Area schools wanting to start their own program or get help with an existing one have started to reach out to the UVA group.
Next year, the Charlottesville Debate League will continue under its second president, Chad Vickers, a third-year student who was once a competitor of Sadeghi's.
Steering the organization is "all-encompassing," Sadeghi said. "It takes a lot of commitment and trust with the schools. We want to sustain the effort – the CDL has made that a priority."
To her surprise, among the things Sadeghi has learned from her outreach efforts is how much she loves teaching. She'd gotten a taste of that as a teaching assistant for economics professor Kenneth Elzinga's huge introductory class. Next year, she's deferring an investment banking job with Goldman Sachs to teach English in Paris through the Fulbright U.S. Student Award.
Article Information
April 26, 2016
/content/class-2016-sadeghis-success-not-subject-debate