In July of 2016, Lauchlan Davis' father dropped her off in the parking lot of the Baxter State Park in Millinocket, Maine to begin her solo journey of hiking the Appalachian Trail.
For the next four months, Davis hiked 1,200 miles with only a backpack, sleeping bag, water filter, food, headlamp, map – and her watercolor set.
The Journey Begins
In 2014, Davis was focused on a different kind of journey: college. Originally from Chattanooga, Tennessee, she was looking for a university that was both "academically prestigious and driving distance from home."
When she attended Days on the Lawn, a program for students admitted to the University of Virginia, Davis knew immediately that she had found the place.
"Beaming in front of Pavilion VII, I announced to my parents that UVA was the perfect fit," Davis said.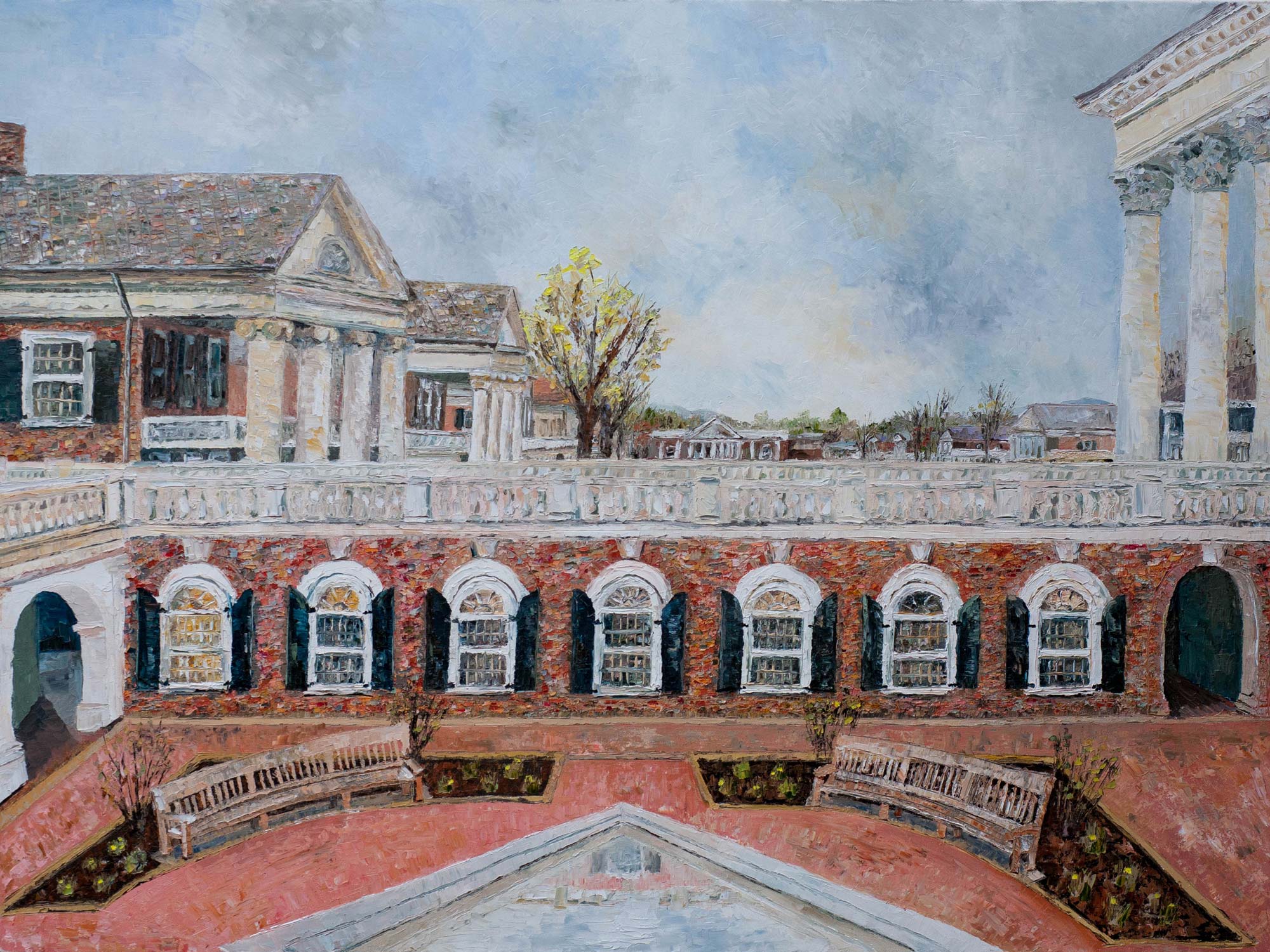 Davis' painting, "University Landscape," "encompasses the multiple avenues and perspectives of the academic experience," she said. "Perhaps a bit idealized, the landscape celebrates the beauty of the University architecture."
However, Davis' first year as a student proved to be more challenging than she expected. During finals week of her first semester, she was in a bicycle crash that resulted in a complete fracture of the fibula in her leg, which required surgery, metal hardware and 10 weeks on crutches. Davis found herself isolated from the rest of the University and aimless.
By the end of her second year, she decided to give herself some time away from the University and take a gap year. Her parents allowed her to take the year with one condition: she had to finish up her studies after her gap year and graduate from UVA.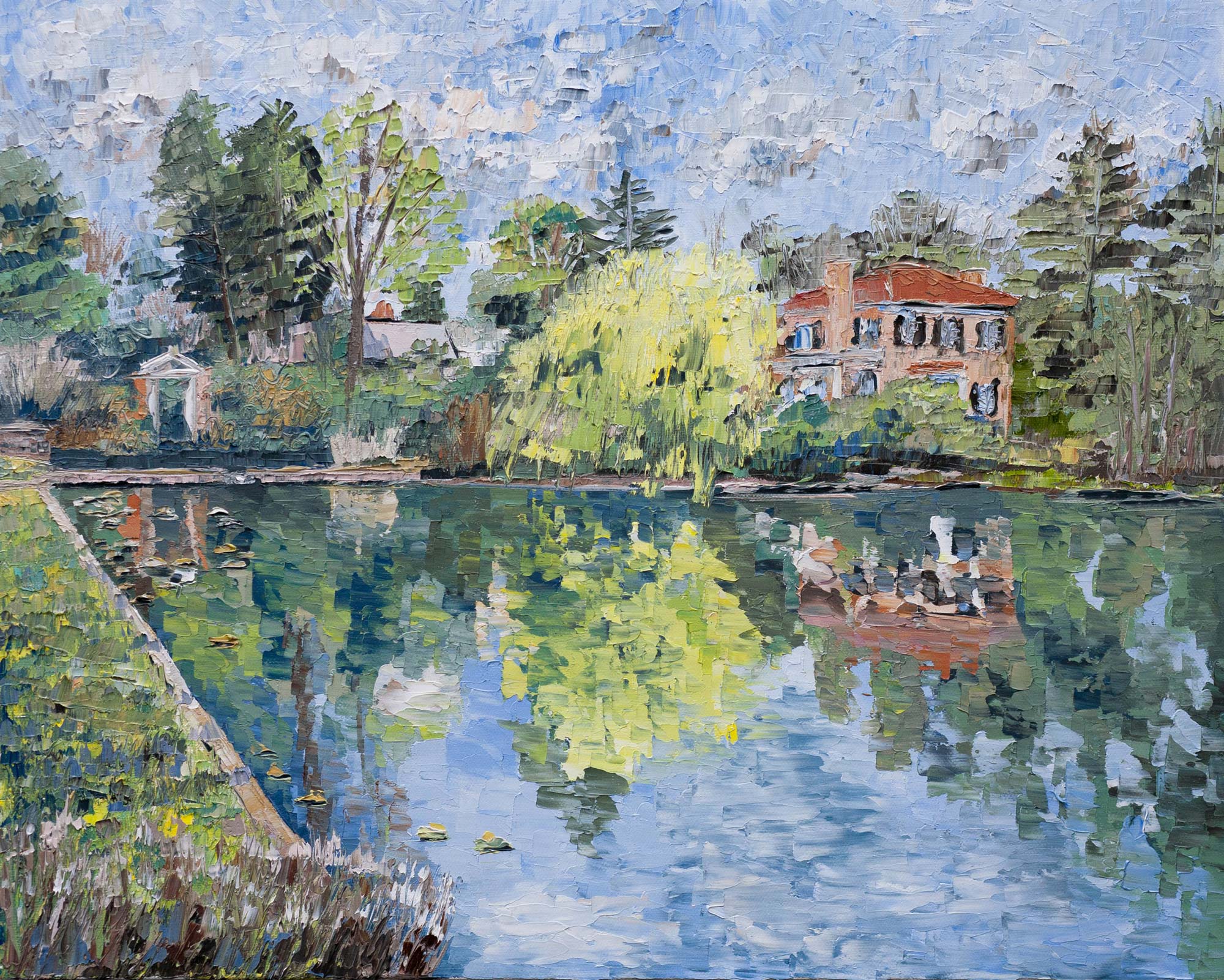 "Dell Pond." Davis' take: "The pond itself is one of my favorite places on Grounds, as an example of sun-basked serenity unbothered by rush hour on Emmet Street."
Alone on the Appalachian Trail
Once she submitted the paperwork for her leave of absence, Davis said she looked for a way to "find a space with enough structure to keep me on track in my venture for growth." After doing some research, she decided to hike the Appalachian Trail.
After she said her goodbyes, Davis began traversing the "Hundred-Mile Wilderness," one of the most remote and rugged sections of the Appalachian Trail. The first 10 days were some of the most humbling of her life, but despite the challenges, she found herself getting stronger each day, improving her pace from 10 miles per day to 20 or 25.
Davis also brought along her watercolor set to work on her painting skills, a hobby she had developed when she took art classes in high school. The trail inspired her artistically; she found that "creative force within the mountain majesty inspired my desire to study and capture the beauty of nature with paint." Painting on postcard-sized papers, she sought to capture the beauty of the lakes, valleys and landscapes she saw on her journey.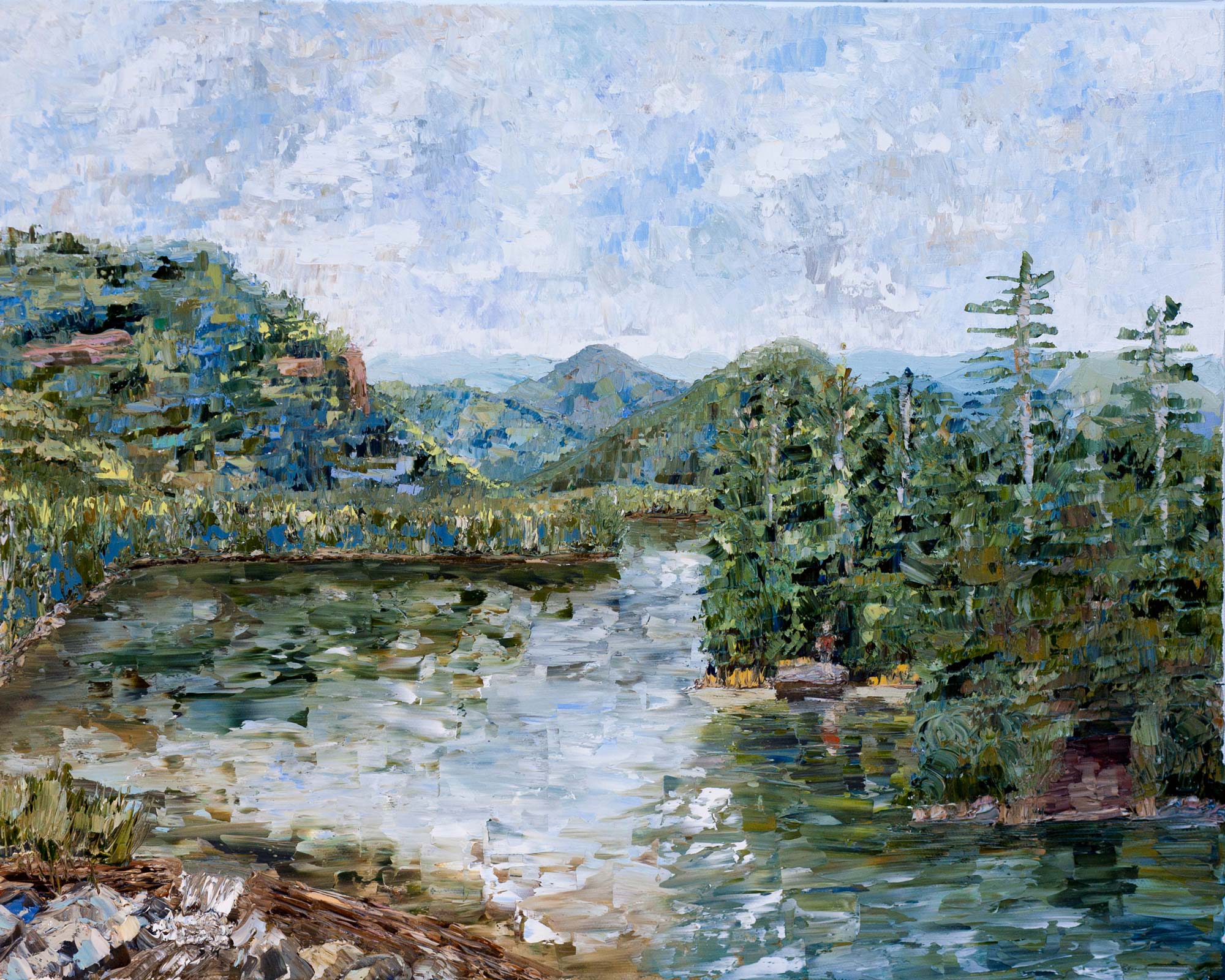 "Trail Memory III." Davis' take: "The 'Trail Memory' series incorporates fragments of landscapes from my imagination to evoke the experience of navigation and reflection."
Only one year after breaking her leg, Davis spent four months on the Appalachian Trail walking through Maine, New Hampshire, Vermont, Massachusetts, Connecticut, New York, New Jersey and Pennsylvania, ultimately ending her journey at Harpers Ferry, West Virginia when she began experiencing Achilles tendinitis.
Despite the early end, Davis said she was incredibly thankful for her experiences on the trail, which she said gave her "unprecedented confidence, joy, discipline and endurance."
Returning to Charlottesville
Before resuming classes in the fall, Davis moved back to Charlottesville in the spring of 2017. She got to know the community around her and for the first time, said she felt "rooted and secure," and Charlottesville became her home.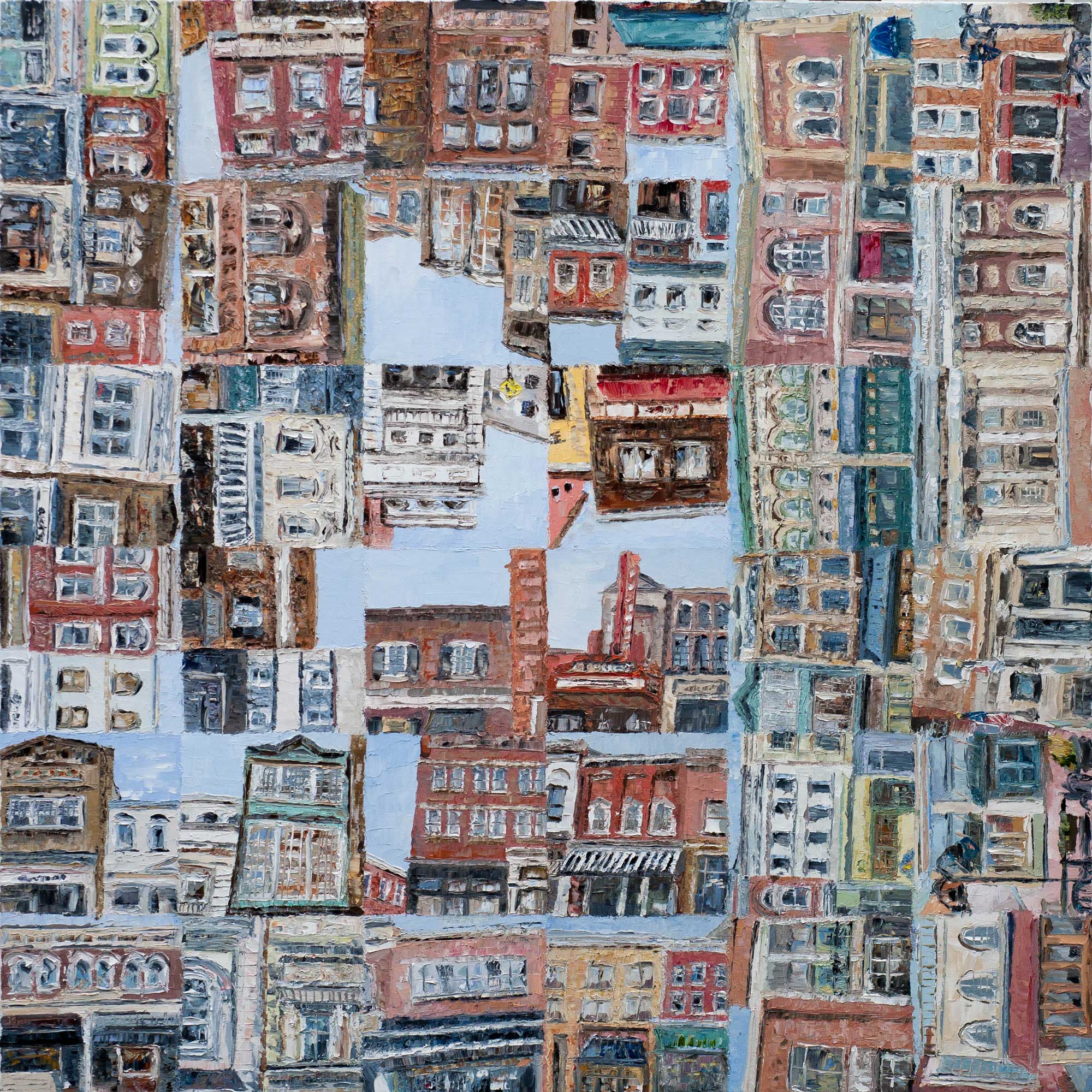 "Downtown II." Davis' take: "I sought to capture grief, confusion and hope in the unstable fragments that unveil the blue sky beyond them."
As a culmination of her efforts on the Appalachian Trail and beyond, Milli Coffee Roasters hosted her first exhibit, "Layered Geographies," this March, featuring 21 of her original oil paintings. Many were sold, which encouraged Davis to "wholeheartedly pursue painting full-time because I see the potential in seriously practicing this skill that brings me so much joy."
Davis also kept her promise to her parents and re-enrolled at UVA, with a double major in art history and English. She was able to finish up her coursework in only three academic years and will graduate alongside the classmates with whom she arrived – and with a new sense of self.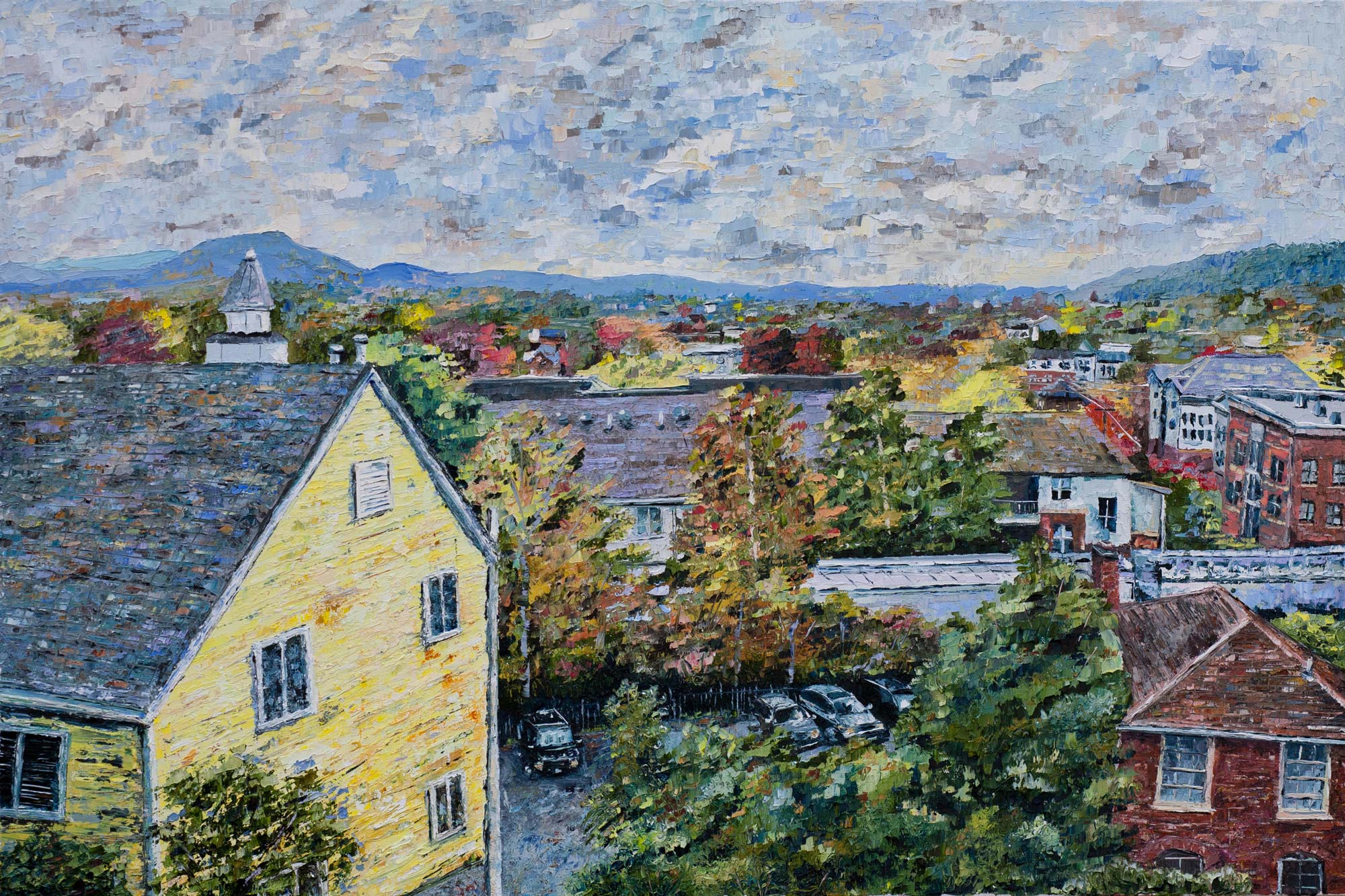 "Autumn View on Chancellor Street." Davis' take: "This painting captures my University experience beyond the University – my community and my cityscape."
Media Contact
University Communications
Article Information
May 16, 2018
/content/class-2018-gap-year-trail-experience-built-davis-confidence-and-inspiration