Experiential learning – the practice of learning through hands-on experience – made all the difference for Joshua Jaspers, who will graduate Saturday from the University of Virginia.
Several internships, his positions with Housing and Residence Life, and a recent international January-term course provided some key experiences and allowed him to practice different aspects of leadership and public service, he said. All of this contributed to his successes and helped him procure his upcoming job with a health care startup, Aledade.
"Experiential learning is really important to me," Jaspers said.
What goes hand-in-hand with hands-on learning? Creating relationships, he said.
"UVA's greatest resource is its people," he said, counting students and alumni who have intellectually and emotionally challenged and supported him.
In turn, they said Jaspers is the kind of person who takes the initiative to challenge himself. And the challenges have paid off.
Although a government major, Jaspers was curious about entrepreneurship and investing, he said, especially for the public good.
Where in the World?
This year, Jaspers took a unique January-term course offered by the McIntire School of Commerce, "World of Investing & International Relations," and ventured beyond the United States for the first time in his life. The course challenged him to venture outside his comfort zone and into very different parts of the world. Over the course of two weeks, the group of 12 students and four instructors went to Capetown and Johannesburg in South Africa, Dubai and Abu Dhabi in the United Arab Emirates, and Hong Kong.
"This course emphasized that investment offices and companies have different cultures, but the global perspective is really important," he said.
The intensity of the J-term experience encourages relationship-building. Jaspers said he made lifelong friends among both his fellow students and the alumni instructors.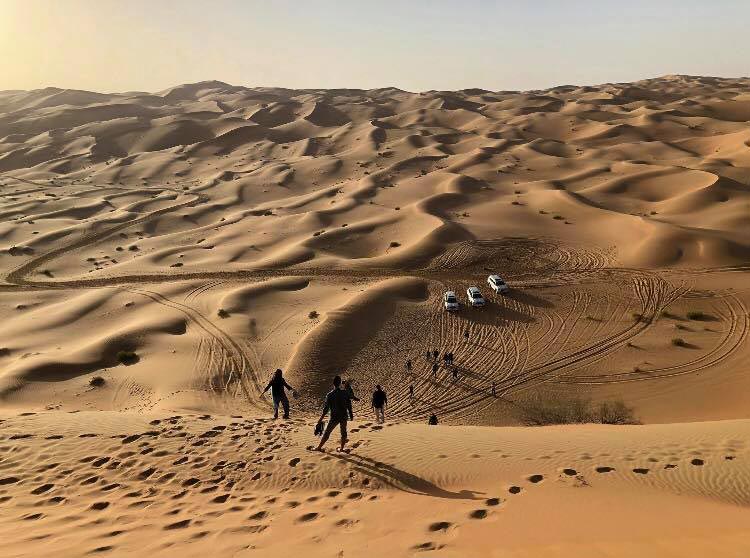 Jaspers and fellow students experienced the desert in the United Arab Emirates, along with visiting South Africa and Hong Kong, in the J-term course, "World of Investing & International Relations." (Photo courtesy of Joshua Jaspers)
The alumnus behind the course, "triple-'Hoo" Dave Burke, said he was driven by a desire to go further and work with UVA students in a more direct and sustained way. Founder and CEO of Makena Capital investment firm in San Francisco, Burke earned his McIntire School of Commerce degree in 1988, a law degree in 1993 and master's in international relations in 1994.
He called Jaspers "extraordinary."
"He has a brilliant mind and he's a creative thinker," Burke said. "He asked insightful questions and was a great leader. He's a self-starter and takes the initiative."
So confident is Burke about Jaspers that he asked him and another student to go to Nepal this summer after graduation and research possibilities for a J-term trip that Burke might lead in that country. There, Jaspers will hike to the base camp of Mount Everest, as well as meet with different community leaders and work to understand the global development efforts in Nepal.
Burke also appreciated Jaspers' sense of humor. "Every time he opened his mouth, I either learned something or I laughed," he said.
Starting Out Alone
Jaspers' gregarious nature was put to the test when he arrived at the University his first year, knowing no one. He grew up in tiny Rhode Island and hadn't spent any time away from home. His resident adviser, Osama Saleem, who graduated from McIntire in 2017, was a big help, he said, encouraging him to dive into new experiences.
By spring, UVA was a place he could call "home," Jaspers said.
Inspired by the help from his own resident adviser, Jaspers became a resident adviser in his second year.
"The first year is a new chapter in everyone's life," he said, "and students often face challenges as they transition away from home."
He learned to be more understanding and empathetic, he said, and how to help people solve problems in their own lives.
As a senior resident his third year, he managed 13 RAs in a dorm of about 300 students. Then he got the job of being co-chair of the Housing and Residence Life Program this past year alongside Tyler Ambrose, whom he called his "better half." They worked with the professional UVA staff, supervised 250 RAs and almost 7,000 students, and led the coordination of residence life programs.
"As co-chair, I'm looking at an organization I care about at a higher level," Jaspers said as the academic year came to a close. He has appreciated the leadership experience and helping people do the best they can. When he sees some of his past residents now, he said, "It's exciting to see how much they've grown."
Pursuing Public Service Through Government
Jaspers, too, has grown and found ways to pursue public service. He interned for Rhode Island Gov. Gina Raimondo the summer of 2015 – not just to learn more about state politics, but also to give back, he said. That's where he became interested in health care policy, helping develop the new governor's health care innovation plan.
The next year, he worked at the federal level in Washington, D.C. in the Office of the Administrator of the Centers for Medicare and Medicaid Services, researching topics such as drug repayment reform and value-based payment models, among other duties.
"Drug spending consumes about a quarter of Medicare's budget. It's largely inflated and inefficient," he said, adding, "The goal should be to decrease costs while improving people's health." Changing to a value-based incentive structure in which physicians get reimbursed for high-quality care, not volume of patients seen, is the future of the U.S. health care system, according to Jaspers.
He is putting that idea to work in his new job.
'Aledade' – Providing New Meaning for That Old Celestial Navigation Instrument
"I wanted to continue working in health care and learn through experience," Jaspers said.
Last year, he started researching venture capitalist firms investing in high-quality, affordable health care and came across Aledade,  a Series B startup that partners with primary care physicians to help them transition to a value-based payment model. Aledade describes itself as "a new model of primary care that enables physicians and other health care providers to deliver quality, personalized care to their patients; stay independent; and thrive by keeping people healthy."
Specifically, it helps build health care groups into accountable care organizations. The company uses technology to improve the workflow of health care practices, emphasizing preventive care and lowering costs.
Jaspers interned with Aledade last summer and has continued to work remotely, researching solutions to improve quality and reduce costs of end-of-life care.
He will work on the provider networks team in Aledade's Bethesda, Maryland headquarters, but the organization, founded in 2014, has more than 260 partnerships with health care practices in 18 states, serving more than 330,000 patients.
Bringing all his experience to bear, combined with his desire to help others, Jaspers will again challenge himself in this new job – by helping health care providers realign incentives to focus on value-based care, which he said is good for society.
Article Information
May 15, 2018
/content/class-2018-hands-learning-launches-joshua-jaspers