Luke Williams started dancing because he wanted to study politics.
The fourth-year University of Virginia student and Jefferson Scholar found himself dissatisfied with some of the traditional political theory he was reading in his required political and social thought courses. He understood why the theories of Aristotle or Rousseau were important to modern democracy, but they did not feel immediate or urgent to him.
"In my experience, which I attribute at least partially to being black, the inherent contradictions of a document like the Declaration of Independence and the ideas of liberal democracy become more relevant," he said. "It made me wonder why I was studying political philosophy if it was not something that felt relevant to me."
Oddly, that question led him to UVA's dance program, where Williams – who never would have considered himself a dancer at his all-boys high school in Dallas – found the answer to some of his questions about politics.
The physical act of dancing, he said, made him more aware of the physical impact of political moments or decisions. He began thinking more about the physical power of millions-strong protest marches, the physical impact of police brutality on African-American men or the way that seemingly abstract political decisions about large issues like health care affect people at a bodily level.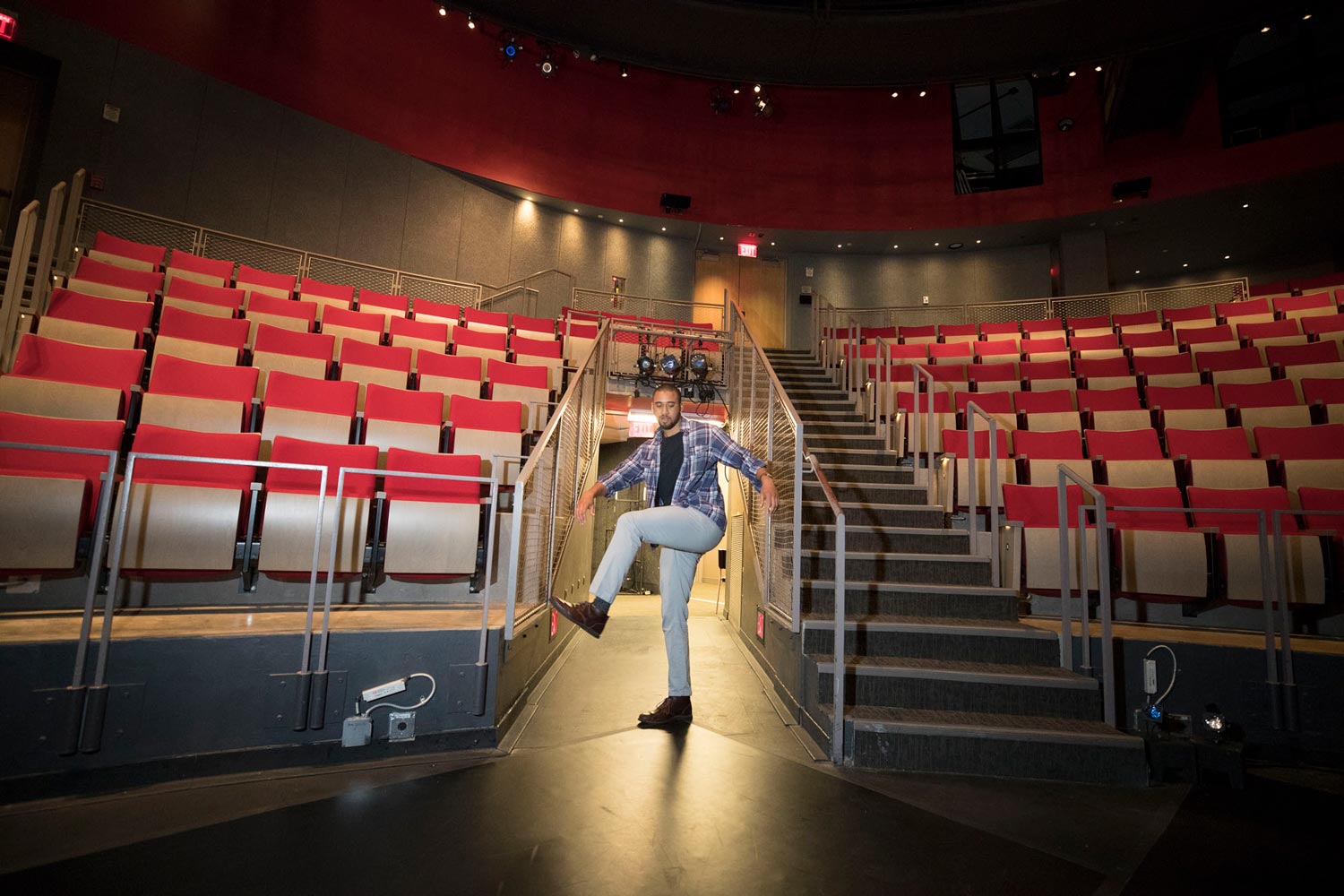 Williams came to UVA from Dallas after earning a prestigious Jefferson Scholarship.
"The project of politics is an attempt to get bodies to line up in a way that builds a better society," said Williams, who majored in political and social thought with concentrations in political theory, African-American studies and dance theory. "Dance is fundamentally a practice of working with the body, thinking about how the body moves and how it affects other bodies in the space. I think the political project misses its primary aim when it fails to recognize the importance of the body or of disciplines like dance and the arts."
Williams challenged himself to prove that point with an extensive thesis tracing the intertwined history of politics, dance and African-American studies – work that he will continue next year as a doctoral student at Stanford University.  
He examined protest movements ranging from Black Panther protests in the 1960s and anti-war and anti-apartheid protests at UVA to present-day events like the white supremacist demonstrations on Aug. 11 and 12 and the ongoing work of the Deans Working Group assessing UVA's response.
True to his philosophy that politics is physical, Williams sought out as many tangible experiences as possible.
He spent one summer researching black arts movements in Harlem at the Schomburg Center for Research in Black Culture at the New York Public Library as a Summer Humanities Institute Fellow.
For a few days last fall, he visited San Francisco County Jail No. 5 with University of San Francisco professor Amie Dowling. Dowling's course, "Performing Arts and Community Exchange," brings students into jails to make performance art together with men in the jail who participate in the Resolve to Stop the Violence program.
Williams observed and participated in several of the workshops, where everyone contributed to a final piece called "Nothing About Us Without Us." He said he learned a lot from the men in the jail and was grateful that they shared their talents and allowed him to observe.
"It really made me more mindful of whose stories we share and whose we do not," he said. "While I am proud of what I wrote, it just doesn't exist without the generosity of the people who were willing to trust me and share their stories and work with me. It made me recognize the need to be mindful about the fraught ethics surrounding the politics of the body, especially vulnerable bodies of marginalized and incarcerated people."
On Grounds, Williams sat in on meetings of the Deans Working Group and spent hours poring over civil rights leader and former UVA professor Julian Bond's papers in the Albert and Shirley Small Special Collections Library as part of his research with the Carter G. Woodson Institute for African-American and African Studies.
He also took the stage for theater productions like Black Monologues, directed by his friend and fellow fourth-year student Micah Watson.
And of course, he danced.
"When I pitched my thesis to my adviser, Katie Schetlick, she said it was a great idea, but she would not let me write about it unless I also danced," Williams said. "And she was completely right. Dancing has fundamentally changed how I write and what I choose to write about."
Schetlick, a lecturer in the drama department specializing in dance, said that she loved watching how Williams' writing evolved as he danced and physically put the theories he was learning in class into practice.
"Similar to anthropology, you have to immerse yourself in the field to fully understand," Schetlick said. "It was amazing to see Luke's writing change over time. There was a really palpable change where his writing became more visceral."
Williams had never done any sort of organized dance before coming to UVA, and he would be the first to tell you that he is far from the best dancer in the room. In fact, he wants it that way.
"To me, dance and academics are both spaces where I can get things wrong, fall on my face, get critiqued and just keep getting up," he said. "I get so much out of that. I enjoy being the dumbest person in the room, because then I get to learn the most. That is really fun for me."
He finds it so fulfilling, in fact, that he is already aspiring to a lifelong career in academia after completing his Ph.D. in modern thought and literature at Stanford, where he starts this fall.
"I'd love to eventually get a job at a university, dance, teach classes and really continue to do everything that I am doing now," he said.
Schetlick said she is already looking forward to seeing his future work.
"I am really excited to see how Luke will shift the field and the research happening within dance studies," she said. "I can't wait to see his first published writing – maybe in the future I will be teaching his work."
Media Contact
Article Information
April 26, 2018
/content/class-2018-study-politics-fourth-year-student-turned-dance