Like anybody who's ever played baseball seriously, University of Virginia pitcher Chesdin Harrington has always wanted to compete at the highest level he can. He is a fierce and motivated right-handed relief pitcher.
In his four years at UVA, Harrington has found that the college environment and big-time college ball have proven a challenge – a welcome one. The academics at UVA are demanding, Division I hitters are good and the pitching competition on his own team is steep.
"UVA was always a reach school for me," said Harrington, who starred as a pitcher and a shortstop at Patrick Henry High School in Ashland. "I knew I would be challenged in every way. I could have taken a mid-major college offer and been a starting pitcher. But I wanted to really be challenged academically, athletically and in every other way. I wanted to push back and go to my top-choice school and pitch at the highest college level."
The challenge Harrington presented to himself proved daunting in his first year. He struggled a bit academically, and his first pitching season had its "ups and downs."
"That first year really reinforced for me that this was a reach school – academically, socially, athletically," he said.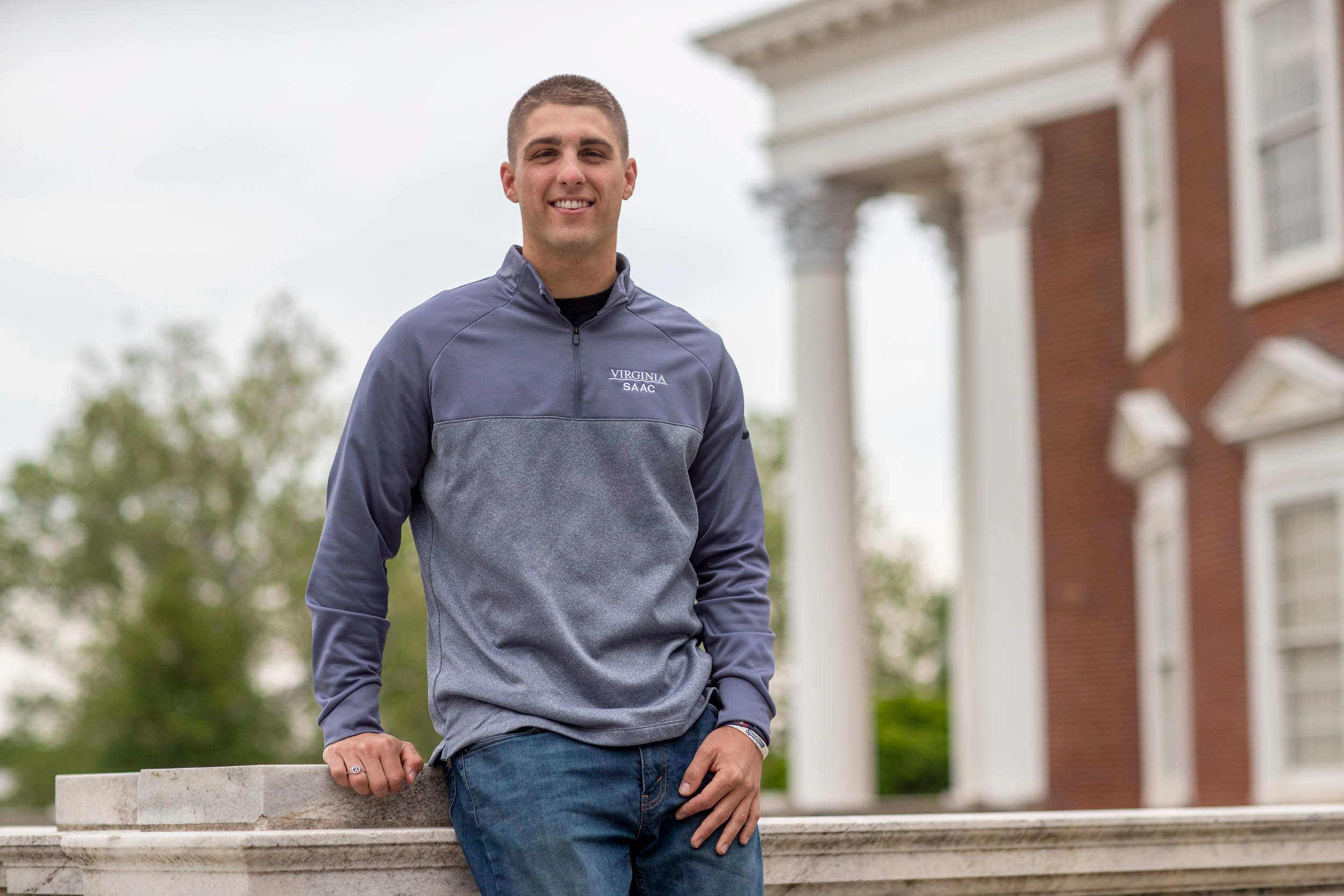 "We have an opportunity and a responsibility to be good role models for kids and society generally," said Harrington, a media studies/American studies double major. (Photo by Sanjay Suchak, University Communications)
After that first season, head baseball coach Brian O'Connor had an honest discussion with Harrington and gave him some positive critical feedback. Basically, the coach said he knew Harrington could pitch well, and that he could live up to his potential in many ways, even beyond baseball.
The takeaway: "He had faith in me," Harrington said. "It made me stronger."
Harrington's second year went much better. He got great grades and made the Atlantic Coast Conference Academic Honor Roll, earning 2017 All-ACC Academic Team honors.
As a relief pitcher, he pitched in 18 games, and his opponents batted only .160 against him. He did not allow even a single run in his first eight appearances, struck out 38 batters in 37 1/3 innings and pitched a perfect eighth inning in an ACC Tournament win over Clemson. He even started games against Towson University and Old Dominion, and won.
"What's great about UVA is that people are highly motivated, which really pushes you," he said. "People are committed to their best, and there's a great sense of community.
"I'm the same way, and I've proven I belong here."
But an elbow injury in Harrington's third season, in 2018, put the brakes on his plans to have his best year ever. The nagging problem wouldn't settle and was slow to heal. Harrington ended up redshirting, watching his team play while he had to sit out.
"That was a tough year," he said. "Sometimes I wasn't my best as a person, I wasn't the best teammate I could have been. I was feeling sorry for myself."
But he had a friend, infielder Jack Weiller, who had sat out the previous season due to an injury.
"Jack was so positive about it," Harrington said. "He really cheered on his teammates. I learned a lot from him. He helped me see how to be the best teammate I could be, to be a contributor, whether I was playing or not."
Harrington found many ways to contribute – to the University and the community beyond baseball. He got involved with an organization called Team IMPACT, which connects seriously ill children with collegiate athletic teams. He also volunteers at Madison House, and with several other student volunteer organizations.
Harrington also serves as president of the Student-Athlete Advisory Committee, a student council for UVA's 27 varsity teams. As a media studies and American studies double-major, he previously served as the committee's communications officer.
Additionally, last year Harrington was a student member of the steering committee for UVA President Jim Ryan's inauguration. He has organized Salvation Army bell-ringing activities for his team, and helped out with student lessons at Meriwether Lewis Elementary School in Albemarle County.
"We have this great platform as student-athletes," he said. "We have an opportunity and a responsibility to be good role models for kids and society generally. And it's fun, being with a great group of guys doing something of benefit to others."
Harrington's final season, this year, has been solid on the field and in the classroom. He said he's enjoying every moment of it.
"I have had a full experience at UVA," Harrington said. "It has molded me in so many positive ways, and has prepared me to move forward."
His coach agrees.
"While Chesdin's baseball career has faced some adversity due to injury, he has persevered and epitomized what we look for in a student-athlete," O'Connor said. "He has shown leadership, success and work ethic on the field, but perhaps even more impressively, off the field. Through his off-the-field efforts, Chesdin was an integral part of our team's involvement in several philanthropic initiatives. His leadership experience on our team, and other student-athlete committees, will serve him well in anything he decides to do in his future."
That future includes a next stop in Austin, Texas, where Harrington has accepted a sales and business development consultant position with the computer technology company Oracle. He's also considering graduate school somewhere down the line. And he plans to stay involved with baseball in some way, coaching children or perhaps at a higher level.
In the meantime, he is "soaking in" every experience left as a student-athlete.
"These four years have been incredible," he said. "I'm enjoying my classes and time with my friends and traveling on road games. I'm appreciating everything. This won't happen again."
Article Information
April 30, 2019
/content/class-2019-baseball-player-reached-challenge-and-then-met-it