Rambert Tyree thought he had a good idea for how students from different backgrounds in the University of Virginia's McIntire School of Commerce could get to know each other on a deeper level.
He just didn't know how good.
Last fall, Tyree and a classmate came up with "Building Bridges Lunches," in which McIntire undergraduate and graduate students are randomly paired to share a meal together.
"We thought we might get 20 or 30 responses and have to do some lunches ourselves," Tyree said, "but within the first six hours we had 70 responses. Within a day, we had 100 and the list was full."
The feedback Tyree received was overwhelmingly positive.
"People talked about getting to meet other people who they just never would have met, and who were just different," Tyree said. "For minority students who come from different backgrounds, it can be really hard transitioning to the Comm School and getting used to things and really feeling included and welcomed. … A lot of times our circles never interact.
"We felt like if we could just get those people to share a meal and talk and enjoy each other's company, it could help to break down barriers and build bridges between people."
The endeavor was just one offshoot of the Office of Diversity, Equity and Inclusion at McIntire that Tyree has been involved with for the last three years.
But Tyree, a fourth-year student from Newport News who will graduate May 19, has spread his wings in many directions during his time on Grounds.
He's been a Meriwether Lewis Fellow. He's served as the student member on President Jim Ryan's strategic planning committee. He's studied abroad. He's even been a member of the UVA football team.
"I'm officially Rambert's mentor," UVA Law professor Richard Schragger said, "but in reality, I think he has mentored me. I've learned so much from him."
Said UVA associate professor of English Maurice Wallace: "It is rare for an undergraduate to be so thoughtful, progressive and intellectually agile."
Tyree, who has served as the diversity and inclusion chair for the Commerce Council, grew up playing football in Newport News, idolizing former Virginia Tech and NFL star Michael Vick, who attended his high school.
Since Tyree's mother was often busy working as a nurse to support Tyree and his younger sister and brother, Tyree spent a lot of time with his grandparents. Tyree was always a huge sports fan and used to watch and attend games with his grandfather, whom he is named after.
Tyree's grandparents always instilled in him the importance of education. When the time came to decide on a college, Tyree – who had drawn recruiting interest from Liberty University and a number of Division II and III schools to continue playing football – opted to hang up his cleats and come to UVA.
However, watching games from the stands as a first-year made Tyree miss football, and so the next year he tried out for the team and made it as a walk-on wide receiver.
Per the program tradition that was started when head coach Bronco Mendenhall took over three years ago, Tyree had to "earn" his uniform number – No. 75. While the digits didn't exactly fit his position (numbers in the 70s typically go to hulking linemen, not speedy receivers), Tyree – who grew up in the area of eastern Virginia known as the "757" – wore them with great pride.
When UVA played at Georgia Tech that season, Tyree got to travel, which marked his first time on an airplane.
"The things I cherished the most were the relationships with the guys," Tyree said. "It was also cool to be able to go up against guys like [future NFL draftees] Juan Thornhill and Quin Blanding and Micah Kiser. Waking up at 5:30 for practice, being outside when it's like 10 degrees and all the hard work paying off when I finally earned my number –  I'll always cherish those memories."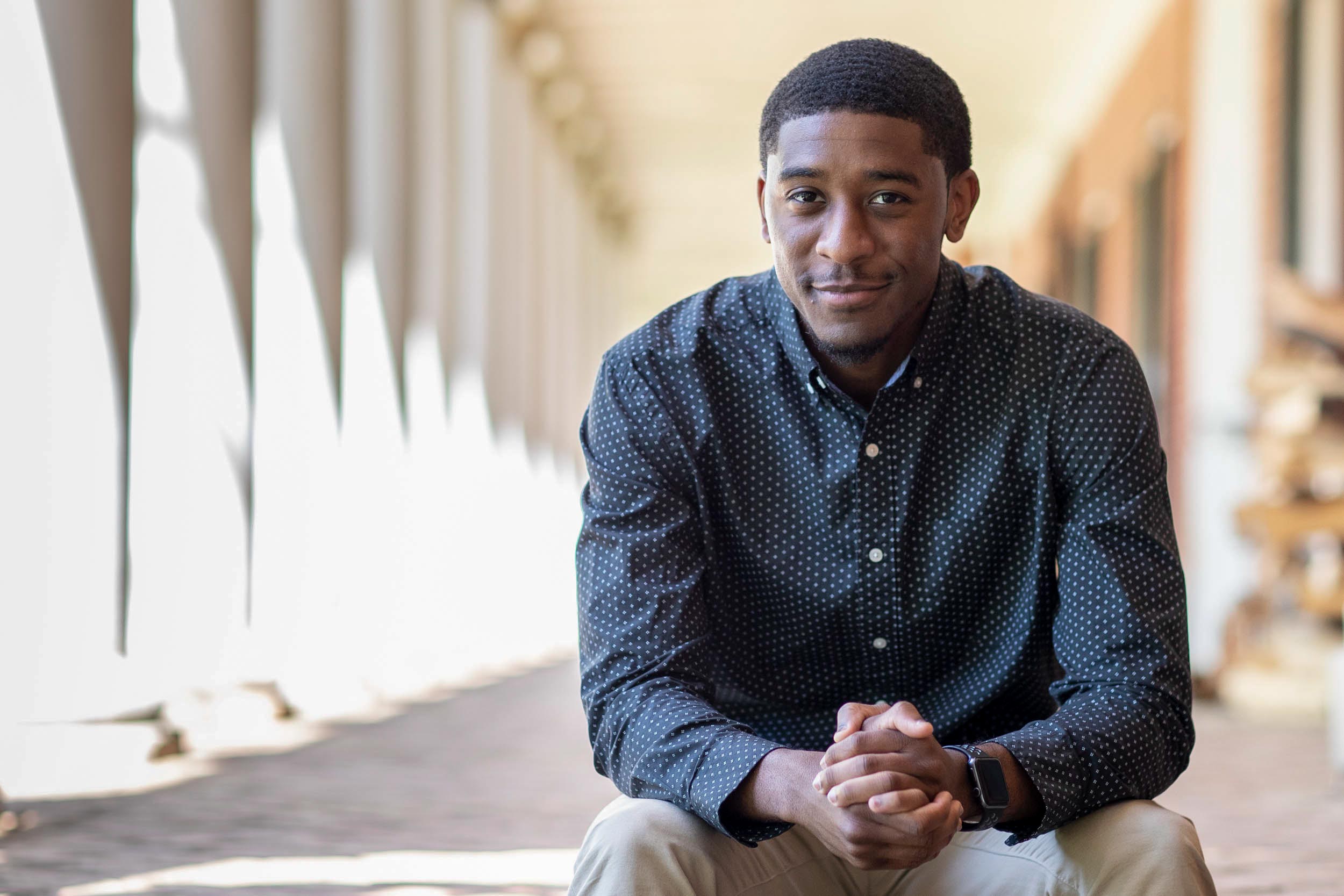 For as long as he can remember, Rambert Tyree's grandparents have emphasized the importance of education.
Tyree became close with Marques Hagans, the former UVA player-turned-wide-receivers-coach who also hails from Newport News.
"It was cool because he was like a hometown legend," Tyree said. "To be in his position group and have meetings with him every day …
"Even now, to see him around Grounds or text him and still have that connection is so cool. It's a connection that will never die."
Tyree played one full season and part of the next before leaving the team to focus on his other activities.
One of them was a January term class spearheaded by alumnus Dave Burke called "World of Investing & International Relations," which visited South Africa, the United Arab Emirates and Hong Kong last year.
Tyree, who had never before left the East Coast, let alone the country, called the experience – one in which they stayed in a Nelson Mandela villa, rode camels and visited the Abu Dhabi investment council (among many things) – "transformative."
"It was unlike anything I could have ever imagined," Tyree said. "It just showed me that the world is a really large place. But it also showed me how small it is, where you could fly halfway across the world in 12 hours."
It was during his time as a fellow in the Meriwether Lewis Institute for Leadership – a program spanning three years and several UVA schools, in which selected participants put leadership skills to use through the examination of a key University issue  – that Tyree met UVA Law School Dean Risa Goluboff and decided that law was the path he wanted to follow after graduation.
"She was really inspirational in the way she talked about how you can use the law to affect change and what the law can really do," said Tyree, who will attend the UVA School of Law after graduation. "And I've always been interested in helping people and serving others and making a change in people's lives."
Schragger and Wallace believe he'll do just that.
"Rambert is a thought leader, to be sure," Wallace said. "I'd like to think I was a Rambert Tyree when I was an undergraduate many moons ago, but that would be thinking a little too highly of myself. … I wish I'd had his talent."
"He's a terrific kid, a hard worker, and a pleasure to hang out with," Schragger added. "I'm especially proud that he'll be staying at UVA and will be a 1L at the Law School next year."
Having grown up a Hokies fan – mainly because of his admiration for Vick – Tyree chuckled at the thought of becoming a "Double Hoo," a term reserved for two-time graduates.
"Who would have thought?" he said, breaking into to a wide smile. "Ten years ago, I would have never seen this coming."
Article Information
May 7, 2019
/content/class-2019-grads-journey-winds-football-business-law