Gregory "Ory" Streeter's path to medical school had a few unusual stops along the way, including a stint as a dolphin trainer and five years of serving undergraduate students in the University of Virginia's Office of Housing and Residence Life.
During his own undergraduate years at Towson University in Maryland, Streeter majored in animal behavior and interned at the National Aquarium in Baltimore, where he worked with a team of dolphin trainers, feeding the dolphins, playing catch with them, sitting on veterinary procedures and, occasionally, helping out with the daily shows. It was the fulfillment of a lifelong dream.
"I wanted to be a dolphin trainer as a kid, and I never grew out of it," the Mechanicsville native said. "It was an amazing experience. Being able to communicate with an intelligent non-human species is a privilege not many get to have." 
However, Streeter soon decided that "people were even more interesting that dolphins," and returned to graduate school at the University of Delaware to study counseling, with an emphasis on higher education and student affairs. That led to the job with UVA, where Streeter worked in Housing and Residence Life as an area coordinator, helping the students in his dormitories adjust to college life and handle both routine and extraordinary challenges.
"It's a job that makes a large place like UVA feel a little more like home, which is such a privilege," he said. "But it was also a challenging job. You are helping students through difficult issues like substance abuse, acts of discrimination, sexual assault and other very heavy topics."
Streeter, who had also worked for several years as an emergency medical technician, felt drawn to and inspired by students facing particularly tough challenges.
"I never want those things to happen to people, but I was glad that I could be there for them in those tough moments," he said. "Being around UVA students – amazing people who challenge themselves to try new things and set aspirational goals – pushed me too. It inspired me to see if I could pull off medical school."
And pull it off he did.
Streeter, who is married to his wife Michelle and has an 11-month-old daughter named Mila, will graduate from UVA's School of Medicine this month with an M.D. and a job waiting for him right here in Charlottesville, where he will join UVA's Department of Family Medicine as a resident physician.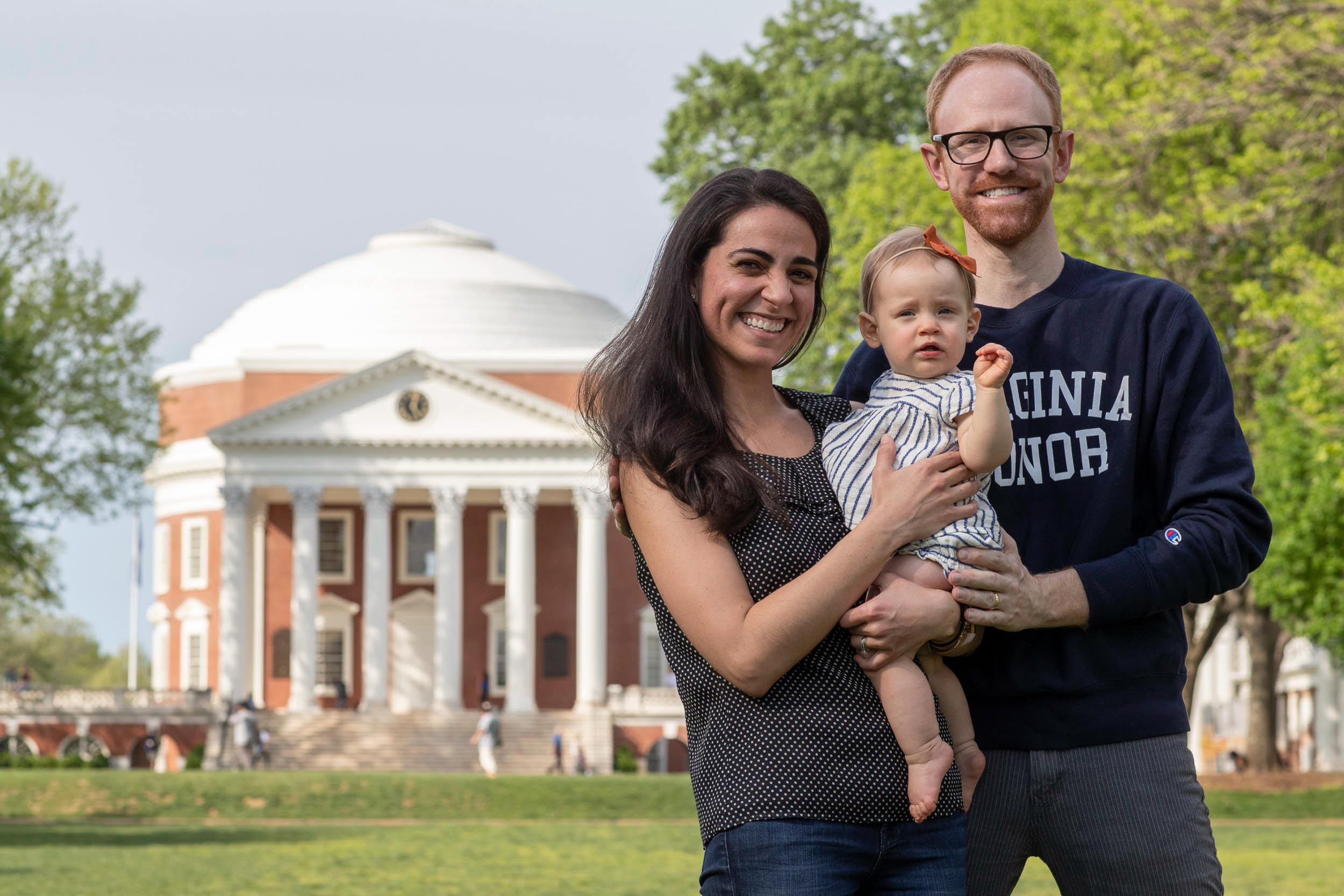 UVA has been a family affair for Ory Streeter, shown here with his wife Michelle and their 11-month-old daughter Mila on the Lawn.
In addition to completing his medical school coursework while starting a family – no small feat – Streeter made an impact on his classmates and his school as a representative on the Student Medical Education Committee, which examines UVA's medical curriculum, and served as editor-in-chief of an annual report evaluating the school's entire third-year clinical clerkship curriculum. He was inducted into the Raven Society, UVA's oldest and most prestigious honor society, in 2018 and selected as his class's recipient of the Leonard Tow Humanism in Medicine Award, honoring graduating students who demonstrate outstanding compassion in care for their patients, patients' families and colleagues.
Last but not least, he served as chair of UVA's Honor Committee – one of the most prominent leadership roles any student, anywhere on Grounds can hold. Streeter served as the School of Medicine representative for two years before becoming chair.
"Ory's commitment is remarkable. It is not easy to be a medical student and not easy to be the Honor chair, and to do it all as a new father," said Streeter's adviser, Dr. Meg Keeley, a professor of pediatrics. "He would be the first to admit that he is a nontraditional medical student, and I think his background, especially in Residence Life at UVA, made him remarkably supportive of not just his patients, but his classmates."
As chair, Streeter oversaw the operations of the Honor Committee and the larger honor system, a student-led effort that adjudicates possible honor offenses, promotes the honor code and ensures that the tradition, begun in the 1840s, continues to resonate in the present.
"From my time working at UVA, I knew how important the honor system was to the history of the University and the fabric of student culture here," he said. "I wanted to do my part to continue that."
Most of all, he wanted to give back to a community he felt had given him so much.
"When I got my first job here, I really felt like UVA was taking a chance on me and giving me an opportunity," Streeter said. "I have tried to pay that back every chance I get. I feel so lucky to be here, I owe this institution so much, and I just want to use my time here to say 'thank you.'"
Evan Pivonka, a faculty member in the Woodrow Wilson Department of Politics and special assistant to the Honor Committee, said Streeter's experience and maturity brought an important perspective to the committee's discussions.
"His years serving on the committee gave him a lot of institutional knowledge and a broad, long-term perspective that was really helpful," Pivonka said. 
One of Streeter's most significant tasks was the Honor Bicentennial Report, a comprehensive look at the past, present and future of the honor system at UVA commissioned around the University's bicentennial.
Pivonka called it "an honest look in the mirror" for the honor system.
"Ory executed that very well," Pivonka said. "He was focused on transparency from the beginning and wanted to broadly examine the impact of honor at the University and how others in the community perceive it."
The report released 100 years of case data and delved into important and often difficult themes, such as the implicit bias shown in higher reporting rates against minority and international students.
"It felt good to shed light on issues that needed addressing," Streeter said. "I hope it will help inform future decision-making, and in particular support international students and minority populations who are overrepresented in reports and sanctioning."
He had to do a bit of juggling to make it all work. Most Honor Committee chairs live on the Lawn, but those rooms are not exactly big enough for a family of three. Instead, Streeter ceded that room to an undergraduate student and spent his Sunday evenings at home with Michelle and Mila before putting Mila to bed and heading over to the nighttime Honor Committee meetings at Newcomb Hall. He credits his wife with making it all work.
"Michelle has been such a wonderful partner in this process," he said. "I would not have been able to make it through without her, and with her help I was able to choose opportunities that allowed me to balance my responsibilities as a student and as a new dad." 
Now, the family is looking forward to their next opportunity in Charlottesville. Like Streeter's past work, his family practice will allow him to focus on building strong personal relationships with those he serves.
"In family medicine, you get to help people navigate complex health problems over time, which is in a way similar to what I did in my previous career," he said. "It fit best with what I think my skills are – talking to people and helping them through difficult things. It will also allow me to work with all ages; kids, grandparents and everywhere in between. It's a wonderful place to be."
Keely said UVA is lucky to have him.
"I'm thrilled Ory is staying here in our Family Medicine department. It's a credit to the department and the institution when our students want to stay, and his future patients are very fortunate," she said. "Ory is mature, humble and really a learner at heart, and that comes across in his patient care. He is genuinely curious about how he can help each patient."  
Media Contact
Article Information
May 8, 2019
/content/class-2019-ory-streeter-thankful-winding-road-led-uva