When Reba Francis first heard about the University of Virginia's School of Continuing and Professional Studies, she was half a world away, serving in the Navy and stationed in Bahrain.
She'd joined the service after a year of college and had a demanding job: as master-at-arms, her duties included screening visitors before they could enter the base.
"It's not like the world that we grew up in," she said of Bahrain. "You rarely see women walking around by themselves or without a male companion – something very different from the American culture. I just remember being so terrified, and it took me a while to realize from interacting with people, with locals, that everyone was really nice and normal and that these were just wonderful people who become your neighbors and friends."
She also saw some things that would inform her future study at UVA: extreme poverty and uneven access to clean drinking water.
At the same time, Francis was looking for an option to finish her undergraduate degree.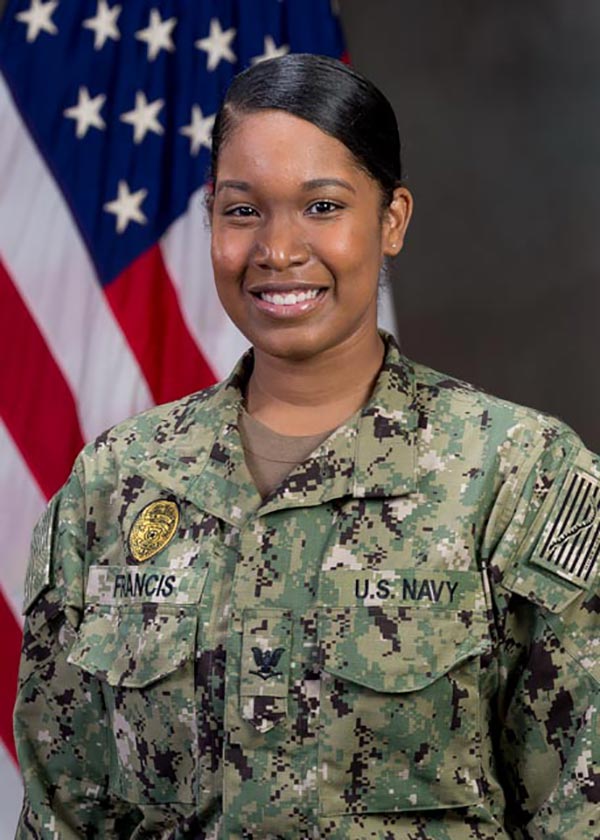 "I always wanted to get a degree – it's actually encouraged in the Navy – but I didn't plan for it to happen the way it happened," she said.
A shoulder injury in training caused her to return to the United States and be stationed in the Tidewater area in Virginia. She continued her exploration of the School of Continuing and Professional Studies and enrolled in its Bachelor of Interdisciplinary Studies program, from which she graduates this weekend.
She's one of the youngest students to finish her program – an online, flexible degree program designed for working adults with some college credits, but not a degree – and also one of the fastest, finishing in about two years.
"She was wonderful," faculty member Christie Mendoza McCall said. "She was very quiet in the beginning, but once she got to know her peers, she developed this great support group and did tremendous work on her capstone project."
Francis credits the pre-admission advising process – in which SCPS staff evaluate a transcript and help a prospective student make sure they are meeting all the necessary requirements – as the main difference in her being able to attend.
She recently shared a written recollection of her time in Bahrain as part of "Wonder of All Wonders: The Written Word," an online reading organized by professor Charlotte Matthews.
For her capstone project, Francis researched the clean water crisis, a problem that she said extends to many corners of the globe and is especially pronounced in developing countries.
"I drew inspiration from my time abroad, but it's about the necessity and the need for global intervention in combating this clean water crisis," she said.
As for next steps, she plans to continue her education in graduate school, pursuing a Master of Public Health in epidemiology. As she worked through her degree, Francis left the military, and her education has become a major part of her transition to civilian life.
"At the end of the day, everyone gets out of the military, if it's after two years or after 20. And having that great UVA education and having a highly competitive degree will definitely help me make the transition." 
Article Information
May 14, 2020
/content/class-2020-graduates-journey-began-while-serving-overseas