Find the latest information on the University's response to the coronavirus here.
Former University of Virginia women's basketball center Felicia Aiyeotan had to step away before her senior season after getting a surprising, derailing diagnosis: Marfan syndrome, a genetic disorder that affects the body's connective tissue, discovered when she was being evaluated for a knee injury.
For the 6-foot-9 center from Lagos, Nigeria, the diagnosis came completely out of the blue and effectively ended her playing career. One would think that that, coupled with the coronavirus pandemic, it would have left her pretty down.
Not Aiyeotan. The fourth-year student, who will graduate this year with a B.A in sociology and a minor in global culture and commerce, was effusive as we talked on the phone about her time at UVA and the formative experience, at the age of 12, that would shape her life.
A Pained, Then Revelatory Childhood in Lagos
"My experience as a child wasn't the typical childhood for a kid, because I was naturally an anomaly because I was always so tall and skinny for my age," she said. "You know, being 12 and being 6-7 is not normal."
Years of bullying followed the young girl, who found solace and a safe haven in academics. She knew she was smart and could compete in the classroom.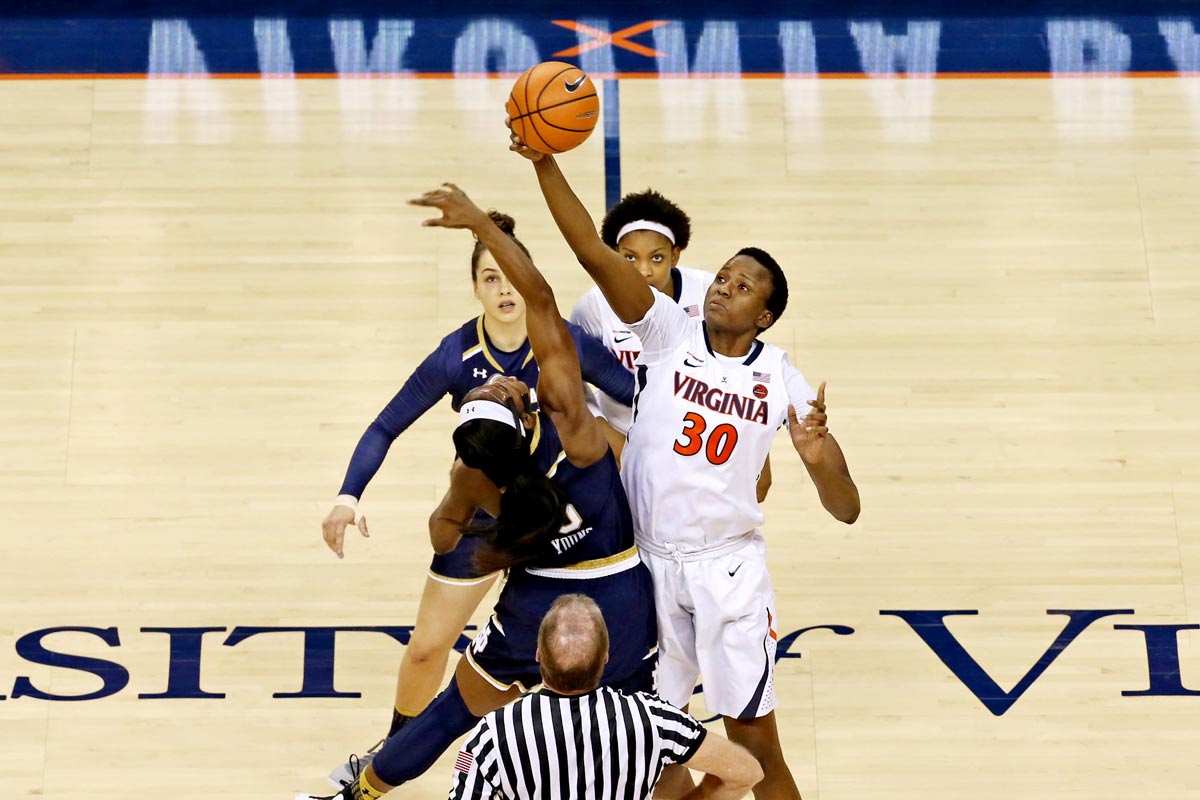 Felicia Aiyeotan was determined to defend her role as a starter on the Cavalier women's basketball team. Now she's determined to carry on without basketball.
"I didn't really socialize as a kid, because kids were just being mean the whole time," she said. She hated sports and stayed away from people because she was so introverted.
Then, something changed. Despite never having played, Aiyeotan was invited to a weeklong basketball camp run by an organization called "Hope 4 Girls."
"At age 12, I was introduced to basketball, and that was really the turning point in my life," she remembered.
When she learned she'd been recommended for the camp, which draws promising players from around Nigeria, her original reaction was "no way."
"There is no way I'm going to leave my family, because it was out-of-state. There was no way I was going to not have my mom, who could chase off the bullies," she said with a laugh.
But somehow she found it within herself to take a leap of faith, and she hasn't looked back.
Incredibly, Aiyeotan was named the most improved player in the camp. She came home a changed person.
"I came home super excited and told my parents, 'Oh, my gosh, I love basketball.' They just couldn't believe it. I was able to make my first layup and everybody cheered," she recalled. "I felt like a really improved person, you know, so much better." Her parents barely recognized their daughter.
Committing to UVA
Aiyeotan took another giant leap of faith, coming to the United States to attend high school and play ball, and was heavily recruited. Early on, she said, UVA won her heart. Former head coach Joanne Boyle, Aiyeotan said, was a big reason she committed to the Cavaliers so quickly.
"I just immediately committed to UVA," she said. "I just thought to myself that it was too good to be true.
"How can a university and the people be so open and honest and ready to embrace me with open arms?" she said. "You know, Coach B just really cared about me as a person. It was hard for me to find other schools that were on that level."
Once she donned her No. 30 Cavalier practice jersey, Aiyeotan began to understand something Boyle told her during the recruitment process: that she would have to compete and work hard to get playing time. Nothing was guaranteed.
"She said, 'I'm not going to tell you you are going to have a starting position on the team or you're going to play 40 minutes in a game," Aiyeotan said. "'You're going to have to come and you're going to have to have to prove yourself and you're going to work your butt off.'"
Aiyeotan dug in hard. After riding the bench for much of her first year, she doubled down and spent the following summer bonding with her team on a trip to Costa Rica while training harder than ever.
"The most exciting experience for me, that really allowed me to truly, truly understand my potential, was my first career start," she said. "And it was against [nationally ranked] Mississippi State my second year."
Once she had a taste for starting, Aiyeotan wasn't looking back. "I didn't want to get off that starting lineup and I went to every practice giving 110%."
'Life-Changing News'
After Boyle resigned in March 2018 to turn her energies to adopting a child from Senegal, Tina Thompson was named UVA's fifth head coach, sending Aiyeotan over the moon. With her sights set on playing in the WNBA, she was excited to have one of the league's all-time greats as her new coach.
"I was just so thrilled. I had the goal of going to the WNBA to play professionally," she said. "So, to have someone like that come on the team, I was so eager to learn from her!"
Then came the sad news. While being treated for a knee injury in the fall of 2019, doctors made their shocking discovery. Besides affecting connective tissue, Marfan syndrome can have the potential to affect the heart, eyes, blood vessels and skeleton. It was a crushing blow to a player who said she was in the best physical health of her life and already ranked third in program history with 140 blocked shots in her career.
"My diagnosis was a huge shock for me. … When I received the news, I was just so numb," she recalled. "Just seeing people tearing up and hugging me and holding me, I still couldn't believe it."
In a statement about the diagnosis, Thompson said she and the team were devastated that the player they called "Fe" was hit with the "life-changing news."
"We are a family here at Virginia," she wrote. "As a program, we first grow the hearts of our student-athletes and their talents second. I'm not sure if we will ever be able to mend Fe's heart with this great loss, but we will do everything possible to comfort her and support her in the journey of her new normal. It is in fact what family does."
A New Reality
In the days, weeks and months since Aiyeotan received the news, she has put her head down and forged ahead, just as she did when she was determined to get off the bench.
She has been interning with the Virginia Athletics Foundation, and helping with filming practices and scouting. "I just knew that it was an opportunity for me to improve my skillset and gain more experience outside of athletics, because as a student-athlete, most times you just go to practice and meetings and before you know it, the day goes by," she said.
Aiyeotan has had to adjust to yet another jolting reality: living during the coronavirus pandemic.
She remains in Charlottesville, living in the Faulkner House Apartments on North Grounds, where she is finishing her coursework and applying for jobs, internships and graduate schools.
"I'm currently thinking about [Virginia Commonwealth University] and sports leadership, but I don't know," she said. "Fingers crossed right now." She is also interested in business administration. A self-described "people person," Aiyeotan is also looking at jobs in human resources, sales and marketing.
She's been intentional about how she spends her days. She gets up, does yoga, writes or meditates in the morning.
"This is not something I usually do," she laughed. "You know, you learn every day, so I just downloaded an app and do yoga with a bunch of people online."
After breakfast, it's schoolwork and then a workout (Aiyeotan said despite her diagnosis, she feels perfectly fine). With the arrival of wonderful spring weather, she's also been inspired to take long walks.
She said she feels optimistic for the future and that "everything will die down."
"I'm feeling grateful because, you know, once you get on the news and you see how many people have passed away, or how many people are celebrating their birthdays or milestones in their lives by themselves, it just allows me to understand that although things are not working out right now, it's such a great opportunity to still be alive and go through this process," she said.
"It's just a little bit stressful right now. And I understand it could be much worse."
Article Information
April 17, 2020
/content/class-2020-marfan-syndrome-diagnosis-cant-keep-basketball-star-down