Several University of Virginia organizations on Friday honored six graduating students, two employees and an organization at the annual Valedictory Exercises.
The Algernon Sydney Sullivan Foundation presented its namesake awards to students Jordan Arnold, a double-major in political and social thought and economics, and the late Rehan Baddeliyanage, a biomedical engineering major; and to Jane Miller, athletics administrator and former lacrosse coach. Nikhith Kalkunte, co-chair of the Resident Staff Program, presented the awards.
The Sullivan Foundation, named for a New York lawyer, businessman and philanthropist, gives the awards to recipients who have demonstrated notable character, integrity and service.
Arnold was cited for her selfless passion for helping others and for her principled leadership, as an "unapologetically present friend, humble leader and selfless contributor" to several University communities. She will carry her passion next year to the Virginia College Advising Corps to help increase college attendance in underserved communities.
Baddeliyanage, who died in March while hiking in Puerto Rico during Spring Break, was called a "fierce and loyal friend" and lauded for nurturing relationships "with a listening ear and a loving bear hug." As a resident adviser, he helped others "find their home" at the University. He was known for bringing people together, supporting and empowering them, and "ensuring that they felt valued." His younger brother, Roshan Baddeliyanage, accepted the award for him.
Miller was recognized as a "trusted colleague, friend, mentor, trailblazer" who has given 35 years of service to the University's Department of Athletics. She was the winningest coach in UVA women's lacrosse history when she moved in 1995 to an administrative role, serving most recently as the senior associate director of athletics. Known for providing unwavering support to others, she is called a "servant leader."
Two secret societies at the University also presented awards.
The Seven Society's Louis A. Onesty Memorial Scholar-Athlete Award went to sociology major Anna Redding, a member of the women's golf team who has achieved athletic and academic excellence while performing service work with Kappa Delta Sorority, Athletes in Action, The Girl Scouts and Prevent Child Abuse in America. She also was a member of the Student Athlete Advisory Committee, serving as a voice for student-athletes within the University's administration. "Giving back and showing gratitude is second nature" for Redding, her coach, Ria Scott, has said.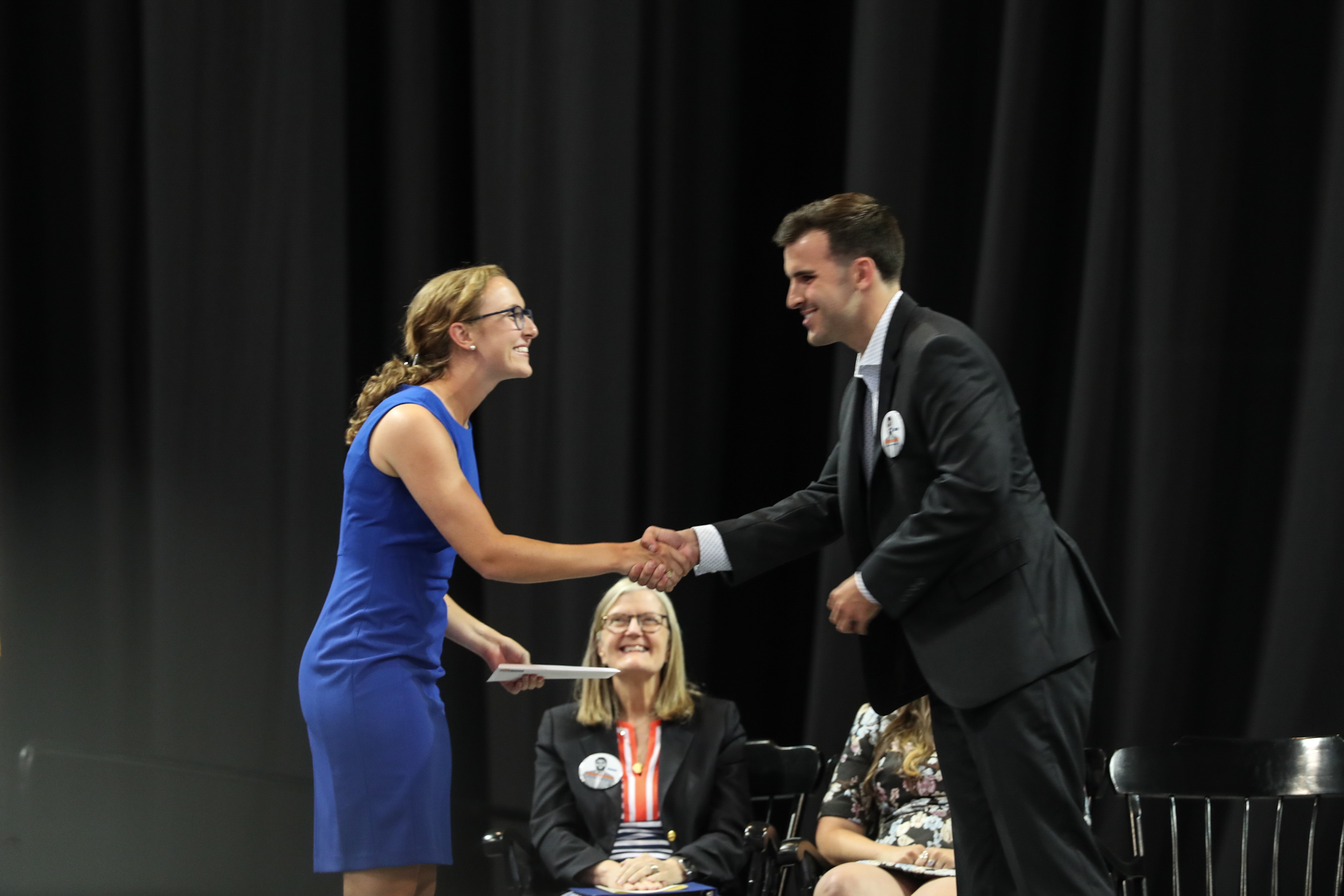 The Seven Society also presented its James Earle Sargeant Award, which is given each year to a student organization that betters the University community, to the Living Wage Campaign at UVA. Partly as a result of the campaigns efforts, the University in March implemented a $15 per hour minimum wage for direct employees beginning next year. The Seven Society commended the campaign "for immeasurable and impactful contributions to the University."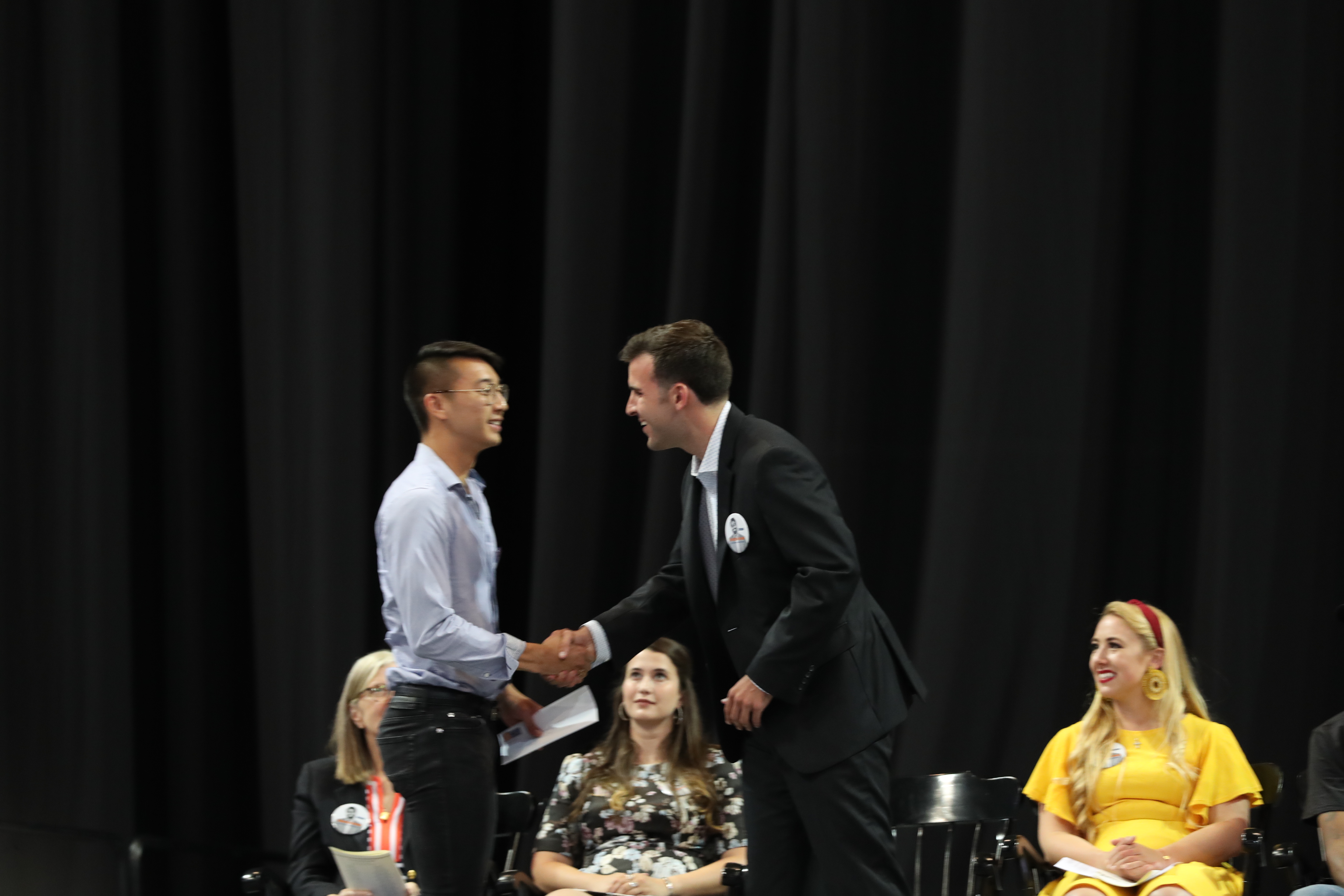 Class of 2019 trustee Nicholas Tully presented both of the Seven Society Awards.
The Society of the Purple Shadows gave its Gordon F. Rainey Jr. Award for Vigilance to the Student Experience to Claudrena Harold, professor of African American and African Studies and History. She was lauded for demonstrating "unwavering commitment to truth and righteousness" and for hearing and challenging her students. Harold serves in several advisory positions at the University and to the Black Student Alliance. Admired for speaking truth to power, Harold was celebrated for being instrumental in building community trust at UVA and within the Charlottesville community.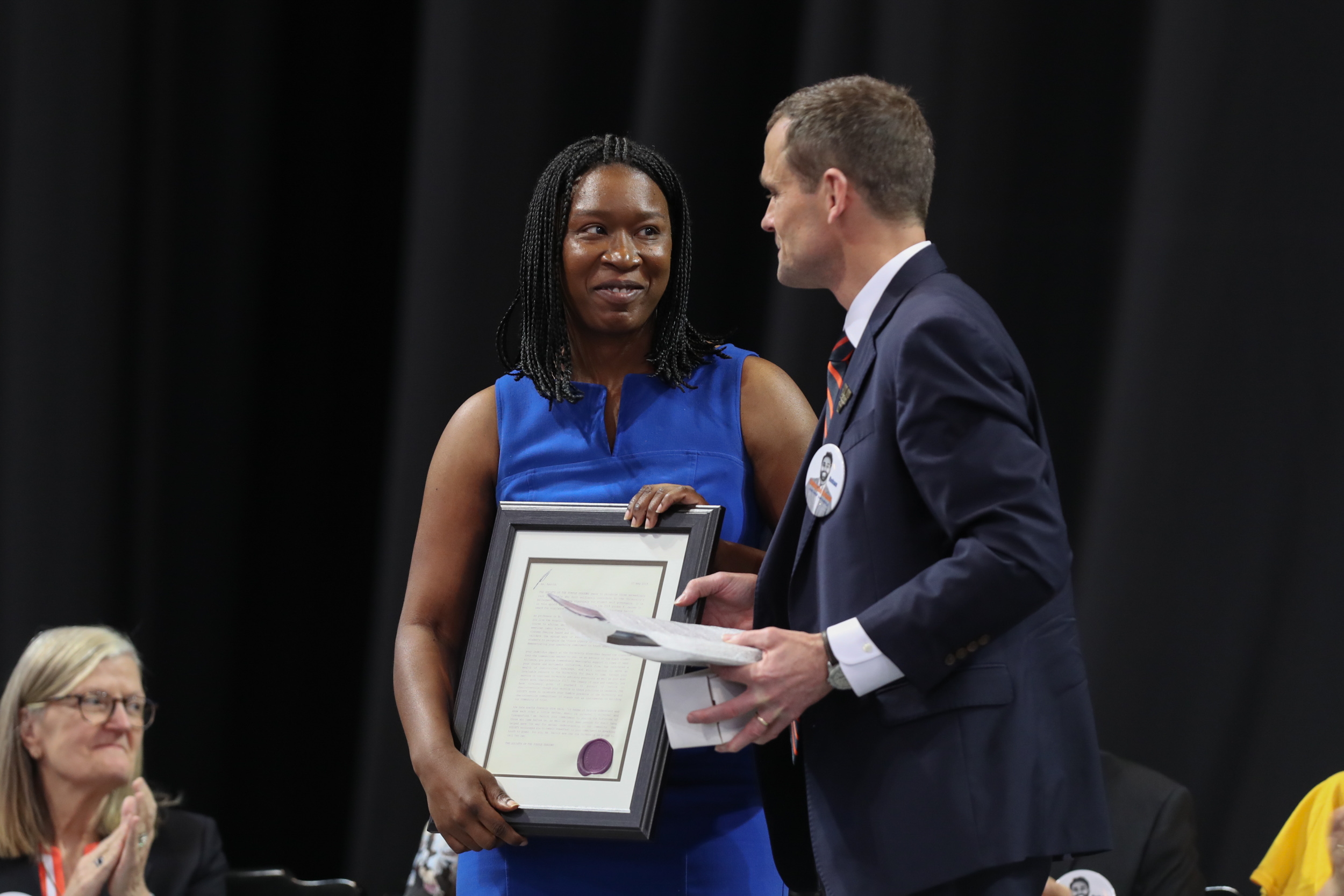 UVA President Jim Ryan presented the Rainey Award to Harold on behalf of the society.
The Class of 2019, represented by trustee Mariana Brazao, presented the annual community service and cultural fluency awards and a special "Bicentennial Leadership Award."
Corinne Singh, an anthropology major, received the Community Service Award. Early in her undergraduate career, Singh learned that the Charlottesville Free Clinic lacked clinicians to draw blood samples. In response, Singh trained for and earned a phlebotomy certificate and began volunteering weekly at the clinic, serving a critical need. She also has inspired fellow students to become involved with Madison House's Special Olympics program and with the emergency department at Sentara Martha Jefferson Hospital.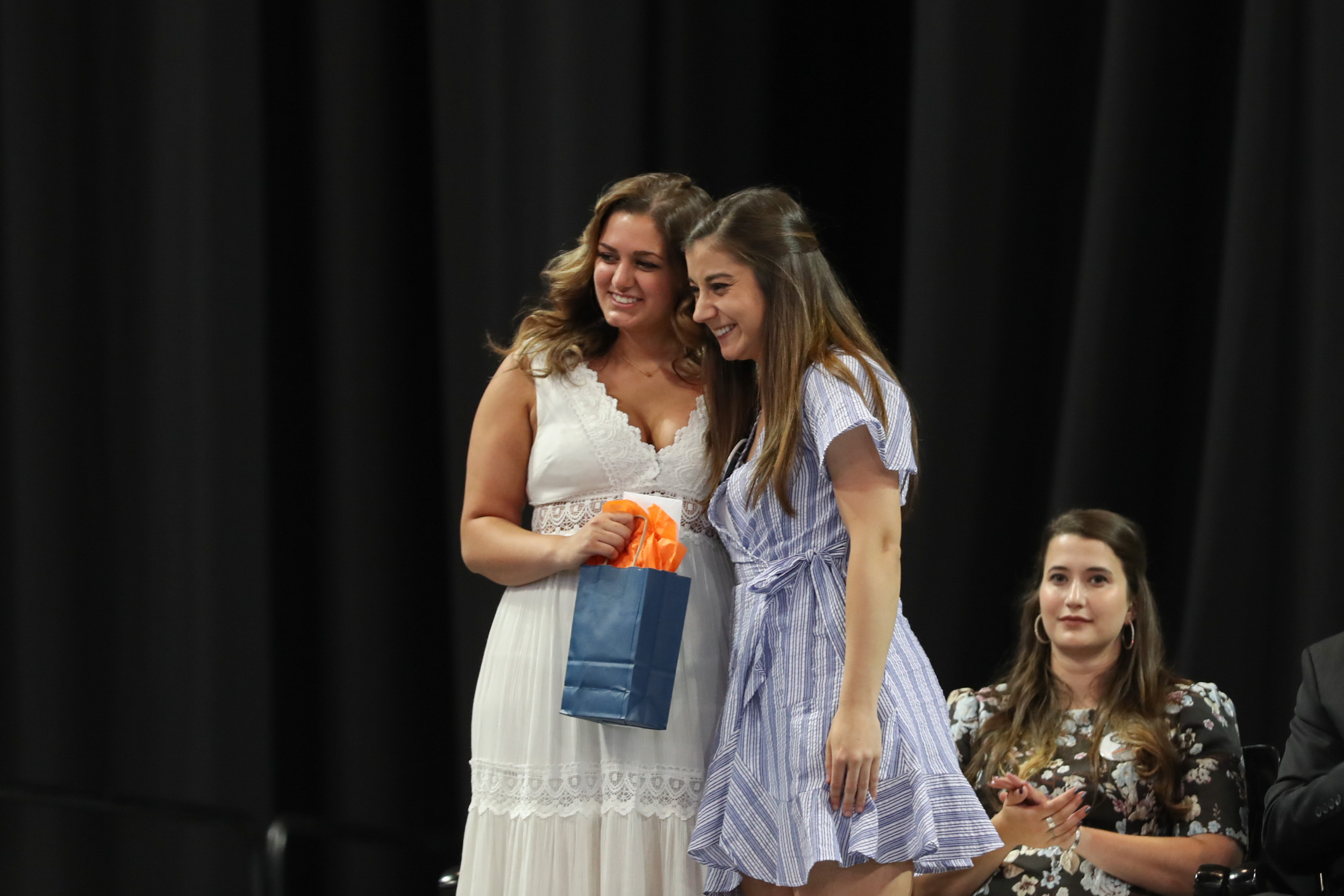 "The Charlottesville community is healthier and better off thanks to her service," Brazao stated.
The Cultural Fluency Award, which recognized a graduating student who demonstrates understanding of and appreciation for cultural and intellectual diversity, went to Rawda Fawaz, a political and social thought major.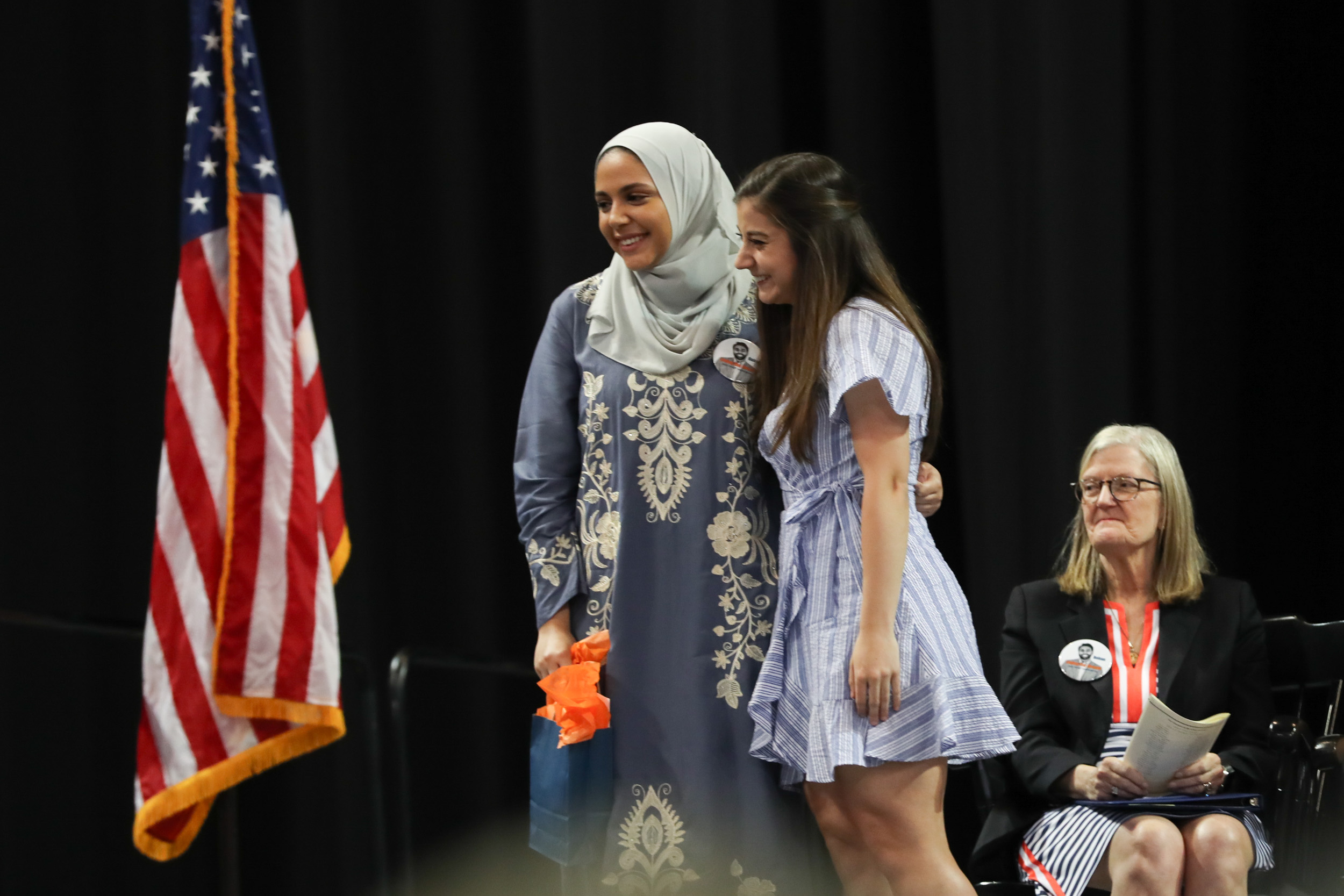 Fawaz has served as a facilitator for PULSE, a student-run organization that holds dialogue retreats for students to encourage inclusivity on Grounds; served as a Sustained Dialogue moderator; is past president of DREAMers on Grounds; was an assistant director of Black Monologues; and served as an executive member for the Muslim Institute for Leadership and Empowerment. Described as a "truth-seeker and truth-teller" with an unwavering commitment to social justice and human rights, Fawaz also has advocated for the rights of undocumented students.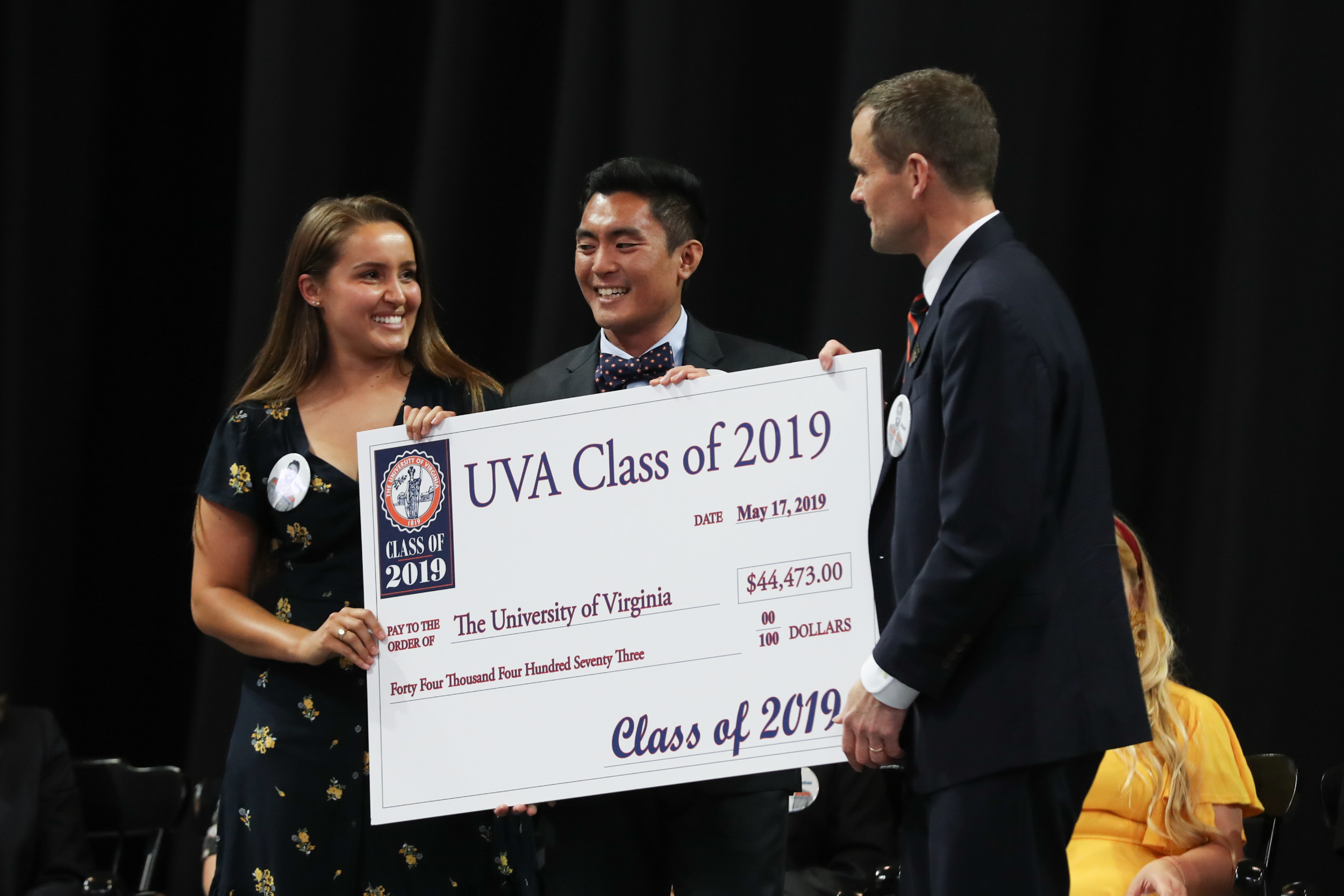 The Bicentennial Leadership Award was presented to Austin Widner, a double-major in environmental thought and practice and environmental sciences who is known for living by the motto "give back." He has served as an orientation leader, providing mentoring and support for incoming first-year students, and as a reunions assistant for the Alumni Association, where he helped execute tailgates and reunion events for University alumni.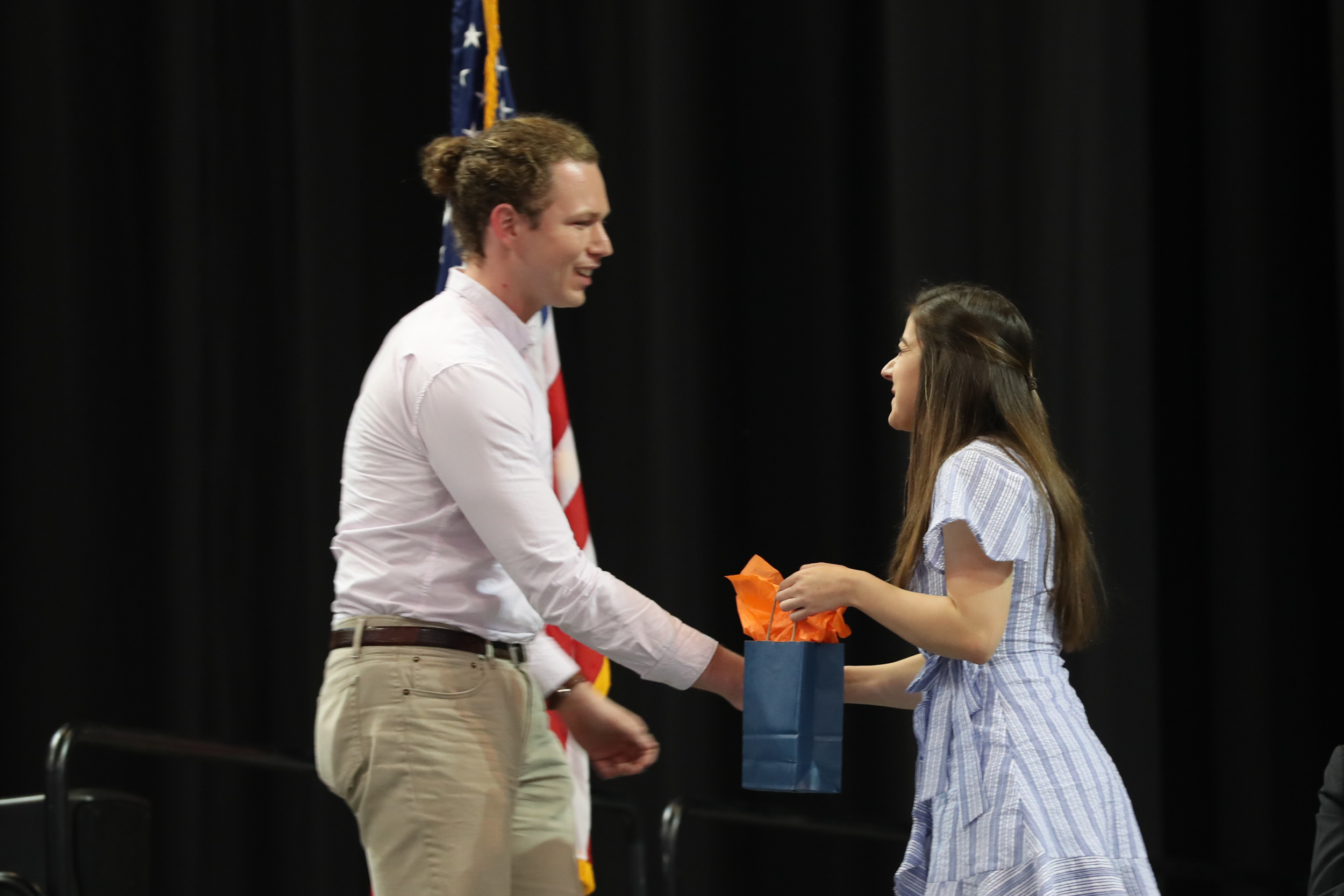 A native of Saltville, an Appalachian Mountain town in Southwest Virginia, Widner founded three years ago the Friends of Appalachia Club, dedicated to improving the experience of students from Appalachia at UVA and elsewhere. As president of the club, Widner established a three-day Appalachian Spring Conference to discover and celebrate that culture. He is noted for leading from "a place of gratitude, empathy and humility."
Article Information
May 17, 2019
/content/class-awards-presented-valedictory-exercises-friday