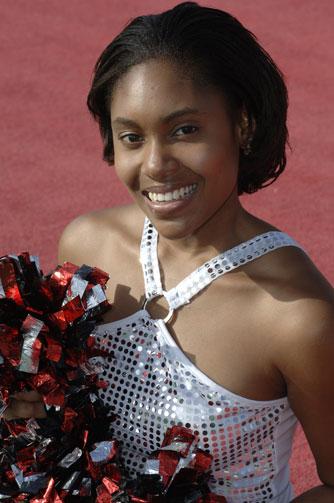 May 17, 2006 —Cleopatra Lightfoot – Cleo to her friends - wasn't always the focused, poised young woman she is today.
"My high school days were kind of rough," Lightfoot recalls.
She grew up in Richmond in a low-income household. When her parents divorced, Lightfoot struggled with her emotions. She got in fights. And she got suspended from school a few times.
"I knew that I needed to get away from my neighborhood," Lightfoot said. "It's not necessarily the safest place, and there were a lot of negative influences."
During her last two years in high school, Lightfoot turned her attention to academics. Interested in the study of psychology, Lightfoot also became a peer educator helping counsel her fellow students.
"I've always been a helpful person," Lightfoot said. "I can't stand seeing people stressed out or sad."
When the time came to consider college, finances, not grades, were a huge impediment. Lightfoot's mother, a postal worker, is the sole breadwinner for her family as well as Lightfoot's uncle and grandmother. "My mom is my main motivation," Lightfoot said. "She gets up at 4 a.m. every morning to go to work. If Mom can get up at 4, there's no reason I can't get up and go to class."
The scholarships and financial aid package Lightfoot received from The University of Virginia's College at Wise made college possible for the young woman. "U.Va.-Wise has been like a miracle to me and my mom," Lightfoot said. "Because of the aid I was awarded, I got to be independent."
The diminutive Lightfoot, who stands just 4 feet 11 inches, has certainly left a big imprint on U.Va.-Wise. She founded the school's Step Team, and her energy and enthusiasm reinvigorated the Cavalettes Dance Team. Lightfoot has been the Cavalettes' captain since 2004 and recently worked to establish a scholarship for its members. Last year, she helped launch the first black sorority on campus.
Her academic performance has been just as impressive as her high jumps and fancy footwork. She was inducted into the Darden Society, the college's oldest and most prestigious honor society, and Omicron Delta Kappa, the national leadership honor society, and served as secretary of the Wise chapter of Psi Chi, the national psychology honor society.
On May 20, Lightfoot will graduate magna cum laude with a degree in psychology. In the summer, she'll begin a five-year doctoral program in clinical psychology at Argosy University in Washington, D.C.
"I'm interested in helping people," Lightfoot said. "Ultimately I'd like to have my own practice and work in a mental institution, a correctional facility or a mental hospital."
Lightfoot settled on her career path after completing an internship last summer at the Psychiatric Institute of Washington. She's especially interested in working with adolescents. "When I was in my teens, I had a really difficult time," Lightfoot said. "You have to listen to teenagers to see what's really going on. Sometimes people just need a smile and someone to say it's going to be okay."
Lightfoot also has the distinct honor of being one of four students selected to speak to their peers during U.Va.-Wise commencement weekend activities. Students were selected based on high grade point averages and a vote by members of the Class of 2006.
"I feel very honored to be selected to offer parting words to my classmates," Lightfoot said. "I will remind my fellow classmates that we have been part of a strong supportive family background that has taught us how to be successful.
"U.Va.-Wise has taught us to be believers, changers, leaders and most importantly, the college has taught us to be a family. With these characteristics, the Class of 2006 will be capable of impacting their home communities, their home states and beyond."