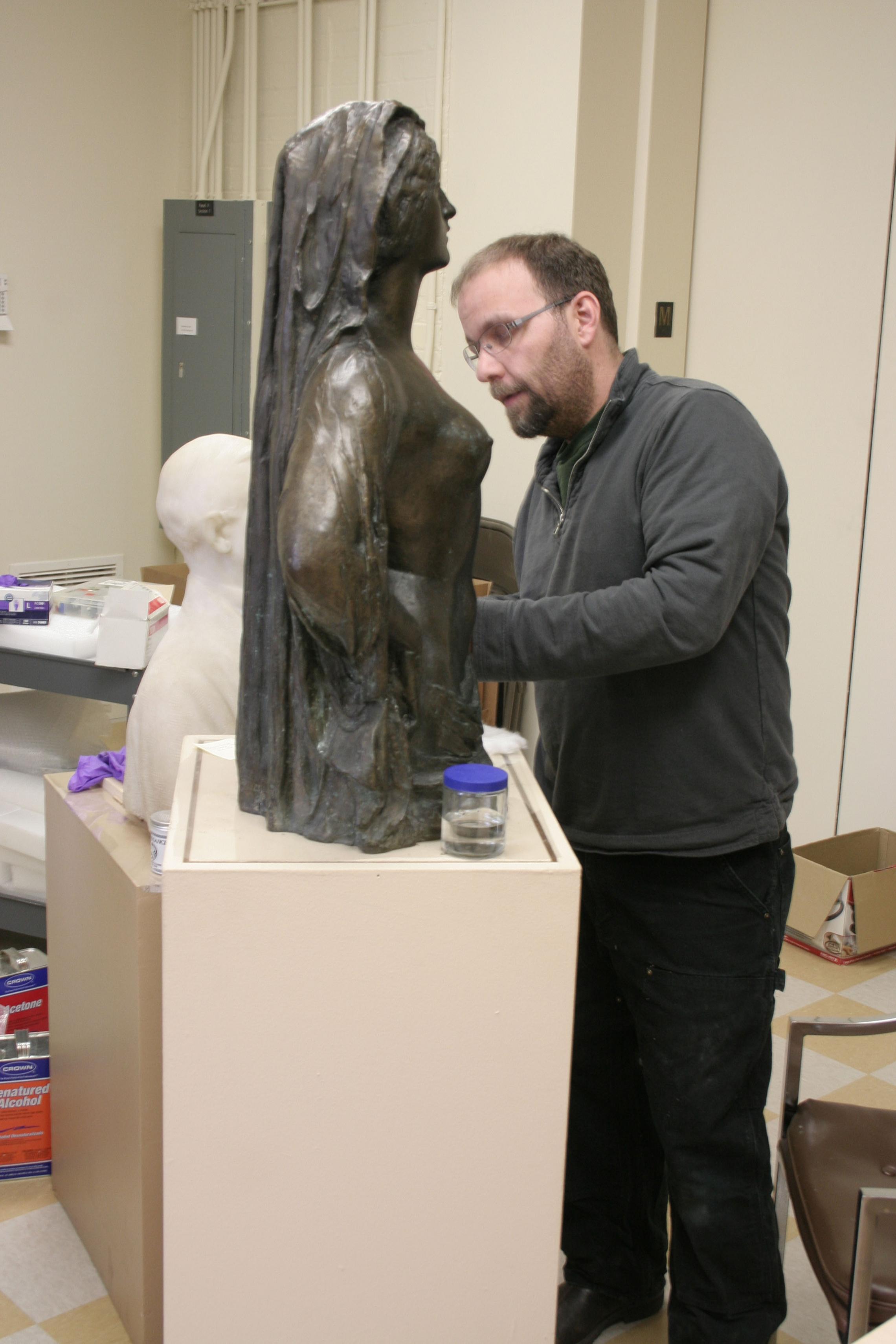 March 24, 2010 — Two sculptures in the University of Virginia Art Museum have received a facelift. 
Adam Jenkins, a visiting conservator, spent several days in residence at the museum repairing two early 20th-century sculptures that will go on display April 2, along with other key pieces from the University collection.
"Pause in a Dance" (1908), by German sculptor Reinhold Begas, is a cast bronze statue of a sensuous, partially veiled female dancer holding a tambourine. The museum purchased the sculpture last year shortly after Bruce Boucher became its new director. Boucher had been familiar with the piece and coveted it.
"'Pause in the Dance' struck me as a major acquisition of a major piece of sculpture by a contemporary of Rodin," Boucher said.
"Thomas Fortune Ryan" (1910) is a marble bust by French sculptor Auguste Rodin. It was a commissioned piece and exists in three forms: a silver cast, bronze and marble. The portrait captures the commanding nature of its namesake, a self-made man known for his strength and reticence. The bust was a gift to the museum from Ryan's descendants and is among the museum's longest-held works.
Both sculptures needed basic maintenance, and the museum commissioned Jenkins to do the work.
Jean Collier, collections manager for the museum, initially wanted the conservation work to be done in a public space so museum patrons could witness the sculptures' transformations, but due to space limitations Jenkins ended up working behind the scenes. Visitors could, however, request to go back to the workroom and see him at work and ask him questions about his process.
In the case of "Pause in the Dance," the artist paid great attention to texture, creating the illusion of soft flesh and fabric out of metal. These details – typical for Begas – add to the naturalism of the statue and mark his importance as a key figure in late 19th-century German art. But they were obscured by years' worth of dirt, grime and green patina after the statue was exposed to the natural elements outdoors.
After a good surface cleaning to remove the dirt and grime, Jenkins planned to apply hot wax to the sculpture to finish it and accentuate the textural details of the skin and drapery that Begas is known for. This is a fairly conservative treatment, Jenkins said, and everything that he is doing is reversible.
"If it's not necessary, don't do it," Jenkins said, adding that the work he was doing at U.Va. was fairly straightforward.
For "Thomas Fortune Ryan," Jenkins found the marble very discolored. When working with marble, Jenkins noted that he needed to stay away from using too much water, which can damage the marble. Instead he used a combination of mineral spirits, soap and water. Jenkins meticulously cleaned the dirt that coated the bust by using thousands of cotton swabs.
During a break, Jenkins said that he fell into the conservation business. While interning at a museum, he met a conservator and was instantly smitten with the work, which he found offered "a perfect melding of intellectual scholarly pursuit and working with your hands."
He earned a conservation degree at the University of Delaware and finished the Andrew W. Mellon Fellowship in Objects Conservation at the Philadelphia Museum of Art in 2001. He now works for the Philadelphia conservation firm Milner and Carr and focuses primarily on repairing metals.
The work demands long days of meticulous cleaning and repairing – with the risk of damaging a priceless piece of art.
"Conservation is 98 percent utter tedium and 2 percent stark terror," Jenkins said, quoting one of his mentors, Emil Schnorr.
This was the first time that the U.Va. Art Museum has worked with Jenkins, but Collier said that the experience has been great and she is looking forward to building a relationship with Jenkins and his firm.
"The results of both cleanings have been phenomenal, revealing subtleties of modeling that had been obscured by a layer of grime," Boucher said.


— By Katie Andrew