Find the latest information on the University's response to the coronavirus here.
Some have turned to baking, others to reading, hiking and home improvement. But since the novel coronavirus struck in early March, prompting most people to find new ways to pass the time, critical care nurse and University of Virginia School of Nursing assistant professor Beth Hundt has been furiously sewing.
Face masks, that is.
The long-time quilter has dug into the stash of fabric scraps she's saved for years, following some of the online patterns posted that match her supplies of elastic and material, and donated masks both nationally and locally.
Initially, Hundt sent her masks – she's created at least 80 so far, by her count – to her mother in Toledo, Ohio, where she's from, and her mother's quilting group and church distributed them to hospitals in need through promedica.org.
Hospital workers there drove out to her mother's home to retrieve the masks. They then washed and repackaged them by size, and distributed them to units in need, Hundt said, noting that some of the homemade masks went as far as Detroit.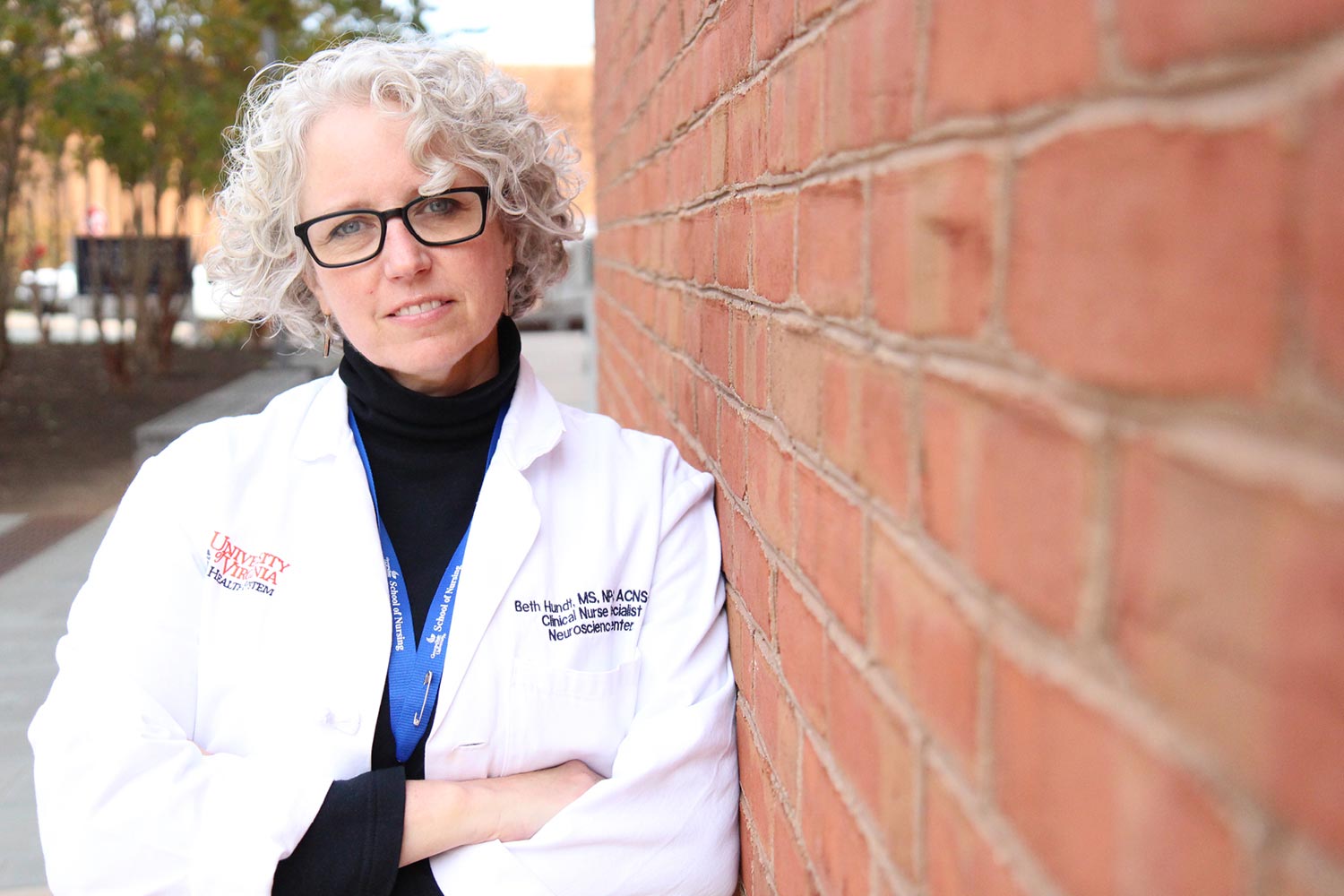 Beth Hunt earned a Ph.D. in nursing from UVA in 2018 and is an assistant professor and nurse historian in the School of Nursing. (Contributed photo)
"We started doing this because I heard from colleagues in hospitals out west that they were finding the cloth masks helped protect the medical-grade masks, and keep them in place," Hundt said. "Some nurses I know are finding they're helpful because they protect the outside of the masks from becoming soiled, and increase the life of personal protective equipment underneath." 
Plus, she notes, there's the psychological benefit of having something in a time period where there are such worries about acute shortages of protective gear.
"It helps you feel better," said Hundt, who previously has sewn dozens of quilts for friends, colleagues and newborn babies, "because you're doing something."
On Friday, the Center for Disease Control and Prevention recommended that all Americans wear cloth face coverings in public settings, such grocery stores and pharmacies.
"We now know from recent studies that a significant portion of individuals with coronavirus lack symptoms, and that even those who eventually develop symptoms can transmit the virus to others before showing symptoms," the center stated in its recommendation.
The CDC included a video in its advisory of the U.S. Surgeon General, Dr. Gerome Adams, making a simple face covering out of a piece of fabric and rubber bands.
Hundt began donating her masks locally once the CDC came out with its new recommendation and UVA Health began accepting homemade masks.
"I have been supplying masks to colleagues and clinicians in the Medical Center and the School of Nursing," she said. "Once people who have reached out are supplied for themselves and their families, I will be giving them to UVA's PPE collection.
"I give them away as fast as I can make them," she said.
When she ventures out for essentials, Hundt dons a mask herself because, she said, "It's best for us to all assume we've been exposed."
"I do not want to unwittingly transmit the virus," said Hundt, who earned a Ph.D. in nursing from UVA in 2018 and is a nurse historian. "I could be asymptomatic and this is something I do not want to share. It's all of our obligations to patients and our colleagues to protect everyone in the community."
For mask sewing patterns, visit promedica.org. 
Article Information
April 7, 2020
/content/critical-care-nurse-and-quilter-shifts-sewing-surgical-masks