Adial Pharmaceuticals CEO William Stilley recalled his tenure at the University of Virginia's Darden School of Business as a time of intense instruction in a number of disciplines, helping him develop the confidence that he could capably lead in a variety of fields.
The one area he scratched off his list of potential careers: life sciences. Too technical, too complex, he thought.
Fast-forward a couple of decades, and Stilley, who graduated from Darden in 1997, was ringing the opening bell on the Nasdaq in celebration of the initial public offering of stock in his Charlottesville-based company, his latest stop in a career devoted largely to … life sciences.
"I did say that back in school in 1997," Stilley recalled. "Of course, here I am."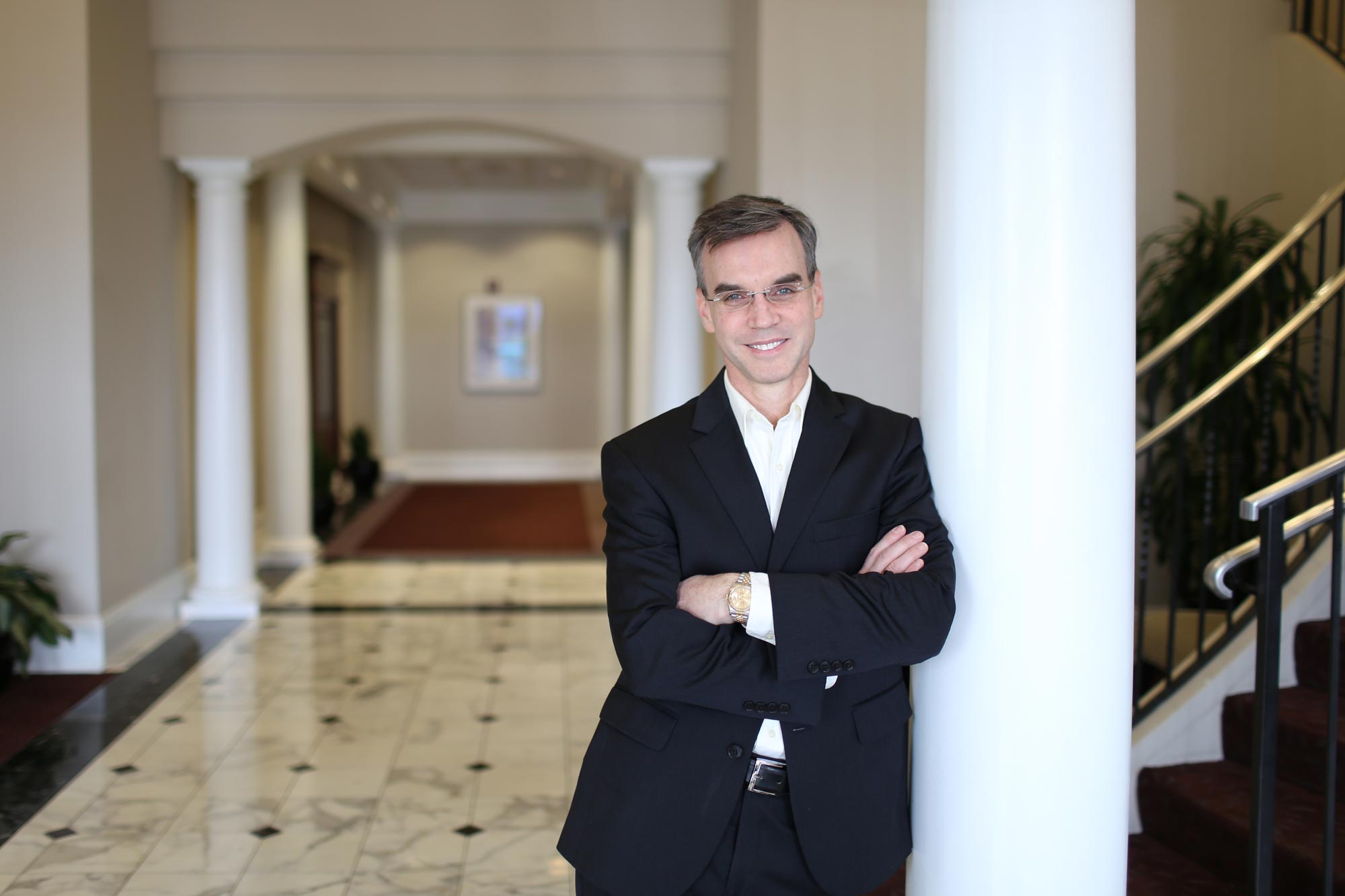 William Stilley serves as CEO of Adial Pharmaceuticals, a company with a promising treatment for alcohol addiction. (Photo by Susan Wormington, Darden School of Business)
The July 2018 IPO – the first of a company based on technology invented at UVA – raised roughly $7.32 million, funding that will be used to support the company's imminent Phase 3 trial of AD04, a tablet that has shown a promising ability to treat alcohol use disorder by reducing the craving for alcohol for those with a specific genetic makeup.
"We were founded to help people with addiction," said Stilley, also a 1990 graduate of UVA's McIntire School of Commerce. "In particular, we are going to use science to develop medicines to help them with their addictions."
About one-third of the U.S. population has the genetic makeup that responds to AD04. The percentage is as high as 50 percent in other parts of the world.
The 283-patient Phase 2b clinical trial of AD04 trials, conducted at UVA and the University of Texas, showed promising results, with a significant reduction of frequency and volume of drinking by those genetically targeted for the treatment.
The drug specifically aims to reduce heavy drinking, defined as about five or more drinks for a man or four or more for a woman. Reducing those heavy drinking days would have a significant impact on the health of patients and costs to society, Stilley said, pointing to research from the Centers for Disease Control pegging the cost of excessive alcohol use in the United States at $249 billion, with the majority of costs stemming from binge drinking.
What appears clear is that there is a market for the product.
Existing treatments available for those with some sort of alcohol use disorder tend to be what Stilley termed "extreme": a pill that causes one to become violently ill if mixed with alcohol, a 30-day injectable treatment through a large needle, and treatment programs that may require a dramatic life makeover or require a user to hit "rock bottom" first.
The AD04 treatment, which was invented at UVA by addiction researcher and neuropsychologist Dr. Bankole Johnson (now at the University of Maryland School of Medicine), is a small pill based on a drug already in use as an anti-nausea IV infusion. The potency of the AD04 treatment is 100-fold less than what has been in use in hospitals for decades.
The first two clinical trials have shown negligible adverse effects, and Stilley said there's no reason to think there will be surprises in Phase 3, the final phase before commercialization.
Stilley envisions a scenario in which psychiatrists are writing the initial prescription for the drug, which will eventually permeate treatment protocols of general practitioners. If all goes well, patients will begin seeking out the treatment by name. Those interested in curbing heavy drinking will be the official market, but the drug may assist with those seeking abstinence, as well.
"If we can have a drug that helps people reduce their drinking, it's going to sell," Stilley said. "In just the United States, it's a $36 billion potential market."
Climbing the Life Sciences Ladder
The journey to the top of a promising life sciences company began with a first step, when Stilley was hired to be the CFO of Adenosine Therapeutics, a Charlottesville-based biotech company.
Despite knowing little about the sector, he knew numbers and business. Stilley, who served in the U.S. Marines prior to Darden, interned at a mergers and acquisitions advisory firm as a student at Darden, but found he wanted to be the client or the target in all of the deals he worked over the summer.
When he came back to Darden, he interviewed for no jobs, and instead wrote a business plan that culminated in the founding of an industrial braking and clutching company upon graduation. A little over a year later, Stilley engineered the sale of the company to BB&T Capital Partners. After a few roles in finance and consulting, he was hired at Adenosine in 2002.
The CFO role at Adenosine expanded to COO, as well, and when that company was acquired by the publicly traded Clinical Data Inc., Stilley became a senior vice president at the new firm. There, he helped run a global Phase 3 trial for a cardiovascular drug and received a patent for a cardiac stress drug.
The Adial technology came on to his radar when Clinical Data was in an acquisition mode and scouting for promising treatments. When the company altered its growth plans, Stilley threw his lot in with Adial, co-founding the company with Johnson.
All the while, Stilley has remained in Charlottesville. The area is Virginia's "hotbed" of life sciences research and technology, Stilley said, estimating that close to half of the state's life sciences companies are clustered in the area.
Getting a new drug to market is a years-long process. Eight years into leading Adial, the prospect for getting AD04 to market grows closer every day, after which Stilley said there may be further, similar territory for treatment, notably in applications related to opiates, overeating and gambling, particularly as precision medicine grows more accurate and personalized.
"Right now, we are focused on our first product. But I do not want to stay there," Stilley said. "When we rang the bell to open the Nasdaq, it was the ringing of the bell for round one of the fight against addiction.
"Adial is taking on addiction, and we are going to win."
Article Information
March 14, 2019
/content/cure-alcohol-abuse-alum-led-company-targets-deadly-costly-problem