Every road to walking the Lawn as a graduate of the University of Virginia is different. For recent mechanical engineering graduate Noah Flaxman, this was a road best traversed via bike.
Instead of taking traditional graduation photos, the former president of UVA's Cycling Club commissioned a fellow student to create a video that would truly capture his time in Charlottesville, pedals and all.
Filmmaker and rising second-year student Jack Anderson created the short film to capture Flaxman's unique journey to the Lawn, titled "One Way To Get to Final Exercises at UVA."
"Noah is a cyclist, I like making videos, and we both go to UVA," Anderson said. "It's a neat way to combine everything that we do."
Anderson has been directing videos since he received his first camera at age 8, and has always used nature and the outdoors as inspiration for his work.
"Our family is very big into cycling, me included," said Anderson. (Read about his brother and UVA student cyclist Eddie Anderson here.)
For the younger Anderson, filming cyclists is a natural progression. His familiarity with the sport allows him to experiment with different stories and locations in his videos.
For both Anderson and Flaxman, cycling has been a bridge between their lives as students at UVA and the larger Charlottesville community.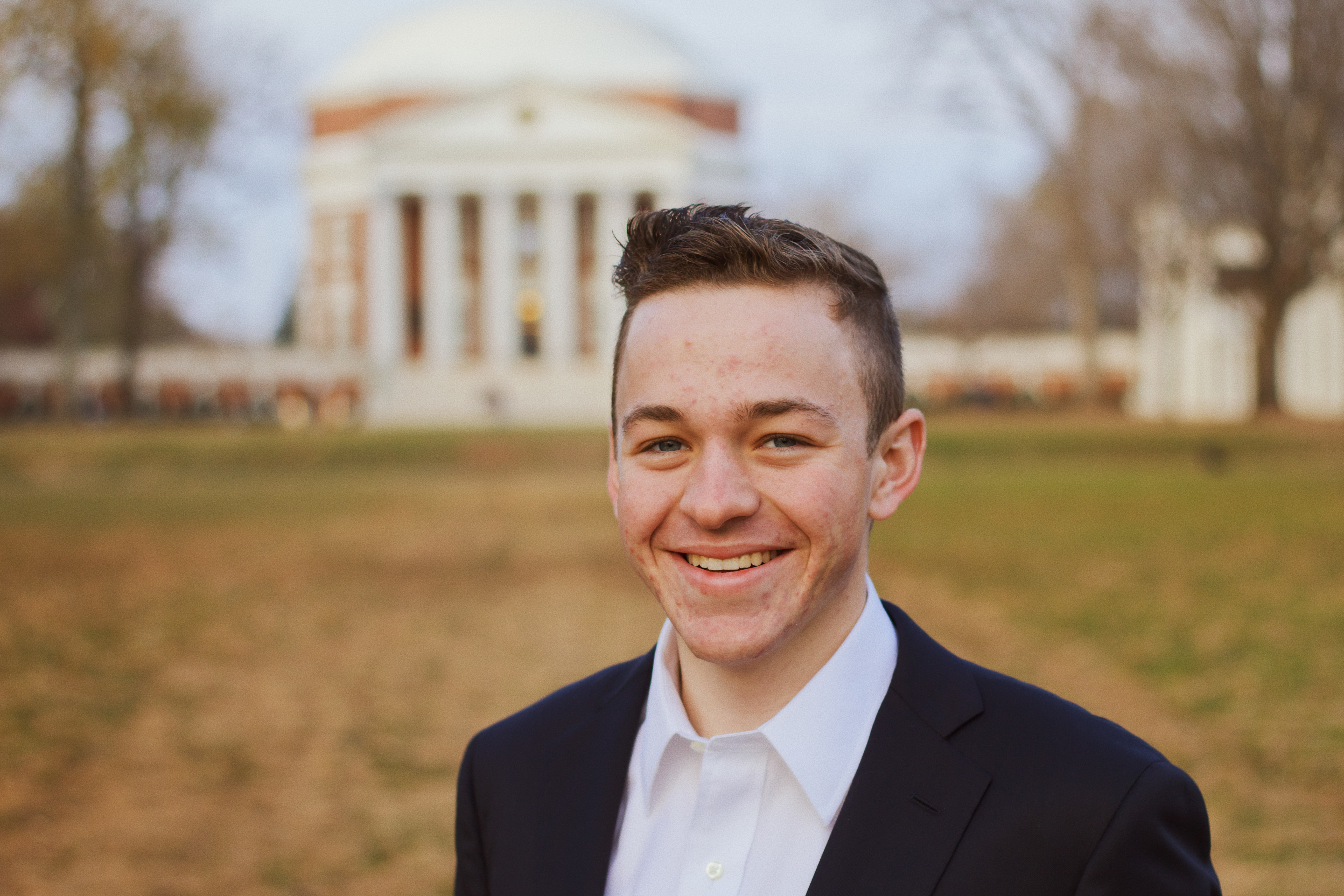 "Cycling has been a huge part of my life when I've been here, whether it's been racing or riding," Flaxman said. "It's definitely connected me with the Charlottesville community more than anything else, and has also let me experience parts of Charlottesville I wouldn't get to otherwise."
Anderson agrees that biking is the best way to experience an environment, something the pair tried to capture in their film. The Charlottesville landscape, combined with iconic University landmarks, provides a scenic backdrop for the graduate as he winds his way toward the Lawn for one final journey.  
Flaxman credits Anderson with the creation of his unique graduation memento.
"Jack is an incredible filmmaker, especially for being so young," he said. "I was really just there riding, but Jack actually got the thing made."
As far as Anderson is concerned, there is nowhere to go but up. Having just finished his first year, he hopes to continue creating more films, inspired by UVA and the Charlottesville community.
"I'm super-excited to keep making videos similar to this one and see what I can do at UVA," he said. "I have a lot of friends here that are interested in a lot of different things, so I'm always looking for ways to expand what I film."
You can check out Anderson's films on his website.
Media Contact
Article Information
May 22, 2019
/content/cycling-lawn-reworking-wheel-graduation-photos