It was the kiss seen around the world.
After getting picked by the St. Louis Rams in the seventh round of the 2014 NFL Draft, defensive end Michael Sam and his boyfriend celebrated with a smooch on national television.
Sam had just become the first openly gay player to be drafted into the NFL.
Sam, though, never played a regular-season game. The former University of Missouri star has been out of football for nearly three years.
These days, Sam is sharing his experiences through work as a motivational speaker and LGBTQ activist.
On Thursday night at McLeod Hall, Sam was the final speaker in the University of Virginia School of Engineering and Applied Science's Excellence Through Diversity Distinguished Learning Series.
In an hour-long talk entitled, "I am Michael Sam," Sam discussed a heartbreaking childhood in which his father walked out on his family, three of his siblings died and he was abused by two others while living in a crack house.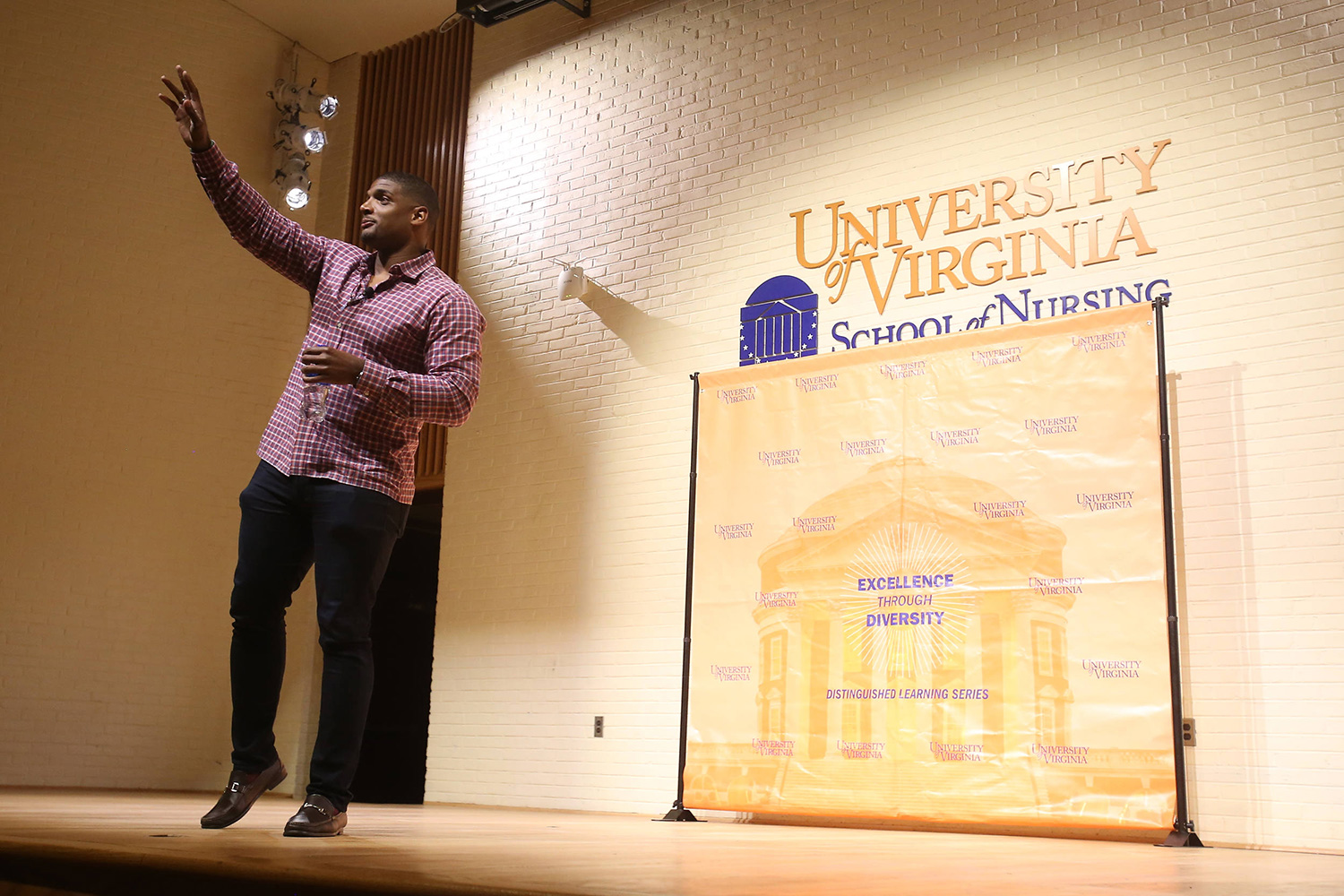 "My story is about owning your truth, perseverance and self-discovery," Sam said.
Before the start of his senior season at Missouri, Sam came out as gay to his Missouri teammates.
"It was the first time I owned those words and was living my truth," Sam said.
With several UVA student-athletes in attendance, Sam discussed the early days of his relationship with his boyfriend, Vito Cammisano, a former University of Missouri swimmer.
"Dating that guy was like living in a fairy tale," Sam said. "It was magical. I had never felt this love before in my life."
It was Cammisano whom he kissed on draft day.
"Who the hell was I supposed to kiss?" Sam said. "The media made such a big deal out of it."
Just before the start of the 2014 NFL regular season, Sam was cut by the Rams.
The Dallas Cowboys signed him to their practice squad but he was later cut.
In 2015, Sam played a game for the Montreal Alouettes of the Canadian Football League, but a week later the former Southeastern Conference Co-Defensive Player of the Year announced he was stepping away from football.
Sam said he fell into depression.
He said a turning point came just recently when he went on a spiritual retreat to Peru.
"I saw the man I knew I needed to be to start the healing process and start to forgive," he said.
Specifically, Sam said he realized he needed to forgive his father and brothers, as well as the NFL, whom he believes gave him a "raw deal."
Sam, who appeared on Dancing with the Stars in 2015, said he hasn't given up on his pro football dream. He said he hopes to play in the XFL when it relaunches in 2020.
"I think I sold myself short," Sam said. "I think I was too prideful when I decided I was going to give it up.
"But I do believe I will make a comeback and give it one more try."
For now, though, Sam said he's found his calling in telling his story.
"There's so many people that need help," he said.
Thomas Pilnik, the program coordinator in the office of diversity and engagement in the School of Engineering and Applied Science, said being able to bring Sam to UVA was special.
"The athletic community is so big and such a strong voice for this University," Pilnik said. "To have him here is a really big moment for us in terms of the affirmation of the LGBTQ community, the student-athlete community and just making people feel like they belong here." 
Sam was the final speaker in the series, which included activist and scholar Angela Davis; professor Cornel West; social justice attorney Ronald Sullivan; Francis Collins, the director of the National Institutes of Health; National Public Radio host Shankar Vedantam; political strategist Ana Navarro; poet and recording artist Saul Williams; and civil rights lawyer and author Michelle Alexander.
"It's been unbelievable," said Pilnik, a 2016 UVA alumnus. "It's been a complete privilege to help bring the community together, bring Charlottesville together and to bring the University together."
Media Contact
Article Information
April 12, 2018
/content/diversity-series-speaker-nfls-first-openly-gay-player-finds-his-calling