Growing up in Nevada, Dr. K. Craig Kent had little idea that his career path would lead him to a historic pavilion on the University of Virginia's Lawn, poised to lead a university health system that touches thousands of lives every day.
In fact, Kent, who started this week as UVA's new executive vice president for health affairs, was pretty sure he would become a rancher. His father ran a ranch in Fallon, Nevada, and expected his son to take over one day. However, Kent's mother, a schoolteacher, encouraged her son to look into college. He ended up at the University of Nevada-Reno, starting a journey that would eventually include medical school and, later, faculty and leadership positions at Harvard Medical School, Cornell University, Columbia University, the University of Wisconsin and The Ohio State University.
Most recently, Kent, an internationally recognized vascular surgeon, was dean of The Ohio State University College of Medicine, vice president of Health Sciences and the Leslie H. and Abigail S. Wexner Dean's Chair in Medicine, a role he began in 2016. Under his tenure, the college saw a 30% growth in National Institutes of Health funding along with significant growth in the clinical enterprise. Also during Kent's tenure, the faculty in the College of Medicine grew from 1,600 to more than 2,100 with the recruitment of a number of new and talented leaders. He developed a 7-year strategic plan including the construction of more than $3 billion in new educational, clinical and research facilities.
A funded researcher for more than 25 years and a member of the National Academy of Medicine, Kent has published more than 300 papers in leading journals. He is also a past president of a number of prestigious organizations and currently chair of the American Board of Surgery.
His appointment as UVA's executive vice president for health affairs was announced in December, and he officially started Saturday.
A Path to Academic Medicine
Though he drove home to the ranch most weekends, Kent found himself more and more drawn to the biology department at the University of Nevada-Reno. When an adviser suggested medical school, a new and appealing career path opened before him.
"I had not really thought about medicine until then," said Kent, speaking from his new home in Pavilion VIII on the Lawn, as students outside tossed Frisbees on an unusually warm February afternoon. "But I loved the sciences, I loved biology and I have always really enjoyed connecting with people. I don't know if that's just part of who I am, or something I learned on the ranch. Ranchers are pretty outgoing."
Kent spent a summer shadowing the general practitioner in his hometown, watching the doctor talk with and treat everyone who came in. By the end of the summer, he was hooked.
"It was just really fun. I had so many great conversations with people who came in," he said. "I decided that, instead of coming back to run the ranch, I would go to medical school and become a sort of rancher-doctor, treating people in Fallon."
A young Kent enrolled in medical school at the University of California, San Francisco. Once again, though, his plans were destined to change. His final rotation in medical school focused on surgery, and he immediately loved it.
"It just clicked," he said. "On a ranch, you use your hands and think your way through different problems. Surgery felt a lot like that and I loved it."
Instead of pursuing private practice, Kent completed his surgical residency at UCSF and then moved to Boston for a yearlong research and clinical fellowship in vascular surgery at Brigham and Women's Hospital, part of Harvard Medical School.
It was there that he first discovered the joys of academic research. He was working across the street from Dr. Judah Folkman, who discovered how tumors attract blood vessels to grow, known as angiogenesis. Kent's mentor at Harvard, Dr. Patricia D'Amore, is an expert in vascular growth and development whose research has formed the foundation of various cancer treatments.
"She was inspirational, just fantastic," Kent said. "The research was compelling and mind-boggling. If academic medicine was a bug, I caught the infection that year."
After his fellowship, Kent spent nine years in Boston, rising to the level of associate professor of surgery at Harvard Medical School before moving to New York City, where he ran the divisions of vascular surgery at Cornell and Columbia universities. After 11 years in New York, he became the chair of surgery at the University of Wisconsin and, in 2016, dean of The Ohio State University College of Medicine, where he remained until coming to UVA this year.
A New Challenge
Kent will oversee UVA Health, which comprises a 612-bed hospital, UVA Children's, a National Cancer Institute-designated clinical cancer center, a nationally recognized heart center, and primary and specialty care clinics throughout Virginia. UVA Health admits more than 30,000 hospital patients annually, sees more than 1 million outpatient visits and more than 62,000 emergency room visits, trains more than 1,900 students and residents annually and receives more than $200 million each year to perform innovative research directed toward improving patients' lives.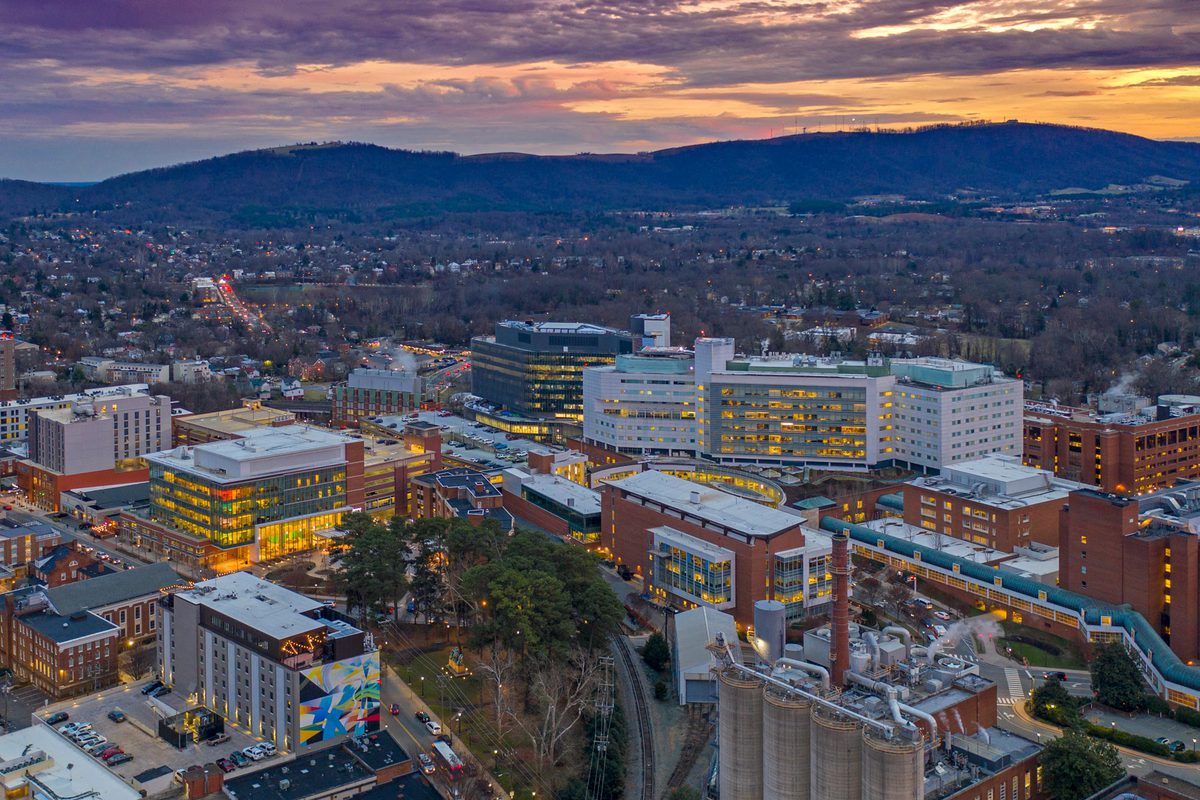 UVA Health includes numerous facilities in Charlottesville and across the Commonwealth. (Photo by Sanjay Suchak, University Communications)
"One of the most striking things about Dr. Kent is that he is a world-class surgeon with decades of experience in academic medicine who somehow manages to put you at ease the moment you meet him," said UVA President Jim Ryan. "I have great faith in Craig's ability to lead the health system and to connect with doctors, nurses, patients, and staff. I cannot wait to work with him." 
Kent said the executive vice president role, which oversees and leads all UVA Health operations, combines everything he enjoys about academic medicine.
"Academic medicine has a number of different elements but first and foremost is clinical care. Our health care team treats the spectrum of patients ranging from those with routine medical needs to the region's most ill patients. Our providers have expertise in myriad complex diseases and are able to provide quaternary care that attracts patients from all over the region and, in some cases, the nation," Kent said. "Our researchers are creating new and innovative therapies for our patients and our health care team is educating the next generation of providers. Lastly, but so importantly, we are working to help our community be successful, and they are in turn helping us."
"I like every aspect of academic medicine, and have struggled at times to choose in my own personal career, between clinical care, research education and community outreach," he said. "This position brings all of this together and includes everything I enjoy. Our ability to cover the full spectrum of care for our patients is why academic medical centers are so vital to the U.S. health care system. What an honor to lead one of the nation's best."
To have that opportunity at UVA, he said, is extra special.
"It's just an unbelievable institution," he said. "It is one of the best universities in the country, and the health system is well-known as strong and innovative, with great research and clinical care programs."
Even more than that, Kent said, UVA is known for its people.
"Different places have different strengths, and one of UVA's strengths is its people," he said. "I have been at a number of wonderful and prestigious institutions, but there is something special about the people here. They are unbelievably talented, incredibly innovative, but also connective and caring – just great human beings."
Looking to the Future in His New Home
Kent plans to begin his tenure with a strategic planning process that brings as many voices to the table as possible, including faculty and staff from the medical center, the Schools of Nursing and Medicine, the University Physician Group, as well as researchers and the wider University community.
"This should not be my strategic plan, but the entire organization working together to craft its future," he said. "It's important to me that this be a very inclusive process, that everyone is part of it and excited about what our health system might be and the contributions we can make over the coming decade."
One of his top priorities is caring for the community surrounding the University, in Charlottesville and beyond.
"UVA Health and the University have made contributions, but we can do so much more and this is a high priority for me," he said.
Right now, Kent pointed out, demand for health care is pushing the limits of UVA's facilities and its providers. "Because our team provides such extraordinary health care, and there is so much demand, our hospitals and clinics are often full," he said. "It is our obligation to solve this problem, and to find ways to make our services more accessible."
A key part of that, Kent said, is making care affordable and accessible for those with fewer financial resources. Referencing changes to UVA's billing and collections practices instituted this fall, Kent said the University should continue to work to make sure that low-income patients can gain access to affordable care.
Kent also wants to grow the University's translational research programs – laboratory research that translates to new drugs or treatments for patients – and to increase the number of tertiary and quaternary care programs at UVA. These advanced programs focus on providing unique, specialized treatments for some of the world's most challenging medical issues, and attract patients from across the country and the world. 
"UVA already has a number of luminary programs, where people come from all over the country to be cared for by our health care teams," he said. "I hope to further expand and add even more of these programs."
In a broader sense, Kent is eager to strengthen ties between the health system and the wider University – a big part of why he chose to live on the Lawn. His 16-year-old son, Eric, is currently living with him, and his wife, Lisa, will move in a few months. The couple also have three older daughters – Amanda, in law school; Alycia, a senior at Boston College; and Olivia, a junior at Syracuse University.
"Living here has been one of the best decisions we have made, personally and professionally," he said. "Living on the Lawn, I am right in the middle of the University; this is a perfect place to bring people together. I am quickly learning the charm and culture of UVA … I felt it the moment I stepped into Pavilion VIII."
As he and his son have met students and faculty members on the Lawn and watched the daily swirl of activity, Kent's excitement has only grown.
"When I began the interview process with UVA, I was honored to be considered for this role. UVA is an unbelievable institution with a tremendous national reputation. The more I interacted with President Ryan and the health care team, the more enthusiastic I grew. Now, a few weeks into my new adventure in Charlottesville," he said enthusiastically, "I am so proud to be joining the UVA team and beginning my career as a Wahoo."
Media Contact
Article Information
February 4, 2020
/content/dr-craig-kents-storied-career-has-taken-him-nevada-ranch-uva-health