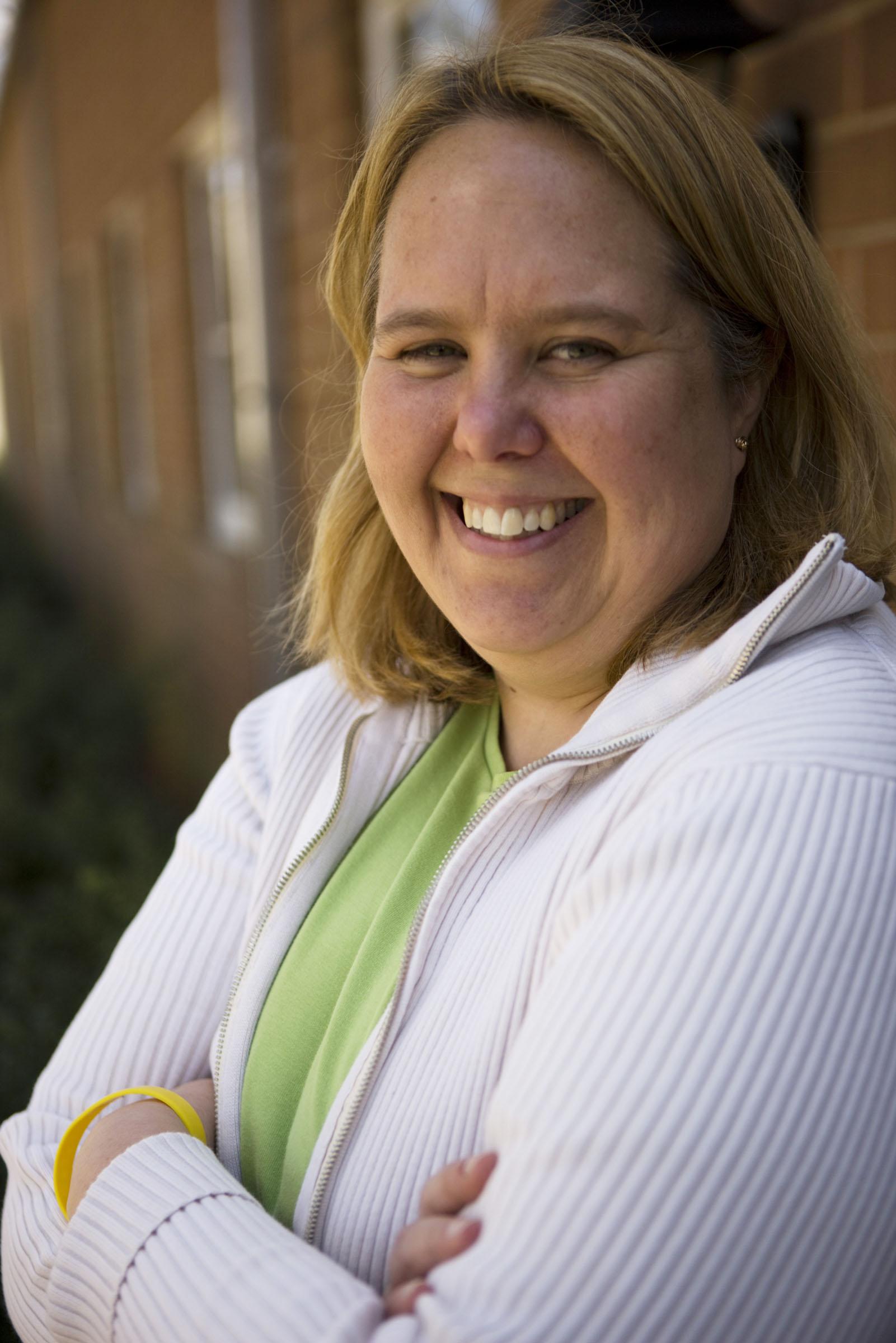 April 22, 2009 — If record-keeping gives you a headache, Caroline J. Walters is someone who feels your pain.  
Walters, the University of Virginia's records officer since last October, is in charge of helping University employees understand which records they must keep – and for how long – and which they can toss.
As a public university and state agency, U.Va. is covered by the Virginia Public Records Act. This state law defines "public records," establishes standards for record maintenance and destruction, and puts the Library of Virginia in charge of deciding questions of retention and disposal.
A student of history, Walters recognizes the importance of retaining documents that are part of the University's permanent record. Examples are students' final transcripts, annual reports, accreditation records, course catalogs and minutes of Board of Visitors' meetings.
She works with the Albert and Shirley Small Special Collections Library to collect important U.Va. records. "It's part of our duty to protect the history of U.Va., including the history we're making now," Walters said.
She also realizes that many University units are storing old documents longer than they need to. These include departmental students' records, professors' course evaluations, yellowed time sheets, old ticket stubs for parking decks and accounting records.
"A needle in a small haystack is easier to find," she said. "If the retention period for a particular record is over, you should get rid of it."
Consider student records. Departments should keep undergraduate student records for only three years after graduation, Walters said, while graduate student records should be kept for 10 years after graduation, as grad students may continue to contact their former departments while they pursue job searches. The University's registrar keeps final transcripts for both graduate and undergraduate students on file permanently.
There is also a bottom-line benefit to cleaning house.
"Lots of departmental budgets are paying for off-site storage for things they don't need to keep," she said. "It's worth tens of thousands of dollars. At a time of tight budgets, this would be a way to save money."
Likewise, the more electronic files departments keep on their servers, the slower the systems go and the greater the possibility of failures and a potential cost in terms of lost time, lost money and lost data.
There are yet other documents that U.Va. should keep longer than the period required by the state. For example, hospitals and other health care institutions must verify the work history of doctors applying for jobs all the way back to medical school, to make sure there were no major problems during their clinical experiences, Walters said. Medical schools are asked to double-check applicants' identities with photos kept in their files. Yet the state rules require medical schools to keep their students' files on hand for only 10 years after graduation
Then there are the course evaluations that students fill out about their professors. If a professor is tenured or tenure-track, the department may want to keep the evaluations on hand for several years for reference during tenure reviews, but the Library of Virginia requires retention for only one year. In the case of non-tenure-track instructors, a one-year retention period is probably sufficient, she said.
Walters works with the Library of Virginia, the state's official archives, to clarify these and other questions, to make sure that state standards account for the University's needs.
Good records management – or its absence – also has legal implications.
Lawyers charge by the hour to go through electronic files to respond to a discovery request for information in a lawsuit, Walters said. So the cost of finding records has a direct impact on the cost of defending against a lawsuit. In some cases, the cost of going through duplicate files of electronic information, such as e-mail, is so high that organizations have found it cheaper to settle than to fight.
Even when the state's required retention period for particular information has ended, if the file still exists, the state agency must turn it over to the court in response to a lawsuit.
To help state agencies protect against this possibility, the Library of Virginia has established an approved destruction process – Certificate of Records Destruction RM-3 – to document the destruction of specific records according to law. "And in most cases, when we are asked for records for purposes of discovery in a lawsuit, or an audit, and we present this certification instead, that is totally acceptable," Walters said.
Walters arrived at U.Va. after a process simplification project, led by Madelyn Wessel, special adviser to the University librarian, recommended in early 2008 that the University's records management function be moved from Alderman Library, where it had been handled by historian Ervin L. Jordan Jr. on a part-time basis for the previous decade, to a full-time professional records manager reporting to Shirley C. Payne, director of the Information Security, Policy and Records Office.
Walters now works on record management at three levels. She consults with Payne and James L. Hilton, vice president and chief information officer in the Department of Information Technology and Communication, to establish clear and consistent policies and procedures on records retention and disposal for the University.
She offers a series of classes to the University community on topics including Records Management I & II, Piles of Files: Organizing Your Records, Email Management, and Going Paperless: Planning a Digital Imaging Project. Classes are scheduled in
May and June
. Registration is through
Employee Self Service
.
And she works one-on-one with faculty, staff and administrators to review records that University units have on hand, offer advice regarding retention requirements, and provide on-site RM-3 certification allowing the disposal of records that are no longer needed.
"Most people spend about three weeks a year looking for stuff," Walters said. "My job is to help people know what they need to keep and keep it organized, so they don't have to spend all their time looking for records and can spend more time doing the actual job they were hired to do."
So if you're aching to get rid of old records, a remedy is just a phone call away.
For information about the services offered by the
U.Va. Records Management Office
, visit the office Web site. For an appointment, call Caroline Walters at 434-243-9162, or e-mail her at
records@virginia.edu
.
---
A Personal Records Management seminar for faculty and staff will be held June 9 from 9:30 to 10:30 a.m. in the South Meeting Room of Newcomb Hall. Walters will offer advice on record retention for such important personal documents as tax returns, credit card receipts, bank statements and other financial documents. Register through
Employee Self-Service
.
Caroline Walters earned her bachelor's degree in history from North Carolina State University, in 2001, followed by a master's degree in public history, with a concentration in archive and records management, at the same institution. In 2007, she received a master's degree in library science from North Carolina Central University.
Before coming to U.Va. in October, she worked for two years as a local records analyst at the State Archives of North Carolina in Raleigh and served as the university records manager at UNC-Chapel Hill from 2006 to 2008.
Test your records IQ
10 Questions to Test your Records IQ
• All records created at UVA are "public records."
• "Public records" include e-mail, electronic files, databases and paper.
•There are state and federal laws that make some "public records" confidential.
• I can destroy the records in my office whenever I want.
• I must receive permission from the University records officer before destroying records at U.Va. by completing an RM3 form.
• E-mail is a type of record series listed in the Library of Virginia Records Retention and Disposition Schedules.
• I must destroy all records containing Social Security numbers by July 2009.
• I only need to think about records management when we run out of storage space.
• We should review the records stored by our office (onsite or offsite) on a regular basis.
• Every office/department/unit at U.Va. should designate a records management coordinator and a records management administrator to coordinate records management with the Records Management Office.
Answers: 1 True; 2 True; 3 True; 4 False; 5 True; 6 False; 7 False; 8 False; 9 True; 10 True  
If you scored:
9-10 right: Congratulations! You should work for the Records Management Office.
7-8 right: Nice work. You're ready to be a records coordinator or administrator for your office!
5-6 right You may need to attend Records Management II training class.
3-4 right Sign up for Records Management I right away!
0-2 right Do not pass go! Call Caroline Walters immediately!
SOURCE: Records Management FAQ page