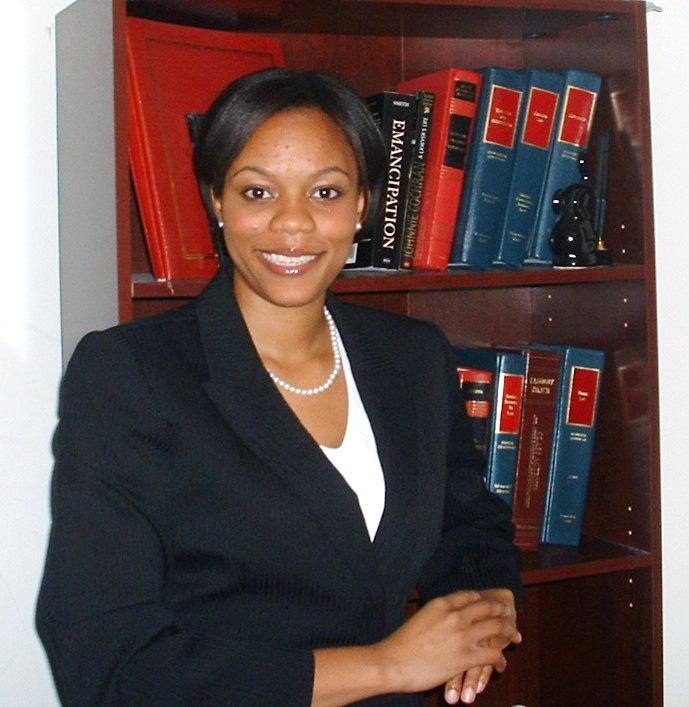 February 23, 2006 — Ebony Magazine's February issue has named U.Va. law student Raqiyyah Pippins as one of the 30 Ebony Young Leaders of the Future.  She joins a group that includes a news anchor in Atlanta, a pastor and founder of a church in Memphis, Tenn., and a former special assistant to U.S. Rep. Jesse L. Jackson Jr.
Ebony Magazine was first published in November 1945 and was founded "to offer new hope and positive images in a world that showed few positive images of African-Americans," according to the magazine's Web site. Every year since 1989 Ebony has named a short list of the nation's young leaders of the future. 
Ms. Pippins is chair of the 6,000-member National Black Law Students Association (NBLSA), the largest student-run organization in America, with over 200 chapters at law schools throughout the country.
Pippins' NBLSA duties include presiding over the national convention this March in Washington, D.C.; fund raising; organizing the annual Congressional Black Caucus reception; and serving as a representative to boards of organizations such as the National Conference of Black Lawyers, the National Bar Association and the American Bar Association Law Student Division.
Pippins credited the strength of the Law School's BLSA, which was voted chapter of the year in 2003 and 2004, as part of the reason she was elected chair of the NBLSA. "U.Va.  is just a wonderful gateway to all BLSA has to offer," said Pippins, who was NBLSA's mid-Atlantic regional director last year, a post that first-year law student Kelly Booker has assumed this year.
"In a lot of ways, Raqiyyah typifies what we hope all of the Virginia law students will be, which is not only professionally skilled and not only ethically sound, but also with a strong sense of public responsibility," said John Jeffries, dean of U.Va.'s School of Law.
One of the projects Pippins is working on as chair of NBLSA encourages minority students to consider attending law school. "Community service is a very important part of the National Black Law Students Association," she said. "We're only in law school three years, but we're attorneys forever. We recognize the importance of using our legal knowledge to promote change."
In her law school career, Pippins has served as a peer adviser and a volunteer for Action for a Better Living Environment. She was student-faculty relations co-chair for the Student Bar Association and is an articles editor for the Virginia Sports & Entertainment Law Journal.
Pippins also recently found out that she's been invited to the International Achievement Summit in June. With the NBLSA convention around the corner in March, she's sporting a professional's schedule even before she begins her legal career. "I have to go somewhere every weekend between now and the end of March," she explained. "It's a little hectic, but I recognize that it comes with the territory."
Pippins attended high school in Hampton, Va., and graduated from Stanford University.  Since the February issue of Ebony came out, Pippins has been hearing from high school friends and family members who are excited for her success. "It's really been an amazing experience, with people being happy for me and celebrating with me."
She plans to work for law firm Covington & Burling in Washington, D.C., after graduating from U.Va.