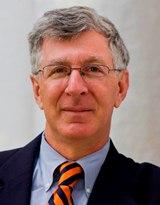 In honor of the 175th anniversary of the University of Virginia School of Engineering and Applied Science, State Del. David Toscano, D-Charlottesville, will present James H. Aylor, dean of the school, with a framed copy of House Joint Resolution 389 at an event Wednesday at 10 a.m. in the Rice Hall room 128.
When U.Va.'s Board of Visitors founded the engineering program in 1836 during the nation's Industrial Revolution, it was the first in the South and the fourth in the young nation. At its inception, there were two professors and 50 students; today, the school boasts 139 faculty members, 2,400 undergraduate students and 616 graduate students.
The resolution notes the school's commitment to diversifying the engineering workforce and its research, which provides solutions to major challenges including improving health, advancing cyber and physical infrastructure, creating a sustainable future, and improving security.
State Sen. Creigh Deeds, D-Bath, chief co-patron of the resolution, said, "Almost two centuries ago, the University of Virginia rose to the challenge and created the School of Engineering and Applied Science to meet the needs of a changing economy. The school continues to lead the way to opportunity in the 21st century through the innovation and dedication of its talented faculty and students."
The study of engineering has never been more important to this state, this nation and the world, Aylor said. "Through the Engineering School, U.Va. is playing a major part in educating the type of engineers who will be essential in the 21st century – individuals with technical depth, communications skills and a broad understanding of technologies impact on society."
Media Contact
Director of Communications, School of Engineering and Applied Science
jpp4j@virginia.edu (434) 924-1381