In recent wars, about 53,000 U.S. military veterans have suffered serious injuries, often involving large amounts of tissue loss. Many more Americans also suffer from long-term injuries resulting from car crashes, accidents and surgeries. Many of these injuries are disfiguring and debilitating.
Now, imagine if lost skeletal muscle could be replaced with manufactured tissue derived from a patient's own muscle stem cells, and implanted at the wound site.
That is the dream and aspiration of two University of Virginia researchers – one a biomedical engineer, the other a mechanical engineer – who are custom-designing a tissue incubation system, or bioreactor, to be used to automate the growth of muscle stem cells into implantable tissue patches. Their goal is to engineer a system that could be mass-produced and used to develop healthy, transferable tissue for people suffering from life-altering injury.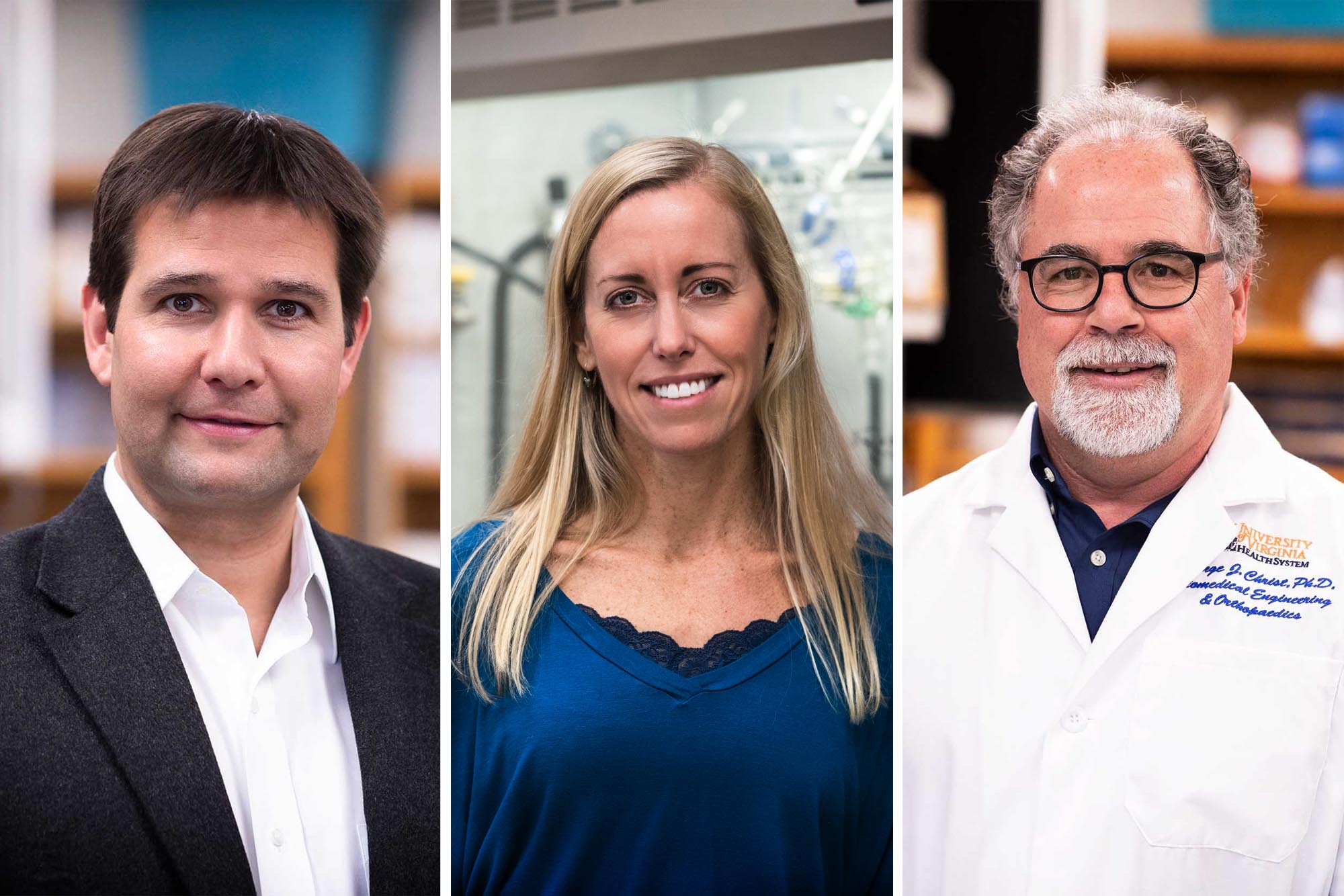 Engineering professors Gavin Garner, left, Shayn Peirce-Cottler, center, and George Christ won a $500,000 grant from BioFabUSA, a non-profit research organization dedicated to rapidly advancing biomanufacturing technologies.
The concept is similar to skin grafting, where a thin patch of skin is skimmed from one location on the body and used to surface-patch a wounded location. But the new technology takes the idea further – where muscle stem cells would be harvested from the patient, cultured, and then "3-D printed," or injected, onto a biocompatible substrate, where they would be stretched and exercised to grow and mature to produce a foldable tissue patch that would then be implanted at the muscle wound site.
The engineered tissue would merge with existing healthy tissue, providing the missing stimulus and ingredients to repair a muscle-loss site. Because the tissue-engineered implant would be created from the patient's own cells, there would be no immune response and potential rejection of the manufactured tissue by the body, eliminating a central problem associated with donated tissues and organs.
"We are at the frontier of developing methods for engineering large amounts of tissue for implants that eventually could save lives and improve the lives of people who've suffered from debilitating injuries," said George Christ, a professor of biomedical engineering and co-director of UVA's Center for Advanced Biomanufacturing.
"By leveraging the talents of researchers in the biological and physiological sciences, as well as engineering and medicine (orthopedic surgery in particular), we are pushing forward with new automated approaches toward producing living tissue in a more cost-effective and reproducible manner, and furthermore, on the large scales required for treatment of a wide variety of muscle injuries."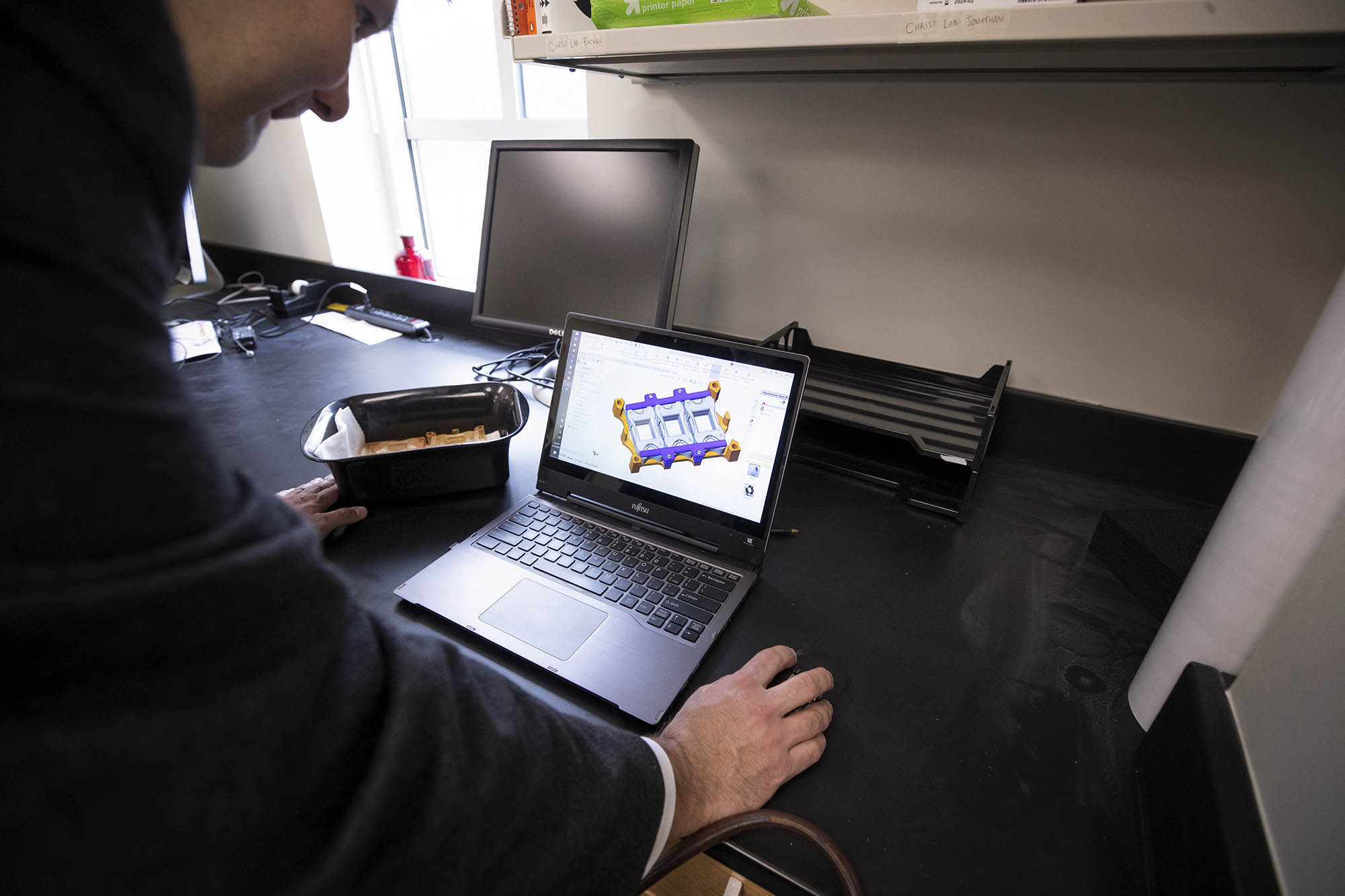 Garner has helped automate the biomanufacturing process, which 3-D prints, or injects, cells harvested from a patient onto a biocompatible substrate, eventually growing a tissue patch to be implanted at wound sites.
Christ said it's entirely feasible that someday, as biomanufacturing develops as a field, more complex tissues and solid organs could also be grown in bioreactors for implantation. Researchers are advancing the array of technologies and expertise needed to accomplish this in disciplines as diverse as regenerative medicine, cell and tissue engineering, advanced biomaterials, orthopedics and the traditional fields of engineering.
Recently Christ, biomedical engineering professor Shayn Peirce-Cottler and mechanical engineering professor Gavin Garner won a $500,000 grant from BioFabUSA, a non-profit research organization dedicated to rapidly advancing biomanufacturing technologies, particularly in service to wounded soldiers and veterans.
Christ and Garner first met a few years ago at an evening house party for Jefferson Trust awardees hosted by Wayne Cozart and Patricia Lampkin in Pavilion V on the Lawn.
"This is a great example of what it is to live within the University community," Garner said. "UVA, and especially its unique Academical Village, provides a perfect mixing bowl that brings ideas together and sparks and kindles new collaborations among diverse fields of research."
Christ and Garner immediately discovered a junction in their separate research endeavors.
Christ is an expert in muscle physiology and pharmacology who was recruited to UVA to focus on development of tissue engineering and regenerative medicine solutions for orthopedic clinical applications. He had been looking for ways to automate and scale up tissue biomanufacturing in his lab. He had developed a process that worked, and resulted in submission (with collaborators at the Wake Forest Institute for Regenerative Medicine) of an investigational new drug application to the Food and Drug Administration for repair of cleft lip in adults. However, it was a costly manual process that required highly skilled personnel throughout the manufacturing process. It was good science and engineering, but clearly in need of automation and further engineering to be cost-effective and scalable.
"I'm enjoying the challenge of using engineering to engage the natural healing ability of the body – almost like hacking it – in order to help it better repair itself after serious injury."

- Gavin Garner
Garner, though, with little biological background, knew – as a mechanical engineer and self-confessed "gizmologist" – how to make machines that can make other things, and to scale up processes for industrial applications. He looked at Christ's tissue-growing bioreactor and saw that he could automate it, improve the biomanufacturing process, increase volumes – and do it all faster and cheaper.
"Biology is fascinating, but sometimes frustrating to work with," Garner said. "Whereas mechanical engineering is human-made, using human logic.
"I'm enjoying the challenge of using engineering to engage the natural healing ability of the body – almost like hacking it – in order to help it better repair itself after serious injury. I think we're at the beginning of a revolution in regenerative medicine and have a real opportunity to enhance the human condition through biotechnology."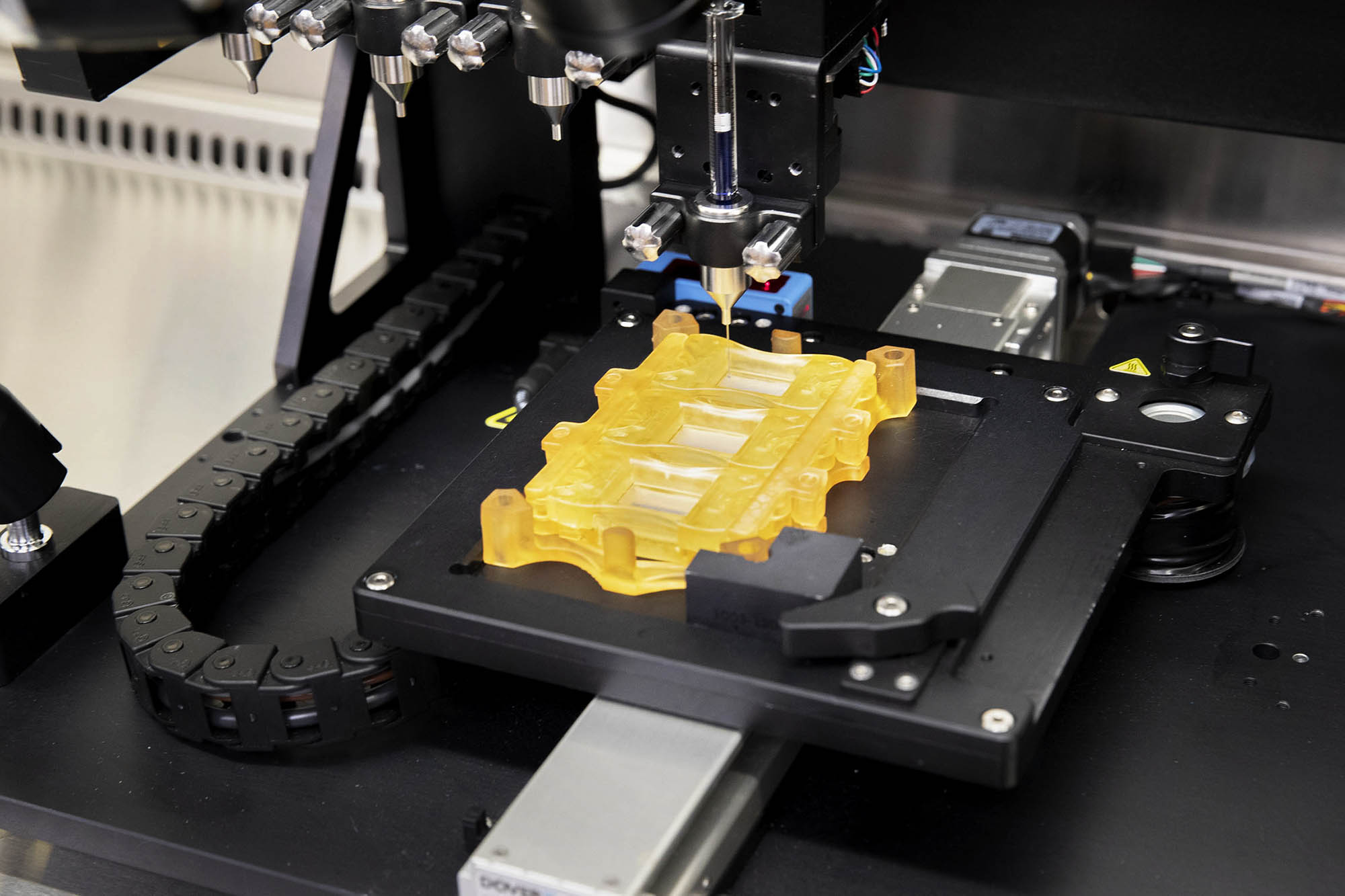 The team has developed a prototype product that caught the attention of BioFabUSA, partly funded by the Department of Defense.
The collaboration has resulted in a prototype product that eventually could change the way tissue is manufactured and wounds treated. That drew the interest of BioFabUSA, which is partly funded by the Department of Defense.
"To transform this rapidly growing field of fabricating tissue, we need to bring together big teams of researchers and facilities and expertise from throughout academia, industry, not-for-profit and government sectors," Christ said. "BioFabUSA is dedicated to building that enterprise, and it will make a difference in the lives of so many people who've suffered serious injuries."
The team calls the invention a "Hermetically Enclosed Bioreactor Environment," or HEBE, a reference to Hebe, the Greek goddess of youth and immortality.
The technology works by 3-D bioprinting a patient's cells on each side of a biological substrate and then growing those cells within the bioreactor, under conditions that mimic important biomechanical cues experienced by muscle tissue, inside the body, such as muscle movement. This approach results in an enhanced regenerative implant that can be further scaled and improved by the HEBE device.
There are still many details to work out, Christ said, but eventually, he hopes, the technology and advanced biomanufacturing process could get FDA approval, go into clinical trials and then be scaled up and applied to other clinical applications of tissue engineering.
"We have a great team and we're making real advances through collaboration across disciplines," Christ said. "And we're training young researchers for a growing and challenging career field that is certain to change so many lives for the better."
Article Information
May 28, 2020
/content/engineers-develop-device-automate-tissue-manufacturing-muscle-repair