A former student connection circuitously led University of Virginia English professor Stephen Cushman to join a varied group of writers and scholars who discuss Ernest Hemingway in a new three-part PBS series from filmmakers Ken Burns and Lynn Novick, "Hemingway," which begins Monday.
Hemingway is a towering, controversial figure of 20th-century American literature, whose prose has had a profound influence on writing for almost 100 years. Burns and Novick wanted to "uncover the man behind the myth" and reveal his complex, complicated life, they say on the show's website. Yes, he wrote about macho subjects such as war, bull-fighting and big-game hunting, but there was a lot more to him than the persona he portrayed to the world, as the documentary shows.
Hemingway, who wrote from World War I through the 1950s – with some work published posthumously after he died of a self-inflicted gunshot wound in 1961 – became well-known for his non-fiction, novels and short stories, and especially for his style of writing.
"My connection to the documentary came through Burns' collaborator, Lynn Novick, whom I taught in an American literature survey at Yale in the early 1980s," Cushman wrote in an email, saying he was proud to be a program adviser on the series.
Lynn Novick, left, and Ken Burns, are co-directors of a three-part documentary that revisits the life and work of Ernest Hemingway. (Photos by Stephanie Berger, left, and Evan Barlow)
With more than 30 years of documentary filmmaking, Novick has worked on seven acclaimed series with Burns, including "The Vietnam War," "Baseball" and "Jazz," as well as creating the 2019 PBS series, "College Behind Bars," her first solo work as director, with Sarah Botstein as producer.
Cushman said it remains true that "no 20th-century American author has had as big an influence on the way ordinary literate Americans write American English as Hemingway." The writer's style is deceptively simple and an iceberg, he said, with a lot more going on below the surface.
In the first episode, Cushman responded to the reception of Hemingway's book of short stories, "In Our Time," published in 1925. Hemingway wrote at the time that he hoped "the book would be praised by high brows and can be read by low brows. There is no writing in it that anybody with a high school education cannot read." Cushman said in contrast, at that time there was this "cult of difficulty" of Anglo-Irish-American high modernism writers, including James Joyce, Gertrude Stein, William Faulkner and e.e. cummings.
Although the documentary was years in the making, one topic that makes Hemingway relevant today is the blurring of gender and gender swapping – in his work as well as in his life. Cushman said this is not well-known by average readers and viewers. Letters and later work contrast Hemingway's hyper-masculine image with someone softer, willing to consider feminine traits.
"Now we know Hemingway in fact was years ahead of his time on nonbinary gender fluidity," Cushman said.
He remembered having a pivotal discussion with Novick and producer Sarah Botstein on the subject of Hemingway in fall 2016. He met with the two when they visited Charlottesville for the Virginia Film Festival to show clips from the 10-part documentary on Vietnam. (Cushman went on to teach a University Seminar using the series in the fall of 2017, and Novick visited his class.)
It would take several years and more conversations with Cushman – who is one of 13 program advisers, a varied group of writers and scholars who appear on screen – until the filmmakers finished the documentary.
Cushman, the Robert C. Taylor Professor of English, who joined the UVA faculty in 1982, has written and edited more than a dozen books on diverse topics from the Civil War to American poetry, including publishing six volumes of his own poems. A new book of poems is forthcoming in 2022 and a book about the Civil War will be published later this year, as well as a collection of essays co-edited with UVA history professor emeritus Gary W. Gallagher.
Novick called Cushman "a brilliant scholar and an incredibly gifted teacher." As a sophomore at Yale University, Novick was in the discussion section of an American literature course that Cushman – then a doctoral student – taught; even then, he was known among the undergraduates for his teaching, she said. Almost 40 years later, she still remembers looking forward to the way he marked up her papers, to see what she would learn about writing.
They ended up staying in touch after college, and she said she considers him an important mentor. Over the years, Novick said during a recent phone call, they had talked about working on a project at some point, and Hemingway as a documentary subject had long been on Burns and Novick's list of ideas, she said.
Novick said working with Cushman was like being back in the classroom. She and Botstein interviewed him about all of Hemingway's books and a range of topics.
"He's a scholar of American literature, and I knew he could put Hemingway in a larger context," she said. "He could comment on any and all of Hemingway's work, use of language and influence. He's hugely important to our crafting the story of Hemingway in his time and now," she said.
Cushman, who has read and reread Hemingway's work many times now, said their subsequent interview on camera was even more rigorous than defending his dissertation.
Cushman didn't meet Ken Burns until a meeting in New York in June 2018.
"Through two full days at a seminar table, Burns led the advisers page by page through the script," Cushman said. "He asked questions; he wanted expansions and clarifications. He was always personable, charismatic and good-humored. But he was also rigorous and exacting. He was the artist, and our comments were his materials."
Then in August 2019, the English professor spent a weekend at Burns' compound in New Hampshire, when the film advisers and Florentine Films crew assembled to look at the rough cut and give their comments and suggestions, he said.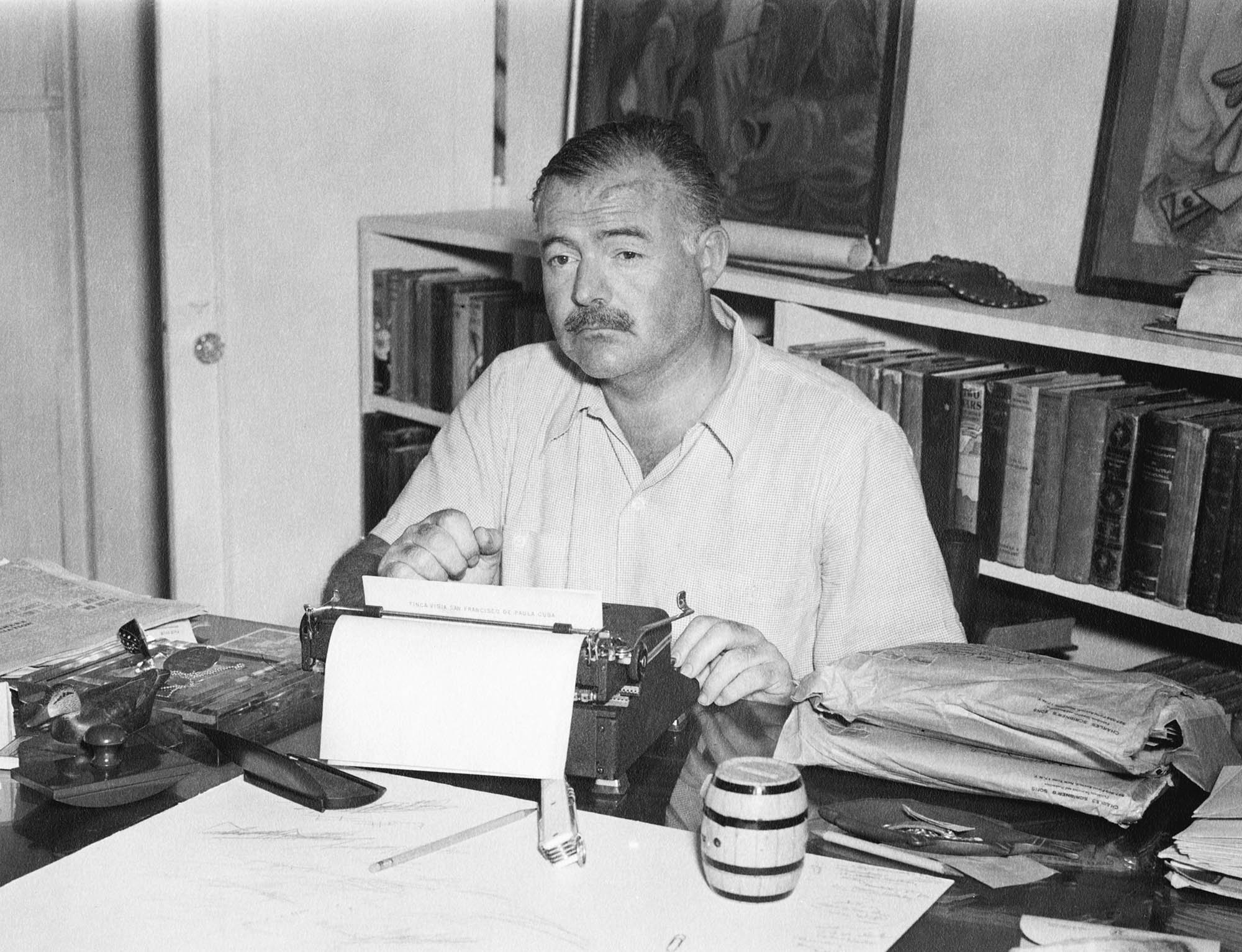 Hemingway lived in Cuba during the 1950s until the revolution. (Courtesy of Ernest Hemingway Photograph Collection. John F. Kennedy Presidential Library and Museum. Boston)
Although he received a special link to the finished product a couple of weeks ago, Cushman said the internet connectivity where he lives is so bad, he could only make it through the first 30 minutes or so because of all the delays and bufferings, but he did see his first appearance. (A preview showed he has eight spots in the first two-hour episode.)
"What I can say is that the finished section I saw is impressive," he said. "It's the difference between a rough draft and a final copy after a hundred more iterations."
Cushman's interest in and study of Hemingway has been ongoing, he said. In the late 1990s, he taught the writer's work in the UVA English majors' required survey course, team-taught with colleague Michael Levenson. In working on those lectures, he said, "I widened and deepened my earlier acquaintance with his work."
Then Cushman got a chance for a visceral experience of Hemingway's environment.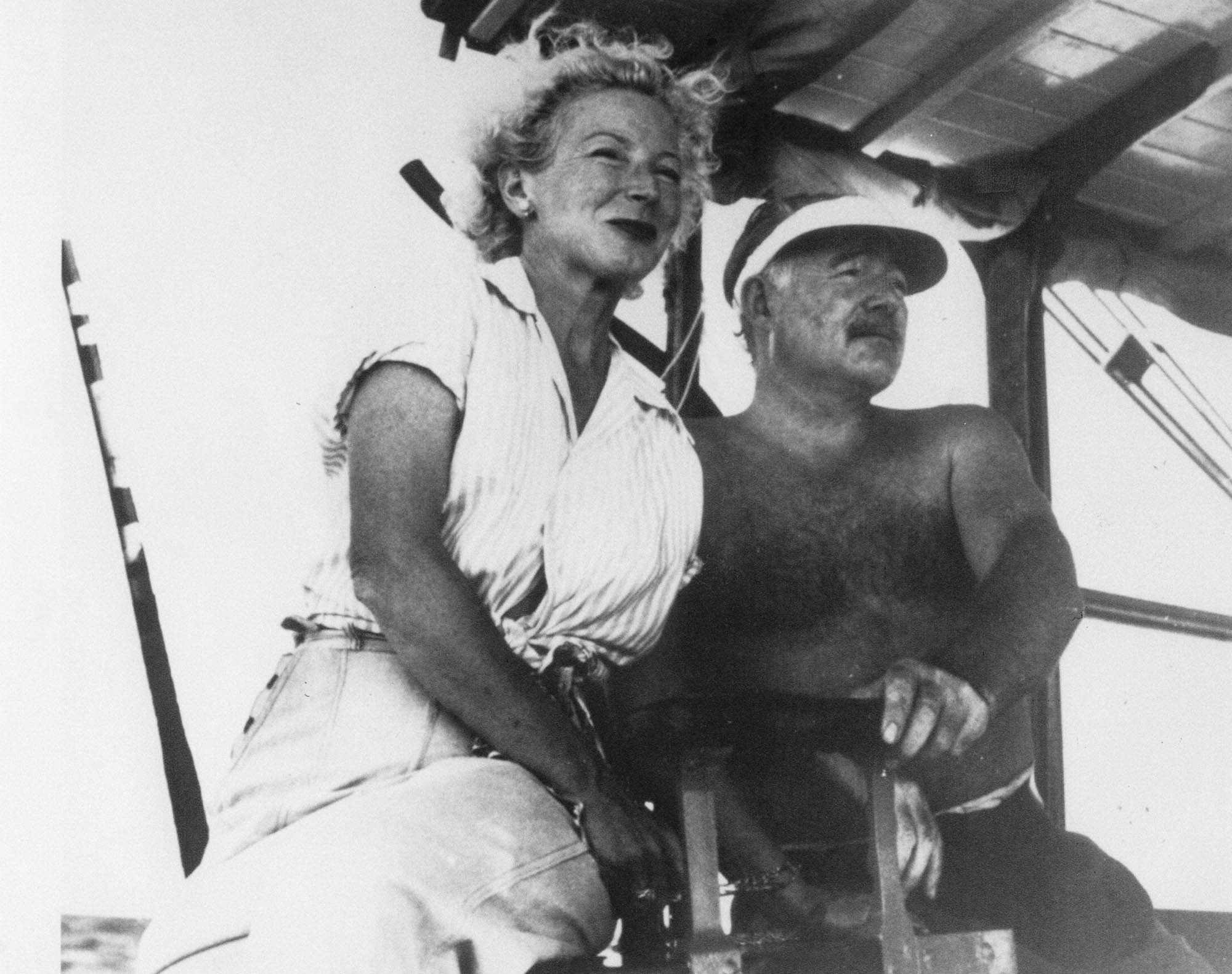 Hemingway, who married four times, seen here with his fourth wife, Mary Welsh. (Photo by A.E. Hotchner)
In 2007, Kevin Conley, a director of UVA Alumni & Parent Travel programs, invited Cushman to lead a trip to Tanzania titled "Hemingway in Africa," for which the participants read Hemingway's book, "Green Hills of Africa." As they visited some of the same places Hemingway went to, Cushman said he learned still more about the writer and the creative choices he made about what to include and what to leave out, even in his non-fiction.
Cushman was invited again, eight years later, on a similar travel program to Cuba. Hemingway married his fourth wife, Mary Welsh, there and they lived in Cuba until the revolution in the 1950s, moving to Idaho in 1959. "The Hemingway high point of that trip was visiting his house, Finca Vigía, where one can see his boat, 'Pilar,'" he said.
Thinking of Hemingway, both the man behind the myth and the legacy of his work, Cushman said there are many writers whose work he loves and teaches, but that doesn't mean they were good people he'd want to know.
"I've never bought that idea that a person who spends all day writing is then supposed to go out and be a model person," he said. "Hemingway was not always a nice guy. He was wounded, he was broken, repaired and broken again. He was a fragile person; it's amazing he wrote so many great books despite the damage."
Article Information
April 2, 2021
/content/english-professor-stephen-cushman-weighs-hemingway-ken-burns-film