As the nation marks the 100th anniversary of President John F. Kennedy's birth this Memorial Day, a University of Virginia Center for Politics-Reuters/Ipsos poll finds that Americans rate JFK more highly than any other recent president.
The online poll of American adults found that of the presidents who served between 1950 and 2000 (from Dwight Eisenhower through Bill Clinton), Kennedy received higher average ratings than any other president, and more than half of respondents (53 percent) named him as one of the one or two best presidents in that time frame. Additionally, 87 percent of respondents expressed at least mildly favorable views of Kennedy.
Table 1: "Would you say you are generally favorable or unfavorable towards President John F. Kennedy?"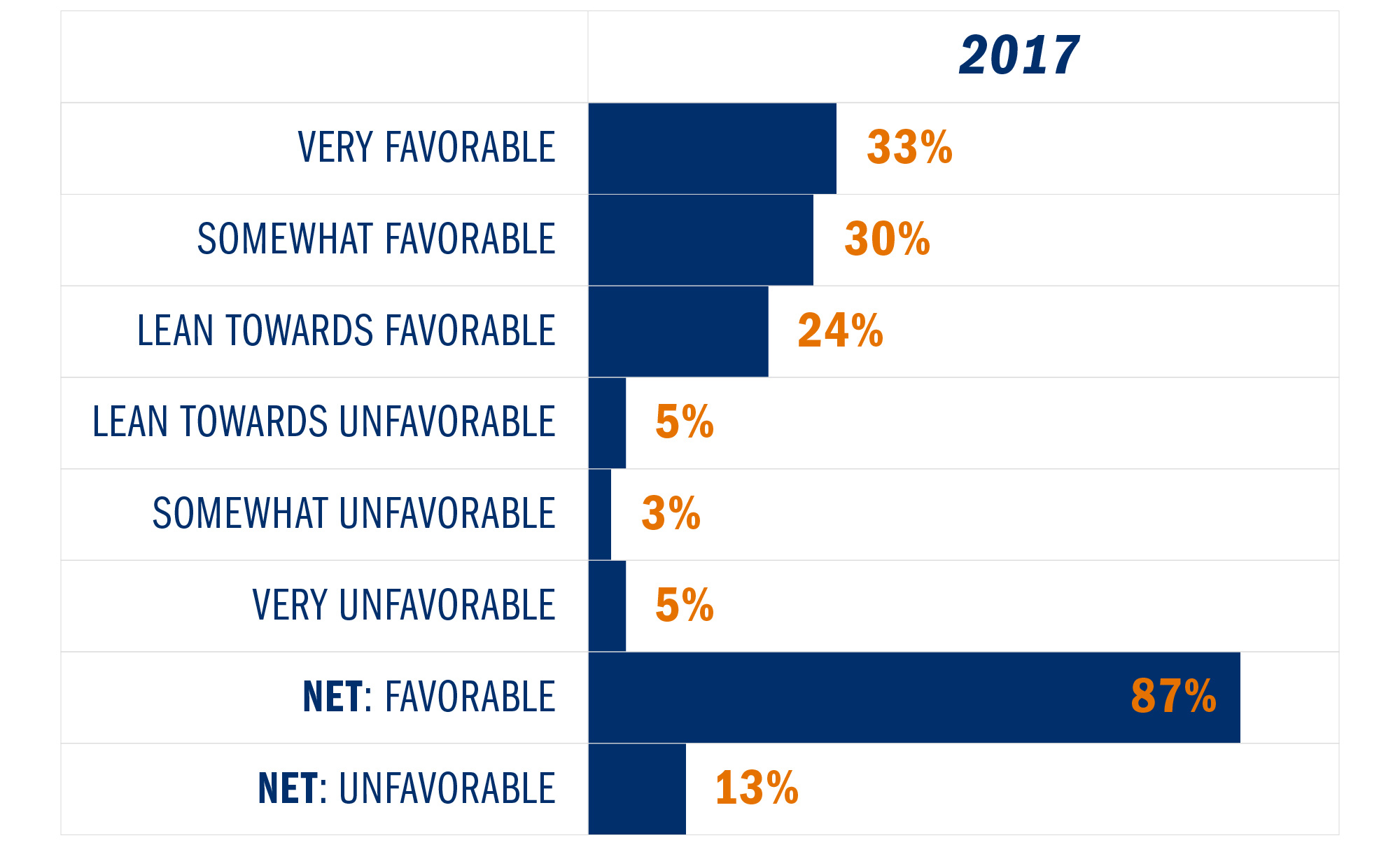 The rating of Kennedy as one of the best recent presidents improved from 2012, when the Center for Politics partnered with Hart Research Associates on a different online poll that used identical wording as part of the center's Kennedy Half-Century project. The percentage of respondents naming JFK as one of the best recent presidents in the second half of the 20th century increased from 41 percent to 53 percent (Table 3). The numbers for most of the other presidents stayed stable, with the exception of Bill Clinton, whose rankings declined significantly (as shown in both tables 2 and 3).
Table 2: Mean rating that respondents gave each president who served from 1950 to 2000 on a scale from zero (one of our country's worst presidents) to 10 (one of our country's best presidents)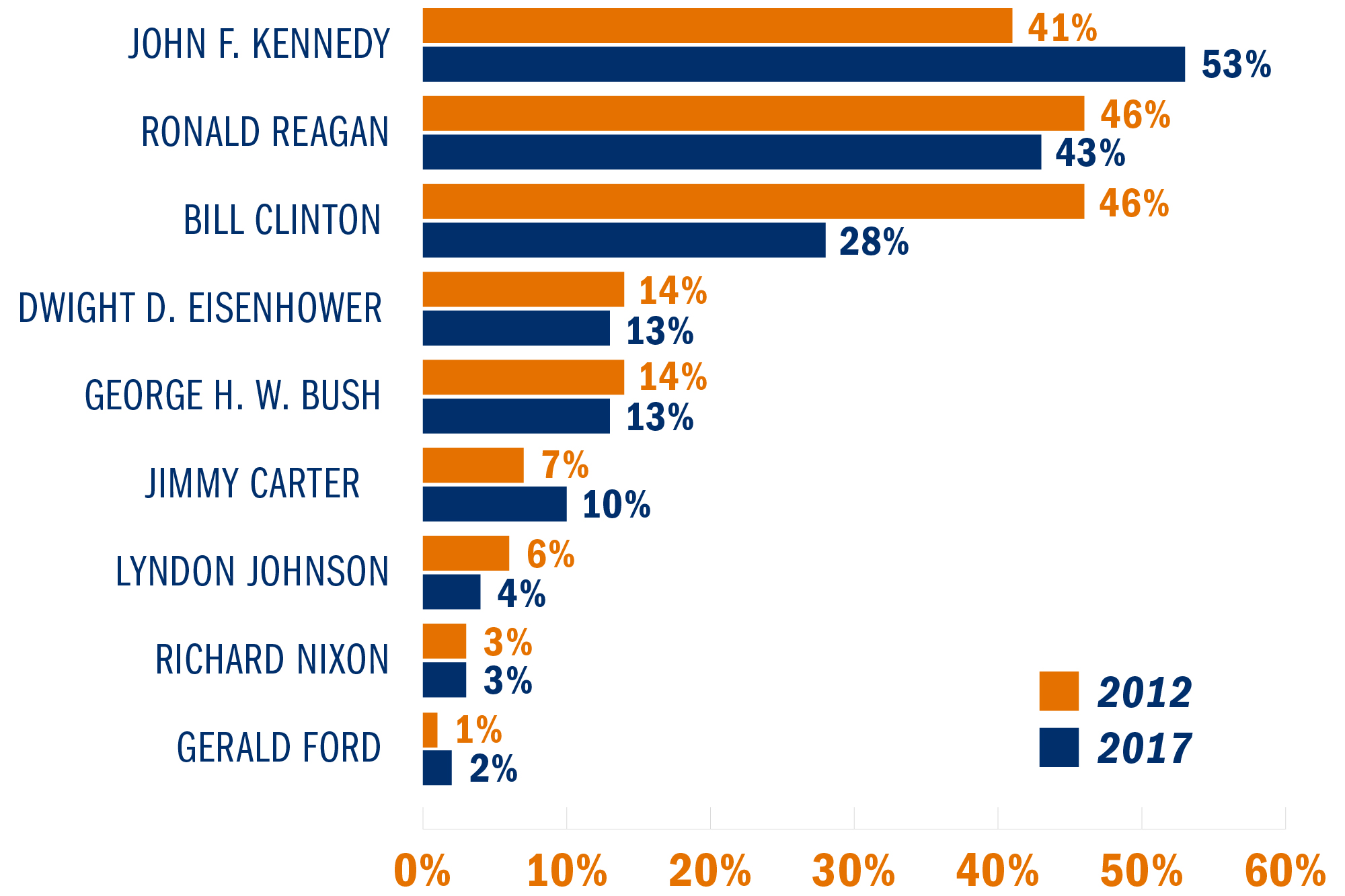 Table 3: "From that same list of presidents who served between 1950 and 2000, which one or two stand out in your mind as the best president(s)?"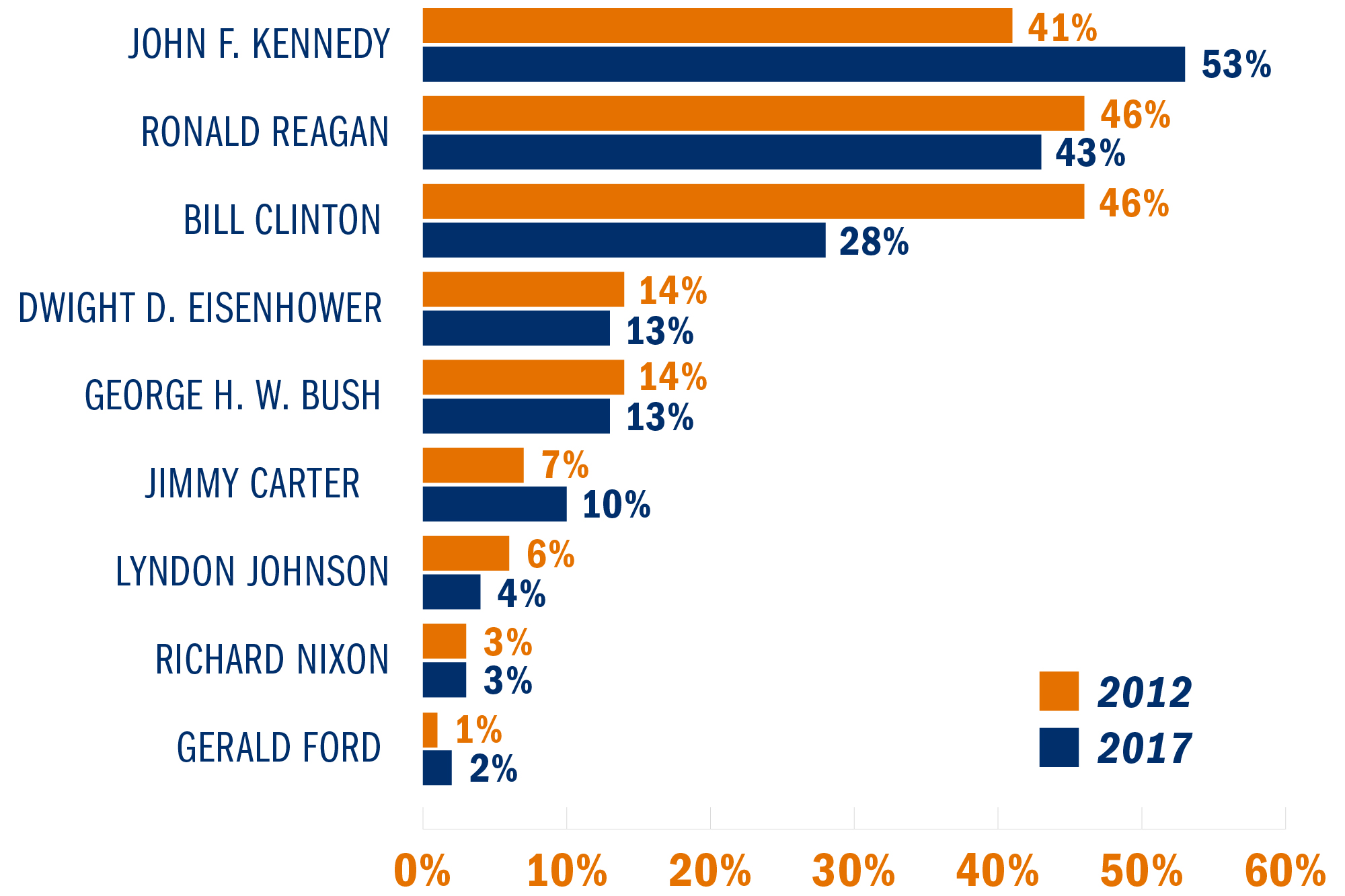 When asked to choose selected recent or historical presidents to hypothetically serve as the country's next president, Kennedy (22 percent) rated similarly with Ronald Reagan (23 percent) and Barack Obama (21 percent). Here again, Clinton's numbers declined significantly from the previous 2012 survey. It is worth noting when comparing the 2017 poll to the 2012 poll on this particular question that the question was posed open-ended in 2012, allowing respondents to name any president they liked, while in 2017 only the top ranked responses from 2012 were provided to respondents to choose from. 
Table 4: "Suppose you could bring back any of the U.S. presidents, living or dead, to be the next president of the United States. Who would you most want to be the next president?"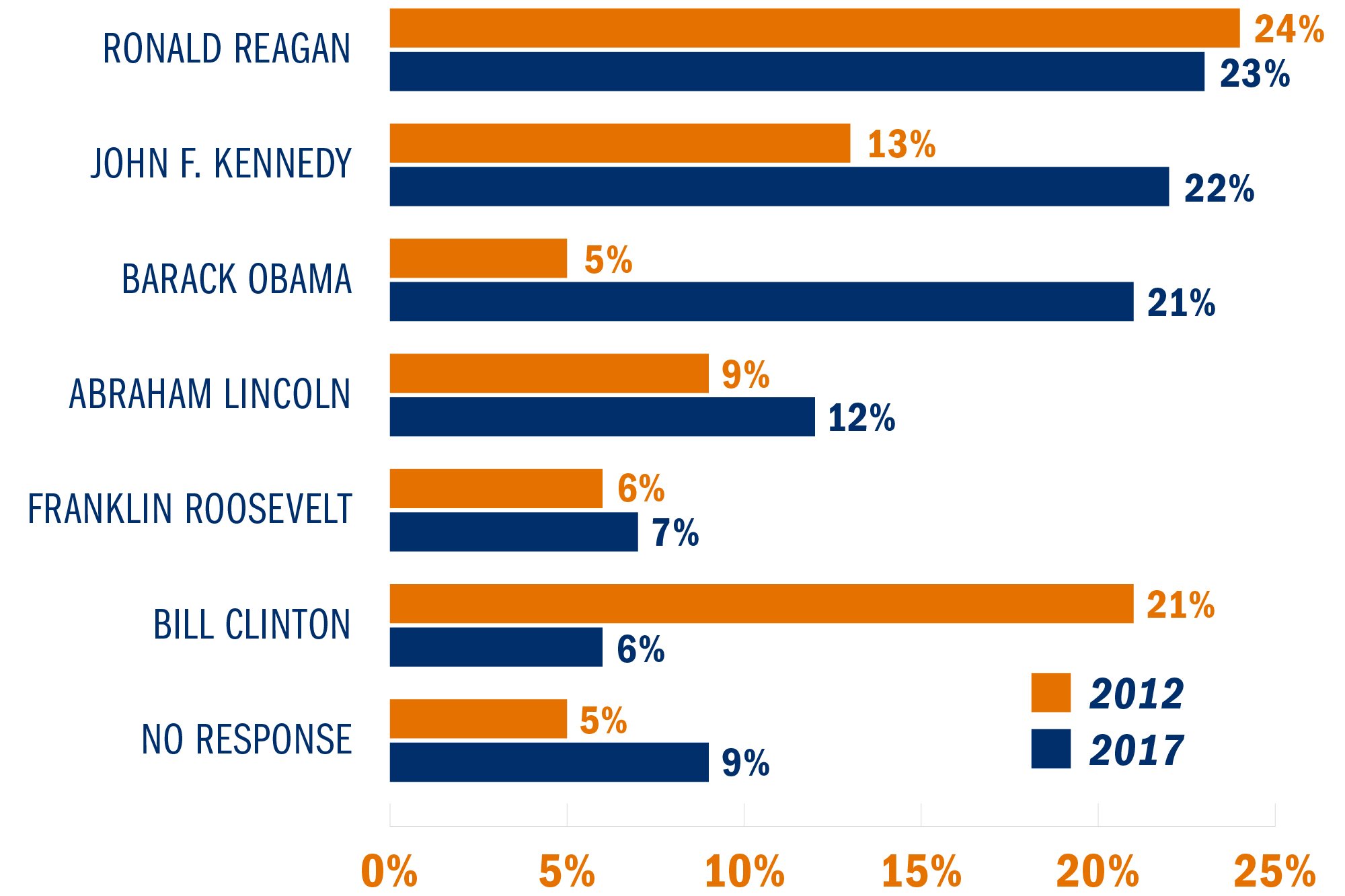 While it's hard to pinpoint specific reasons for Kennedy's improvement from the previous poll, Center for Politics Director Larry J. Sabato said recent commemorations of Kennedy could have re-inserted JFK positively into the public's perception.
"It's possible that there are some additional, residual good feelings about Kennedy engendered by all the JFK coverage that occurred during the anniversary of his assassination in 2013 and as part of the current emphasis on his centennial," he said. "In addition, the public sometimes has a tendency to compare and contrast the current president to past presidents, and they look for previous presidential traits that are lacking in the current incumbent. In terms of style, inspirational rhetoric and many policies, there is undeniably a contrast between JFK and Donald Trump."
Clinton has suffered a sharp decline since 2012. Whereas 33 percent of respondents rated him as a 9 or 10 on a 0-to-10 scale five years ago, the new poll finds just 16 percent rate him as a 9 or 10. This shift comes from an across-the-board partisan decay in positive views of the former president, with more Democrats, Republicans and independents rating Clinton more unfavorably. Bill Clinton's worsened public perception may mirror the similar decline of his wife, Hillary Clinton, during and in the aftermath of a brutal, unsuccessful presidential election.
"In 2012, Hillary Clinton had strong favorability nationally while she was secretary of state," Sabato said. "Once she re-entered the political fray and was the target of negative attacks for two years, her numbers eroded significantly, and that erosion appears to apply to her husband as well."
Some other observations from the poll:
When given a number of words and phrases used to describe Kennedy, respondents generally thought positive descriptors applied to Kennedy more than negative ones. However, respondents in this poll were not as impressed by JFK in several ways as respondents in 2012. Asked to rate different terms and phrases to describe Kennedy on a scale from zero to 10, 50 percent said "charismatic" was a 9 or 10 (vs. 61 percent in 2012), 39 percent rated "courageous" as a 9 or 10 (compared to 48 percent in 2012), and 47 percent rated "patriotic" as a 9 or 10 (vs. 56 percent in 2012).
JFK received the most bipartisan support from respondents regarding which former president (living or dead) they would want to be the next president. Reagan led on this question overall with 23 percent, followed by Kennedy with 22 percent and Obama at 21 percent, as noted above. But JFK's support was more evenly split among partisans, with 25 percent of Democrats and 16 percent of Republicans choosing him. This support contrasted with Reagan and Obama: 50 percent of Republicans picked Reagan, while only 6 percent of Democrats did; and 38 percent of Democrats picked Obama, while only 7 percent of Republicans did. And Kennedy was also the most common answer for independents, with 27 percent selecting him vs. 18 percent for Obama and 17 percent for Reagan.
Obama's improvement and Clinton's decline on the question of which former president respondents would like to see be the next president of the United States was driven by changes among Democrats. In the 2012 poll, while Obama was seeking his second term, 41 percent of Democratic respondents picked Clinton as the person they preferred to be the next president, while just 10 percent picked Obama. In the new polling, 38 percent of Democrats picked Obama while only 11 percent picked Clinton.
Respondents had a good sense of when Kennedy served: 78 percent were able to accurately select "the early 1960s" as when he served in office. Unsurprisingly, older respondents scored better on this question than younger ones: 95 percent of those over 60 knew when Kennedy served, while just 60 percent of those aged 18 to 29 did.
This Ipsos poll was conducted May 11-15 on behalf of Thomson Reuters and the Center for Politics. For the survey, a sample of roughly 1,472 adults, age 18 and over, from the continental U.S., Alaska and Hawaii was interviewed online in English. These findings are compared to 2012 results with a sample of 2,009 adults for an online poll conducted June 7-13, 2012 by Hart Research Associates.
Statistical margins of error are not applicable to online polls, so the precision is measured using a credibility interval. The 2017 poll has a credibility interval of plus- or minus-2.9 percentage points for all respondents. The 2012 poll had a credibility interval of plus- or minus-2.5 percentage points. For more on the methodology, see here.
The full poll is available here and the crosstabs are here. The 2012 poll is available here and the crosstabs here.
In addition to the poll, the Center for Politics is marking the Kennedy centennial through a series of public programs and symposia. Earlier this year, the center hosted an exhibition of never-before-seen photos of JFK and a panel on his relationship with the media. Additional public programs and symposia planned for the year include:
JFK 100th Birthday celebration at UVA Reunions. (June)
"Race to the Moon," featuring pioneers of America's exploration of space. (September)
"Secret JFK Records," a look into the records of the Kennedy assassination that remained sealed from public view. (October)
The final dates and participants will be announced ahead of each event.
As part of JFK100, the center also is partnering with PBS to produce a national television documentary featuring a selection of the unreleased photos and new stories about the life and legacy of JFK. The new documentary will serve as a sequel to the center's 2013 release, "The Kennedy Half Century," which won an Emmy Award for Best Historical Documentary.
Additionally, the center is partnering with Coursera and iTunes U to produce a series of new lessons for its massive open online course, "The Kennedy Half Century," taught by Sabato, which to date has enrolled nearly 200,000 students from around the world. 
Article Information
May 24, 2017
/content/eve-his-100th-birthday-jfk-remains-one-americas-favorite-presidents