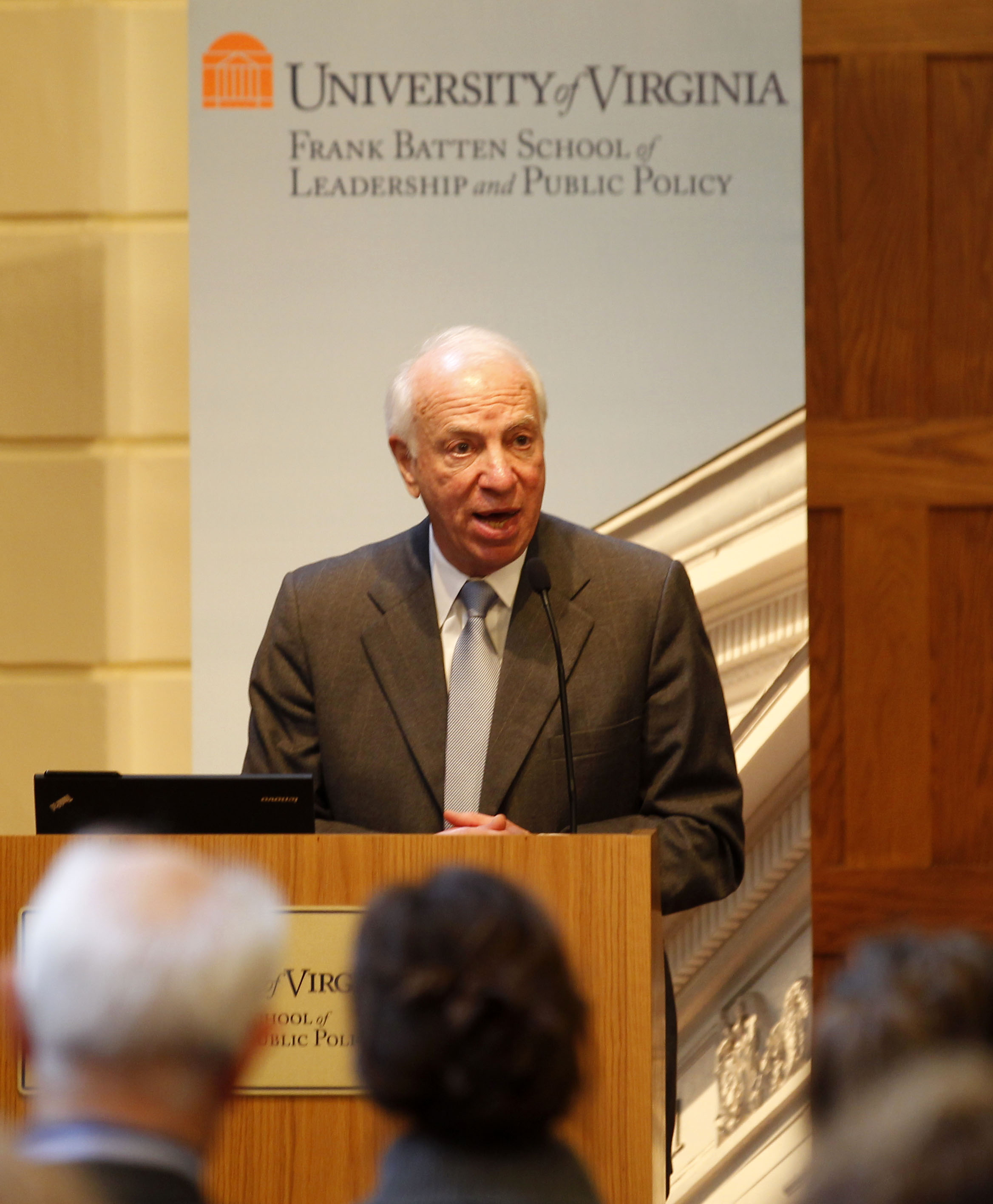 Taking a new tack on gun control policy, a group of national experts on mental illness and gun violence – including University of Virginia professor Richard Bonnie – recommends reducing access to firearms by individuals who present an elevated risk of suicide or violence to other people, even when they have no record of mental illness.
The Consortium for Risk-Based Firearm Policy released its state policy recommendations at a forum Monday afternoon at U.Va.'s Frank Batten School of Leadership and Public Policy.
Bonnie and five other members of the consortium – which includes "the nation's leading researchers, practitioners and advocates in gun violence prevention and mental health," according to the report – explained recommendations from their 45-page report, "Guns, Public Health and Mental Illness: An Evidence-Based Approach for State Policy," to an audience of more than 50 people in Garrett Hall.
The report calls for strengthening current policies banning access to firearms for people with histories of involuntary treatment for mental illness, said Bonnie, Harrison Foundation Professor of Law and Medicine, professor of public policy and director of U.Va.'s Institute of Law, Psychiatry and Public Policy. 
But the recommendations also offer a new "risk-based" paradigm to supercede the long-established model of gun rights restrictions focused on mental health. The report calls for temporary restrictions of up to five years on the purchase and possession of firearms by individuals convicted of violent misdemeanors, domestic violence, or more than one drug or alcohol conviction within a certain period – all of which are behaviors that demonstrate an elevated risk of violence, even when not accompanied by a record of mental illness, according to research cited in the report.
Substantial research finds that "the strongest predictor of future violence is past violent behavior," said Shannon Frattaroli, an associate professor of health policy and management at the Center for Gun Policy and Research at Johns Hopkins University.
Drug and alcohol abuse are also associated with increased risk of violence toward self and others, said Beth McGinty, an assistant professor of health policy and management at Johns Hopkins.
"We are looking not just at mental illness, but at elevated risk," said Josh Horwitz, executive director of the Coalition to Stop Gun Violence. "Who has elevated risk? Those are the people who should not have immediate access to firearms."
Research shows that "the vast majority of people with mental illness are not violent, and the vast majority of violence incidents are not related to diagnosed psychopathology," explained Jeffrey Swanson, a professor in psychiatry and behavioral sciences at Duke University School of Medicine.
"We need to strike a balance between a commitment to public safety and respect for the privacy of people dealing with mental illness," Horwitz said. "We don't want to hurt people seeking help or further stigmatize the mentally ill."
In all instances of temporary restrictions, there should be a process for individuals to have their rights restored when they no longer pose a significant risk of harming themselves or others, Bonnie explained.
"We aim to build on current laws and policies to make them more effective, while also being fair to individuals who seek to regain their rights," Bonnie said.
About 31,700 people die annually in the U.S. from gunshots, with 61 percent of those deaths being suicides, Swanson said. Nonfatal firearms injuries affect another 73,000 people per year.
Following the public unveiling of the new policy recommendations, students in Bonnie's Batten School course, "Legal and Moral Dimensions of Public Policy," gave presentations on the fate of recent gun control and mental health legislation in five states, four of which passed legislation since 2011.
In the wake of the Sandy Hook Elementary School shooting on Dec. 14, 2012, that killed 20 children and six adult staff members, gun control advocates in Connecticut and New York succeeded in passing some of the toughest restrictions in the nation, including outlawing high-capacity magazines and expanding the number of guns outlawed under an existing assault weapon ban.
In those campaigns, reformers framed the issue in terms of children's safety and keeping guns out of the hands of mentally ill, the students explained. Governors of three of the four states that passed new gun laws took a strong stand in support of reforms, demonstrating the importance of the legislative and executive branches working in tandem, the students noted.
The presentations made clear how "this subject is rife with conflicts and complexities," Bonnie said.
Bonnie pointed out how the consortium recommendations diverged in one key respect from the legislation passed in Connecticut and Florida, both of which amended their firearm restrictions in ways that now apply to those who are voluntarily hospitalized for mental health issues. In Connecticut, reformers wanted to better track those who had been involuntarily hospitalized, but in practice the law now requires tracking some people who are voluntarily hospitalized, a result that was "probably not fully understood and not intended," Swanson noted.
The consortium's recommendations do not include any policies impacting purely voluntary hospitalizations – an effort to "not discourage people from getting the treatment they need," Bonnie said.
Engaging his students with this real-world policy issue teaches them to reason analytically and systematically about values, complementing the quantitative policy analysis they learn in other Batten School courses, Bonnie explained. "Lots of our values are embedded in the legal system and the Constitution."
Today Bonnie's class is presenting similar reports on U.S. tobacco policy and moves by a number of U.S. cities to raise the legal age for tobacco use.
Media Contact
Media Relations Associate Office of University Communications
brevy@virginia.edu (434) 243-0368
Article Information
December 04, 2013
https://news.virginia.edu/content/expert-group-unveils-new-risk-based-firearms-policy-approach-uva