In one corner of the classroom, the quintessential 1980s song, "You Might Think I'm Crazy" by The Cars, blared. In another, a group of students sat around a table listening to Sony Walkmans. Toward the center of the room were laptops playing video clips from the Beatles' famous appearances on "The Ed Sullivan Show."
Then there was a quieter gathering.
Near a window, students stood by a large display chronicling the first full class of women to ever attend the University of Virginia. Headlines from the Cavalier Daily and other publications included "Jefferson Hall Admits Coed, Strikes 'Male' From By-Laws," "Women Press for Lawn Rooms" and "By God, I Think They're Here to Stay."
Yes, students in assistant professor Kevin Driscoll's "History of Media" course took quite the deep dive this semester.
Which ideas, questions or periods struck with them?
That was the subject of team research projects that were presented in the form of museum-style exhibits at last week's Media History Fair at Wilson Hall.
Thanks to a Course Enrichment Grant from the UVA Library, students benefitted from close collaboration with research librarian Erin Pappas and others. As they planned their exhibits, students also consulted with specialists in archival research, audio-visual conservation and information policy.
"I am thrilled about the work that the students have put into these projects," Driscoll said. "The fair represents the culmination of months of work and an exciting collaboration between [the Department of] Media Studies and the library."
Here's a closer look at some of the students' projects:
The Project: 'I Want My MTV'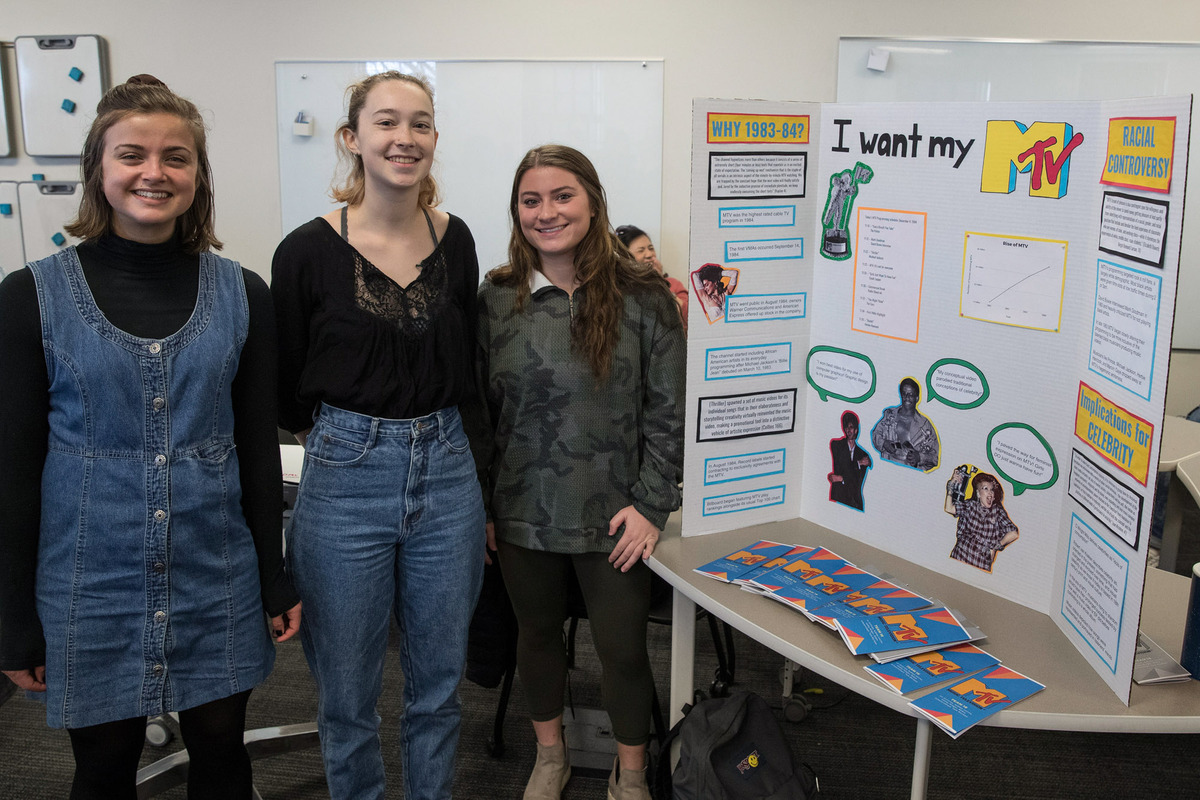 Students particularly focused on MTV in 1983 and 1984, and on the lack of diversity on screen. (Photo by Dan Addison, University Communications)
Synopsis: "Our project deals with MTV in the years 1983 and 1984," third-year student Robin Schwartzkopf explained. "It was a big year for production consumption of music videos and the record industry in general. At that point, MTV was in more households than it ever had been.
"We looked at the things that MTV was going through at that time. They had been heavily criticized for a 'black-out,' where they basically refused to play black artists. We looked at how the representations of artists on screen changed."
Student takeaway: "The great part of this project was being able to use more than just research journals," third-year student Gabby Ringer said. "I think a big part of this was taking primary sources – in our case, music videos, interviews on MTV News and clips from the [Video Music Awards] – and really making it our own and seeing the whole thing as more than just pop culture, using it as a way to understand humanity and people at the time."
The Project: 'The Wonder of the Walkman'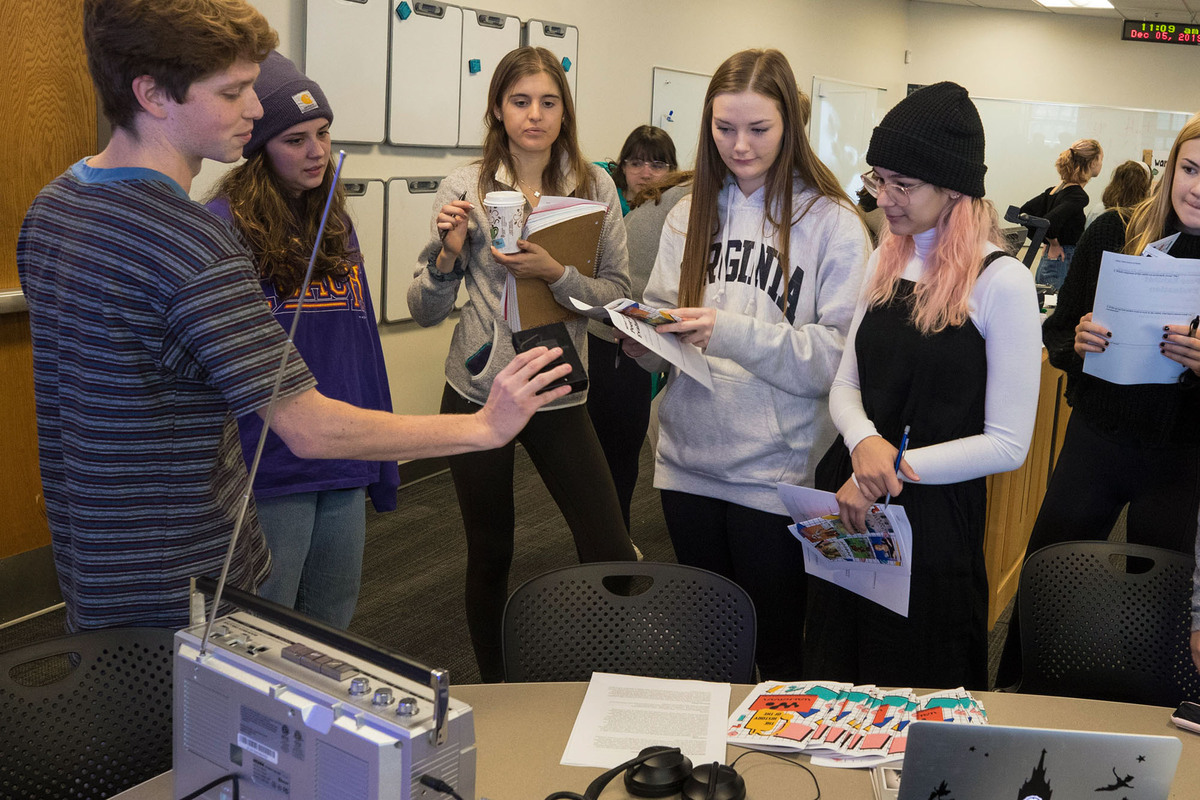 We've come a long way from the Walkman, but students can still trace "The Walkman Effect." Photo by Dan Addison, University Communications)
Synopsis: "We explored the development of the compact cassette and how it affected the productization and portability of music," fourth-year student Jake Vanaman said. "We focused on something called 'The Walkman Effect' and how developments in advertising normalized the use of headphones in public space. You now had communal listening experiences in a portable nature – which hadn't been really possible before this – and the ability to choose your own environment. This is a process called 'cocooning.' You could 'cocoon' yourself from the outside environment and experience your own environment of your choice."
Student takeaway: "I had never realized how transformative the invention of the portable cassette player was," third-year student Sadie Modica said. "I didn't realize how different headphone-wearing was and the social implications. I think it was interesting just how scared people were of the 'Walkman Effect' – the idea that your internal environment would change forever and the external environment would, too, because it created this fusion between two different spaces, one of which was the space that a person was walking through and the other would be the space in which they were listening to music. That was just so incendiary at the time." 
The Project: 'Beatlemania Through Television'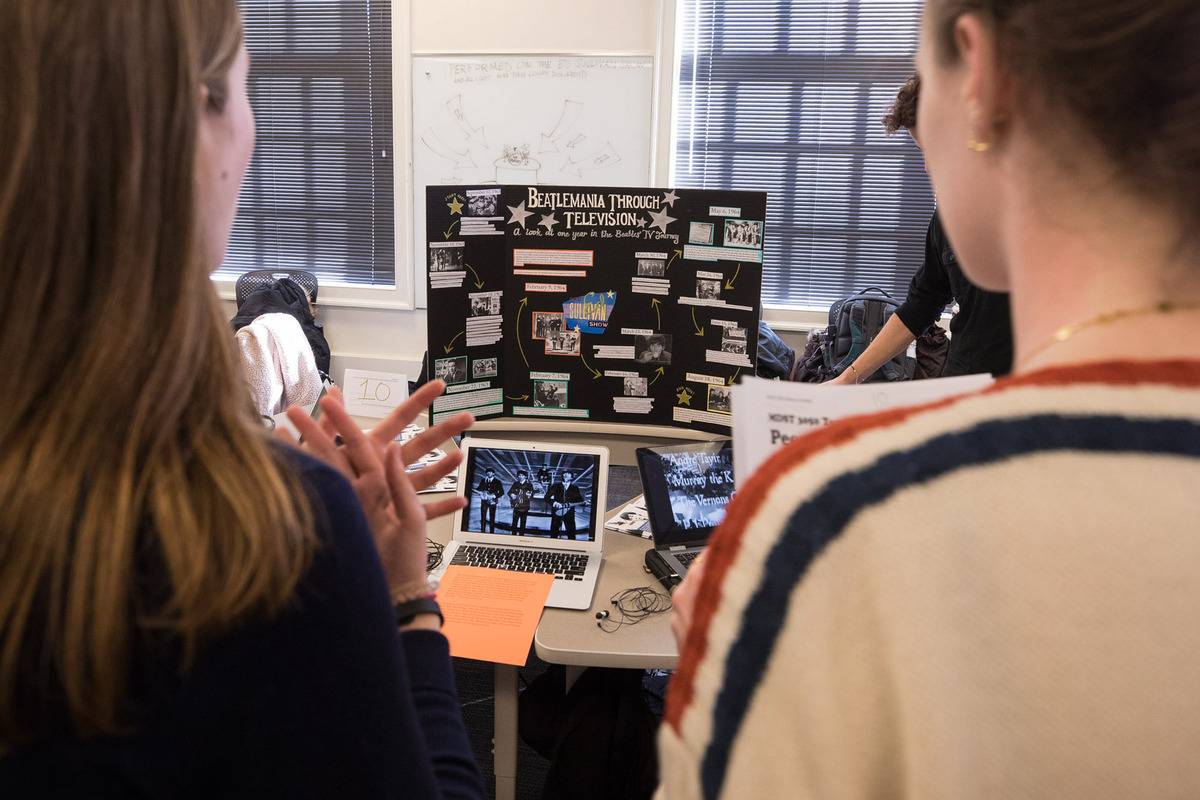 Students focused on "The Ed Sullivan Show" and television specials like "Around the Beatles." (Photo by Dan Addison, University Communications)
Synopsis: "We took a look at how television impacted the rise of the Beatles and how they rose to popularity and became the sensation that they were through television," third-year student Max Bacall said. "Our timeline centers on 'The Ed Sullivan Show,' where, after that, they really rocketed. Eventually, they got big enough where they hosted their own television special, called 'Around the Beatles,' which we have playing here."
Student takeaway: "I think one of the most interesting aspects of it was taking a topic that we were all really interested in and being able to use the research skills that we had been learning throughout the semester," third-year student Justine Baird said. "It took us a while to find them, but there were a lot of fan-based archives. We were able to study them and look through them. It was like putting together a jigsaw puzzle, because we found all these different events, but then had to find the actual television artifacts of the events. It was engaging. Honestly, I have a newfound love for the Beatles."
The Project: 'Following the First Class of Women at UVA Through Media'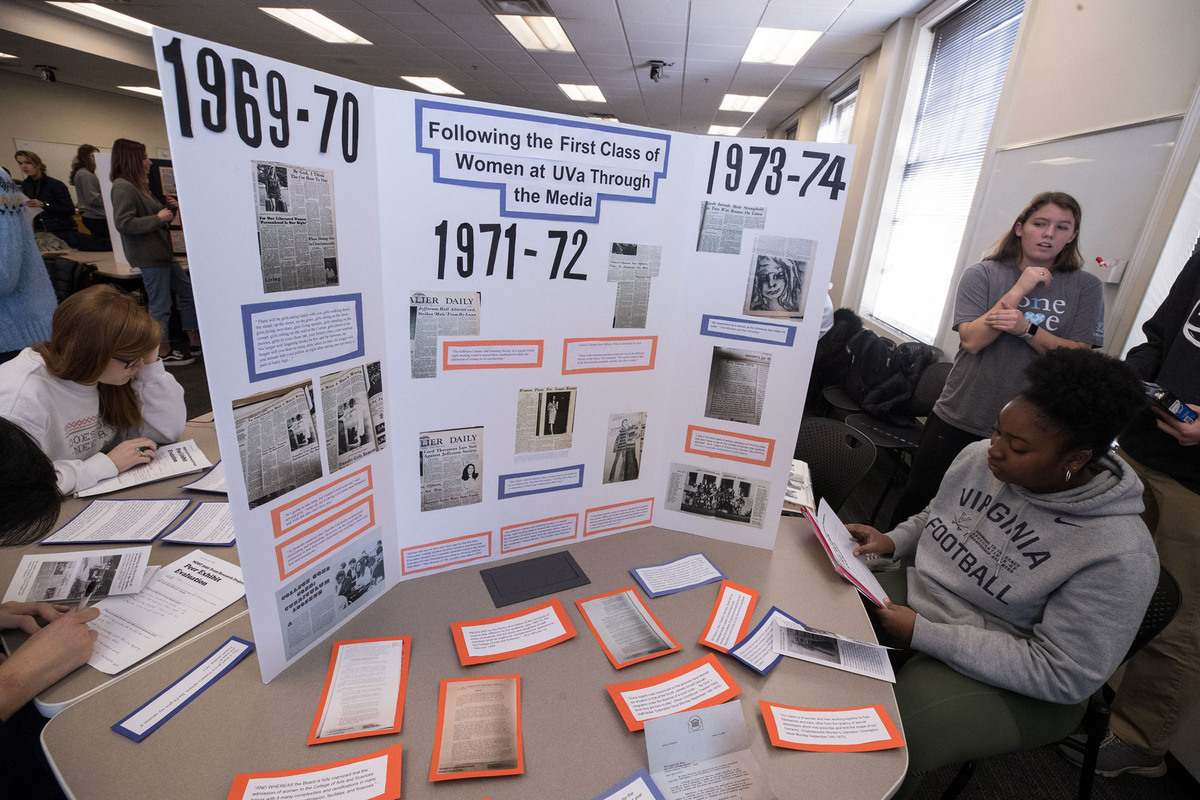 One group explored media coverage of the first class of women at UVA, especially focusing on The Cavalier Daily. (Photo by Dan Addison, University Communications)
Synopsis: "We looked at the years 1969 to 1974 and focused mainly on how the first women at UVA were represented in the media and how that kind of reflected the University's stance on them," third-year student Peyton Pellington said. "It was really cool to see how, through the media, women became more integrated in the University and kind of found their voice."
Student takeaways: "We spent a lot of time in the Cav Daily office," third-year student Emily Vaughan said. "We perused the archives for hours, just flipping and flipping pages. It gave us a really good window into what was happening.
"It was hard to see. It was a little heartbreaking, but you got such a cool look into it. We found a rejection letter from one of the last women who got rejected based on her gender."
Fourth-year student Sammie Magargee added, "I thought it was interesting that the Board of Visitors conducted a two-year-long study on if they should allow women to matriculate or not. It was a private meeting, so we weren't able to get our hands on the minutes, but the fact that they were conducting sort of a case study on how well women would live and breathe at the University is really interesting.
"We talked to some women who were part of the first female class. One thing a woman mentioned is that while she experienced the curious looks and maybe jeers in class, she didn't really think anything of it. She just thought she was a female at the University and was one of the first females. She just thought, 'I'm going to the University of Virginia, I'm going to this prestigious University.'"
Article Information
December 11, 2019
/content/first-class-women-uva-sony-walkman-and-beatlemania-highlight-media-fair