Bryan Christ's affinity for mentorship began when he was a young boy living in North Carolina. A painfully shy third-grader, he said one teacher's goal for the year was getting him to say "hi" to her in the hallway.
His brother Brandon, nine years his senior, began mentoring Bryan to coax him out of his shell. The experience instilled in Bryan a love for the transformative power of mentorship and he wanted to share that.
When the local chapter of Big Brothers/Big Sisters lost its funding, Bryan saw an opportunity.
"There was a local elementary school with a lot of students who no longer had mentors," he said. He and his mother, Gina, got to work training students at Bryan's high school to mentor the younger students, and the results were impressive.
"Attendance went up, engagement went up, grades went up," he said.
Bryan took his expertise to North Carolina's State Youth Council, which he chaired from 2014 to 2015, managing online training programs for mentors at elementary schools across the state.
In 2015, Bryan's family relocated to Crozet, in Albemarle County. He enrolled at the University of Virginia and his father accepted a position as a professor of biomedical engineering and orthopedic surgery. But something was missing.
'They are in my heart'
His mother, a veteran school counselor and educator with more than 25 years of experience working with teens, recalled the moment.
"We were here for about six months and Bryan came home from school and said, 'We have to do something. I can't not help the kids. They are in my head. They are in my heart.'"
From that kitchen table conversation came the creation of Rise Together, a non-profit group-mentoring program that pairs UVA students with students at Western Albemarle and Monticello high schools and at Walton Middle School, reaching about 85 Charlottesville-area students in all.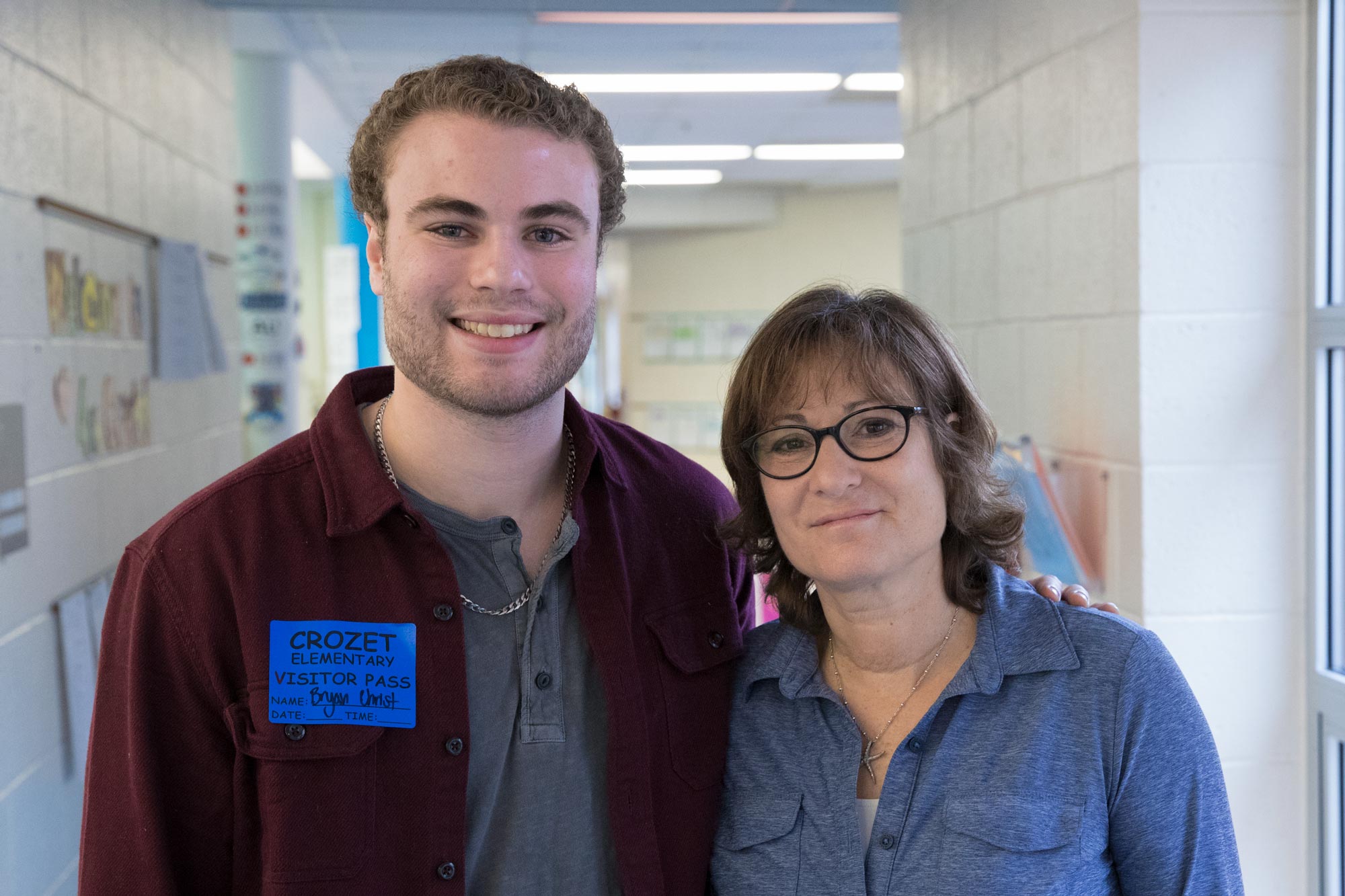 "Rise Together's name symbolizes the belief that mentors and mentees elevate each other's lives," Bryan said.​ "At some point, everyone struggles to find their direction and purpose. The name reminds us that we are not alone and that we have a shared responsibility to inspire and lead not only ourselves, but also others who are working to find their path."
Bryan is now a fourth-year student studying youth and social innovation in UVA's Curry School of Education and pursuing an accelerated master's in public policy in the Frank Batten School of Leadership and Public Policy. The program he and his mother created provides field work experience for Curry students, launching them and the high school students they pair with into another world altogether, where they become doers for others.
'These students are fighting every single day'
Phil Gahring, affectionately known as "Mr. G.," is avid about his work at Western Albemarle High School in Crozet. But he also teaches students in a program called "AVID."
A national program, it stands for "Advancement Via Individual Determination" and helps students beginning in elementary school, many of whom are from minority and/or low-income backgrounds, move from standard classes to Advanced Placement and honors courses.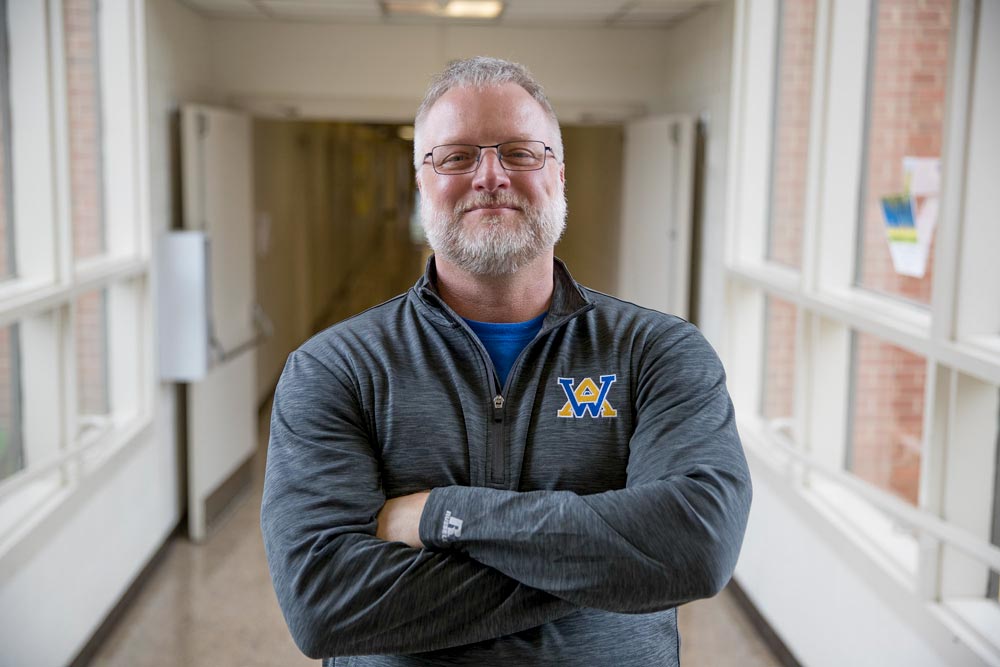 Students in the AVID program typically perform in the "B" or "C" range before joining. They have grit, but often lack the organizational skills or the example of a college graduate in their family to help them take that next step.
Gina Christ said AVID students are "often invisible."
"They don't have significant learning disabilities where they are receiving services, and they are not the top tier that has all the AP and honors courses," she said. "No one realizes that these students are there fighting every single day, day-in and day-out, to get themselves in a position where they can take such a big risk and leap into the college setting."
Gahring's job is to get these students in a position to not only graduate from high school, but also often become the first people in their families to go to college.
The thing is, sometimes his students don't think Gahring knows what he is talking about, because, well, he's an adult.
Gahring had made good progress helping his students with their college applications. But things reached another level when a group of UVA students from Rise Together started tutoring and mentoring the AVID students.
"Why didn't you explain it that way?" the AVID students asked Mr. G.
This is not to say that Gahring is a bad teacher. On the contrary, he is exceeding his goals. Nearly all members of his class of 2018 gained acceptance to a college and are positioned to reach their personal goals.
What the UVA students bring is an ability to meet the AVID students where they are. What high school student wouldn't want advice about applying to college from someone who has just gone through the process?
And what if that UVA student also happened to be a first-generation college student?
'I already know what they've gone through'
Laura Alan, a fourth-year, first-generation UVA student, wishes she had something like AVID when she was growing up in Haymarket.
Her parents are from Kurdistan and immigrated to the United States in the 1980s, when Saddam Hussein-led Iraq was terrorizing their country.
Alan's father works in a grocery store. Her mother has no formal education or job and speaks no English. Still, they saw the value of higher education and made it clear to Alan and her siblings that going to college was non-negotiable.
The message was, "We didn't uproot our family and start over here in the United States for our children not to succeed," Alan recalled.
She said her mother always told her, "I'm blind in this world because I was never educated. Education can be your eyes to the world."
Despite the expectation to excel in school, Alan didn't have a family member who could model how to get into college. For her, that made joining Rise Together all the more appealing.
"From everything that I have experienced in Rise Together, I feel like I can relate to them more," she said of the AVID students. "I feel like I can really help people, and I already know what they've gone through."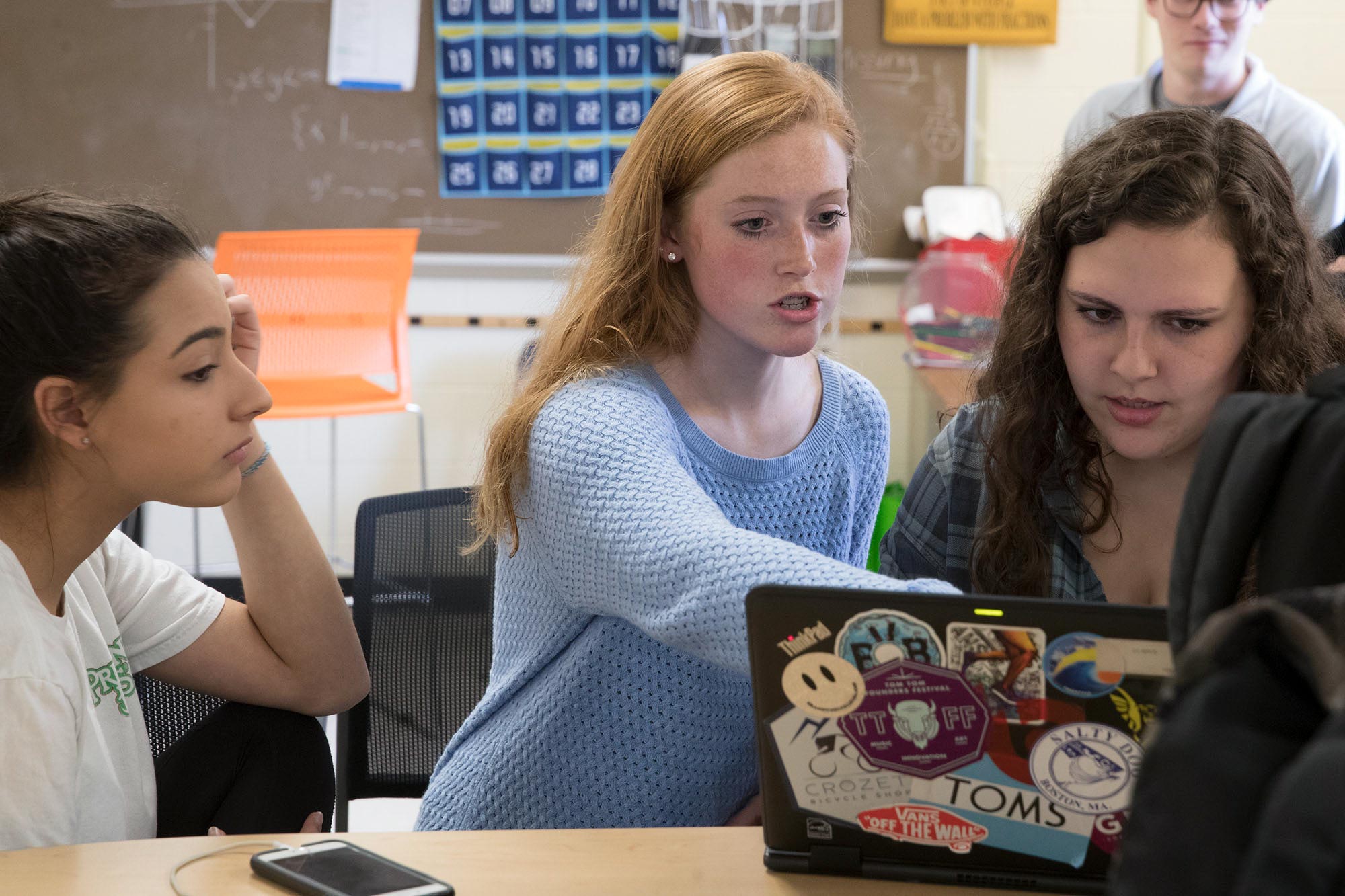 Gina Christ said some of the first-generation UVA students must straddle two worlds, a feat that also inspires the AVID kids. "They aspire to be UVA students and they work their tails off to be UVA students. But when they go home, they often don't fit in anymore. They are stepping outside their cultural zone in order to do something that is very important to them."
As a result, some don't always feel comfortable sharing that with their classmates at the University or with their community back home.
Rise Together, she said, gives them an outlet and provides an opportunity for the first-generation UVA undergrads to sit down with the AVID students and say, "Listen, I know what it feels like. I've been there. I'm still there in the middle of it, but it's worth it.
"To see the UVA students' personal growth and the teamwork that they have and then to be able to share their heart with the AVID kids is just amazing," she said.
'College students are getting good experience working with youth'
The Rise Together UVA facilitators who work at Western Albemarle visit the AVID site about twice a month. Every other week, they gather in a classroom at the Curry School of Education to prepare for mentoring sessions.
About 60 UVA students participated in Rise Together in 2017-18. Several take "Foundations of Community Engagement," a course taught by assistant professor Melissa Levy, whose curriculum is woven into Rise Together's work at all the AVID sites.
"Professor Levy shares with us what she is doing in class and then we make sure that our training sessions address that," Gina Christ said. "We try and hit as many points as we possibly can to make those lessons come to life for the Curry students."
For example, if Levy is teaching her students about class diversity and the needs that presents, then Rise Together will highlight that in its training sessions.
Levy said Bryan and Gina Christ are "incredibly dedicated" and their work has contributed significantly to the University. "College students are getting some good experience in working with youth and also getting a chance to have some say in program development or how their meetings go with the youth, so they're getting some really great practical experience," she said. "It also continues to positively foster a connection between UVA and the community. In my opinion that's always something that's good for UVA."
'UVA students back them and give them confidence'
For the first half of the 2017-18 school year, the 10th-, 11th- and 12th-grade Western Albemarle students received intensive tutoring and training from the Rise Together UVA facilitators.
In February, the 30 AVID pupils went from mentees to doers, with a full day of community service. It started in the morning with mentoring sessions at Crozet Elementary School. The crew then traveled to Charlottesville; half went to the Ronald McDonald House to clean and cook the evening meal for the residents, while the rest went to Crescent Halls, an affordable housing high-rise, to help build a community garden and learn about the lack of access to healthy foods in low-income communities.
"One of the things we like to do is have them plan a community service project to help get them prepared for college and to help build their résumé," Bryan said. "Planning community service projects incorporates a lot of the skills you need for college."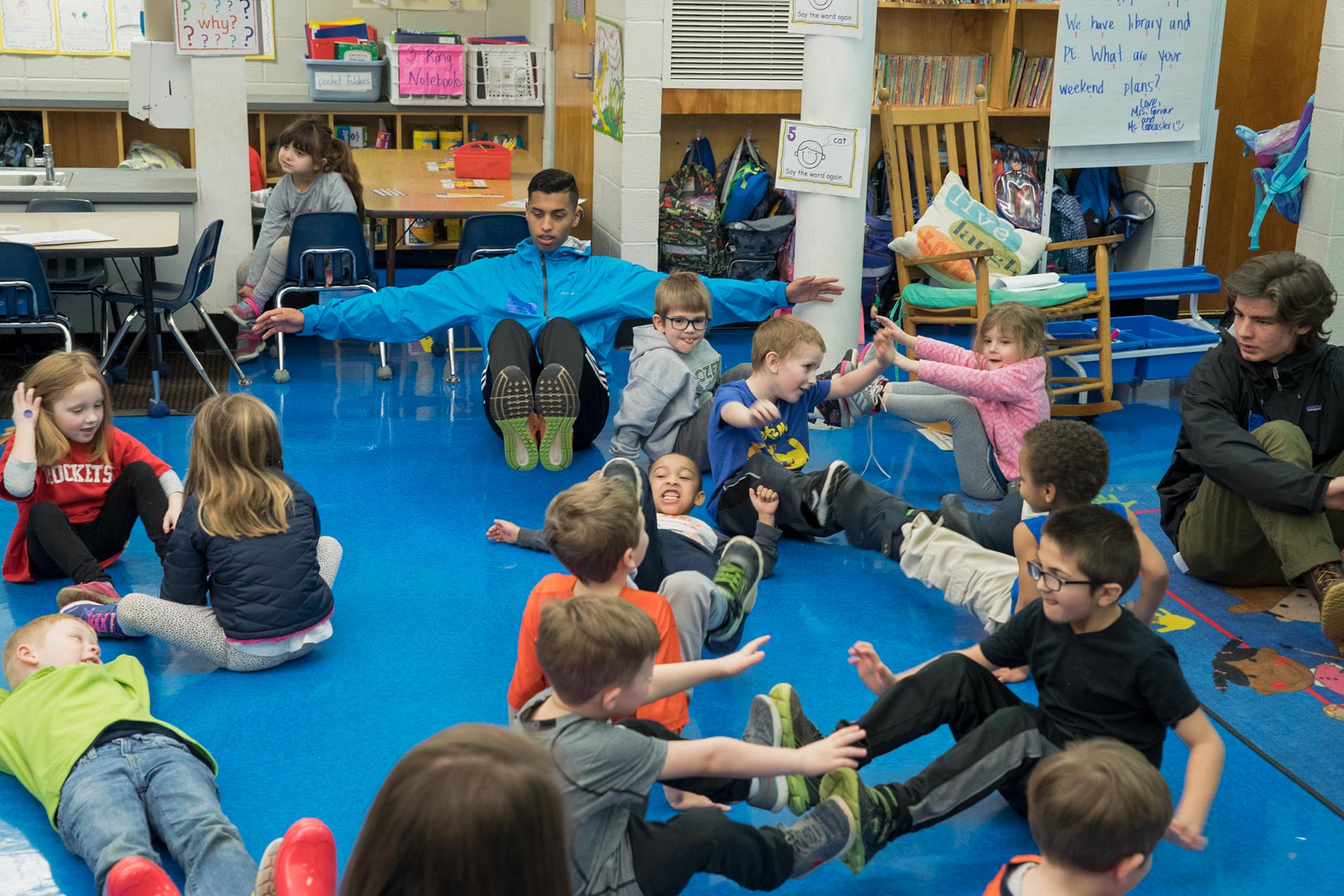 Gahring, the teacher at Western Albemarle, said nurturing those organizational skills is crucial. In planning the day of service, his students must decide which group to help, determine the group's needs and think about why they are doing the work.
"That's where Rise Together enhances our student inquiry and thinking," he said.
"We strive to go beyond purely serving the community," Gina Christ said. "The UVA students help the AVID students role-play, talk to administrators and develop the skill sets needed to plan and implement effective programming."
For AVID students, it might be the first time they've scheduled an appointment with an administrator, "so the UVA students just back them and give them confidence," she said. The high school students must follow through to make it all happen, and the actual service function becomes an added benefit to the learning process.
'They became our big brothers and sisters'
When Gahring thinks about his AVID students, Shadell Mills-Heartwell, the child of a single mother, comes to his mind.
"She's an amazing girl," he said.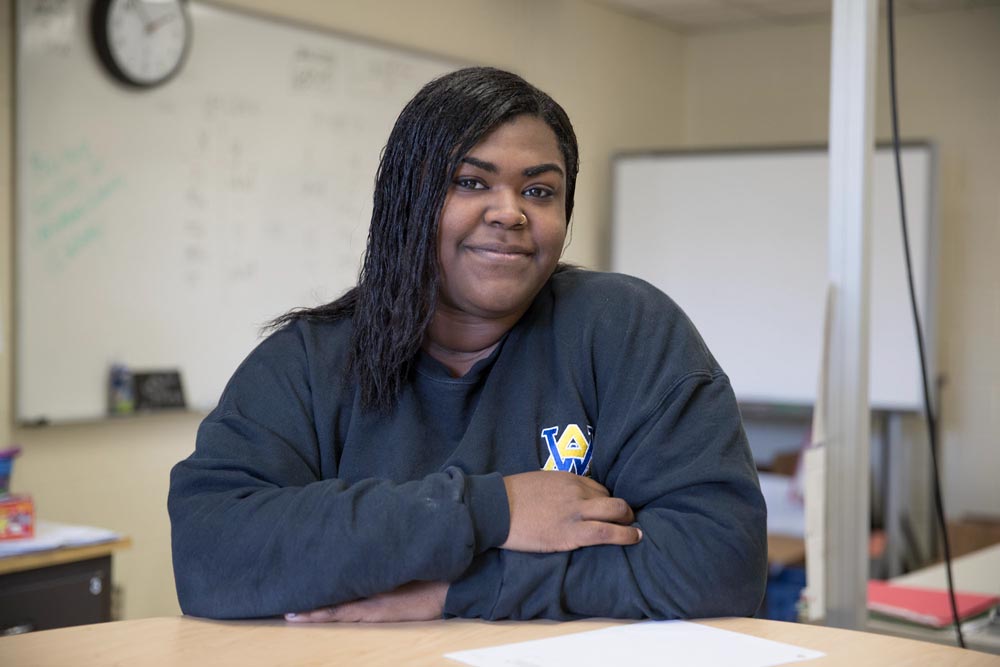 Mills-Heartwell has been in several of Mr. G.'s classes and he marvels at her growth from freshman to senior year. "Her organizational skills have improved 100 percent. Her communication skills have become 100 percent better. Talking to adults, which is a tough skill, or your teachers, has also improved greatly."
Mills-Heartwell has worked with the students in Rise Together since the program launched last year.
She said she loves Rise Together. "We are seniors, but they are in college at UVA and they tell us about college and explain stuff that we didn't know," she said.
And then, in a surprising synchronicity, Mills-Heartwell mentions Big Brothers/Big Sisters, the defunded mentoring program in North Carolina that sparked Bryan Christ's mentor outreach when he was about her age.
The stated mission of Big Brothers/Big Sisters is to "provide children facing adversity with strong and enduring, professionally supported one-to-one relationships that change their lives for the better, forever."
Without her ever knowing about this connection, the words spilled out of her mouth. "It's kind of like they became our big brothers and sisters. We are all close now. We all laugh all the time with them," she said. "It's way more comfortable working with someone you are familiar with and you see often."
This year, former Western Albemarle AVID students are studying at colleges in Virginia and beyond – at Longwood University, Virginia Commonwealth University, Bridgewater College and the University of Iowa.
Mills-Heartwell wants to be a nurse. She is filling her pre-requirements at Piedmont Virginia Community College and hopes to transfer to Virginia Commonwealth University.
So far, none of the AVID students have applied to UVA, but Gina Christ has faith.
"It's gonna happen," she said, determination in her eyes.
Article Information
August 17, 2018
/content/first-generation-uva-and-local-students-are-rising-together