A University of Virginia biomedical engineering student is trying to tackle the world's No. 1 cause of death on a genetic level.
Rita Anane-Wae, from Ghana by way of Glendale, Arizona, and a third-year biomedical engineering student, is using a 2019 Harrison Undergraduate Research grant to seek a genetic solution to atherosclerosis, or the build-up of plaque in one's arteries, which impedes blood flow.
 "There are cells that will try to fix this problem by covering them and basically pushing the plaque down to allow blood flow," she said. "These cells will try to reduce that plaque so that there is correct blood flow. In very serious cases, the plaque can harden and break off. Once it breaks, it can get lodged somewhere and cause a stroke or a heart attack."
Created through a gift from the late David A. Harrison III and his family, the Harrison Undergraduate Research Awards fund outstanding undergraduate research projects. Selected by a faculty review committee, awardees receive as much as $4,000 apiece to pursue their research interests, under the direction of a faculty mentor.
Anane-Wae started working in a laboratory run by Mete Civelek, an assistant professor of biomedical engineering, as a second-year student.
Civelek had already altered her life. Anane-Wae came to UVA to be a chemical engineer. She met Civelek when she signed up as a first-year student for a program that offered faculty mentoring.
"At the time I was a chemical engineering major with an interest in biomedical engineering," Anane-Wae said. "After talking with him, he was able to assuage my fears about biomedical engineering.
"Biomedical engineering is a relatively new field and as such, I did not believe there were many jobs out there, and my parents were worried for the same reason," she said. "Mete has a chemical engineering undergrad degree and a master's and Ph.D. in biomedical engineering, so he was the perfect person for me to talk to. He explained the two fields in a unique way, unlike what I had read and seen on YouTube.
"Honestly, I love biomedical engineering. When I switched into biomedical engineering, literally in my first class, I though 'Oh, my God, this is home.' I am learning about anatomy, physiology, genes and cells, and it is still all really exciting for me."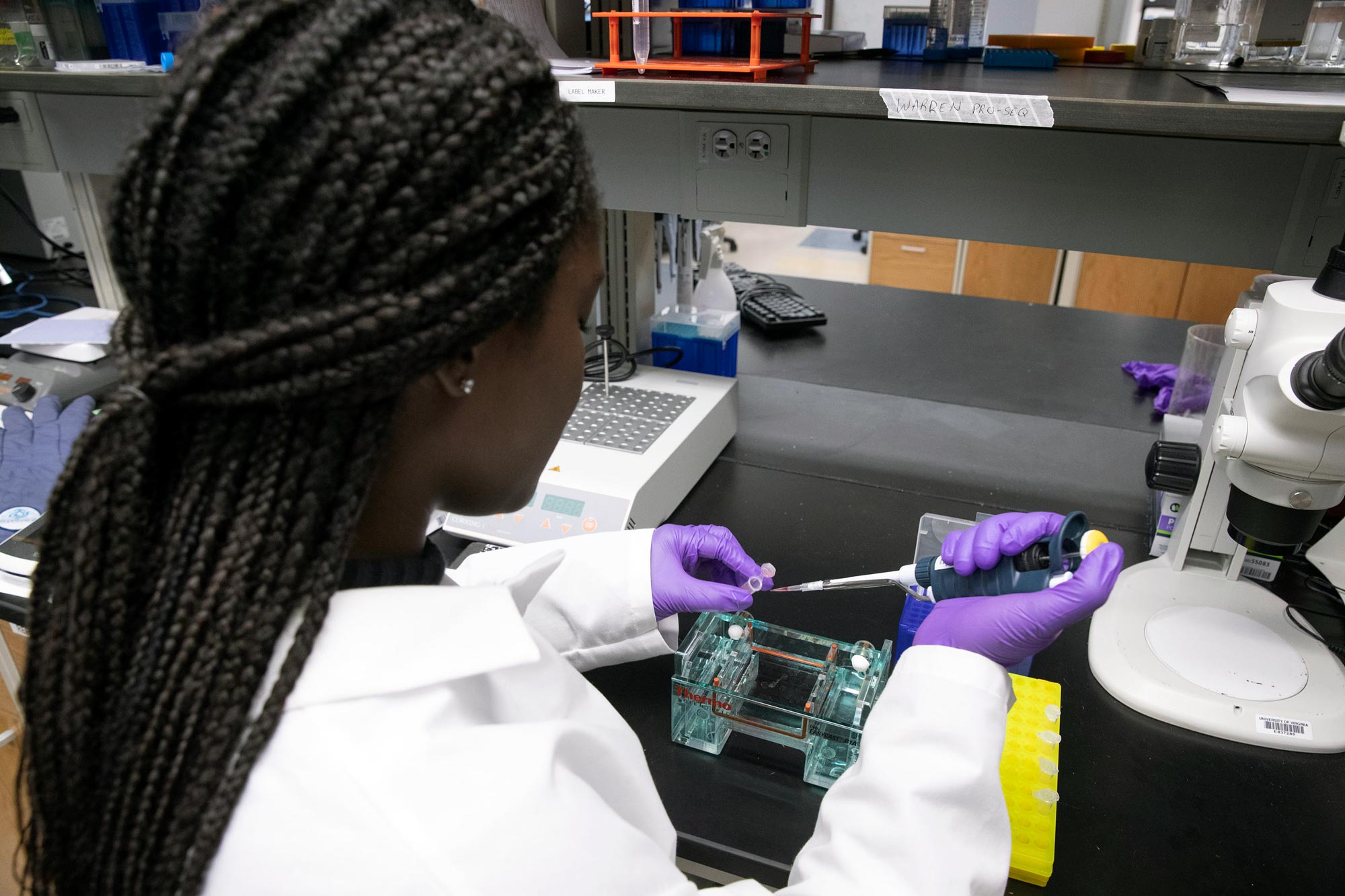 In her lab work, Anane-Wae studies a specific gene that is associated with coronary artery disease.
Civelek also suggested Anane-Wae participate in the research trip to Uganda through the UVA Minority Health & Health Disparities International Research Training program to perform research on congestive heart failure. While in Uganda, Anane-Wae made rounds with a doctor at a local hospital and met a 17-year-old girl suffering from congestive heart failure.
"Her legs were all swollen," Anane-Wae said. "She had edema and her stomach was filled with fluid. I was looking at her and thinking, 'This girl can't lay down because of all the swelling and she can't even be at rest.' And I was thinking, 'She is about my age and I am fortunate enough to be traveling the world and she is here stuck in this hospital bed.'"
Her encounter with the girl became part inspiration to her and part reminder that congestive heart failure is not just for older patients.
"I have a hard time accepting what I am capable of doing," Anane-Wae said. "Being here, being in Uganda, working in the lab, it has taught me that I am basically capable of making change. I know what I am supposed to be doing with my time and my future and I know that doing it makes me happy and will make other people better."
In her lab work, Anane-Wae studies a specific gene – melanoma inhibitor activity 3, or MIA3 – that affects smooth muscle cells.
"Smooth muscle cells are able to basically cover the plaque in that disease state," Anane-Wae said. "We are running experiments to see how us modulating MIA3 affects the disease."
She said she and members of the research team in the lab also performed experiments knocking out the MIA3 gene from the cells, which led to a more serious disease state.
"I think experiments like these are really important because we are not yet at the stage where we can do gene therapy on a person," Anane-Wae said. "If you knock out specific genes, it will affect things that we don't understand yet."
Anane-Wae is working on a small section of a large field, but she thinks there is promise in the work she is doing.
"The genome-wide association studies show that 161 different genes so far have been associated with coronary artery disease," she said. "And we are studying just one. There is so much further that we have to go.
"The path is really long, but we are trying to understand the mechanism by which one gene affects the disease and if we actually figure out that mechanism, we can try to apply it to the other genes and maybe understand the bigger picture."
Research can lead her down many blind alleys, which she understands. Anane-Wae is also very conscious of the law of unintended consequences, and how something that solves one problem can create other problems in the process.
"We can say that about everything," she said. "I think that is the way with all new development. You fix problems and new ones will arise, and then you fix those, too. So we can only do so much. But I think what I have learned is that I have found something about which I am passionate. I have found something that I enjoy and here at UVA, I have found a community of people who will help me develop my skills."
Included in that community, Anane-Wae cited Civelek and Redouane Aherrahrou, an American Heart Association Postdoctoral Fellow with whom she works.
Aherrahrou has known Anane-Wae since she joined the lab in 2018. "When she first joined our lab, Rita knew only the fundamental lab skills and methods," he said. "After a short amount of training, she learned rapidly and became very familiar with the cell culture techniques and appropriate lab handling. She performed the experiments independently. Her interactions with other lab members are both professional and friendly."
He described Anane-Wae as a diligent researcher, a gifted student, an inspiring person, and enjoyable to be around.
"She has a great personality, is open to guidance and responds well to criticism," he said. "She wants to apply to Ph.D. programs after she graduates, and I predict a great future in her career as a research scientist."
Civelek said he enjoys having Anane-Wae as part of his team.
"She is hard-working, curious and eager to make a scientific impact," he said. "I can see the joy in her face when she learns something new. She gets along well with everyone in the lab and is a role model to those who are junior to her. She has a bright future and I am very proud of her accomplishments."
Civelek said Anane-Wae was recently awarded a German Academic Exchange Research Internship in Science and Engineering, which is presented to only 300 students from the U.S. and Canada.
"Redouane and Mete both have high standards for me and motivate me to do my very best," Anane-Wae said. "They have instilled a confidence in me that I did not have prior to joining the lab, and they continuously push me to achieve great things. I am so fortunate to have these two individuals as mentors, in addition to all of the other members in the laboratory."
A Blue Ridge Scholarship recipient, Anane-Wae is member of the National Society of Black Engineers and the Society of Women Engineers. She also has received a Hugh Bache Scholarship.
Anane-Wae said she is looking at doing big things, such as gene therapy, but realizes that she has to take small steps at first, and that her friends in the lab will help her out when things go wrong.
She has also learned that research is a team effort, not a solo pursuit.
"You can't do research by yourself," she said. "You won't be able to get anything done.  You will have to depend on other people and you have to be able to share what you have learned. You won't get anything done in any amount of time if you don't trust other people and work together."
Article Information
March 3, 2020
/content/first-year-lab-experience-gave-student-confidence-aim-phd