In the midst of a final audition for a part he desperately wants, Paul San Marco – a central character in the Broadway classic "A Chorus Line" – twists his knee.
In an eerie twist, actor Julian Sanchez wrenched his ankle midway through his audition to play Paul in this summer's Heritage Theatre Festival – and just six days out from his final audition for Yale University's Master of Fine Arts in Acting.
"It was a bit of method acting," he joked. "Really immersing myself in the character."
Undaunted, the 2018 University of Virginia graduate came back the next day on crutches to perform Paul's seven-minute monologue. And, he got the part.
"We were so moved by how grounded and real he was," said Jenny Wales, a UVA drama professor and the artistic director of the Heritage Theatre Festival, which runs through Aug. 5 on Grounds this summer.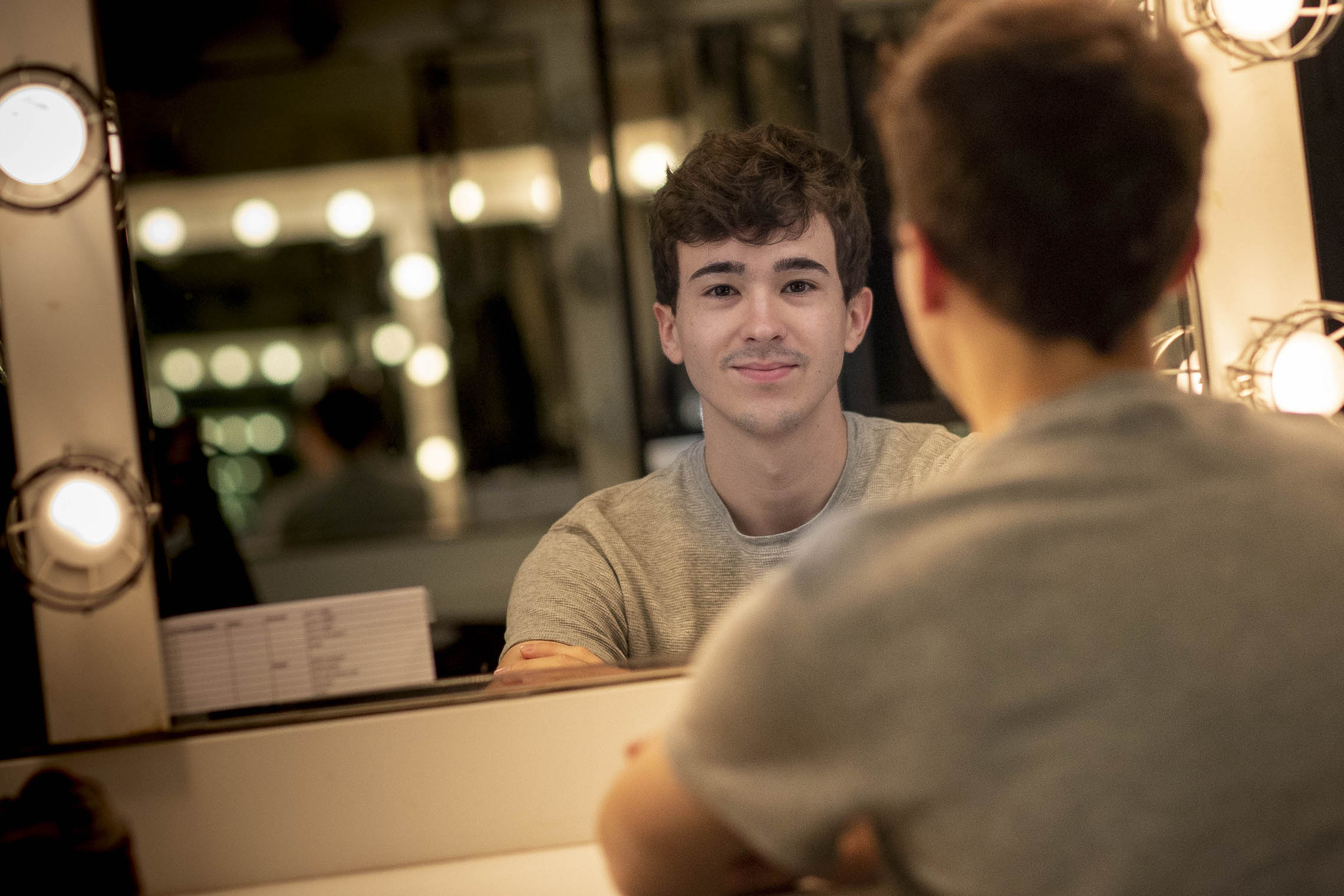 Sanchez graduated from UVA in May with a degree in English Literature and plenty of acting experience. (Photo by Sanjay Suchak, University Communications)
"Julian has incredible access to his emotions; something that is really singular about his work. He never stops working, he's always looking for clarity and refinement, and he's just a lovely person to have in the room."
Just a few days after getting cast as Paul, Sanchez also got into Yale's prestigious MFA program, a dream he has cherished since high school. He bumped into Meryl Streep as he was leaving his final audition – her daughter attends the same program and Streep herself is an alumna.
"It was an absolutely unreal moment," Sanchez said of meeting Streep. He found out he got in a week later, getting the happy email while working in the basement of the Drama Building.
"It felt very full circle, being in the Drama Building when I found out," said Sanchez, who majored in English but took numerous drama classes and starred in many of the department's plays. "I was lucky to have so many drama professors here who coached me through my audition material."
Before Sanchez heads off to Yale, however, he gets to enjoy a final turn on the UVA stages that have helped him launch his career. We caught up with him last week to learn more about what it takes to put on a high-octane show like "A Chorus Line," which will play through Sunday at Culbreth Theatre. (Find the full Heritage Theatre Festival schedule and ticket information here.)
Three Weeks to Make a Hit
While some actors have months to rehearse a part, the professional and student actors in the Heritage Theatre Festival have just a few weeks.
The festival, which is hosted by the UVA Drama Department each summer, brings professional actors and directors to Charlottesville to work alongside UVA students and faculty members. This year, there are about 15 UVA students participating.
For the festival's 44th year – and her first at the helm – Wales focused on American playwrights telling stories that reflect different aspects of American history. Along with "A Chorus Line" – one of Broadway's longest-running musicals – she chose "Harvey," which won a Pulitzer Prize for Drama in 1945; a slapstick comedic musical called "The Cocoanuts;" and a drama, "The Mountaintop," set on the eve of the Rev. Dr. Martin Luther King Jr.'s assassination.
She called "A Chorus Line," which debuted in 1975 and won nine Tony awards and a Pulitzer, "the quintessential American musical."
"Not only does it have incredible singing and dancing, it has scenes directly addressing American issues and struggles of racism, homophobia and misogyny," Wales said. "It's both incredibly entertaining and incredibly challenging and it felt very relevant right now."                       
Sanchez and the rest of the cast and crew had about three weeks to bring the musical to life and poured a ton of energy and time into the rehearsals.
"The energy is just incredible," said Wales, who graduated from UVA with a drama degree in 1998. "You walk around the building and see people building scenes, hanging costumes, rehearsing – it's thrilling."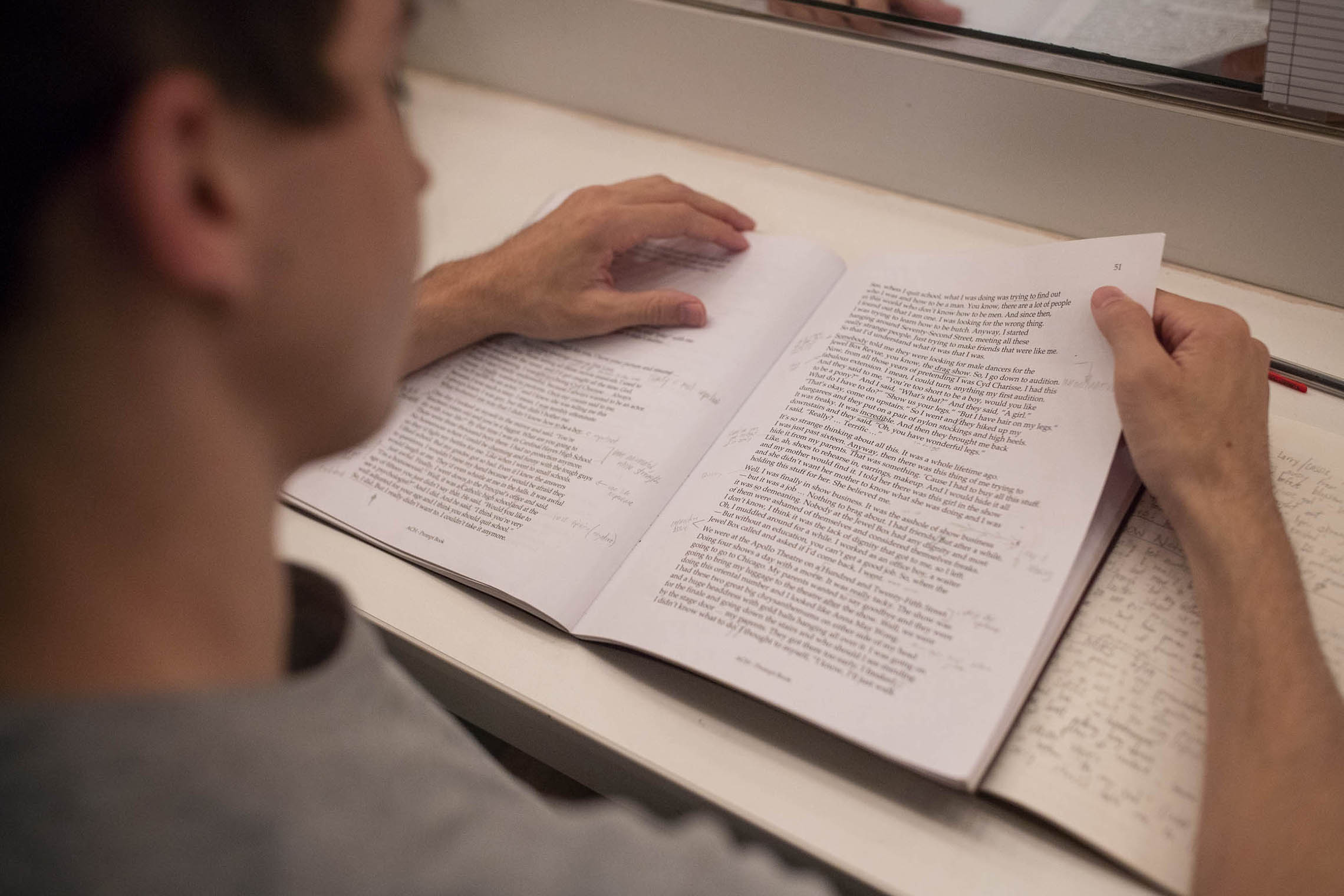 In addition to memorizing his lines, including a seven-minute monologue, Sanchez – who had never taken a dance class before – had to prepare for the synchronized dance scenes. (Photo by Sanjay Suchak, University Communications)
Rehearsals started early in the afternoon and continued until 9 or 10 p.m. Each day, the actors warmed up as a group with director and choreographer Matthew Steffens – a fellow UVA alumnus who Wales met during her first year at UVA and has worked with several times since.
Sanchez felt confident in his acting ability. He has been acting since he was a child – the first role he remembers playing was a slice of Swiss cheese in his pre-school's production of "The Very Hungry Caterpillar."
"Acting has been a part of my life ever since," he said, laughing. Then, more seriously. "It was just for fun at first, but I have really come to love the depth of connecting with characters, and how theater creates this beautiful time of self-reflection."
Dancing, though, was another matter.
Most of his castmates in "A Chorus Line" are musical theater professionals or had earned degrees in dance. Sanchez – who earned his degree in May in English literature and had no formal dance training – felt out of place.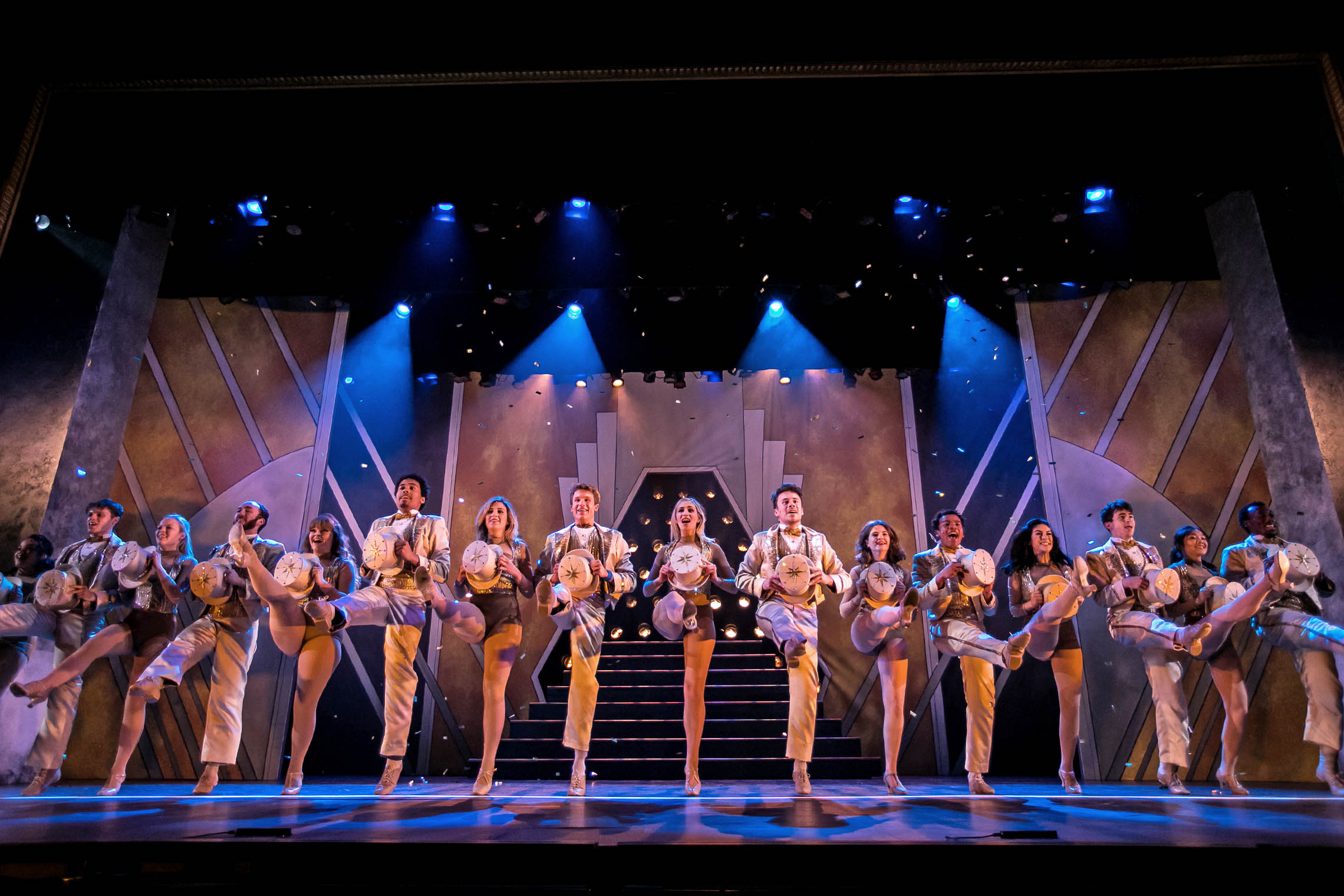 Sanchez, third from right, said joining a cast of mostly musical theater professionals was daunting with little dance experience. Several intensive weeks of rehearsal, however, brought him up to speed. (Photo by Jack Looney)
"I had never taken a dance class in my life," he said. "I had done a few minor dancing parts, but nothing as extensive, or with as much synchronized dance as this."
He started hanging around after rehearsals to work with assistant choreographer Cassidy Halpin, running through the dance sequences over and over again.
All the while, he still had to learn Paul's seven-minute monologue, which comes at a crucial moment in the show and offers powerfully reflective break from the dance sequences. In it, the character talks about coming to terms with his homosexuality and breaks down as he describes his parents' ultimate acceptance of his lifestyle.
"Julian has to take the play from 18 people singing and dancing through one monologue that lasts for seven minutes," Wales said. "He has to own that and feel confident enough to allow himself to share a very personal, emotional story with the audience."
Sanchez admitted he was nervous about the monologue, which he called "iconic" among Broadway actors and fans. Steffens, the director, told him to focus on his personal connection to the speech and spend time thinking about why he found it so inspiring.
"For me, Paul is such a great example of self-acceptance and the strength that comes from self-acceptance," Sanchez said. "The way he talks about his family, I think, is particularly impactful for the audience because it is a great example of this universal connection that we all feel. It's really special."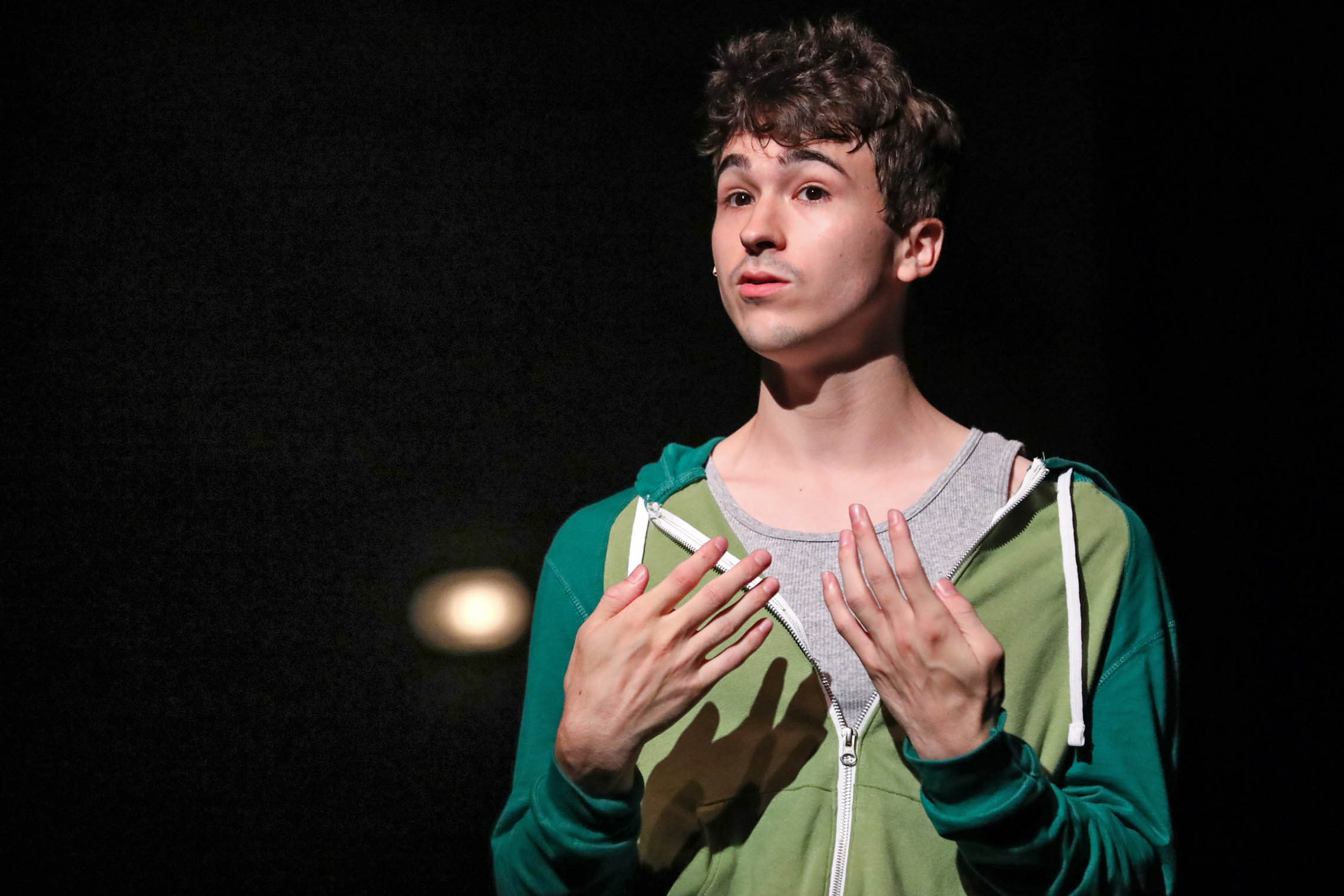 Sanchez's monologue provides one of the most emotional moments of the show, as his character reflects on his family's acceptance of his sexuality. (Photo by Ken Huth, Huth Photography)
About halfway through the show's two-week performance stretch, Wales said Sanchez has nailed it every time and just keeps getting better.
"He is not the type of person who decides he has figured something out and then stops working on it," she said. "He never stops working or growing, and I see something new every night I watch him. That has been really thrilling to watch."
For his part, Sanchez is thrilled with how the production is going. There is one scene in particular that he loves to watch from off-stage after his character, Paul, has left with an injured knee.
"Right at the end, the audience learned who has been cast in the show and who hasn't, and it's a heartbreaking scene," he said. "Each time, you can hear the audience gasp. I love watching that from backstage – it's such a great moment in the show."
A Brand-New Stage
Though he has played a lot of roles, Sanchez called Paul one of the toughest he has taken on so far.
"Really, this has been one of the greatest challenges of my undergraduate career," he said, because of both the strenuous dance sequences and the long, emotional monologue. "I have learned so much in the last three weeks."
This year, he got to work closely with Broadway actress Nikka Graff Lanzarone, who plays the female lead, Cassie. Lanzarone is on the board of the Actor's Equity Foundation and also hosts a podcast, "The Ensemblist," breaking down different Broadway shows.
"Nikka is such a great asset to the show. She is unreasonably talented, and such a wealth of information," Sanchez said. "To me, that is the most valuable thing about Heritage – UVA students get to work side-by-side with these very talented professional actors as peers."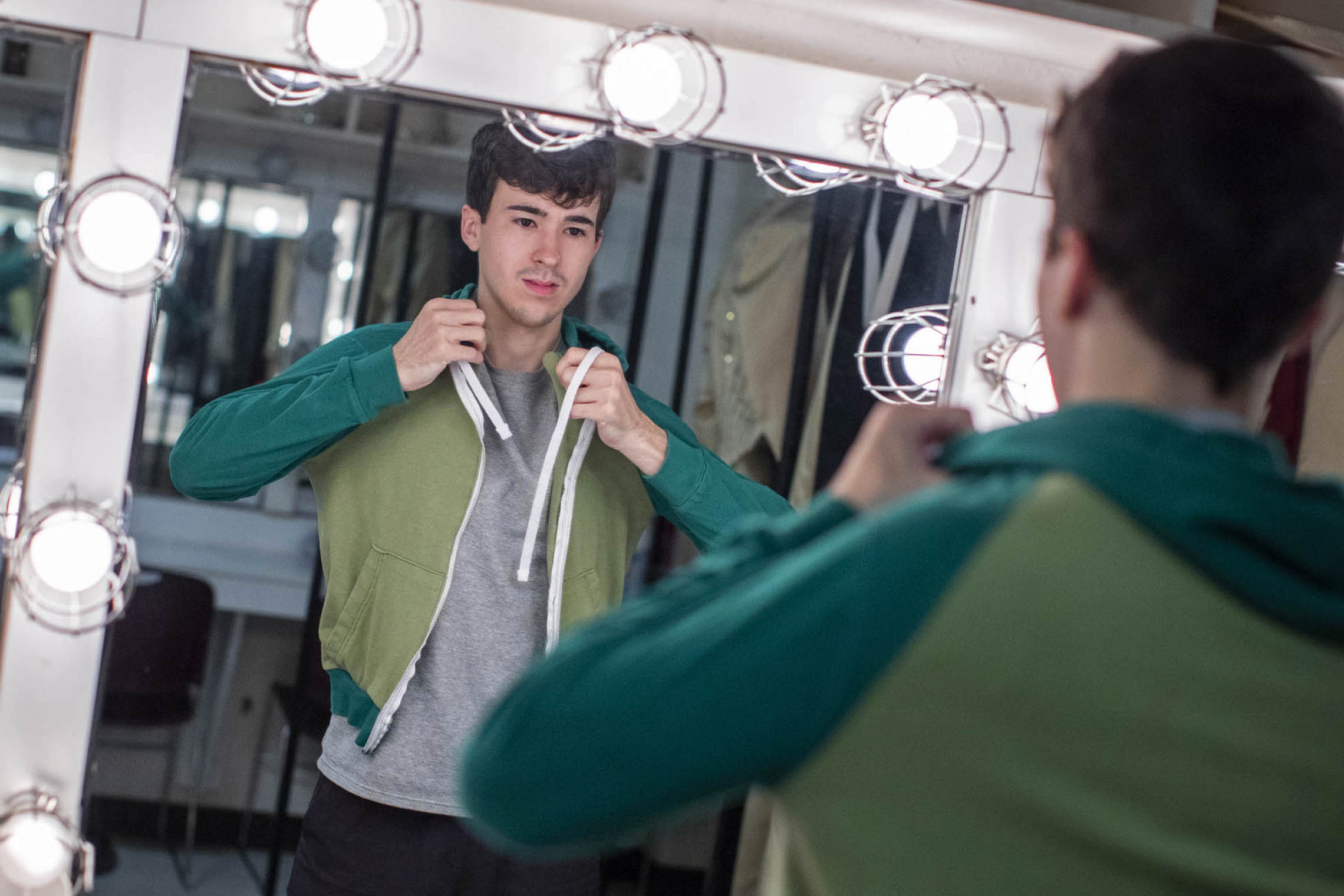 Having conquered the UVA stages, Sanchez is excited for his next step at Yale – and whatever might come after that. (Photo by Sanjay Suchak, University Communications)
He counts the Heritage experience as among the greatest gifts UVA has given him as he moves on to the next stage of his career at Yale. Also on the list is his English degree.
"I always knew I wanted to pursue acting on the graduate level after graduation, so I decided to get a broad liberal arts education as an undergraduate," he said. "The English degree allowed me to immerse myself in stories for four years – I especially loved the Renaissance era and obviously took every Shakespeare class I could."
At Yale, he wants to continue to build his stage acting skills while also exploring film.
"I would love to work professionally in any medium, but I believe stage will always be my first love. There is nothing like the physical connection between actors on the stage and patrons in the audience," Sanchez said. "But whatever the medium, I know I want to always be doing politically challenging work, work that speaks to our time now, that stirs people, challenges people and makes them feel less alone."
Whatever work he chooses, Wales is confident in her pupil's ability to step up on any stage.
"It's thrilling for those of us who have worked with him to anticipate what lies in store," she said.
Media Contact
Article Information
June 28, 2018
/content/follow-along-2018-grad-julian-sanchez-takes-uva-stage-one-last-time