How do university-bound students in Ivory Coast view higher education in the United States?
For some, their first impression comes from the Grounds at the University of Virginia.
For the last few years, Nina Toyo, an EducationUSA adviser at the U.S. embassy in Abidjan, Ivory Coast, has been showing students there a short film on college student life. The film's director is Carly Taylor, a fifth-year student in the accelerated Master of Public Policy program in UVA's Frank Batten School for Leadership and Public Policy. Taylor made the film as a second-year student, when she was a member of the State Department's Virtual Student Foreign Service, a program that offers U.S college students a huge range of government "e-internships."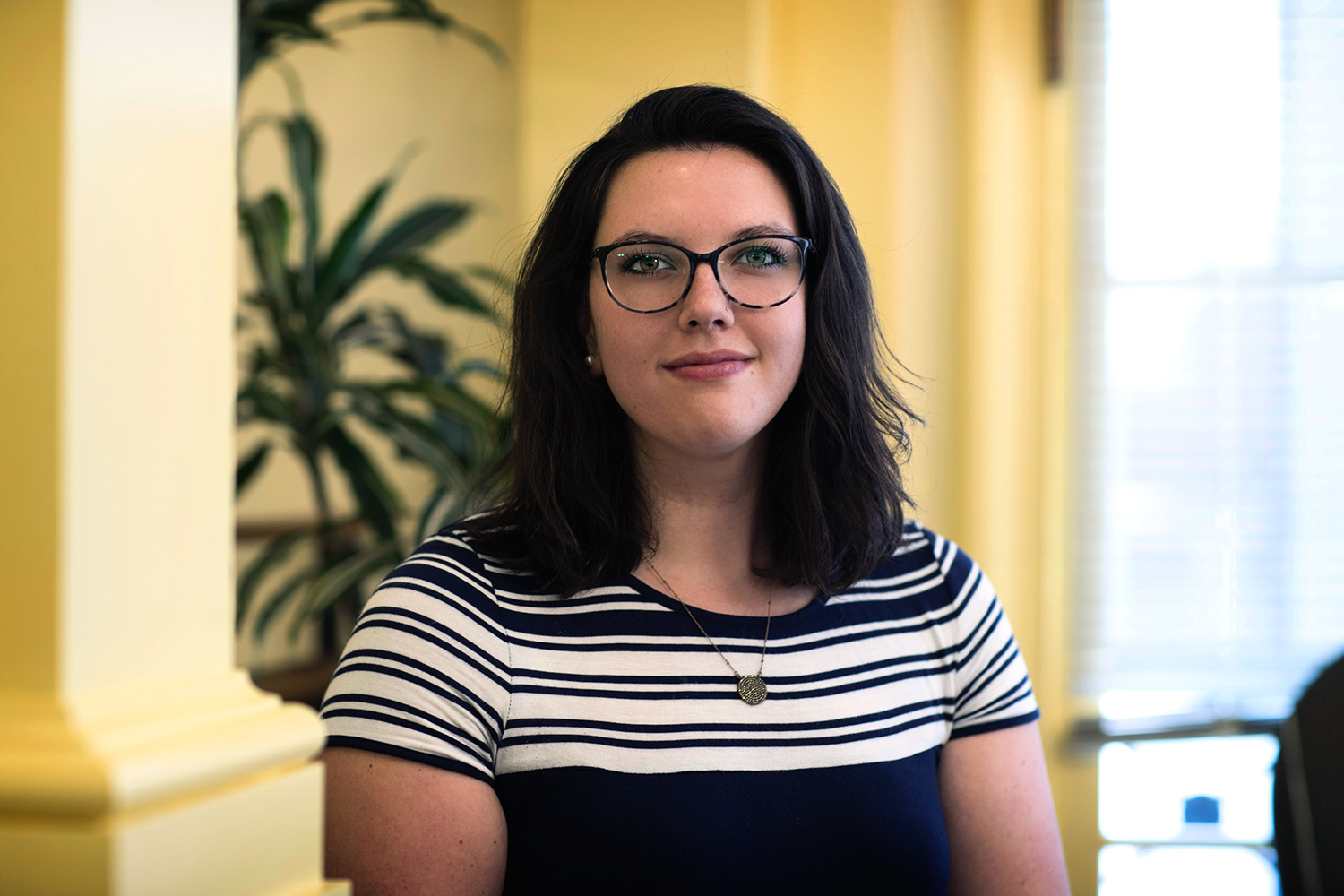 Carly Taylor, a fifth-year student in the accelerated Master of Public Policy program in the Frank Batten School for Leadership and Public Policy (Photos by Dan Addison, University Communications)
This summer, in its first-ever ranking, the Virtual Student Foreign Service placed UVA fourth among medium-to-large schools sending applicants to the program, behind three Washington-area universities – American, George Washington and George Mason. Fifteen UVA students are participating this year.
For Taylor, the virtual, unpaid internship made it easy for her to keep up with her studies while growing her résumé.
When she arrived on Grounds as a first-year student, Taylor had two dream jobs in mind: either a United Nations translator or a Foreign Service officer.
"I love French and I was studying Arabic," she said one recent afternoon in Alderman Café. Her interests drew her to the Virtual Student Foreign Service, and soon she was creating a film about American student culture – in French. "The idea was to show that 'Hey, if you want to go to the U.S. for school, this is what it might be like," Taylor said.
The Vienna native said she was excited to be working on the project because she'd lived in UVA's French House for two years and knew a lot of people who spoke the language.
Taylor's supervisor said she did a great job presenting UVA from a personal point of view. "She found students from many backgrounds and gave each a chance to tell their stories. This really helped our students understand how and why Americans make their choice of university and how they pursue their studies," Toyo wrote from Ivory Coast. "She even found an Ivoirian student who spoke about Abidjan. Her film remains a resource that I will use time and again to expose Ivoirian students to American college life. I am most grateful."
Anna Cho, a fourth-year foreign affairs and media studies double major, worked with the Bureau of Democracy, Human Rights, and Labor in the Office of Policy Planning and Public Diplomacy last year.
"One of the biggest campaigns I worked on was the 'Employment #withoutlimits' campaign for National Disability Employment Awareness Month," she said. "The total reach was more than 1 million people."
The campaign was expanded into a series featuring Paralympians that rolled out this summer for the Olympics. Cho is now embarking on her second stint as a Virtual Student Foreign Service Officer with a rotation in the Bureau of Educational and Cultural Affairs, in its Office of Public Affairs and Strategic Communications.
Dreama Johnson, who manages public service and government community and global careers in UVA's Career Center, said the Virtual Student Foreign Service program is a great option for rising second- and third-year students who want to pursue internships with the State Department. Students apply to the program during the summer and average 10 hours a week during the school year.
Bridget Roddy directs the program for the federal government  and said it provides a unique opportunity for students to learn about foreign policy and how the State Department works. It's incredibly varied and this year alone features nearly 350 different internships in offices across the government.
"Many different students from many different majors can participate in the program," she said from the nation's capital. "I think it appeals to a diverse pool of students who may not be able to come to Washington."
Jonathan P. Collett, a public diplomacy strategist, supervised Cho and said the intern program is a win-win for students and the government alike. "The work that our virtual interns do is not only used by our bureau, but by officials throughout the U.S. government and our embassies and consulates around the world," he said.
Article Information
September 21, 2016
/content/foreign-service-virtually