Local middle and high school students received hands-on experience in radio production this month at WTJU's third annual Summer Radio Camp.
On the air since 1957, WTJU is the University of Virginia's student- and community-run radio station. From its Lambeth Commons studios, the station plays classical, folk, jazz and rock, and covers community events such as live music concerts, cultural events and educational programs. Its signal covers all of Charlottesville, and through its completely student-run online outlet, WXTJ, reaches all corners of the world.
The summer radio camp, now in its third year, is another example of WTJU's internal and external expansion.
"At their core, the summer radio camps are about students having fun, but also getting a taste for interviewing and audio production, exploring new music and presenting it through on-air media," station manager Nathan Moore said. "It's one of the ways we can connect WTJU to members of our community in deeper ways – and hopefully plant some seeds for future media makers."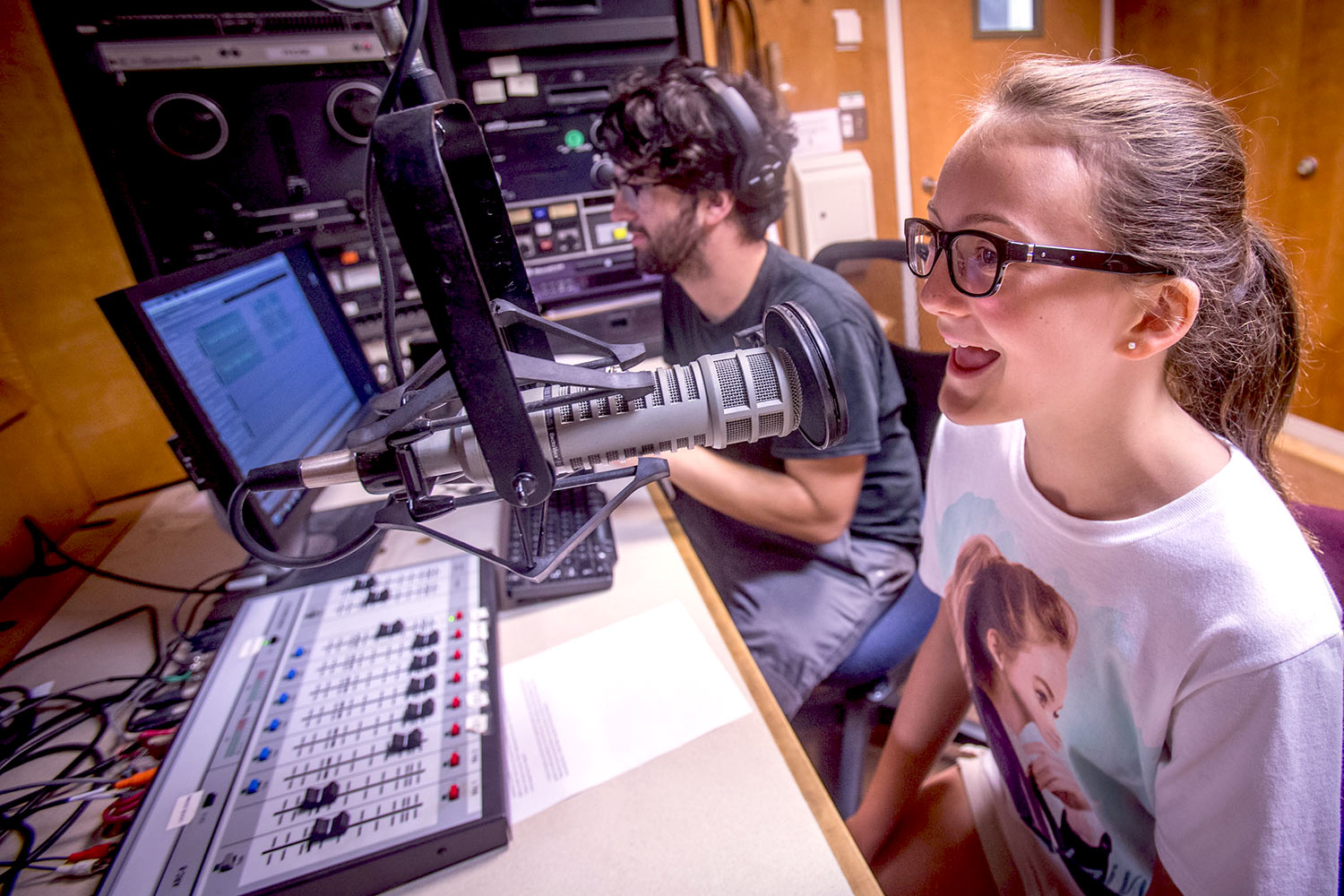 The camp gave students the opportunity to produce and record their own radio shows. (Photos by Sanjay Suchak)
The camp's two one-week sessions offer middle- and high-school students an opportunity to pursue a creative outlet and access to equipment they might not otherwise be able to use. Their goal: produce and record their own radio show, which aired on WXTJ on the last day of camp.
On the first day, each student picked a theme – a music show, an interview-based show, an audio soundscape or a combination of those. A student choosing to produce a music show, for instance, would then create a playlist, research music choices, finalize talking scripts, and then finally record. Using multiple takes, they learned microphone techniques and how to create an on-air presence, while also learning how to use audio-editing programs to create their finished product.
Kieran Garrod and Katharina Ravichandran, both rising seventh-graders, used their radio shows to pursue musical interests. The theme of Garrod's show was '90s techno rave and synthesized music, for which he was given access to WTJU's large collection of vinyl records.
Ravichandran picked "Top Ten Pump-Up Songs" for sporting events as the theme for her show, with song selections such as "Stronger" by Kanye West and "Thunderstruck" by AC/DC. "I really like sports and I make a lot of sports videos that have a lot of cool plays and I always have a lot of songs in the background," she said.
The camp also gives students a boost to pursue future endeavors, whether long-term or short. "I've always been interested in radio," Ravichandran said. "When I grow up, I want to be a talk show host."
The camp's goal is not to create polished radio professionals, said WTJU intern Michelle Kislyakov, who acted as a camp counselor. "The most important lesson the campers will take away from this camp is how to commit oneself to a project, thoroughly research it, plan it out – in our case, via scripts and notes – and how to discover new things along the way," she said.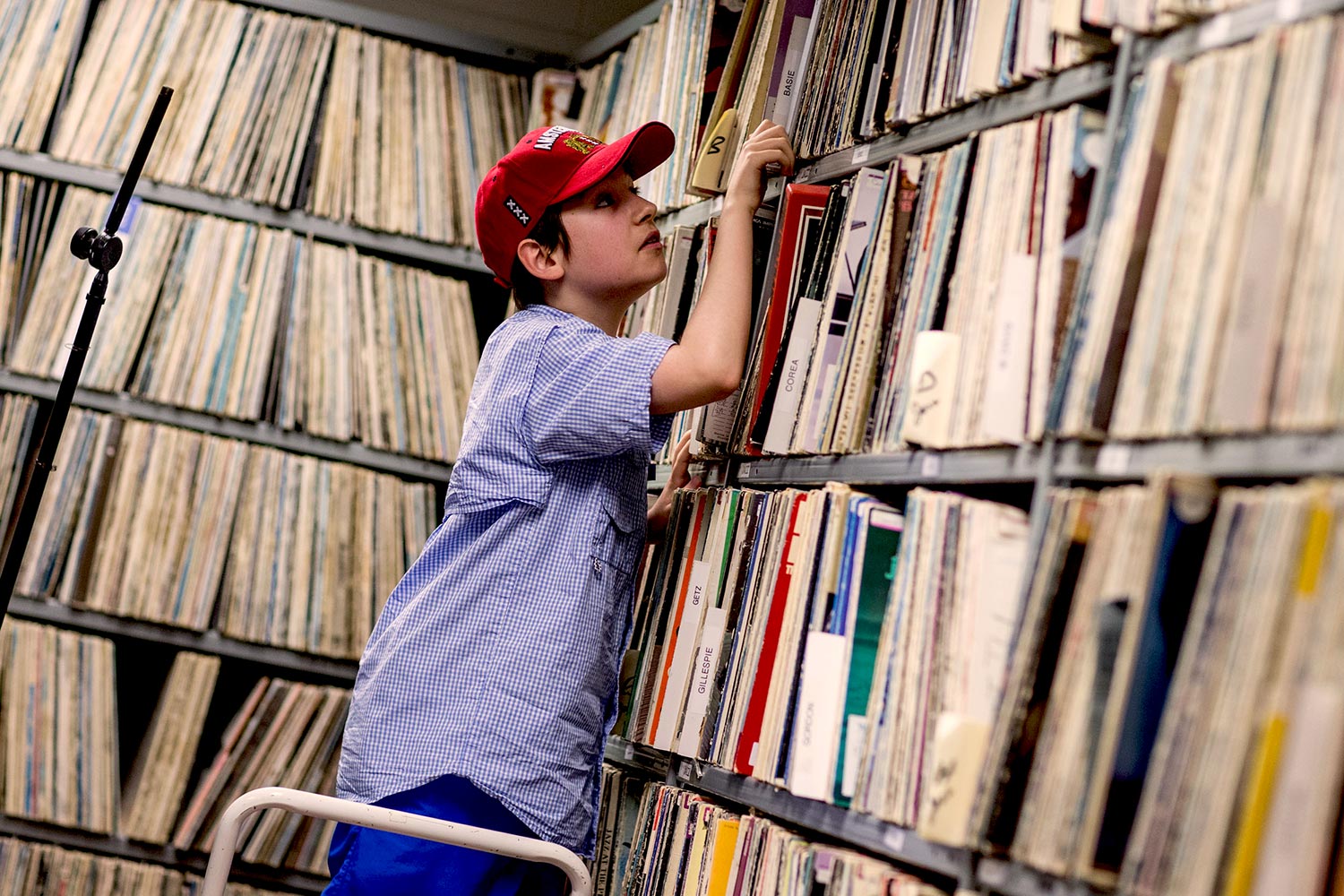 Camper Kieran Garrod searches for a record in WTJU's extensive library of vinyl records.
About 20 students total attended this year's sessions, allowing students to receive highly personalized instruction and work side-by-side with WTJU staff to create their productions. 
In addition to working in the studio, students and staff visited the Jefferson Theater, Sidetracks Record Store and the headquarters of local news outlet Charlottesville Tomorrow, where they heard a talk on broadcasting. They also had an informational session at a local recording studio, The Sound.
The camp also seeks to teach students about the value of radio in our culture. With the growing popularity of music streaming sites, radio can seem like an increasingly threatened medium.
"What we want the campers to take away is that there is still a lot that radio can offer," said WTJU summer intern and on-air host Will Mullany, who also acted as camp counselor. "Radio, as a genre, has a lot of possibilities, and the campers will definitely get exposed to at least some of these."
"One of our main goals is to make audio and radio more accessible for a younger generation," said Lewis Reining, a WTJU producer and content director, "[and] to give students the chance to try their hand at radio and audio and help them build up a core set of skills that will help them in whatever profession they choose later in life."
Article Information
July 19, 2016
/content/fresh-air-uvas-wtju-summer-radio-camp-offers-teens-sound-experience