"We just thought it would be a fun thing," said Keeley (then Meg Graham), who chaired the University Guide Service at the time. "I remember that only a half-an-hour or 40 minutes in, there were a lot more kids than we thought.
"We had to pool our money and send people running down the hill to the Corner to try to buy more bags of candy because we were definitely overwhelmed on a college student budget," she laughed.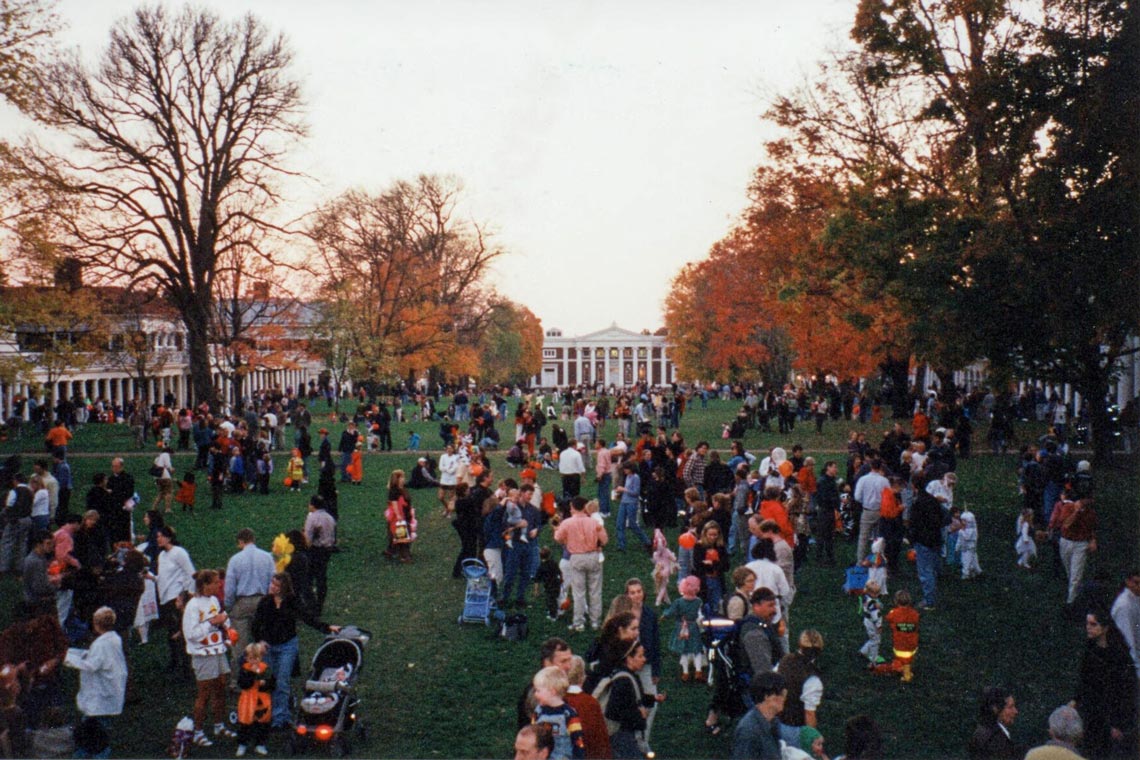 Keeley, now dean of student affairs in the School of Medicine, recalled how good she felt that afternoon. "They were all adorable, and for college students to get to interact with kids and their families … I remember thinking that this was one of the few times we had the opportunity to interact with the community and that that was a little bit novel, outside of going to sporting events."
Two years later, Tripp Evans, that year's chair of the University Guide Service, was also handing out candy to trick-or-treaters – coincidentally from the very same room Keeley had lived in. By then, the event was growing.
"I remember the amazing crowds of kids," he said. "There were 54 rooms for them to hit, plus 10 pavilions, so it was quite a haul for them and a great parade for us to watch. 
"I don't remember what I handed out, but I vaguely recall dressing up my bust of Jefferson as a pirate," he said.
"Not sure if this is still a thing, but back then at Halloween there was always a huge pumpkin on the Rotunda steps carved with a Gothic 'P' from the P.U.M.P.K.I.N. Society," one of the University's many secret societies, he added.
Indeed, that is still "a thing." Founded in 1969, the P.U.M.P.K.I.N. society delivers a pumpkin carved with a "P" to the steps of the Rotunda after midnight each Halloween. The group also delivers 13 pumpkins to students, faculty and administrators to recognize their service to the community.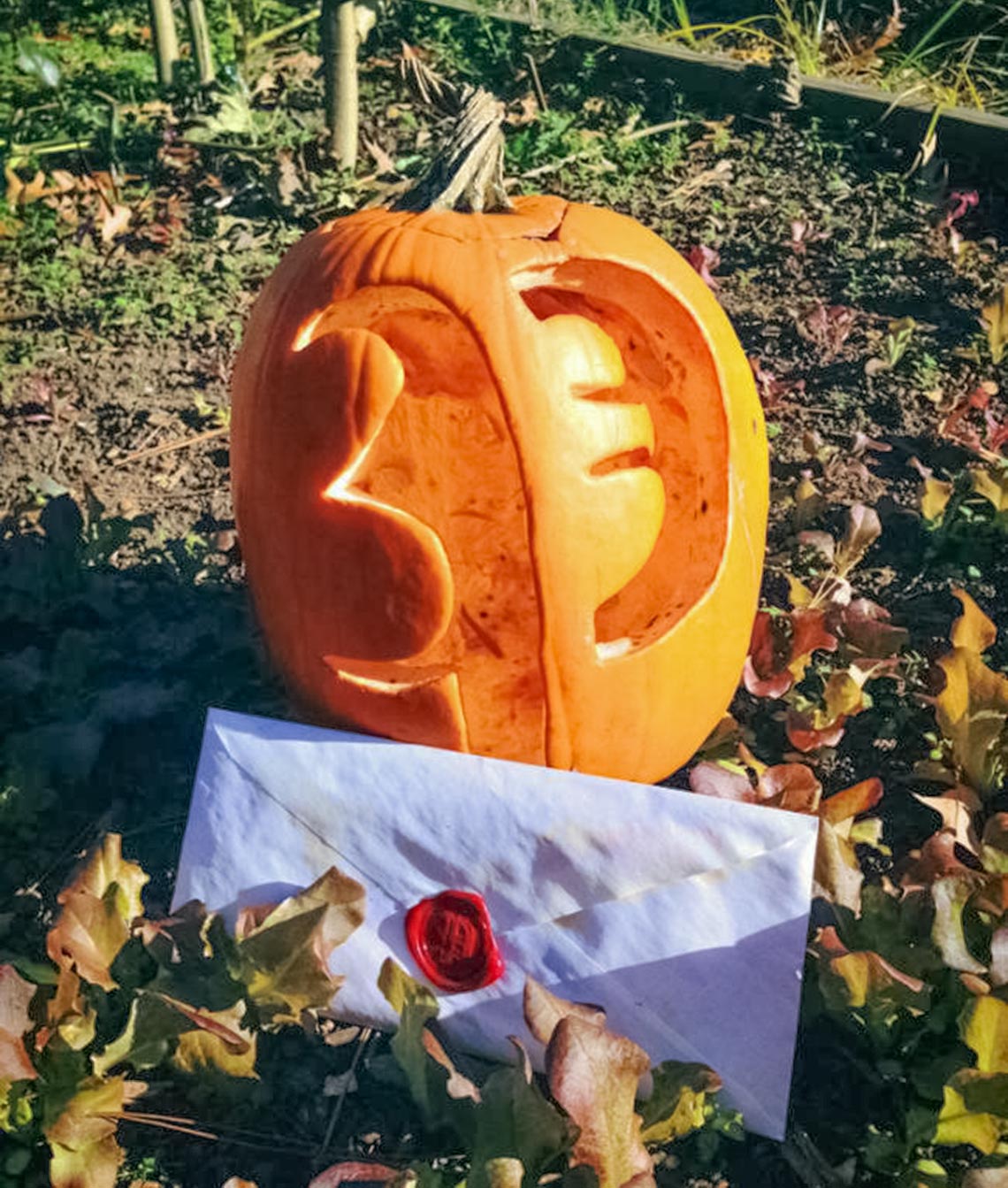 Wayne Cozart is the director of the Jefferson Trust and lives on the Lawn with his wife, Patricia Lampkin, UVA's vice president and chief student affairs officer. He believes that the University Guide Service is responsible for launching today's version of Trick-or-Treating on the Lawn.
In 1989, he and Lampkin lived in Pavilion VIII, above the office of the University Guide Service, and were some of the early members of the University community to enjoy the tradition. Their daughter, Colleen, then just a few weeks old, was dressed as an angel as her parents handed out candy to revelers filling the terraced, grassy court.
The young family left the Lawn a few years later and returned in 2004. By then, Cozart said, Trick-or-Treating on the Lawn had exploded and become a full-fledged local community celebration.
"Each room was giving out roughly $400 worth of candy," he said.
To cope with the huge demand, Lawnies began reaching out to groups to sponsor their rooms, and the event became co-sponsored by Housing and Residence Life.
Cozart said one reason Trick-or-Treating on the Lawn grew was because graduate students recognized the Lawn to be a safe, fun place to bring their young children. The Big Brothers and Big Sisters programs also played a role. "You would be bringing members of the community and once members of the community realized it was going on, it really began to grow," he said.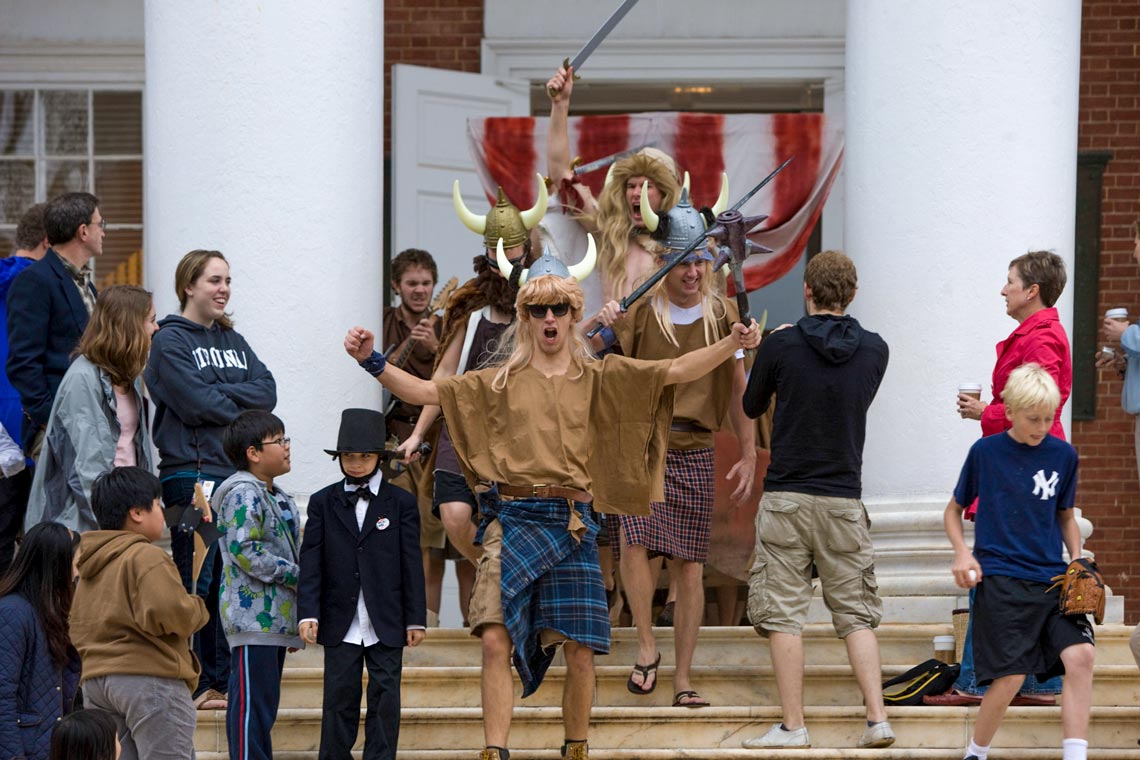 Now living in Pavilion V, Cozart and Lampkin hand out glow necklaces "because we could not provide more candy to those poor kids because of the sugar highs that their parents would have to suffer through," he said, chuckling. "So that is our personal commitment to the mental health of children's parents." In recent years, UVA President Teresa A. Sullivan has also helped hand out the goodies to children from the stoop of Pavilion V.
"For me, the most important thing is the number of children from the community," Cozart said. "It's really quite amazing, because it is a safe place where folks can come. I think that has real meaning for the institution because we are bringing folks in who wouldn't necessarily have a great Halloween experience or trick-or-treating experience without that."
School of Nursing Dean Dorrie Fontaine and her husband, Barry, have been serving post-trick-or-treating vittles to Lawn residents, administrators and Pavilion occupants in recent years.
"We get to see firsthand all the bustle of the thousands who spend their Halloween with UVA going door-to-door to trick-or-treat," said Fontaine, who's lived in Pavilion IX since 2010. "But there's a lot of planning and work that goes into the event that many folks don't see and aren't aware of that deserves praise.
"A warm dinner for our fellow Lawnies is our way of recognizing the incredible efforts of these most exceptional student neighbors," she said. "This event is run by students, and jambalaya is just our small way of thanking them personally.
"Plus, no one can make jambalaya like Barry."