Find the latest information on the University's response to the coronavirus here.
If there was ever any question about University of Virginia students' desire to fulfill President Jim Ryan's mission of the University being both great and good, it was answered in the immediate aftermath of the coronavirus pandemic hitting the commonwealth.
Just a few hours after being required to leave Grounds to quarantine, a whopping 600 students reached out to Madison House – the independent, nonprofit volunteer center for UVA students – to see how they could continue helping the community from a distance during the pandemic.
"I know how amazing UVA students are and how ingrained service is into the culture of our institution," Rose Cole, director of community engagement at Madison House, said, "but I was surprised by how quickly the numbers climbed.
"In the first hours after the message went out, it was just so heartening to see 500, then 600 students sign up. We are now at almost 800 students who want to volunteer virtually. I think it says a lot that UVA students, even while dealing with the fact that they literally cannot come back to Grounds this semester, are still interested in doing something."
The service opportunities that Madison House student volunteers are involved in runs the gamut.
A "Hoos Helping" initiative was created to connect UVA students with teachers and families to help with the transition to online schooling and support. 
The organization's Youth Mentoring team leads a program called "From Student to Scientist" in local schools, for which it created a resource book. They also plan to create science experiment videos to share with teachers, schools and families.
Then there is the Arts Mentors program, which is putting together crafting kits so that volunteers and children who are missing their final few spring events can still make art together virtually.
Leaders and volunteers of the "Adopt-a-Grandparent Program" are sending letters to their "grands."
"I have missed getting to playing trivia with you and getting to hang out at wine and cheese on Fridays," wrote UVA student Leah Kiely to her grand, Widgee Zirkle, in one poignant exchange. "Hope you have been able to do some knitting during this quarantine."
"I've missed our talks," responded Zirkle, who lives at Martha Jefferson House, a senior living community in Charlottesville. "I look forward to your visits when you're better. We're doing fine at MJ House. The staff is working so hard and I'm trying not to complain. Hope to see you soon. Love, Widgee."
Meanwhile, UVA students in the "Big Sibs" program have been reaching out to their "littles" through video chats and phone calls.
Students have also created podcasts and literature reviews in which they reflect on their service experiences.
"The goal is for our current community partners, including schools and teachers, to request teams of UVA volunteers to help support the grownups who are helping kids navigate distance learning," Cole said. (Click here to learn more about how to request a team of UVA student volunteers to support distance learning.)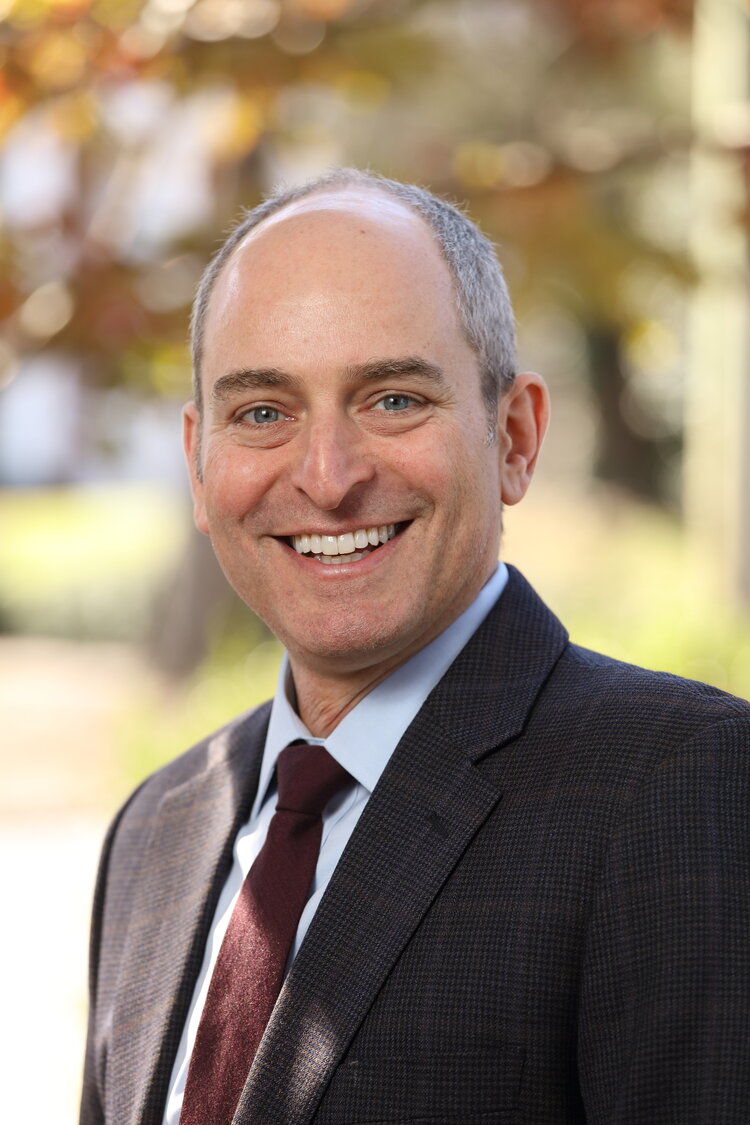 Tim Freilich, Madison House's executive director, says the organization's mission hasn't changed. (Contributed photo)
Simranjit Bhatia, a fourth-year computer science major from Roanoke, said seeing the response from her fellow students has been inspiring.
"Learning that COVID-19 would prevent us from coming back this semester was definitely disheartening," she said, "but I've learned that UVA students really make the best of tough situations. 
"So to see that students are still excited about volunteering was definitely very encouraging, and I'm looking forward to working with volunteers as our initiative continues to develop."
Mikaela Richardson, a second-year biology major from Woodbridge, said she wasn't that surprised by the number of students who have wanted to get involved.
"I think that UVA has an incredible amount of students who care deeply about other people," Richardson said, "and giving back is also a way for students to find a purpose and support the Charlottesville community."
Bhatia said volunteering at Madison House has been one of the most rewarding experiences she's had as a student.
"I think volunteering gives students a chance to get to know their community better and continue to make positive impacts," she said. "I think a lot of students recognize that service can be a great way of making those impacts, and I'm excited that my peers are just as passionate about service while in quarantine as they are in person. "
Tim Freilich, Madison House's executive director, said his team is in it for the long haul.
"Madison House is going to keep doing what we do best: channeling student energy into building mutually beneficial partnerships to address community needs," Freilich said.
"For now, we're doing what we can remotely while looking forward to the day that in-person classes resume on Grounds."
Article Information
April 13, 2020
/content/full-speed-ahead-coronavirus-isnt-derailing-madison-house-its-mission